Cheddar Crumble Apple Pie
This post contains affiliate links. As an Amazon Associate, I earn from qualifying purchases.
Once you make a huge life change it's hard to plan out your days. Actually, that's not true. The planning is the easy part. The follow through? Not so much.
The weather here has cooled off into the low 80s, which is how we know it's autumn. Instinctively we know these days are always coming, but the mind gets muddled after so many intolerable summer days. The temperature shift coincided with my escape from a cubicle, and instead of being productive I just want to lie in the sun, languid and feline. One would think I had never felt a breeze before, considering the way I close my eyes as it passes over my skin.
I needed autumn to come. My bones seem to be crying out for a tromp through maple leaves, the final grilled meal of the year, and the wearing of sweaters and scarves. We planned our move here more than six years ago, but I don't think I could have planned for how much I would end up missing the Midwest.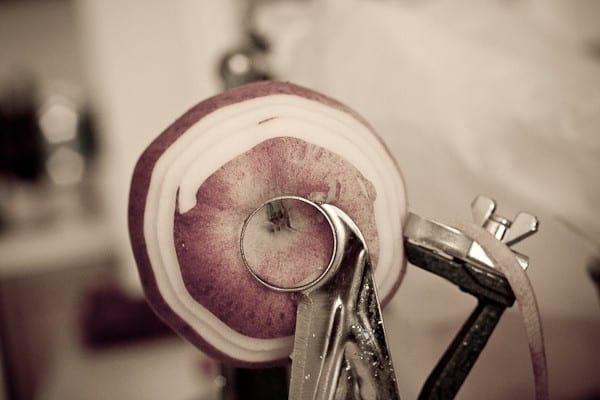 Maybe we'll move back. Maybe I'll go back to working an office job. But it won't be tomorrow, or even next month. There's a reason why "roll with the punches" and "Go with the flow" are such oft-repeated phrases. After all, if everything went to plan, I wouldn't have made pie. The pie is because of a mistake. But that doesn't make this any less of a pie. Sometimes things born out of necessity turn out better than what was planned.
A few months ago I was contacted by the people at Cornaby's, asking if I would like to try their Ultra Gel and Thick Gel. These are gluten-free thickening agents that are similar to Clear Jel, a product used for canning. I was eager to try them not only because of all the canning I do, but because I know how unappetizing it looks when your fruit filling gets discolored and lumpy due to the thickeners not mixing in properly.
I used the Thick Gel in canned salsa and apple pie filling, and the results were beautiful. If you've ever made pie filling, the big questions is always "will it be too runny"? Sure, runny pie can taste delicious, but we all want that picture-perfect slice, right?
While on first glance this filling seems like it will be too runny, the pie firms up perfectly during cooking and cooling. Never before have I made a more perfectly sliceable fruit pie – and I'm not just paying lip service to the people at Cornaby's. This pie? A sloppy mess in comparison. Slice after slice, the pie made with Thick Gel held its shape, and the flavor was of fruit and spice, not gummy goo.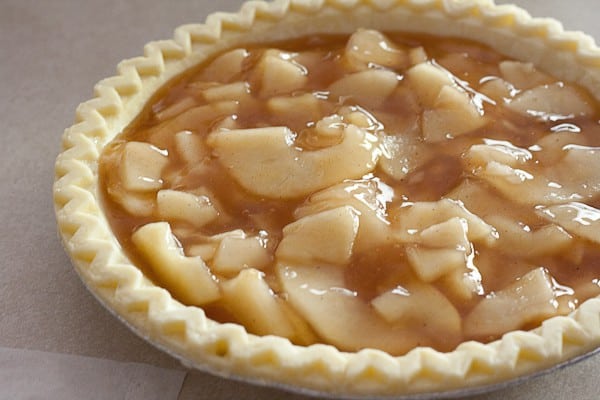 So why was this pie born of a mistake? Well, in canning there are a few things you have to do properly. Such as make sure your rings are screwed on tight enough before sticking the jars in their water bath. Leaking pie filling is not a pretty sight, but it does mean you have a ready excuse to try the fruits of your labor.
As luck would have it I had a pie crust in my freezer already, but I didn't want to make a crust for the top. For apple pie I actually prefer the Dutch apple variety – that is, a crumble topping. I just so happened to have a chunk of Wisconsin cheddar in my fridge, and, well, I couldn't not put it on the pie.
My mom saw me post about this pie on Twitter and immediately labeled it Wisconsin Law Pie. You see, the requirement of serving a slice of cheese with a slice of apple pie has long been an urban (rural?) myth among 'Sconnies.
From what I can find it was technically never true, although from 1935-1937 restaurants were indeed required to serve a small amount of butter and cheese at every meal. (Interestingly, Vermont passed a ruling in 1999 that asked for restaurants to make a "good faith effort" to serve some form of dairy with apple pie. Copycats.) Before you freak out at the thought of cheese on pie, don't worry. The flavor is subtle, but adds a layer of depth.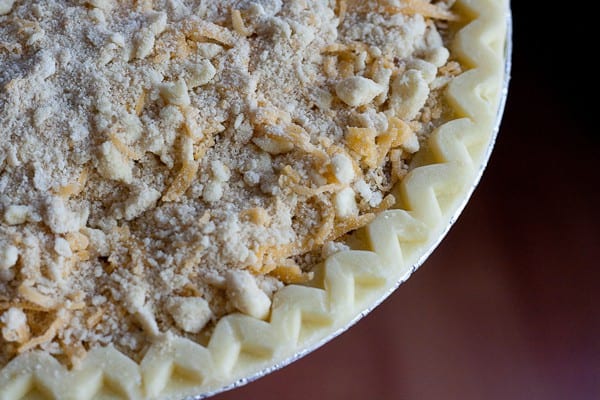 This recipe comes in two parts – the first part for the canned filling, and the second for the pie itself.
Disclaimer
Cornaby's provided me with the product free of charge, but I was not otherwise compensated, nor was I required to provide a positive review.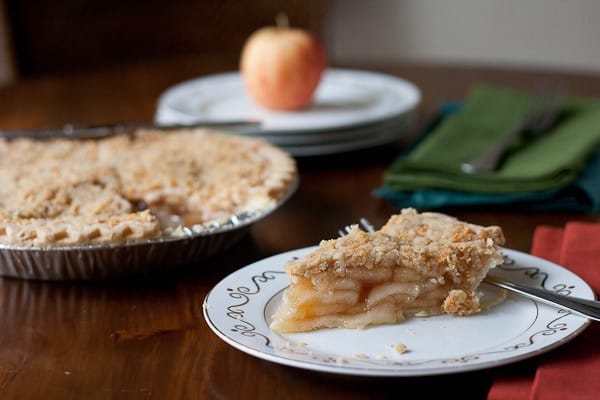 The only problem I've found with canning apples is that it is rather hard to measure apple slices in terms of cups, yet this is how they are noted in recipes. I used a 2-cup measure and filled it to heaping, without packing the slices in, which worked out well. It doesn't hurt to prep more apples than you need – if you have extra you can always make an impromptu pie, tart, applesauce, or ice cream sundae.
Apple Pie Filling
adapted from the Ball Complete Book of Home Preserving
makes approximately 3 quarts
12 cups peeled, cored, and sliced apples*
2 3/4 cups sugar
3/4 cup Thick Gel
1 1/2 tsp cinnamon
1/2 teaspoon nutmeg
1/2 teaspoon ground ginger
1/4 teaspoon ground cloves
3 3/4 cold water
1/2 cup lemon juice
1. Sanitize jars and prep canner and lids.
2. Fill a large pot with water and heat to boiling. Blanch apple slices in 2 batches, cooking for 1 minute per batch. Remove to a bowl and cover to keep warm.
3. In a large nonreactive pot, combine sugar, Thick Gel, spices, and water. Whisking constantly, heat over medium-high and cook until bubbles begin to form. Break up any clumps using the back of a wooden spoon. Add lemon juice and boil for 1 minute.
4. Remove from heat and stir in apple slices.
5. Ladle into hot jars, leaving a 1-inch headspace. Remove air bubbles with a wooden or plastic stick (do NOT use a metal utensil). Wipe off any spilled filling, giving special attention to the jar rims. Place lids, screw on bands, and process in a water-bath canner for 25 minutes.
* To prevent the apples from browning while you prep them, put the cut slices in a bowl filled with 4 cups water and 1/4 cup lemon juice.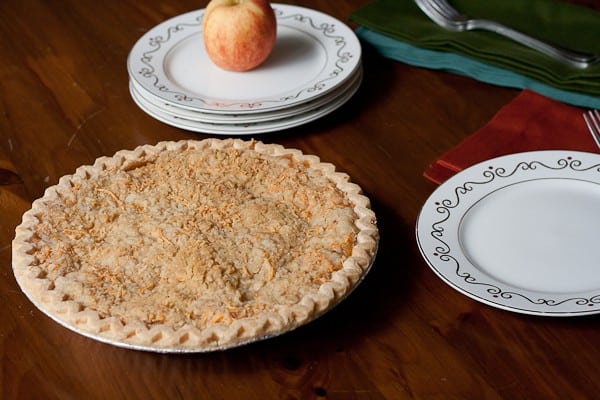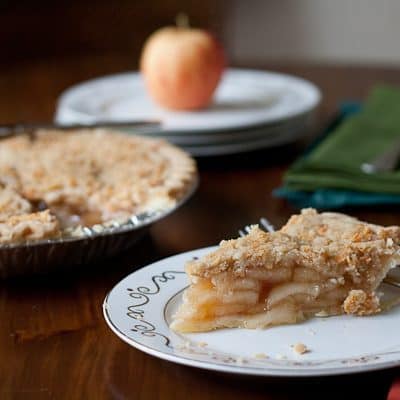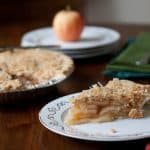 Cheddar Crumble Apple Pie
Apple pie featuring cheddar in the crumble topping. A Wisconsin special!
Print
Pin
Save
Saved!
Ingredients
1

quart

apple pie filling

1

prepared pie crust of choosing

1/2

cup

flour

1/3

cup

brown sugar

1/4

cup

cold butter

,

cut into small cubes

1/2

cup

grated cheddar cheese
Instructions
Preheat oven to 375°F.

Pour pie filling into prepared crust.

In a small bowl, mix together flour and brown sugar. Cut in butter with a fork or pastry cutter until the mixture looks like coarse crumbs. Stir in the cheese. Scatter the topping over the pie evenly.

Bake for about 45 minutes, until the crust and topping have browned. Let cool for at least 15 minutes before serving.
Nutrition
Calories:
327
kcal
Carbohydrates:
48
g
Protein:
4
g
Fat:
14
g
Saturated Fat:
7
g
Cholesterol:
22
mg
Sodium:
230
mg
Fiber:
2
g
Sugar:
29
g