Being at home and trying to get food projects done is challenging. While my son is old enough to play independently, he quite definitely loves his mama and wants to keep close at hand all the time, which often results in me tripping over him in the kitchen. For some reason standing directly behind me is the perfect place for him.
The cooking itself isn't necessarily what is the problem, but the aftermath. No matter how hard you work to set up a pleasing landscape for photos…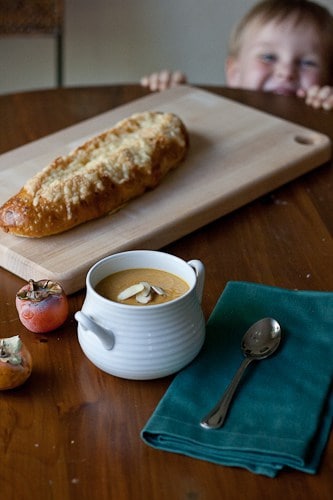 …you always have a gremlin poking into the frame.
Count persimmons as one of those foods I wasted too much of my life not eating. Truth be told I don't think I even knew what a persimmon was until last year. I have a lot of time to make up for. Here in Texas we mostly get the fuyu variety, although other kinds sometimes pop up in the markets.
We like to eat persimmons in both the firm stage and the OMG-soft-touches-only stage. The former is great for snacking and the latter works perfectly as a jam stand-in. Of course, as is my trend, I can't simply eat a food without experimenting, and after a little bit of Googling I hit upon the idea of persimmon soup.
Persimmons are rather small, so I didn't want to base the entire soup on them. Sweet potatoes are a natural match, and really help with adding bulk to the soup. With some spices and a mirepoix, the soup's flavor is rather similar to butternut squash soup. Maybe that's why I like it so much. The persimmon season is short, so try this recipe out while you still can!
If your fuyu persimmons aren't in the squishy stage, you can pop them in the freezer overnight and thaw them in the fridge. The insides will scoop out easily with a spoon or melon baller. Haiyacha persimmons will need to ripen on the counter, but you can speed up the process by putting them in a paper bag with an apple or banana.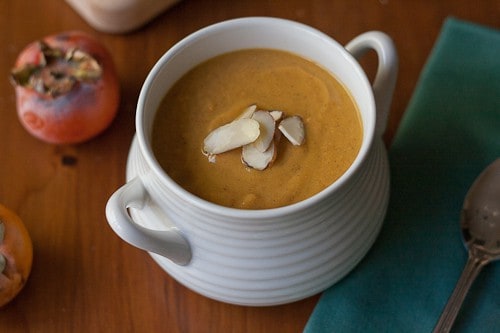 Oh, and if you have any gremlins at your house? They love to eat soup by dipping bread into it.
Persimmon Sweet Potato Soup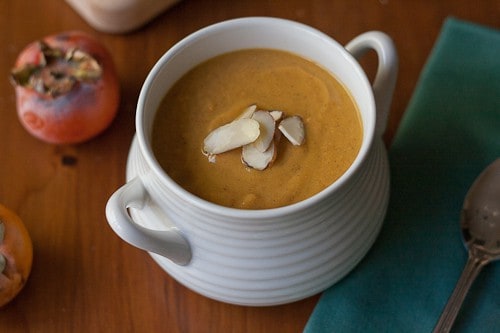 Ingredients
1 1/2 tablespoon olive oil
2/3 cup diced carrots
2/3 cup diced celery
2/3 cup diced onion
1 large sweet potato , diced
6 persimmons
5 cups vegetable stock
1/2 teaspoon turmeric
1 1/4 teaspoons ground ginger
Salt and pepper
Almond slivers , optional
Instructions
In a large stockpot, heat oil over medium. Once the oil is shimmery, add the carrots, celery, and onions, and cook until vegetables are soft onions are translucent.

Cut persimmons in half from the bottom and scoop out pulp, removing any hard bits. (The flesh should be dark orange and jammy, with a few dark flecks from sugar caramelization.)

Add sweet potato and persimmon to pot and cook 5 more minutes. Pour in stock and stir in turmeric and ginger. Bring to a boil, then reduce to a low simmer. Cover and let cook for at least 30 minutes, until sweet potatoes are completely soft.

Working in batches, puree soup in a blender (or use a stick blender), then return to pot. Taste soup and season with salt and pepper to your liking. If your soup is too thick, add additional stock or water to thin it out. Cook for an additional 15 minutes.

Serve with almond slivers on top, if desired, and bread for dipping.
For more spoonable inspiration, check out my Soups and Stews board on Pinterest!
Follow Megan Myers | Stetted's board Soups and Stews on Pinterest.