This post contains affiliate links. As an Amazon Associate, I earn from qualifying purchases.
Homemade vegetable stock is easy to make using any fresh vegetables or scraps you have on hand. Keep it on hand for vegetarian soups or sautes!
We seem to have soup at least once a week in my house, which means we go through a lot of stock and broth.
I prefer to make my own and always make a big batch with our Thanksgiving turkey, but most of the time I make simple batches of vegetable stock.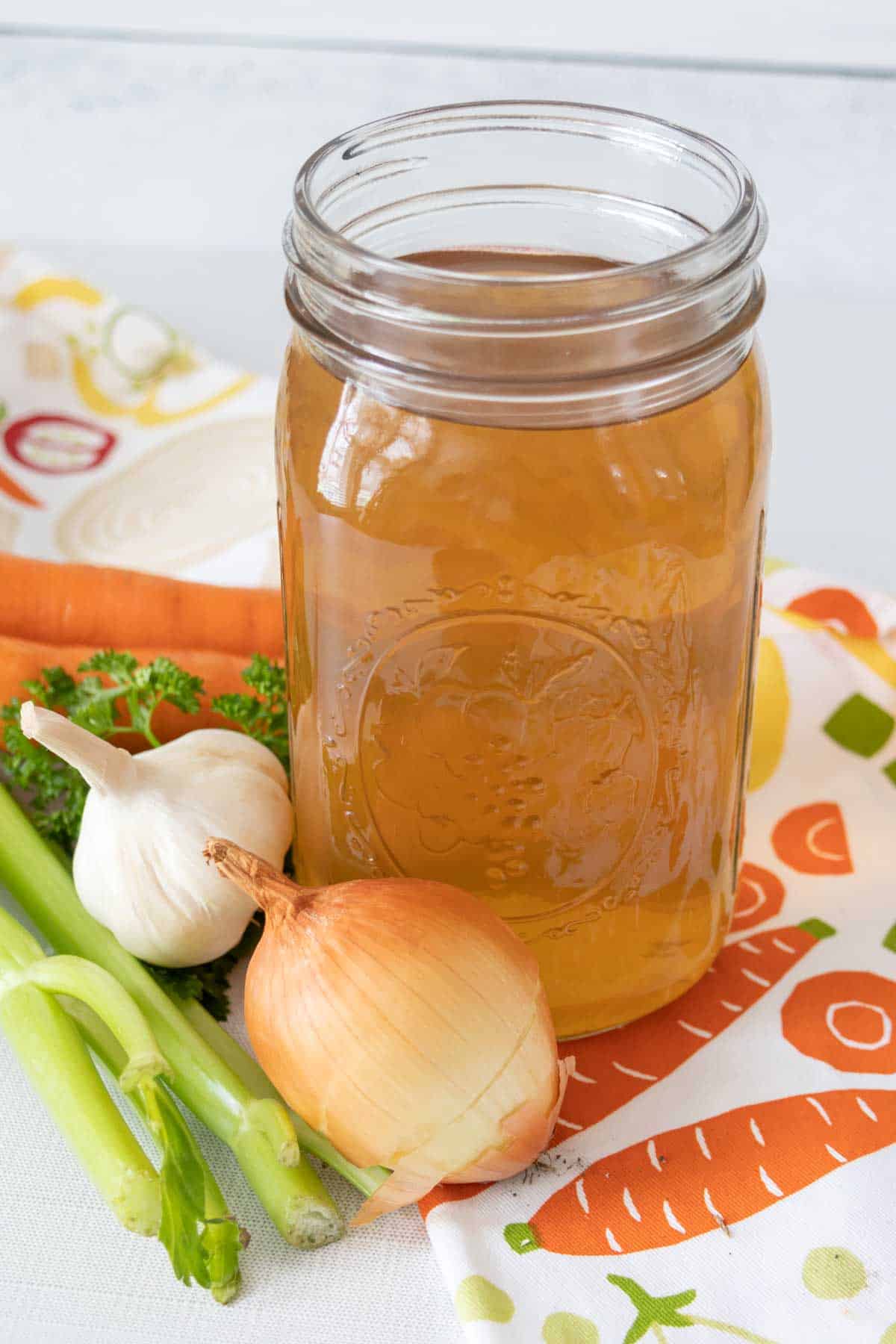 One reason I love making vegetable stock is because you can put practically any vegetable in it. You don't need to worry about trimming off leaves or skins — you can even make stock using corn cobs.
I try to save cut off ends of celery, onions, and more in a gallon bag in the freezer. When the bag is full, it's time to make stock!
Homemade vegetable stock is a great way to use up any bits and pieces lingering in the fridge. Don't let that food go to waste and transform it!
Ingredients for vegetable stock
For me, each batch of veggie stock is different, because it is based on what we have in the fridge, or what I've saved scraps of.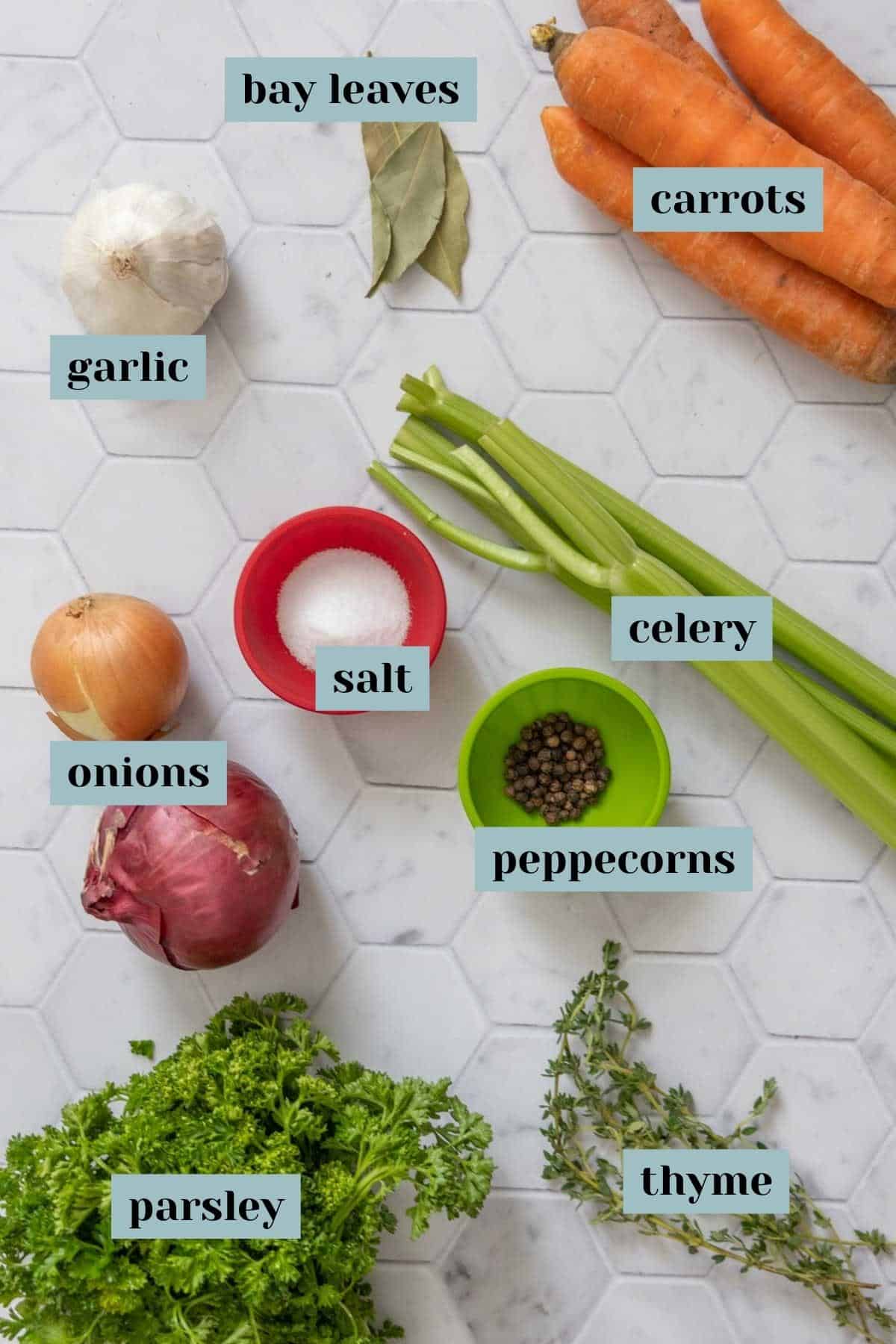 However, a good base of vegetable stock is carrots, onions, and celery, which are commonly used in vegetable soup recipes.
From there, add fresh parsley, fresh thyme, garlic, and bay leaf.
You can also add salt and peppercorns. Depending on what you plan to use your stock for, you might prefer to leave the seasoning out.
You can also add any of these vegetables:
Leeks
Fennel
Mushrooms
Bell pepper
Kale
Pea pods
Tomatoes
Be careful to not add too much of a strong-tasting ingredient like tomatoes, unless you're looking for a rich tomato-forward flavor.
How to make vegetable broth or stock
If using whole vegetables, make sure they are clean, then cut into pieces.
Carrots and celery can be cut into large chunks, while onions can be halved or quartered.
There is no need to peel the vegetables, including the onions. Red onion skin will add extra color to the stock.
If using garlic, halve or cut the end off the bulb and put both pieces in the pot.
tip
For a richer broth, cut the vegetables smaller and sauté them in a small amount of oil before adding the water and simmering. 
Add all of the vegetables to a large pot. I like to use a 6-quart pasta pot or a Dutch oven.
Toss in a handful of fresh parsley, bay leaves, and a few sprigs of thyme (no need to remove from the stem).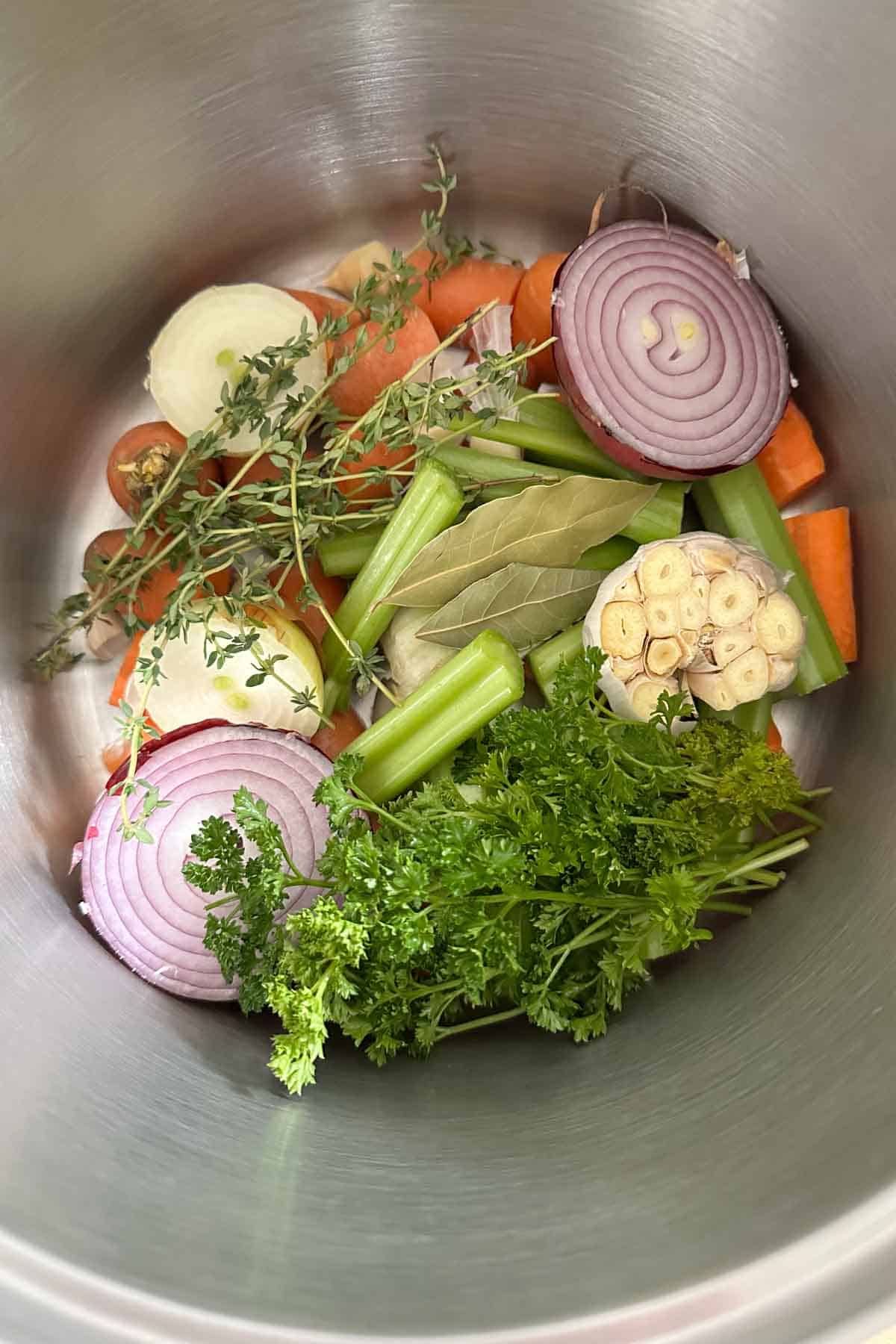 If using, sprinkle over the salt and add the peppercorns.
Fill the pot with enough water to completely cover the vegetables. A good rule of thumb is to add 1 quart of water per pound of vegetables.
Set the pot over high heat and bring the water to a boil. Depending on how big of a batch of stock you're making (and the efficiency of your stove), this can take 15-20 minutes.
Once boiling, give it a good stir, cover, and reduce the heat to a simmer.
Let the stock simmer for about 1 hour.
While a bone broth benefits from simmering as long as possible, vegetable stock doesn't need as long to extract the flavors from the veggies.
Turn off the heat and let the stock cool slightly.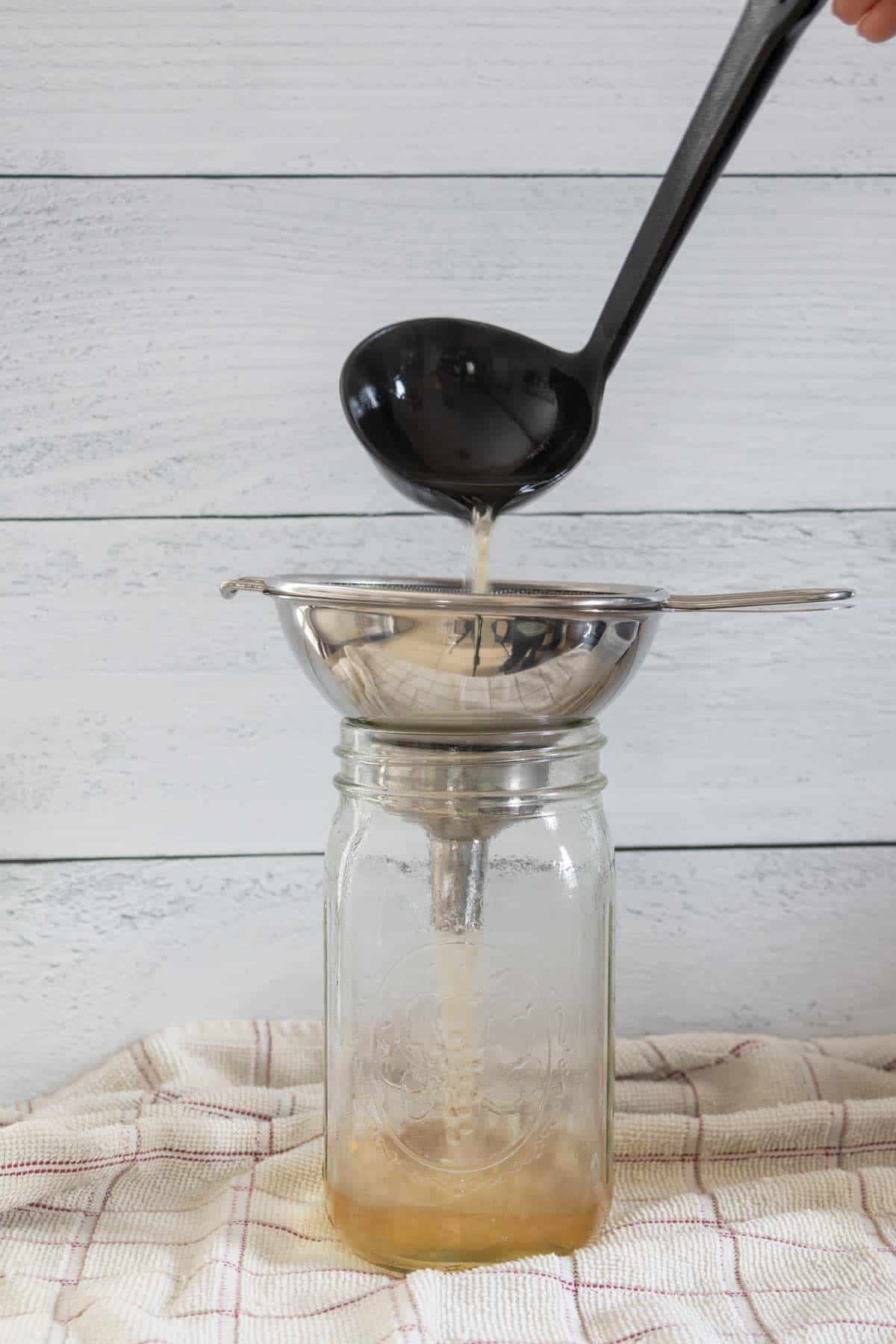 At this point, you need to strain the stock from the vegetables and portion into large mason jars or quart deli containers.
Set a fine sieve (I recommend a funnel strainer) over your container and ladle in the broth.
The sieve will catch the small bits of herbs, vegetables, and peppercorns, giving you a clear stock.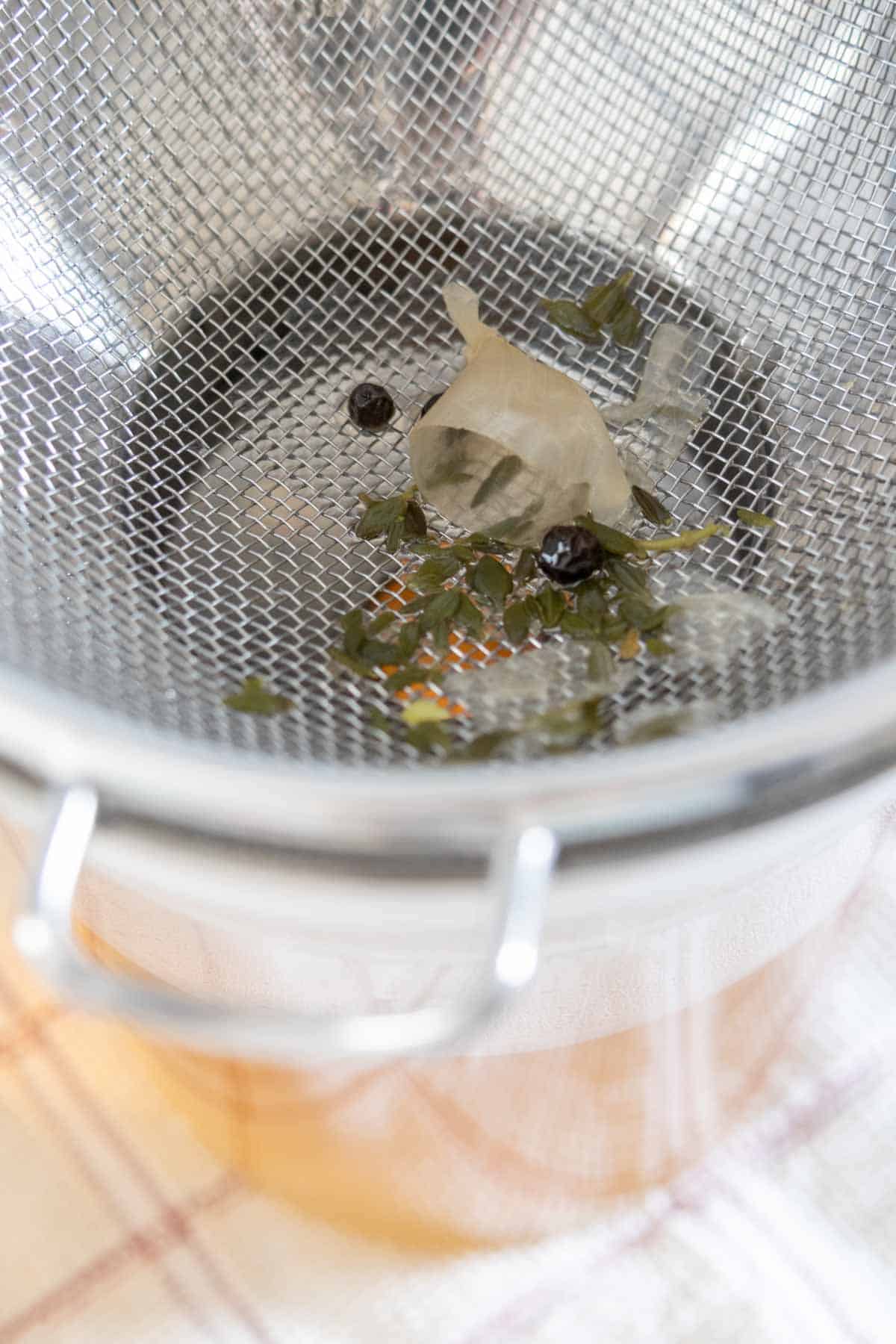 Let the cooked vegetables cool before discarding. If you did not use oil, they can be put into compost.
Cool the strained stock to room temperature, then place on a lid and put in the refrigerator until ready to use.
Storage tips
Homemade vegetable stock will keep for 3-4 days in the refrigerator.
If you don't plan to use it within that time, I recommend freezing it. Frozen broth lasts for up to 6 months.
To freeze, pour into freezer molds, muffin tins, or freezer bags that can be stored flat.
Once frozen in the molds, pop out and put into labeled freezer bags.
You can also freeze in jars or deli containers, but keep in mind that the stock will expand when frozen, so make sure to leave 2 inches of head space for expansion. Do not fill all the way to the top!
To thaw, place full containers in the refrigerator overnight. Cubes can be thawed in a saucepan.
Note: This recipe is not made for canning. Do not store your homemade stock in the pantry without following proper canning procedures.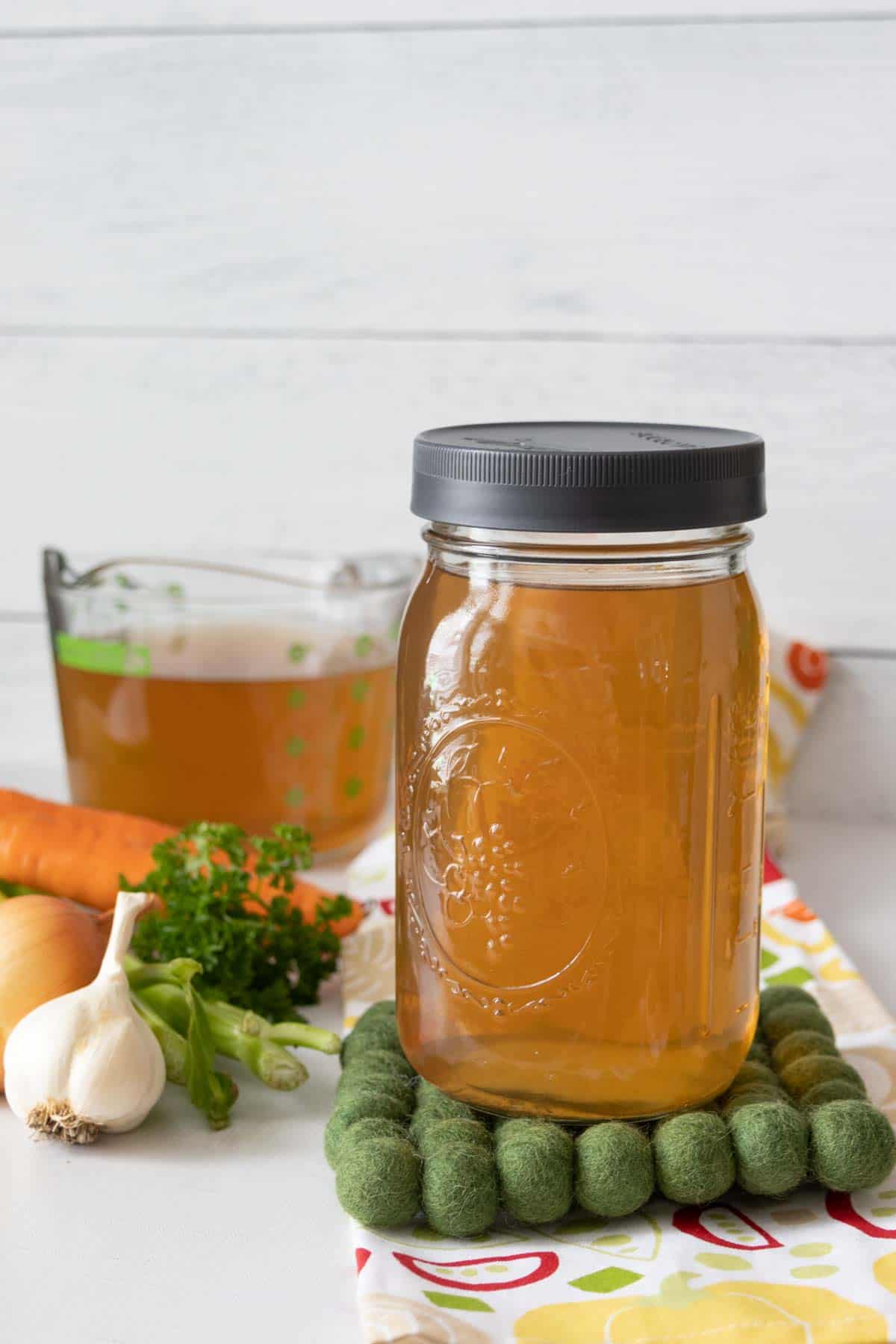 Ways to use vegetable stock
Vegetable stock/broth is a great tool to use in cooking, and it is so much more versatile than chicken broth!
Soups – Use as a base for roasted carrot and fennel soup, black bean soup, or even chicken wild rice soup.
Grains – I use vegetable stock in my parmesan risotto. It's also great for cooking quinoa, couscous, or white rice for added flavor.
Steam frying – A little bit of vegetable stock adds a lot of flavor to stovetop steam-fried veggies.
Sauces – Make vegetarian gravy or creamy casserole sauces using vegetable broth.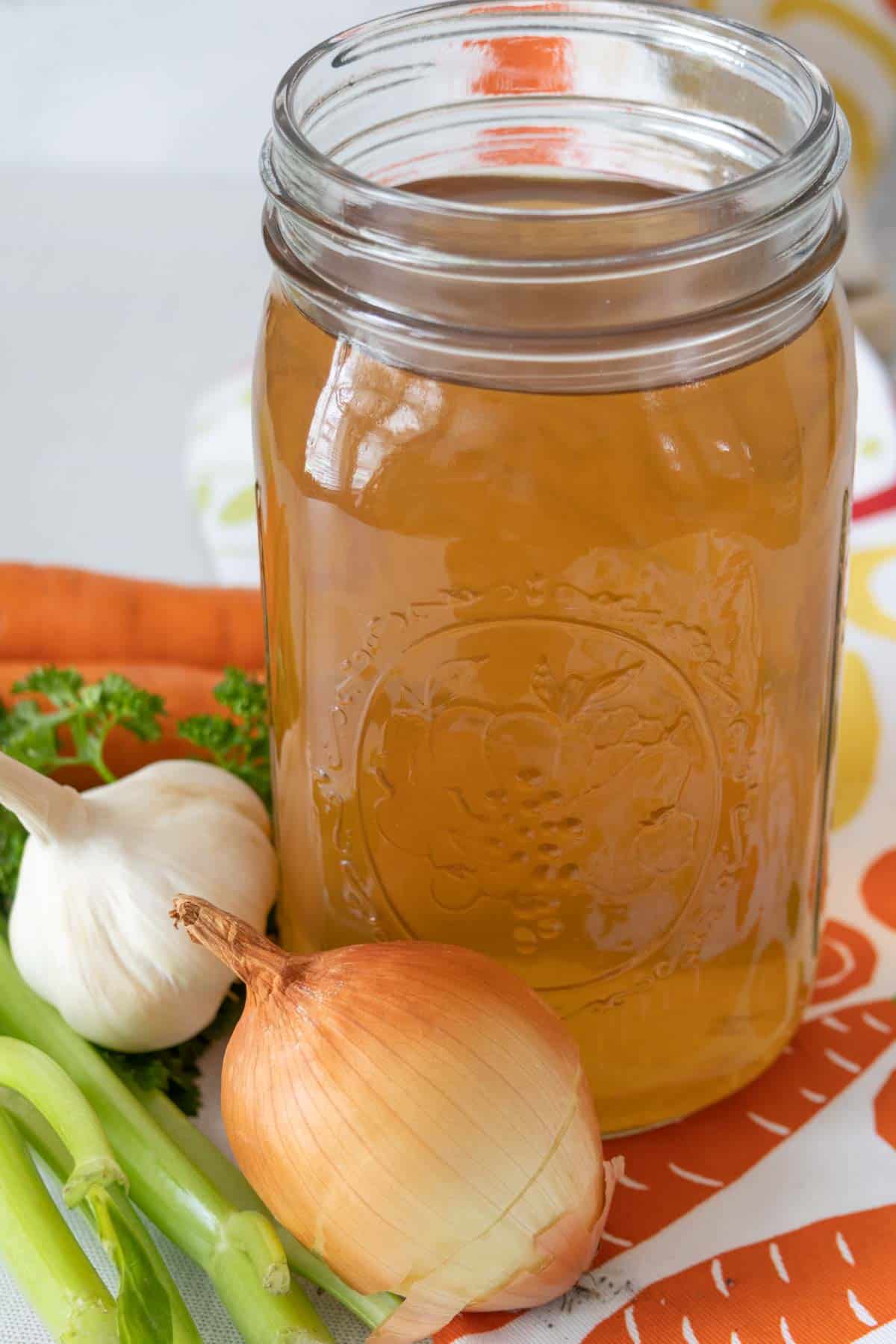 The next time you need vegetable broth, make this easy recipe at home! 
Love this recipe? Please leave a 5-star review below! It means so much when you enjoy my recipes, so let me know how it goes and leave a comment if you have any questions.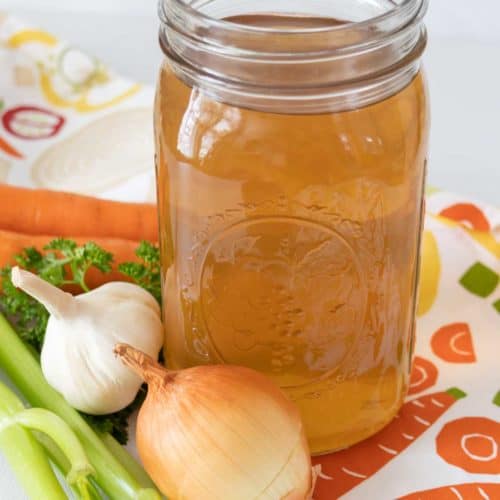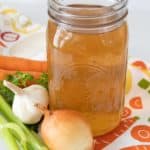 Homemade Vegetable Stock
Vegetable stock (broth) is one of the easiest things to make at home! Use it in all your favorite recipes calling for broth.
Print
Pin
Save
Saved!
Ingredients
4

carrots

2

ribs

celery

2

onions

1

bulb

garlic

2

bay leaves

handful

fresh parsley

3

sprigs

fresh thyme

2

teaspoons

fine sea salt

1

teaspoon

black peppercorns

Water
Instructions
Wash and roughly chop vegetables (no need to peel). Add to a large stockpot. Add enough water to cover vegetables, about 1 quart per pound of vegetable.

Set over high heat and bring to a boil. This can take as long as 20 minutes, depending on how much broth you are making and your stove efficiency.

Once boiling, reduce heat to low, cover, and simmer for 1 hour.

After 1 hour, turn off heat and let cool slightly. Strain stock into containers, or strain into a large bowl and portion from there.

Let cool to room temperature, then store in the refrigerator for up to 4 days or freezer for 6 months, until ready to use.
Notes
If freezing, make sure to leave 2 inches of headspace in containers to allow for expansion and prevent containers from cracking.
Nutrition
Calories:
18
kcal
Carbohydrates:
4
g
Protein:
0.5
g
Fat:
0.1
g
Saturated Fat:
0.02
g
Sodium:
408
mg
Potassium:
116
mg
Fiber:
1
g
Sugar:
2
g
Iron:
0.2
mg
Nutrition information is provided as a courtesy and is an estimate based on online calculators. Any nutritional information found on Stetted should be used as a general guideline only.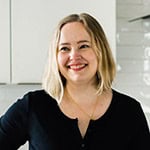 About Megan
I focus on fresh ingredients and easy methods, with spins that keep meals interesting. Dinnertime shouldn't be stressful or complicated, and I'm here to help you enjoy the time spent in the kitchen. Read more…