I grew up in Wisconsin. That meant a good deal of my time was spent being cold, or warming up from the cold. The first snow usually comes in October, and I remember there being snow just days before my birthday.
My birthday is in May, y'all.
It definitely doesn't get as cold here in central Texas, but I can't imagine winter without a big pot of soup, stew, or chili cooking away all day long. I never had this soup when I was a kid, but it quickly became a favorite in our house. You can easily substitute turkey to help use up Thanksgiving leftovers.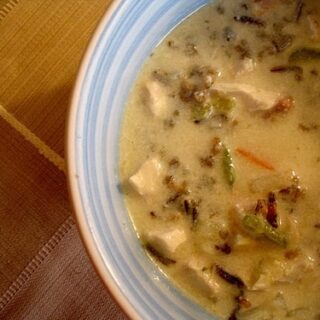 Chicken Wild Rice Soup
Yield: 8 servings
Prep Time: 15 minutes
Cook Time: 1 hour 30 minutes
Total Time: 1 hour 45 minutes
Ingredients
1/2 cup butter
1 chopped onion
1/2 cup chopped celery
1 cup chopped carrots
1/2 cup all-purpose flour
6 cups chicken broth
2 cups cooked wild rice
2 cups cooked and shredded chicken
1/2 teaspoon salt
1/2 teaspoon curry powder
1/4 teaspoon mustard powder
1/2 teaspoon dried parsley
1/2 teaspoon ground black pepper
1/2 teaspoon ground ginger
1/2 cup white wine
1/2 cup milk
Instructions
Melt butter in large stockpot over medium heat. Stir in the onion, celery, and carrots and saute until onions are translucent and carrots are tender. Add the flour and stir well. Gradually pour in the chicken broth, stirring constantly, until all has been added. Bring to a boil, reduce heat to low, and let simmer.
Add rice, chicken, salt, spices to taste, and white wine. Allow to heat through, then add milk (add more for creamier soup). Let simmer for 1 to 2 hours.
Recommended Products
As an Amazon Associate and member of other affiliate programs, I earn from qualifying purchases.