It seems like every other day we get teased with glorious weather, warmth asking our toes to shed the skin of socks and sun begging to kiss our shoulders once again. Then, just as you've planned a relaxing afternoon swinging in the hammock, a cold wind rushes in and we're reminded that it's still not quite spring.
In our house, soup is a staple. It's comfort food through and through, warming you down to your bones. Soup is a slow food, helping you unwind at the end of the day as you take your time to scoop up the bits of meat and vegetables that have come together just for you. It's a perfect break for lunchtime at work, reminding me of just why I have my job, bringing me back to my family even when we're apart.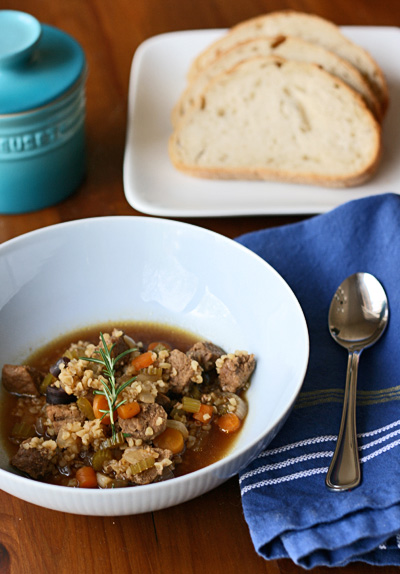 We try to have soup every Sunday so there are leftovers for the rest of the week, but sometimes it doesn't work out like that. Even with all my meal planning, it turns out in the end that those are still just plans, and the follow-through percentage isn't always following my goals. Because of this I try to build up an arsenal of fast soups for weeknights, and my new weapon is bulgur.
If you've never heard of bulgur, it's a wheat product that is very popular in the Middle East. It comes parboiled, so cooking time is incredibly fast. While it is a whole grain, it's also a great source of protein, so it might be my new favorite food. I love the slighty nutty taste and how well it pairs with practically everything.
This soup is simple but filling, and comes together so easily. Chop the vegetables while the meat is browning, then empty the dishwasher or do other chores while the soup simmers. Dinner doesn't have to be a big production, but you can still get satisfaction for a job well done at the end of the day.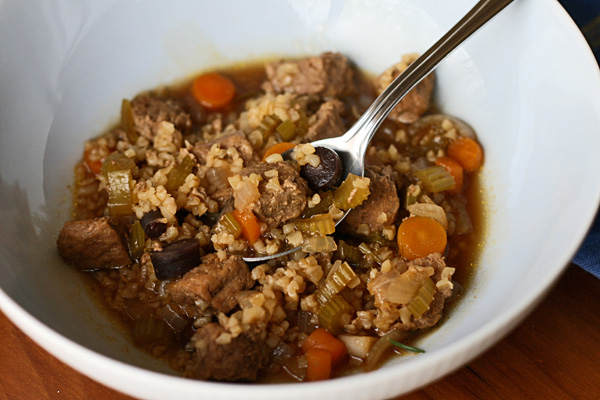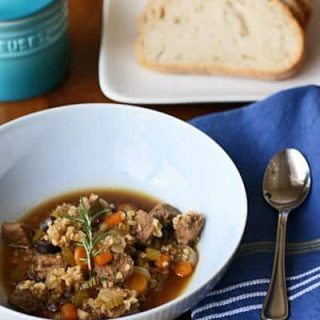 Beef Bulgur Soup
Yield: 4
Prep Time: 10 minutes
Cook Time: 45 minutes
Total Time: 55 minutes
Ingredients
1 tablespoon butter
1 pound tenderized round beef steak
1 small onion, diced
1 cup diced carrot
4 ribs celery, diced
4 cups beef stock
1/2 teaspoon paprika
1/4 teaspoon garlic granules
1/2 teaspoon salt
2 sprigs rosemary
1/2 cup bulgur
Instructions
In a stockpot, melt the butter over medium heat. Cut the beef into small chunks and add to the butter, stirring to brown on all sides.
Add the onion, carrot, and celery, and cook until soft and onions are translucent.
Pour in the stock, then stir in spices. Toss in the rosemary. Let it all simmer on medium heat for 10-15 minutes.
Stir in the bulgur and continue simmering for another 15 minutes. Add salt and pepper to taste, and serve.
Recommended Products
As an Amazon Associate and member of other affiliate programs, I earn from qualifying purchases.
Nutrition Information:
Yield: 4
Amount Per Serving:
Calories: 259
Total Fat: 14g
Saturated Fat: 6g
Trans Fat: 0g
Unsaturated Fat: 6g
Cholesterol: 61mg
Sodium: 850mg
Carbohydrates: 14g
Fiber: 3g
Sugar: 4g
Protein: 21g
Disclaimer: I created this recipe as part of my involvement with the Texas Beef Council via Foodbuzz. I have been compensated for my time and expenses, but my opinions are my own.