Dinner is easy with this simple bison one-pot dinner, filled with harvest grains and wilted greens.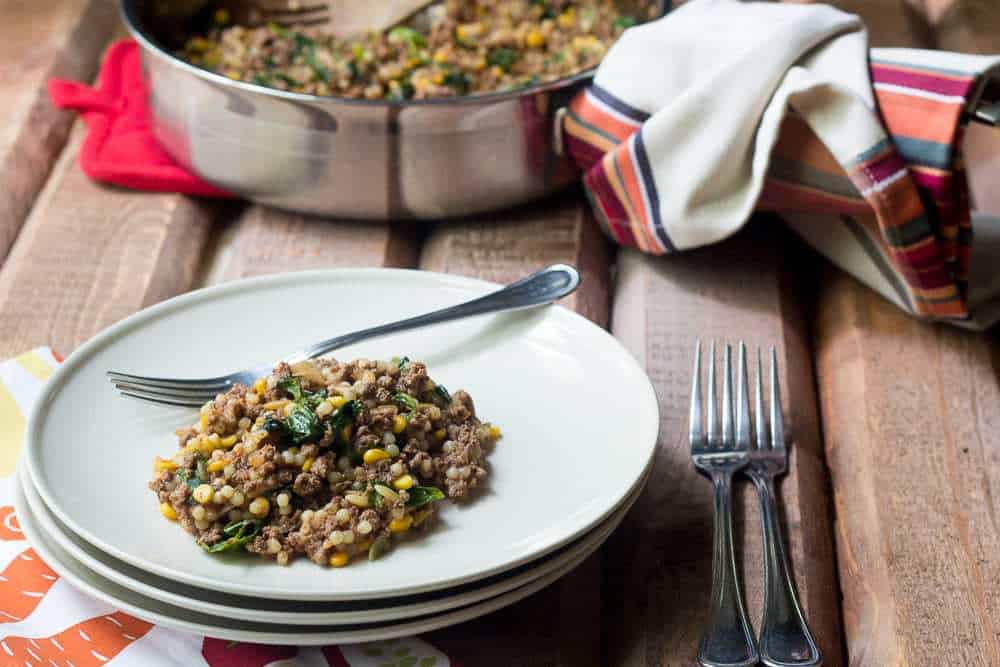 This morning when I headed out the door, the temperature had not yet climbed above 70. There was a difference in the air, a slight chill breeze that, however gentle, was working to push off the stifling humidity and heat we're used to in Texas Septembers.
I welcome our weather when we return from Christmases in snowy Minnesota, but the day after a terrible sunburn on the soccer sidelines, I just want to wrap myself in everything autumn.
I wouldn't consider our dinners complicated, but lately I've felt the need to make them even more simple. This is partly because of my older son's developing pickiness (he used to be such a good eater) and partly because I've been taking a harder look at what I eat. And by extension, what the rest of the family eats.
Compared to some, we eat pretty darn well, but eating more vegetables and fewer sugary snacks is something likely everyone should do. Truth be told, though, eating salads gets kind of tiring, and my kids aren't likely to scoop up a forkful of southern-style collards or kale.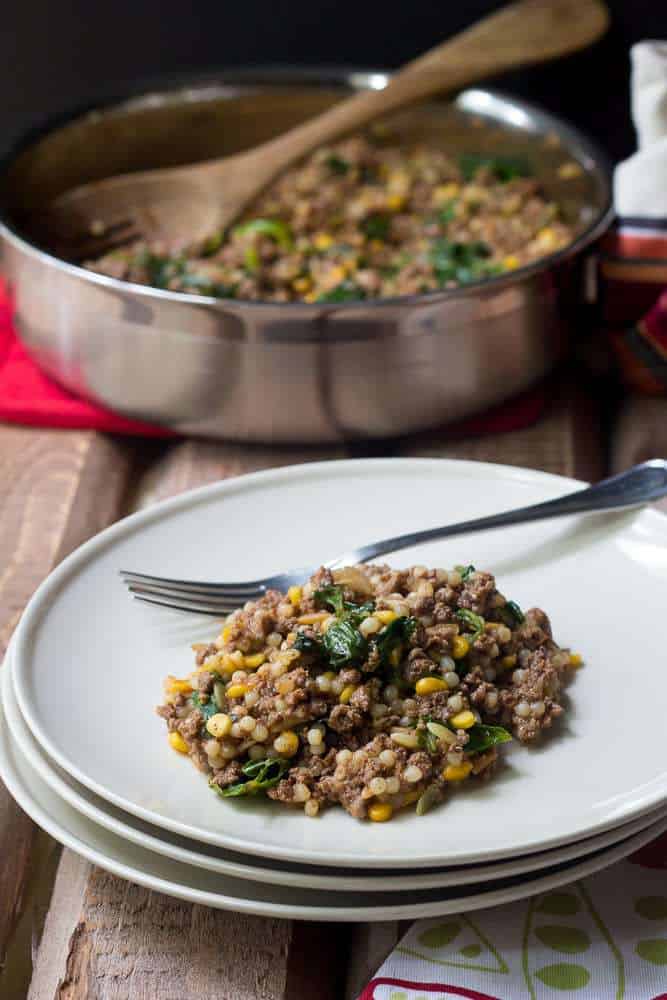 When you cook everything in one pot, however, something clicks in people's minds, and those foods they pushed aside are suddenly easier to eat. Maybe it's the power of the casserole — we look to those creations whenever we need comfort or warmth on a chilly day. They've made millions of children eager to eat carrots, peas, greens, mushrooms, and every other vegetable that can be thrown in among meat and sauce.
One-pot dinners are similar to casseroles in that they're extremely easy to make and filled with a variety of ingredients, but they actually require less time than a casserole. Plus only one pan to clean up? Hello awesome.
This bison one-pot dinner comes together quickly and can easily be customized based on what you have in your pantry. I used a harvest grain blend from Trader Joe's, but you can also use quinoa, pearl couscous, orzo, or rice. Most stores these days have rice blends, thanks in part to food bloggers making alternative grains hip again!
Just be sure to have extra liquid on hand in case you need more, and keep an eye on the grains while cooking. Some grains like brown rice need more time, while couscous and orzo cook rather quickly.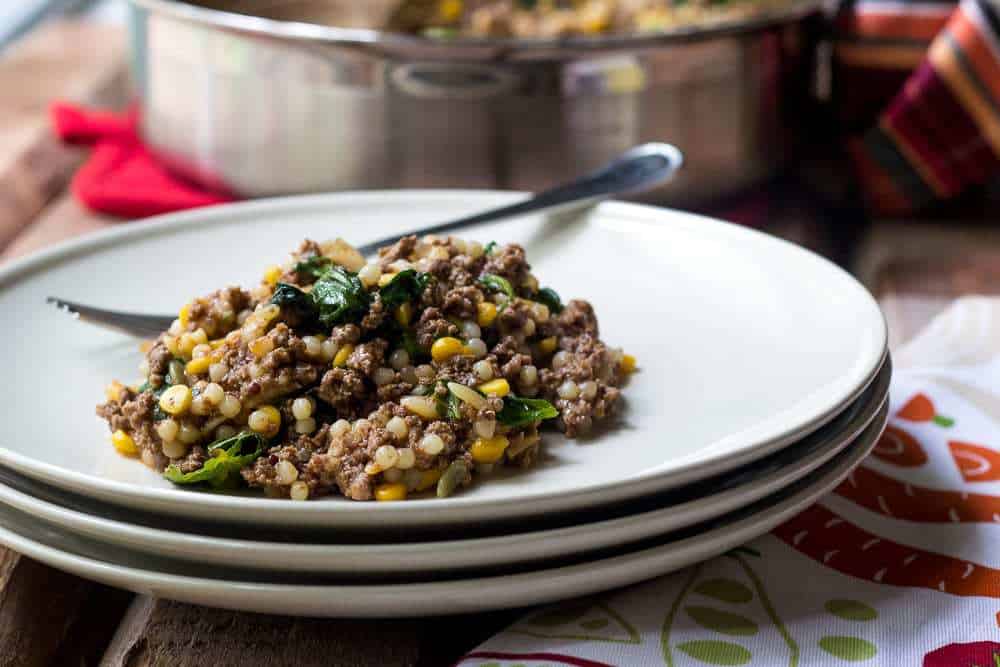 When it comes to the greens, baby kale is easy to use — no chopping required. You can also use baby spinach, or take the time to chop up Swiss chard or large kale leaves. Remember that the greens will wilt down quite a bit! You might have to squeeze them into your pan at first, but they will soon cook down to half the size or less.
This bison one-pot dinner reminds me a lot of my kale and quinoa stuffed squash. In fact, roasted acorn or butternut squash would be an excellent addition to this dish, if you happen to have some on hand.
Check out how easy this recipe is to make in the video below:
Bison One-Pot Dinner
Prep Time: 5 minutes
Cook Time: 40 minutes
Total Time: 45 minutes
Servings: 4 servings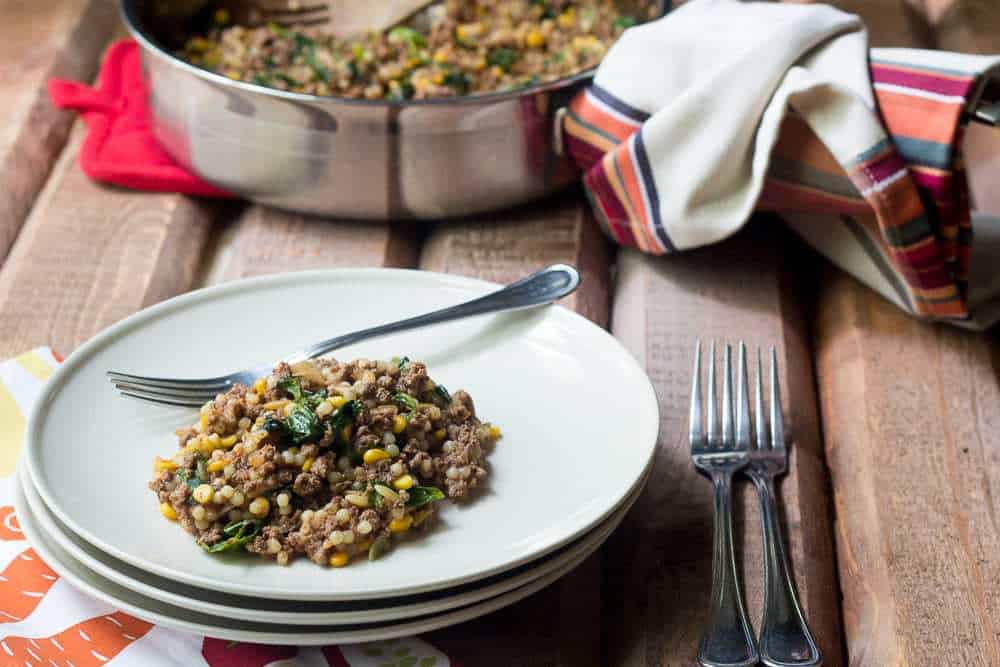 Ingredients
1 pound ground bison
1/2 cup diced onion
2 cloves garlic minced
1/2 teaspoon salt
1/4 teaspoon ground pepper
1/2 to 1 teaspoon ground cumin
1/4 teaspoon cayenne pepper
2 tablespoons tomato paste
1 cup harvest grains blend quinoa, pearl couscous, or rice
2-3 cups chicken stock
4 cups packed torn greens
Balsamic vinegar optional
Instructions
In a large saucepan, cook bison, onion, and garlic until bison is browned. Be sure to break up the pieces as you cook. Stir in salt, pepper, cumin to taste, and tomato paste.

Stir in grains, then add 2 cups chicken stock. Bring to a light boil, then cover and reduce heat. Let simmer for about 20 minutes, stirring occasionally and adding more stock as needed to prevent sticking and allow grains to cook.

Add the greens on top and cover again. Let cook for about 5 minutes. Stir greens through the dish and serve, with balsamic vinegar drizzled over the top, if desired.