These aren't your mama's loaded baked potatoes.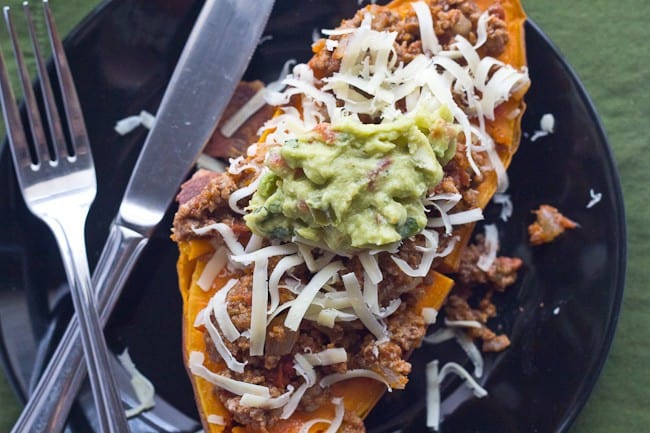 When I was a kid, there was a fast-food chain that featured a baked potato bar. Back then I thought it was really weird — I mean, who wants to eat a baked potato when there are French fries, cheeseburgers, and nuggets to be had?
Of course, these days I've realized that baked potatoes? Pretty awesome. And baked sweet potatoes are even better. Throw a bunch of stuff on top of them, and you have a meal that is perfect for these cold days.
Now, I'm not going to knock you if you decide to use white potatoes for this recipe, but sweet potatoes are filled with lots of good-for-you vitamins and taste great plain. (My baby agrees.) Sweet potatoes are also usually quite large, so you only need two for this recipe to feed four people. And don't forget that leftover baked potatoes can be used in a lot of different recipes, from quick mashed taters to an easy hash for your breakfast eggs.
These Tex-Mex Sweet Potatoes are filled with ground beef seasoned with cumin, chili pepper, and Mexican oregano. If you don't have Mexican oregano, you can swap in the Mediterranean version (jars just labeled "oregano" are this), but use a bit less. Top the potatoes with salsa, guacamole, or cheese — or all three — and you're set to dig in!
Depending on the size of your appetites, you might have leftover filling. You can easily use it for a taco lunch the next day, or add it to a pot of macaroni and cheese.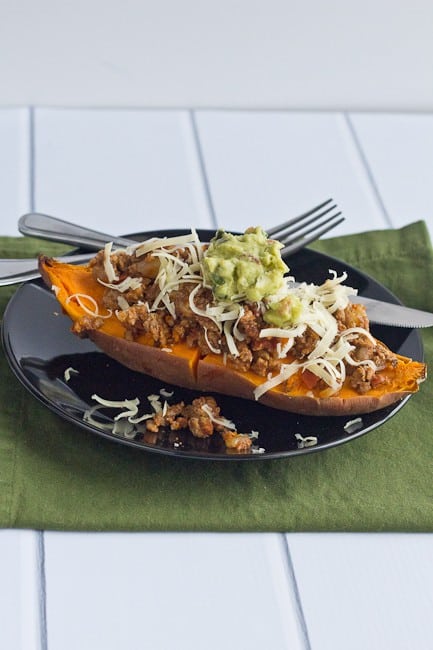 We were lucky and had some way-early-season tomatoes from the market, but just swap in a can of low-sodium diced tomatoes if tomatoes aren't in season where you are.
This can easily be turned vegetarian with a swap of beans for the meat, or add beans to the original recipe (plus another sweet potato) to bulk up the dish and feed a larger family.
Tex-Mex Sweet Potatoes
Sweet potatoes filled with your favorite taco flavors.
Prep Time: 15 minutes
Cook Time: 1 hour 30 minutes
Total Time: 1 hour 45 minutes
Course: Dinner
Servings: 4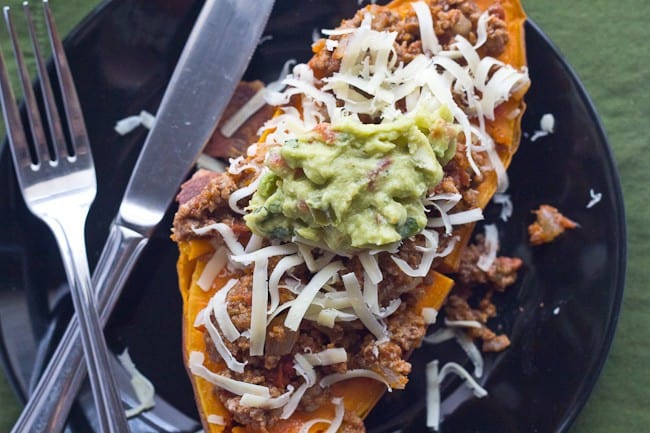 Ingredients
2 large sweet potatoes
1 pound ground beef
1/2 cup diced onion
1/2 cup diced red pepper
2 cups diced tomatoes
1 tablespoon tomato paste
1 jalapeño , seeded and diced (optional)
1 1/2 teaspoons cumin
1 1/2 teaspoons chili powder
1/2 teaspoon salt
1/2 teaspoon pepper
Shredded cheese , salsa, and guacamole (optional)
1 1/2 teaspoons Mexican oregano
Instructions
Preheat oven to 400 degrees and line a baking sheet with foil.

Prick potatoes all over and bake for 45 minutes to an hour, depending on size, until easily pierced with a fork. Keep warm in the microwave.

Brown ground beef in a large skillet over medium heat.

Add onion and red pepper and saute until onions are translucent, about 5 minutes.

Add remaining ingredients and stir to combine.

Cover and let simmer over medium-low for about 15 minutes, until tomatoes have broken down and the meat is saucy (but not talking back).

Slice cooked potatoes lengthwise, then make cuts across the flesh to "open up" the potato.

Take each potato half and fill it with a few spoonfuls of the meat mixture, then add your favorite toppings.
More sweet potato recipes you might like:
Roasted Sweet Potatoes with Dried Figs – Stetted
Spicy Sweet Potato Carbonera – Running to the Kitchen
Sweet Potato – Beet Swirl Muffins – Stetted
Sweet Potato Chicken Hash – Hungry Girl Por Vida
Sweet Potato and Sausage Quesadillas – Healthy. Delicious
For more tasty inspiration, check out my Beef board on Pinterest!
Follow Megan Myers | Stetted's board Beef Recipes on Pinterest.