These sliders with waffle fry buns make any meal a party!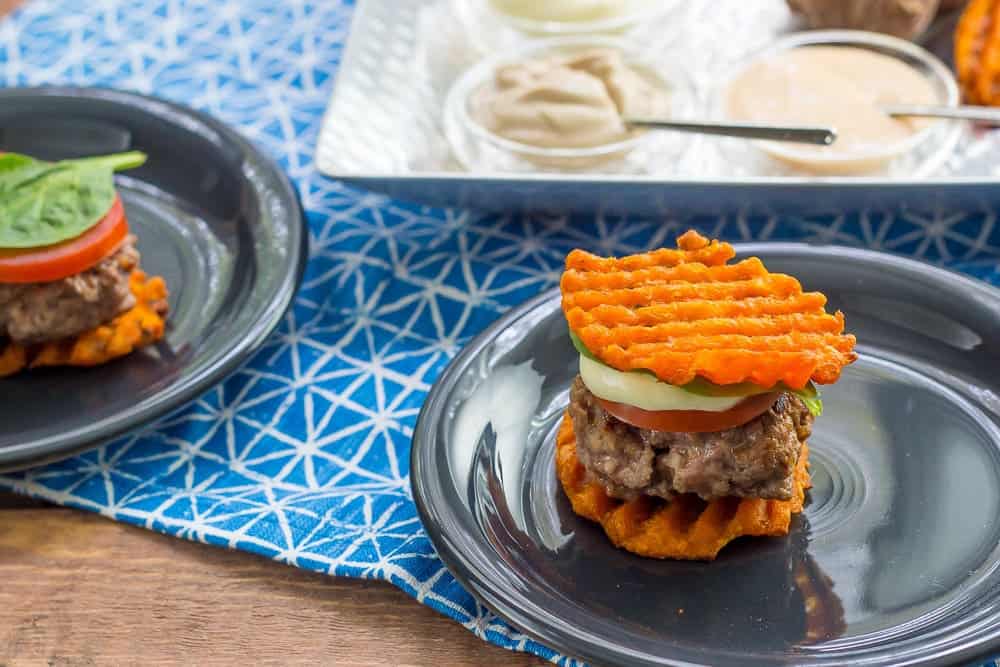 Sliders sometimes have a rather unappealing reputation thanks to certain fast-food joints, but I'm here to tell you that sliders don't have to be that way. There's plenty of ways to up the ante on these party-ready snacks, whether you go for something full of spice like merguez sliders or want to stick to something more classic like these sliders with waffle fry buns.
What, that's not classic? I can't think of much more classic than burgers and fries — I've just done the sensible thing and removed the bun in favor of crispy, salty waffle fries. It's a great way to get the kids excited about dinner again. (I can't be the only one with kids who whip back and forth between wanting the same thing every day and declaring that dinner is boring.)
I like to serve sliders as a DIY affair, with all the toppings on a platter so everyone can mix and match. For these sliders I made three different mayo variations so you can go garlicy, spicy, or a bit sweet. You could add ketchup flavors as well, like variations made with fruit, or offer stone-ground mustards. Choose your three or four favorites to keep the choices from getting overwhelming, and if you're serving these at a party, make sure to double the recipe!
I recommend making the waffle fries (try using the sweet potato variety) just before serving so they stay as crisp as possible. The rest of the tray can be prepped in advance, and cooked burgers can be kept in a warming oven or the microwave.
Be sure to serve these sliders with plenty of napkins. They're worth it!
Get the recipe for these Party Sliders with Waffle Fry Buns over at my post on Recipe.com!
For more tasty inspiration, check out my Appetizers and Dips board on Pinterest!
Follow Megan Myers | Stetted's board Appetizers and Dips on Pinterest.