Make dinner an easy win with these quick sandwiches.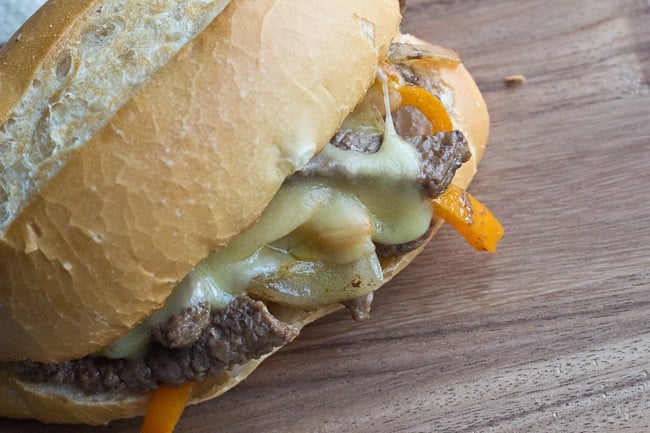 It's been a hard week.
School delays and closures have been throwing us for a roller coaster set of loops since the end of January. The baby has been teething, which means hours of endless crying despite everything we do. Important tasks get shoved off to late nights or the weekend or just get added to the ever-growing list that by now should just be called Things We Should Have Done Last Month; It's Probably Too Late Now. Everyone in the house is tired and cranky, and I'm sure I'm not the only one with a staggering headache.
These are the kinds of weeks that make me want to give up. Quit all my obligations and just hide in my house, watching Netflix marathons and doing only what is needed to keep my family fed and clean. At least twice in the past month I've drafted "I quit" letters in my brain, but haven't put fingers to keyboard.
I don't actually want to quit any of my responsibilities. Since leaving my corporate job a few years ago, I've tried to be selective about what I've taken on, and I love every job that I have. And it's not that I'm too busy. While I have bouts of oh-my-gosh-I-can't-stop-moving, there's plenty of time for cozy moments with the kids and a home-cooked dinner every night.
That's not to say I'm whipping up three-course meals. Sometimes it's all I can do to remember to pull out the greens for a salad or steam up some frozen broccoli. I'm not sure when I started to get so set in my routines, but whenever a nap goes long or we need to make a quick errand on the way home, I have to take a few deep breaths before reminding myself that these are just tiny bumps in life.
Jumping over those little bumps, I hope I'm preparing for the major road blocks that are sure to come down the line. And the best way I know how to prepare is to keep quick, cheap meals in my back pocket.
I've made these Easy Steak and Cheese Sandwiches a couple of times in the last month, and they have been perfect for the chilly evenings we've had lately. They were born of the need to use up some tenderized round steak that we got in a meat share, without making chicken-fried steak. A few years ago we bought part of a cow, and our freezer was stuffed with all sorts of grass-fed beef cuts. It was fun cooking all the different cuts, until we came to that tenderized round steak. For some reason, it threw me a loop, and I couldn't think of anything to make except that chicken-fried steak. Which, while tasty, is not something you want to do often. We made it through that batch, but when we got another package of beef recently, I saw the round steak and said, "Oh."
My friends on Twitter gave a few suggestions, and when one of them suggested a recipe for steak sandwiches, first I freaked out over the amount of butter, and then I decided that a healthier version would be pretty easy (all things considered). I mean, I love butter, but even I sometimes have to put the brakes on.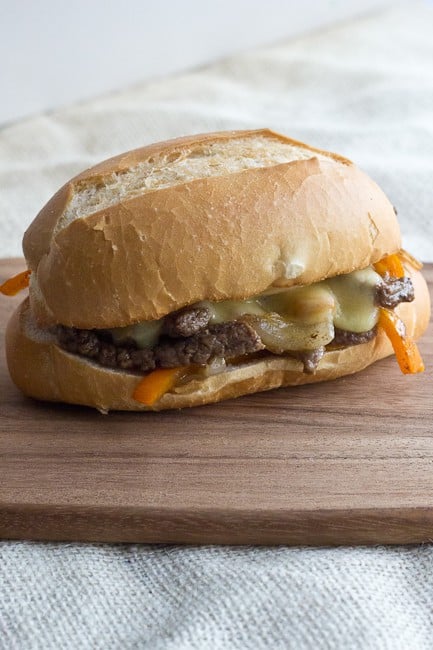 The sandwiches come together really quickly, and you could even cook the meat and veggies ahead of time – they'll warm up under the broiler on the assembled sandwich. Add whichever peppers you like – bell peppers to keep it sweet, or jalapeños for a kick.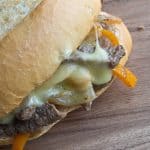 Easy Steak & Cheese Sandwiches
Ingredients
1

pound

tenderized round steaks

cube steaks

2

tablespoons

olive oil

divided

1

bell pepper

seeded and sliced into strips

1/2

white or yellow onion

sliced into strips

1

teaspoon

salt

1/2

teaspoon

black pepper

1

tablespoon

Worcestershire sauce

1 1/2

tablespoons

butter

6

bolillo or hoagie rolls

3

ounces

swiss cheese

sliced (or another melty cheese)
Instructions
Heat a skillet over medium, and preheat broiler.

Slice steak against the grain into strips and add to the skillet. Cook until browned evenly, then remove to a bowl.

Add 1 tablespoon olive oil, bell pepper, and onions to the skillet. Cook until onions are soft and translucent.

Add back in the steak and stir in salt and pepper. Move meat and vegetables to one side of the skillet, then add butter to melt.

Once melted, quickly mix it with the steak and vegetables, then stir in Worcestershire sauce. Remove from heat.

Slice rolls lengthwise and place cut-sides up on a baking sheet. Brush the remaining olive oil over the top halves.

Arrange the meat and veggies on each bottom half, then top with cheese slices.

Cook under the broiler until the cheese is melted, about 3-4 minutes. Place tops on sandwiches and serve.
More sandwich recipes you might like:
Grilled Flank Steak Sandwiches – NeighborFood
Homemade Sirloin Banh Mi Sandwiches – Stetted
Meatball Subs – The Sugar Hit
Pressed Italian Sandwiches – Stetted
Romesco and Hummus Grilled Cheese – Naturally Ella
For more tasty inspiration, check out my Beef board on Pinterest!
Follow Megan Myers | Stetted's board Beef Recipes on Pinterest.