This post contains affiliate links. As an Amazon Associate, I earn from qualifying purchases.
A quick and simple recipe for goat loin tacos.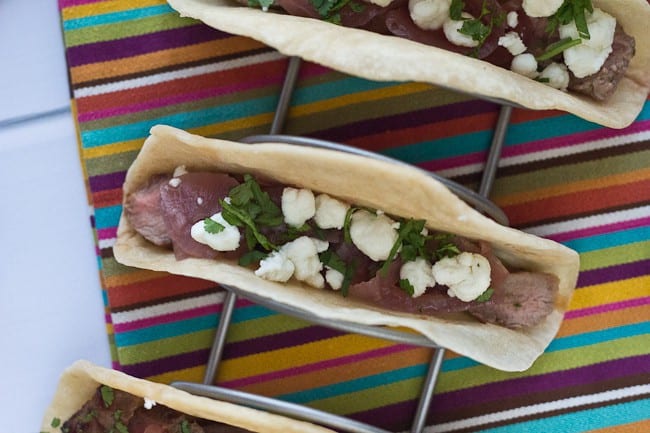 Living in Austin means you have to like tacos. Oh, sure, it's not like you'll get kicked out of the city, but people will look at you funny and question their trust for you, just as though you've said you don't like chocolate or sunshine.
I like tacos a little too much, and blame them for the ten pounds I gained the first year we moved here. Sure, queso dip and margaritas might have something to do with that too, but without the tacos you're just having happy hour for dinner.
There's a lot of talk about the right way to make a taco, from breakfast tacos (should the bacon be chopped or whole strips? melt the cheese?) to lunch/dinner tacos (corn or flour? is cheddar an abomination?), but frankly, I don't get on that argument train.
Yes, there can be debates about authentic Mexican tacos, but considering we live in red-state 'Murica — don't be fooled by Austin's blue — there's plenty of room for putting your own spin on the taco. If it makes your belly happy? Fill it with whatever combinations you want.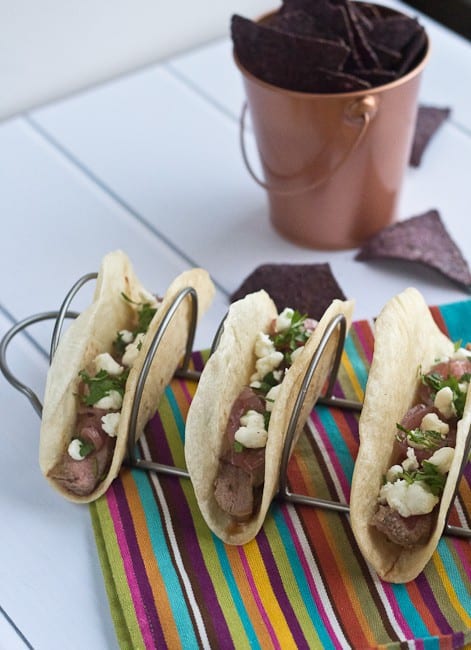 We make tacos a lot at our house, but goat loin tacos are a bit of a treat. It's not that they're hard (it's crazy easy), it's that goat is rather expensive, especially if you get nicer cuts.
You do have to be careful cooking goat — boneless loins do great with a quick sear, but other cuts need to be cooked low and slow to make sure the meat turns out tender. A marinade will help you along in that process, as well as quickly add flavor to the meat. I like the simple one below, because it tenderizes the meat without overpowering its flavor.
Top these with queso blanco or crumbled goat cheese to double up the goat. Don't forget the pickled onions and cilantro!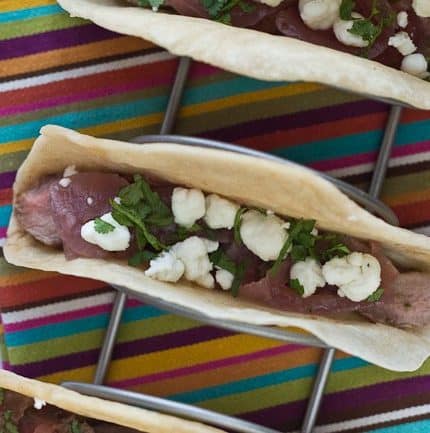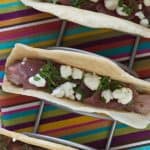 Ingredients
1

pound

goat loin

1/4

cup

olive oil

1/4

cup

red wine vinegar

1

teaspoon

cumin

1

teaspoon

Mexican oregano

1

teaspoon

salt

1

tablespoon

brown sugar

Fresh cracked pepper

Tortillas and toppings to serve
Instructions
Set goat loin in a shallow baking dish.

Mix together oil, vinegar, spices, and sugar until sugar is dissolved, then pour mixture over goat. Let marinate for at least two hours.

When ready to cook, heat a skillet over medium-high.

Add goat to pan and sear for about 3 minutes per side.

Remove from pan and let rest for 5 minutes before slicing.
Nutrition
Calories:
339
kcal
Carbohydrates:
10
g
Protein:
32
g
Fat:
18
g
Saturated Fat:
3
g
Cholesterol:
85
mg
Sodium:
688
mg
Fiber:
1
g
Sugar:
3
g
More taco recipes you might like: