Sweet on Texas Grapefruit
This post contains affiliate links. As an Amazon Associate, I earn from qualifying purchases.
Learn more about Texas Rio Star grapefruit, and get a grapefruitastic recipe.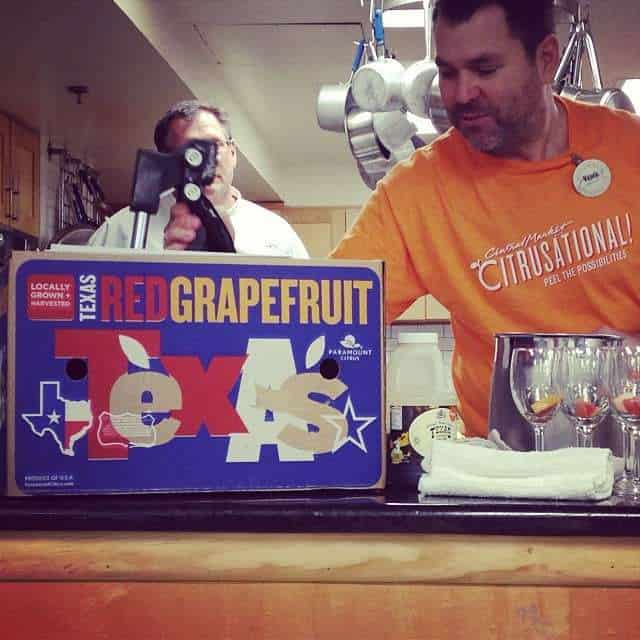 A few weeks ago I had the pleasure of joining a few fellow bloggers in a small grapefruit-themed cooking class at Central Market. Led by the effusive Vance Ely, we sampled a variety of dishes featuring the jewel-toned Rio Star grapefruit and had some hands-on practice supreming grapefruit. (I am terrible.)
To be honest, I'm a bit of a snob about grapefruit. Before I moved to Texas, I didn't eat grapefruit at all because I couldn't handle the bitterness. When I first learned about Rio Star grapefruit a few years ago, I was skeptical, but so many people go ga-ga for them that I just had to give the fruit a try. I'm completely ruined for any other grapefruit, no matter how much I might try.
Rio Star grapefruits are the reddest, sweetest grapefruit you'll find, though they still have a hint of the bitterness people have come to know grapefruit for. This juxtaposition of flavors makes the Rio Star an excellent fruit for a huge variety of recipes. If you've just been thinking about grapefruit as the standard low-cal breakfast, it's time to think again.
During the cooking class we enjoyed smoothies, grapefruit bellinis, two salads, grilled shrimp, and two desserts. While this sounds like a lot of food, it all was light and refreshing, thanks in part to the juicy bursts of freshness brought in by the grapefruit.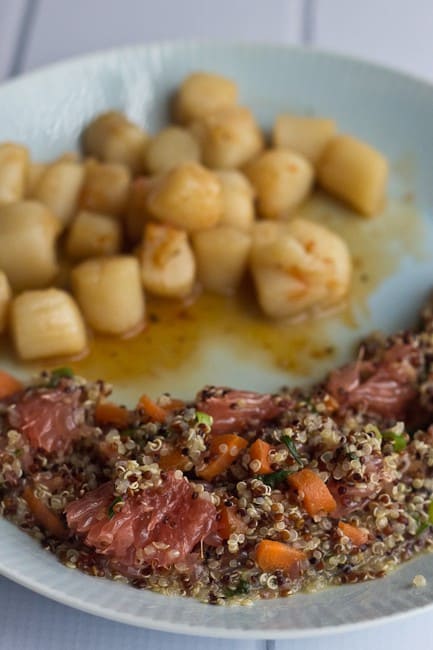 Two of my favorite recipes were the quinoa salad and the grilled shrimp with grapefruit glaze, but of course, I couldn't help but tinker with it slightly when I got back into my own kitchen. For some reason, I had been craving scallops, and couldn't help but pick some up at the store, determined to make the grapefruit glaze with it. The photo doesn't do it justice, because the flavors were great, with the sweet scallops balancing nicely. The next time I make this, though, I will probably add some heat to the glaze for more depth of flavor. Definitely be sure to serve up the skewers with the extra glaze on top, because it is lick-your-fingers good. I am planning to try it with chicken and steak, as well. Grab the recipe for Grilled Shrimp with Rio Star Grapefruit Glaze here!
I wanted to share the recipe here for the quinoa salad, because it's just the sort of dish I look for when the winter is getting to be just a little too much to bear. Don't be put off by the steeped oil. You can always skip it, if you like, and just use olive oil when you get to the step to add it. I like tricolor quinoa, which makes the dish a bit more visually appealing (though to be honest, I can't tell a difference in the taste of the different colors).
Don't forget to rinse the quinoa! This will help remove any excess starch and will let the quinoa "bloom" better when it cooks.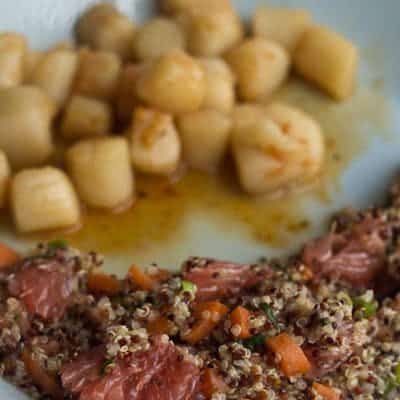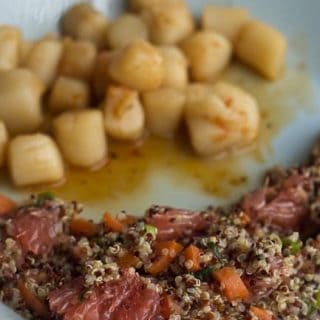 Rio Star Grapefruit Quinoa Salad
Total Time:
1 hour
15 minutes
Grapefruit is the star of this grain side dish.
Ingredients
1 Texas Rio Star grapefruit, sectioned
1 Texas orange, sectioned
8 thin slices fresh ginger
1/4 cup extra-virgin olive oil
3/4 cup quinoa
1/2 teaspoon kosher salt, plus more for seasoning
1 tablespoon white wine vinegar
2 teaspoons honey
1 small serrano or jalapeño pepper, minced
2 scallions, minced
2 carrots, peeled and diced
2 tablespoons chopped fresh cilantro leaves
Fresh ground black pepper
Instructions
Strip the peel from the grapefruit with a vegetable peeler, taking care not to include the bitter white pith. Warm the grapefruit peel, ginger, and olive oil in a small saucepan over medium heat. As soon as the oil starts to bubble, after two minutes, remove from heat. Set the oil aside to steep for thirty minutes. Strain and reserve the oil.
Meanwhile, rinse the quinoa in a fine mesh strainer. Put the quinoa in a small saucepan with one and a half cups of water, and half teaspoon of salt. Boil over high heat, then reduce heat to maintain a gentle simmer. Cook, covered, for 15 minutes. Set aside off the heat, undisturbed, for five minutes. Transfer the quinoa to a bowl, and fluff with a fork, and let cool.
Segment the grapefruit over a bowl, reserving the segments and juice separately. Also segment the orange. Whisk three tablespoons of the juice with the vinegar, honey, and salt (to taste) in a medium bowl. Gradually whisk in three tablespoons of the reserved grapefruit oil, starting with a few drops and then adding the rest in a stream to make a slightly thick dressing. Season with pepper to taste.
Toss quinoa with the dressing, minced pepper, scallions, carrots, and cilantro. Season with salt and pepper to taste.
Toss the grapefruit and orange segments into the salad. Divide among four plates. Serve warm or at room temperature.
Recommended Products
As an Amazon Associate and member of other affiliate programs, I earn from qualifying purchases.
Nutrition Information:
Yield:

4
Amount Per Serving:
Calories:

295
Total Fat:

15g
Saturated Fat:

2g
Trans Fat:

0g
Unsaturated Fat:

12g
Cholesterol:

0mg
Sodium:

391mg
Carbohydrates:

39g
Fiber:

5g
Sugar:

11g
Protein:

4g
More grapefruit recipes you might like:
Thanks to the folks at TexaSweet for inviting me to participate! I did receive a gift card in order to re-create the recipes at home, but as always, all opinions are my own.