This post contains affiliate links. As an Amazon Associate, I earn from qualifying purchases.
Kamut spinach salad is a refreshing way to get your whole grains.
Going through my pantry sometimes reveals strange decisions. A few weeks ago I found a can of evaporated milk from 2012. Now, I don't think I am a particularly unorganized person (I love putting things in order), so when I found that milk I stared at it, wondering why I might have bought it in the first place.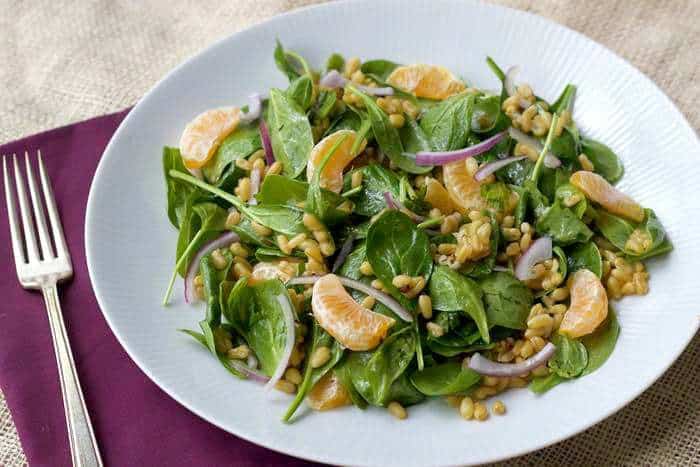 I'm not sure how long I stood there trying to solve the mystery, but I'm pretty sure the world whirled around me while I came no closer to the answer.
Into the trash it went, and in its place was a renewed desire to only purchase things I was definitely going to use in the near future. I felt pretty good about this, until I was putting away some coconut milk and came upon a bag of kamut.
Kamut. Why kamut? My brain had no idea, because for about two months it had been thinking I had purchased farro. Kamut is also called khorasan wheat, and is one of those "ancient grains" you might have been hearing about.
Farro is also a wheat product, but far more confusing to define, so we'll skip that until another post. The point is, the two look fairly similar, and so there I was.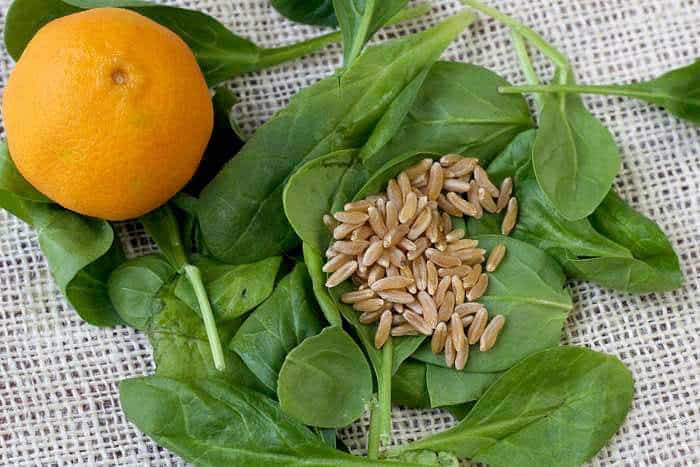 Happily, kamut is great in lots of recipes. It does take a while to cook — about 90 minutes — so I recommend cooking a batch ahead of time and reheating as needed for quick meals. This method makes it perfect for lunchtime salads, so I can alternate between this and my broccoli white bean salad for days.
This kamut spinach salad is crazy easy. All you need to do is cook the kamut, then while still warm, toss it with the spinach to help it wilt just slightly. You're not really cooking the spinach; but warming it helps the dressing and all the flavors blend together.
Because it's winter, this features clementines and a citrus dressing. You can supreme the clementines if you're fancy, but I don't bother, as the skins are unobtrusive. If you use grapefruit or another larger citrus fruit, you will likely want to supreme the sections.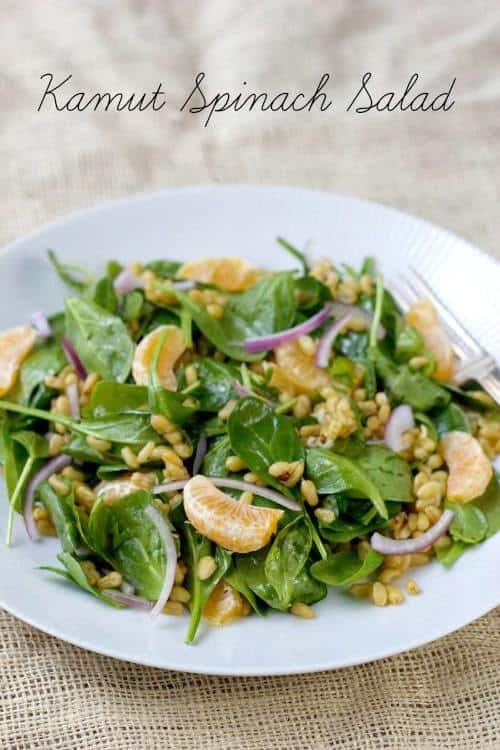 You can store the salad in the fridge for a few days, pre-dressed, so this is a great option for batch cooking. Try it with a variety of baby greens!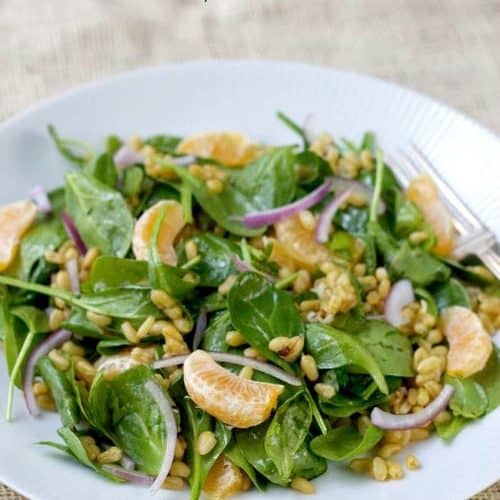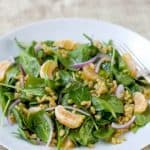 Kamut Spinach Salad
Kamut spinach salad is a refreshing way to get your whole grains.
Print
Pin
Save
Saved!
Ingredients
1/2

cup

kamut

3

cups

packed baby spinach

2

clementines

,

peeled and segmented

1/4

cup

thinly sliced red onion

1

tablespoon

orange

,

or clementine juice

2

tablespoons

olive oil

1/4

teaspoon

thyme

Salt and pepper to taste
Instructions
Cook kamut according to package instructions (it will take between 90 minutes and 2 hours), until tender.

Drain any excess water and pour kamut into a large bowl. Add spinach, clementines, and red onions and toss together.

Whisk together orange juice, olive oil, thyme, and salt and pepper. Pour over salad and toss to coat.

Serve or store in an airtight container in the refrigerator.
Nutrition
Serving:
1
serving
Calories:
159
kcal
Carbohydrates:
23
g
Protein:
3
g
Fat:
7
g
Saturated Fat:
1
g
Sodium:
131
mg
Fiber:
3
g
Sugar:
14
g