Maple bacon pancake poppers add fun to breakfast.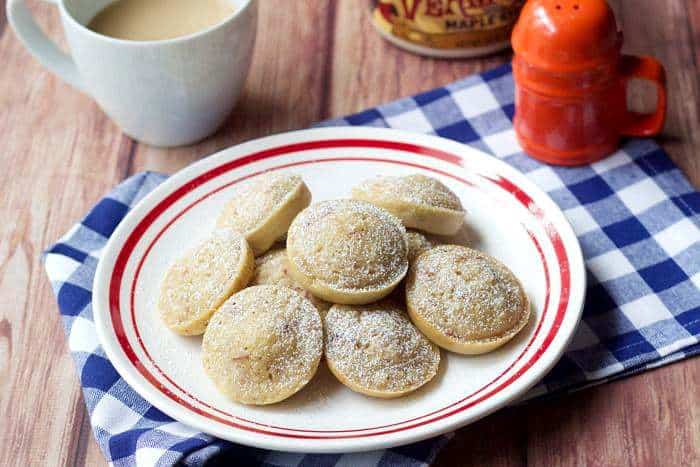 When I was a kid, I had toast for breakfast every day. I'm talking practically every single day for years. I'm not quite sure if it was just my picky nature (milk in cereal, gross) or that toast is cheap, easy, and something I could do for myself. Nowadays I still enjoy toast every once in a while, but I like to branch out with my breakfasts. Although the rest of my family is happy with cereal for days on end, I crave variety, and explains a lot of the experimenting I do in the kitchen.
My most recent experiment was a success, because these maple bacon pancake poppers were born. We love pancakes, so it was only a matter of time before I figured out a way for us to have pancakes a lot more often.
All you need to do is mix up some pancake batter, and instead of getting out your griddle, grab your muffin tin and pour the batter into the muffin wells. Totally easy, and in a few minutes you'll have perfect mini pancakes for popping. Why bother with those frozen bags of mini waffles when you can have these on hand in the fridge?
Plus, the maple bacon pancake poppers recipe is completely customizable. Don't like bacon? No problem, just leave it out (you weirdo). Toss in some mini blueberries instead, or mini chocolate chips, or chopped fresh strawberries. Pretty much anything goes — you can even add your mix-ins after the batter has been poured into the muffin tin, allowing the rest of the family to add their own breakfast flair.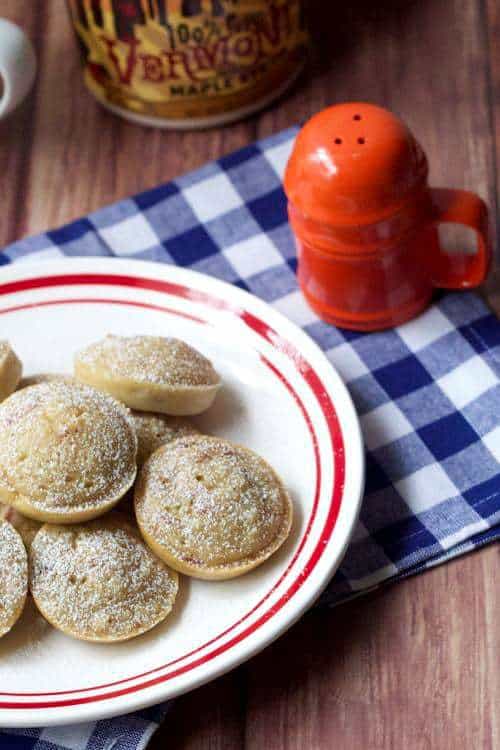 These store pretty well in the fridge, so feel free to make a big batch and then reheat as needed throughout the week. They're great for snacking in the afternoon too, especially with a nice mug of hot chocolate for dipping into!
Other pancake recipes you might enjoy:
Beer Pancakes – Stetted
Caramelized Peach and Oat Pancakes – Cookie + Kate
Marmalade Pancakes – Savvy Eats
Mascarpone Pancakes – Stetted
Orange Chocolate Chip Pancakes – Hungry Girl Por Vida
For more morning inspiration, check out my Breakfast board on Pinterest!
Follow Megan Myers | Stetted's board Breakfast on Pinterest.