This post contains affiliate links. As an Amazon Associate, I earn from qualifying purchases.
Bacon pancakes are a favorite breakfast at our house. Crisp-cooked bacon is added to an easy, classic pancake batter for a fun way to start the day.
We start almost every Sunday with a batch of pancakes.
It's a tradition that began years ago, but my kids never tire of it. That's probably because I always change up the pancake variety to keep breakfast interesting.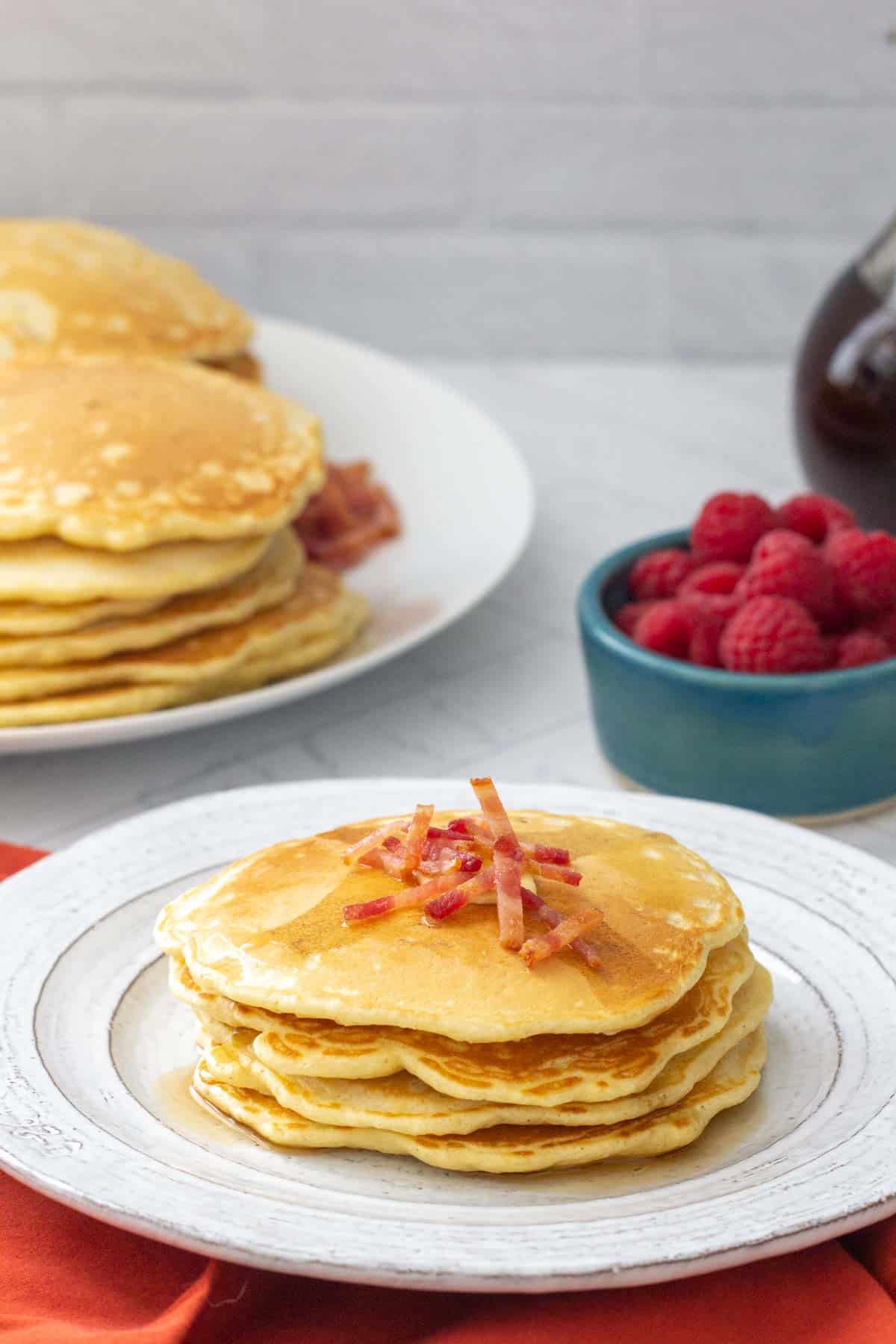 Bacon pancakes came about because of our love of the show Adventure Time and the catchy song Jake sings as he's making breakfast. They're now a family favorite!
While bacon pancakes might seem decadent, I find that with this recipe we actually eat less bacon than if we were cooking bacon to serve on the side.
Add maple syrup, and you have a breakfast classic!
Tips for Making Pancakes with Bacon
Cook your bacon to crisp before making the pancake batter.
You can bake bacon in the oven to make this step a snap. Simply place as much bacon as you need to cook on a lined baking sheet and bake at 400°F until crisp.
The bacon should be cooked until crispy because it will soften a bit while it rests in the pancake batter.
If you don't cook it long enough, the bacon pieces in the pancakes will be chewy.
Use paper towels to pat off any excess bacon grease.
I chop the bacon for the batter rather than pouring batter over strips. This helps get bacon flavor throughout the pancake while making it much easier to eat.
Save some extra chopped bacon for topping the pancakes, if you like.
Don't overmix the batter. Pancake batter is OK with a few lumps!
I do not recommend using a blender to mix pancake batter, because it works too quickly and will overmix, which can result in tough pancakes.
Let your pancake batter rest while you heat up your griddle or frying pan.
This helps the flour absorb more of the liquid and let the gluten relax, resulting in a lighter pancake.
Add the melted butter just before cooking to help make the pancakes fluffy and more delicious.
Flip the pancakes just once during cooking. They should be flipped when the edges look dry and bubbles form on the surface.
Keep the pancakes warm in a microwave as you cook the rest of the batter.
Bacon Pancake FAQ
Other Pancake Recipes to Enjoy
I hope you enjoy making bacon pancakes at your house!