This post contains affiliate links. As an Amazon Associate, I earn from qualifying purchases.
The oven is the best way to cook bacon for a crowd! Learn how to bake bacon to enjoy for breakfast or use in your favorite recipes.
I don't know about your house, but bacon always has a spot in the fridge at ours. Whether we're making breakfast tacos, BLTs, or bacon onion dip, we have some ready to go.
One thing I don't like about bacon is how messy it can be to make. Cooking it on the stove often means bacon grease splattering everywhere, so I have to spend the time after breakfast scrubbing down my stove grates instead of relaxing with my family.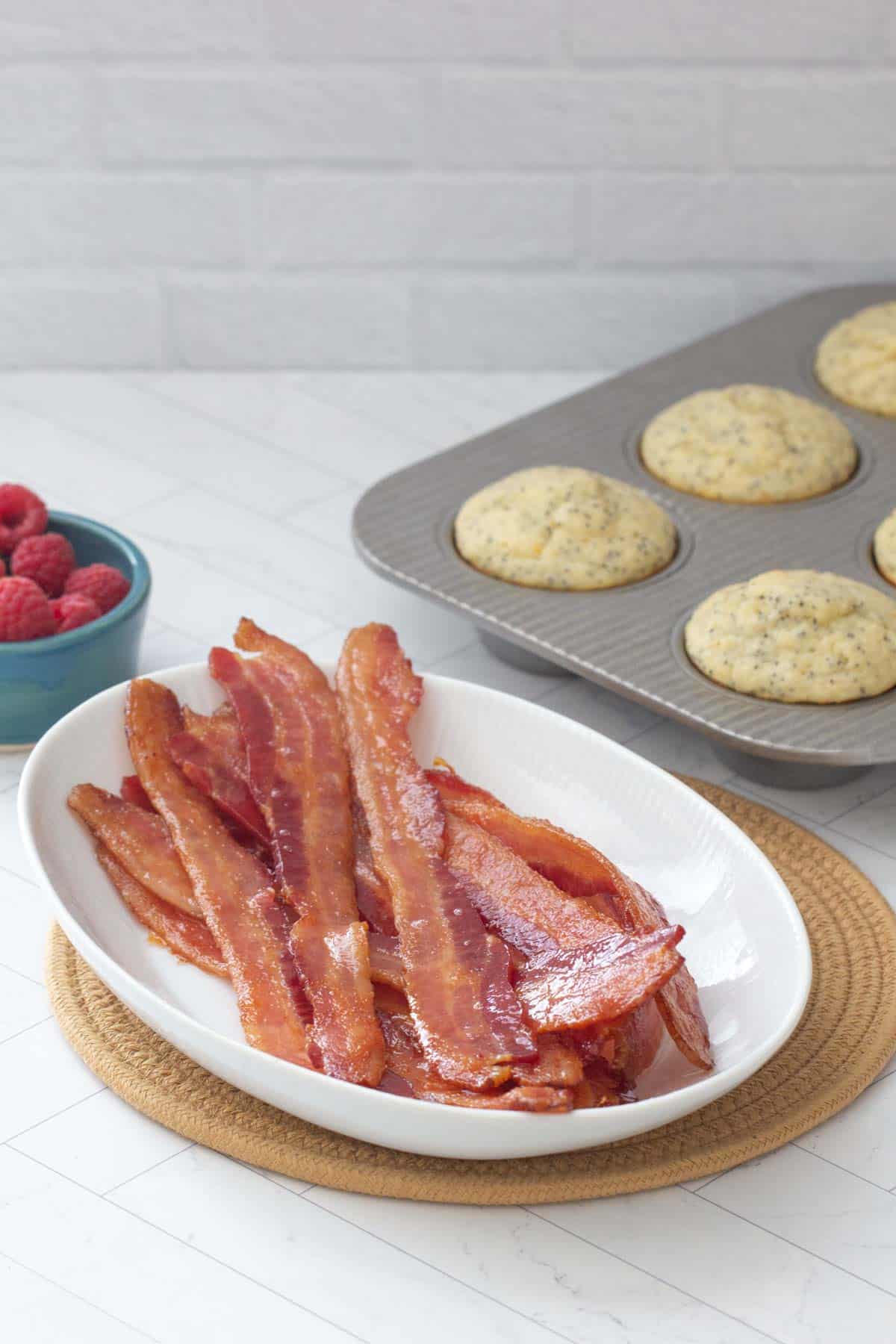 A few years ago I started cooking bacon in the oven, and I'm a convert!
Why cook bacon in the oven?
Baking is the best way to cook bacon for a variety of reasons.
First, you can make a whole batch of bacon at one time. I can only fit about four slices onto my frying pan, but I can easily do double or more in the oven.
Second, the bacon cooks evenly, so you don't have one end that gets burned while the other end is floppy.
Third, the bacon cooks up flat instead of curling, making it ideal for adding to sandwiches and burgers. Flat slices are also easier to chop for adding to salads or using as toppings for things like baked potato soup.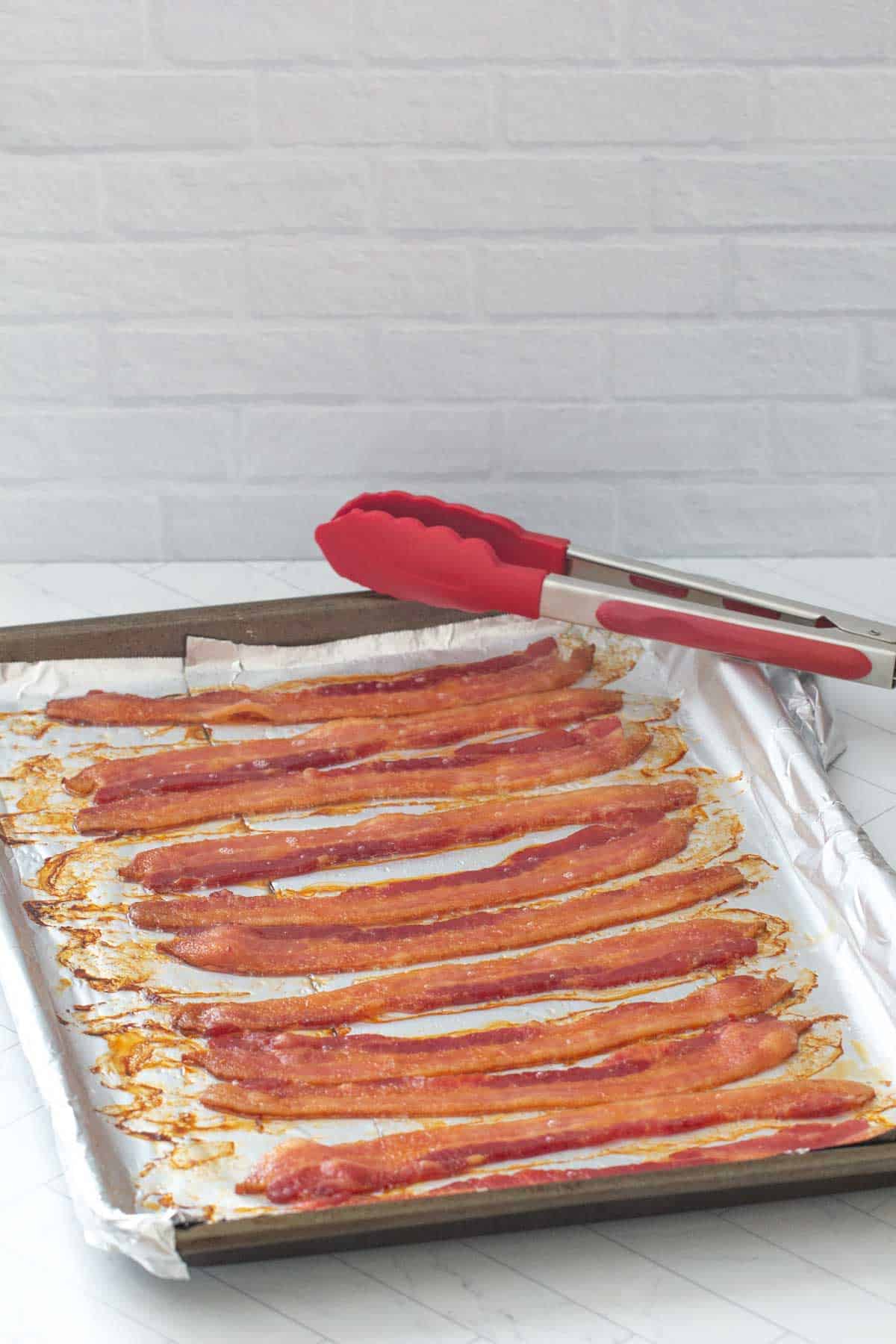 Tips for baking bacon
One thing to keep in mind about learning how to bake bacon in the oven is that the time needed will always depend on the bacon you're using.
Thick-cut bacon will take longer to cook than thin cut bacon. I also like crispier bacon than my husband, so you might want to cook it for more or less time.
I recommend setting your timer for the lower end of the range and then checking to see if it is cooked to your liking.
Don't crowd the pan when laying out the bacon. Keeping some space between slices will help it cook more evenly and allow the bacon to crisp.
Be sure to use a rimmed baking sheet, not a flat cookie sheet, in order to catch the accumulated bacon grease. Lining the pan with tin foil will help with cleanup.
For flavor variations, before baking, spread the bacon slices with maple syrup, brown sugar, cracked pepper, chopped jalapenos, cayenne pepper, or a mixture of your favorites!
How to bake bacon
Turn the oven temp to 400°F and line a rimmed baking sheet with either foil or parchment paper. If using foil, you might need two separate pieces to cover the pan and sides, if your foil is not wider than the baking sheet.
Lay the bacon strips onto the baking sheet, using as many strips as you like. Leave a small amount of space between slices.
Depending on the bacon used, you might need a second baking sheet if you want to cook the entire package.
Place bacon in the oven and bake for 10-15 minutes until cooked to desired crispness. Add more time as needed for your cut of bacon and taste preferences, keeping in mind that bacon firms up slightly more once removed from heat.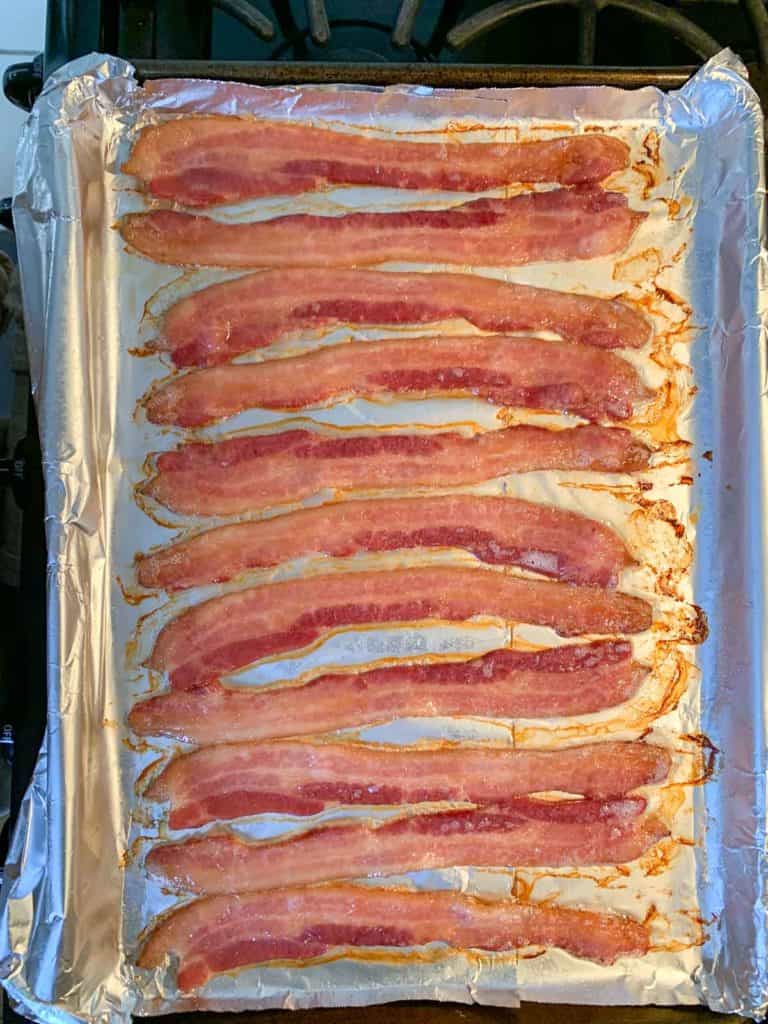 Once cooked, remove sheet pan from the oven, and remove bacon to a paper towel lined plate to drain off excess grease.
Serve immediately or store leftover bacon for another recipe.
FAQ
Do I need to flip bacon?
No! A great thing about cooking bacon in the oven is that you don't need to worry about flipping it.
Do I need a wire rack on my baking pan?
If you prefer, you can set a wire baking rack on top of your rimmed baking sheet, and place the bacon on the rack.

This helps air circulate while the bacon cooks, as well as allows some of the fat to drip down onto the pan.

Using a wire rack can also cut down on cooking time slightly, so be watchful toward the end of cooking.
What kind of bacon should I use?
Any kind you like! Thick cut, thin cut, applewood smoked, or center cut bacon all work well with this method.

You can even cook turkey bacon in the oven!
How long does it take to bake bacon at 350°F?
If you want to use a lower temperature, increase the cooking time by 5-10 minutes.
How do I store leftover bacon?
Place any leftover bacon in a ziptop bag and remove as much air as possible. Store in the refrigerator for up to 5 days.
Can I freeze leftover bacon?
For longer storage, cooked bacon can be stored in the freezer. Wrap pieces in paper towels (portion into desired serving size) and tuck into a freezer-safe bag or container. Freeze for up to 6 weeks.
How do I reheat leftover bacon?
Place the desired number of slices onto a plate and cover with a paper towel. Microwave in 20 second bursts, checking after each interval for doneness.

Or, cook in a hot oven for about 5 minutes.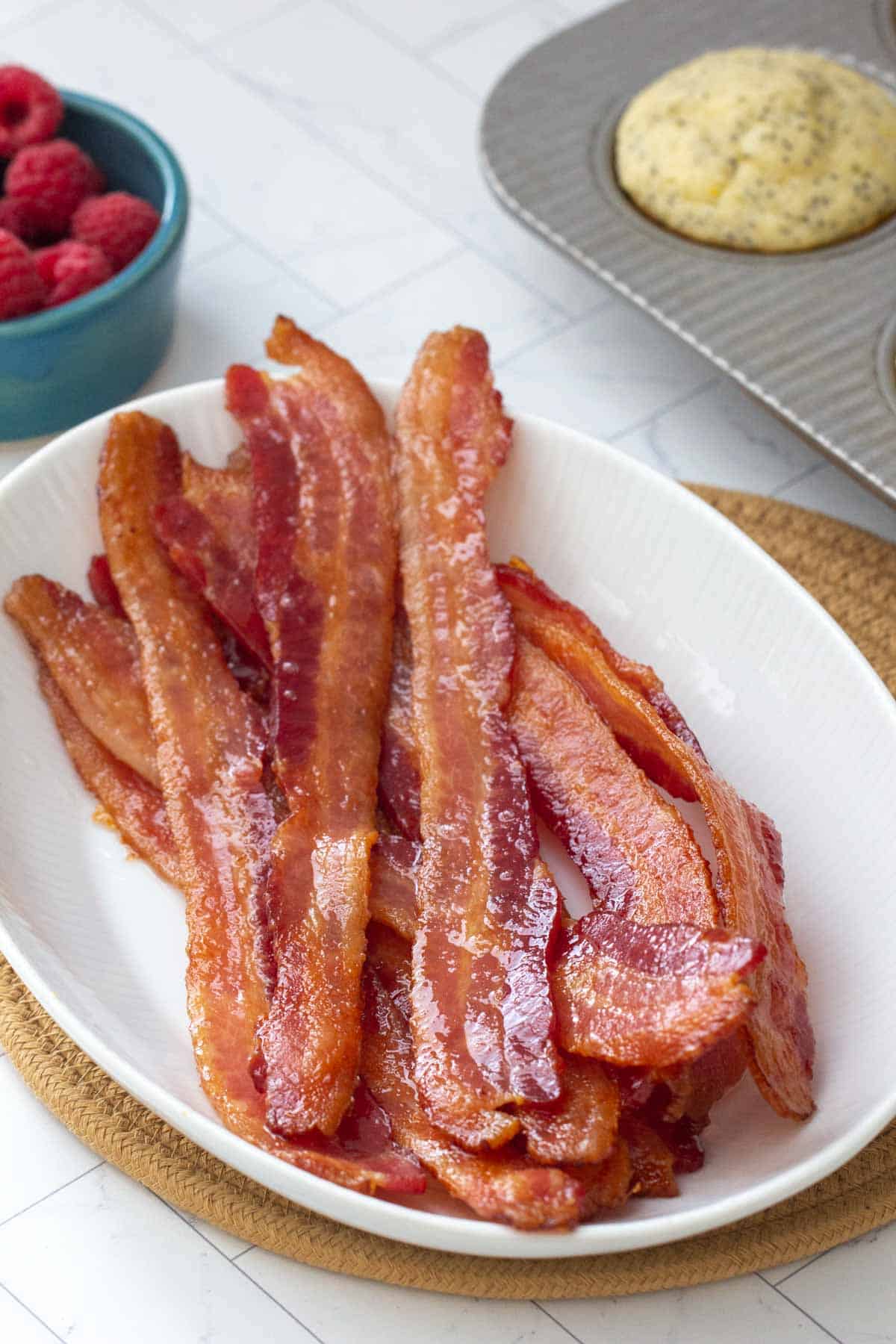 Uses for leftover baked bacon
Once you have perfectly baked bacon, it won't be hard to find uses for it.
I love adding bacon to things like Brussels sprouts to add just a bit of meat to a dish. Bacon is also an excellent addition for meatloaf, roasted potatoes, or in my loaded beer bread.
Chop it for salads, avocado toast, soups, baked potatoes, or any of your favorite dishes.
You'll love how easy it is to bake bacon!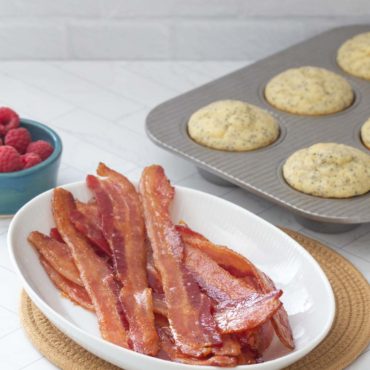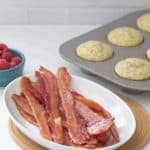 How to Bake Bacon
The oven is the best way to cook bacon for a crowd! Learn how to bake bacon to enjoy for breakfast or use in your favorite recipes.
Print
Pin
Save
Saved!
Ingredients
1

pound

uncooked bacon

,

more or less as desired
Instructions
Preheat oven to 400°F. Line a rimmed baking sheet with aluminum foil or parchment paper. OPTIONAL: Place a wire rack on top of the baking sheet.

Lay bacon strips onto baking sheet, leaving a slight gap between pieces.

Bake for 10 minutes, then check bacon. If needed, cook for additional 5 minute spurts until desired crispness is achieved. Final baking time will depend on your variety of bacon.
Notes
If using a lower temperature, increase cooking time as needed.
Nutrition
Serving:
2
slices
Calories:
236
kcal
Carbohydrates:
1
g
Protein:
7
g
Fat:
23
g
Saturated Fat:
8
g
Cholesterol:
37
mg
Sodium:
375
mg
Sugar:
1
g