Roasted Breakfast Potatoes
This post contains affiliate links. As an Amazon Associate, I earn from qualifying purchases.
Roasted breakfast potatoes bring comfort to the table.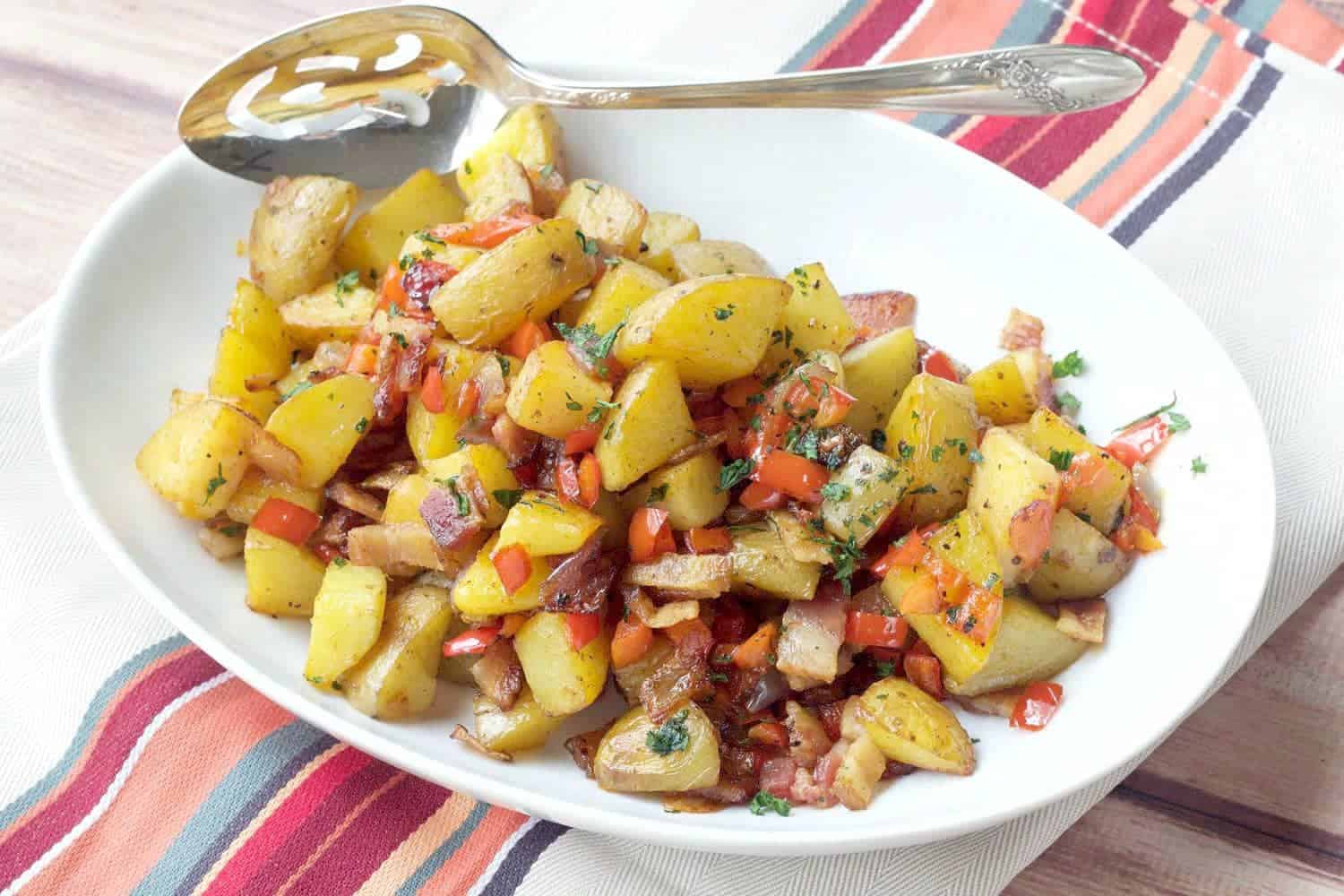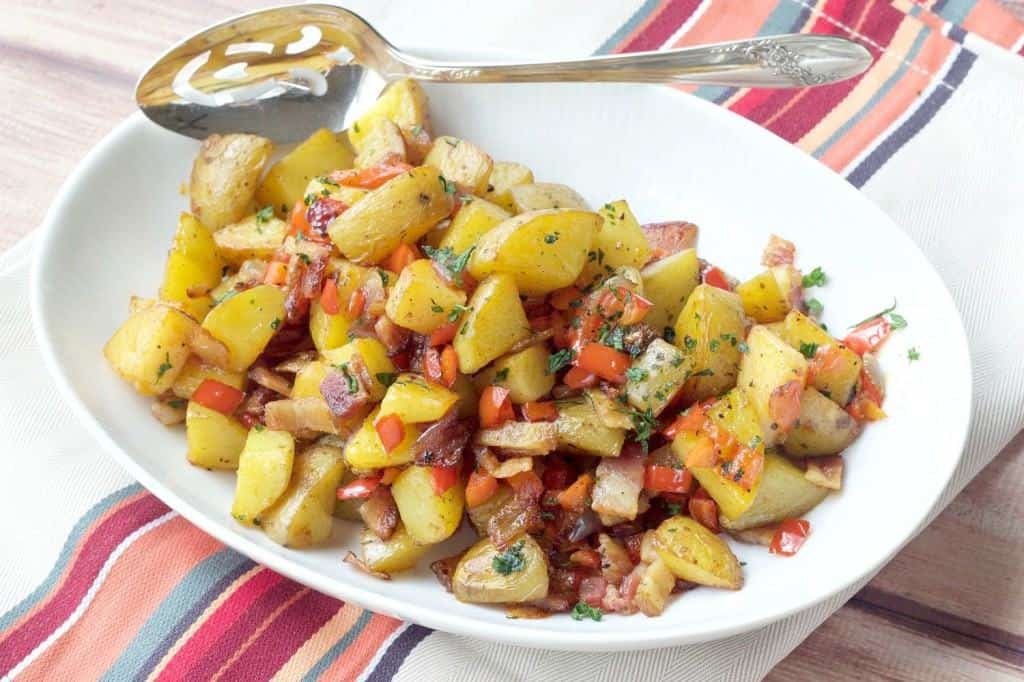 Cooking is my love language. I suppose that falls under acts of service, but it's not really the same to me. After all, we all need to eat and procure food in some way, but how we go about it varies greatly.
Unlike a lot of other food writers, I didn't learn how to cook from my grandmother or mother. Sure, there are a few things my mother helped me discover, like mixing up blueberry muffins, the indulgence of hot buttered rice-corn cereal, and fueling through coffee, but I had to search out my own path if I wanted to really embrace cooking.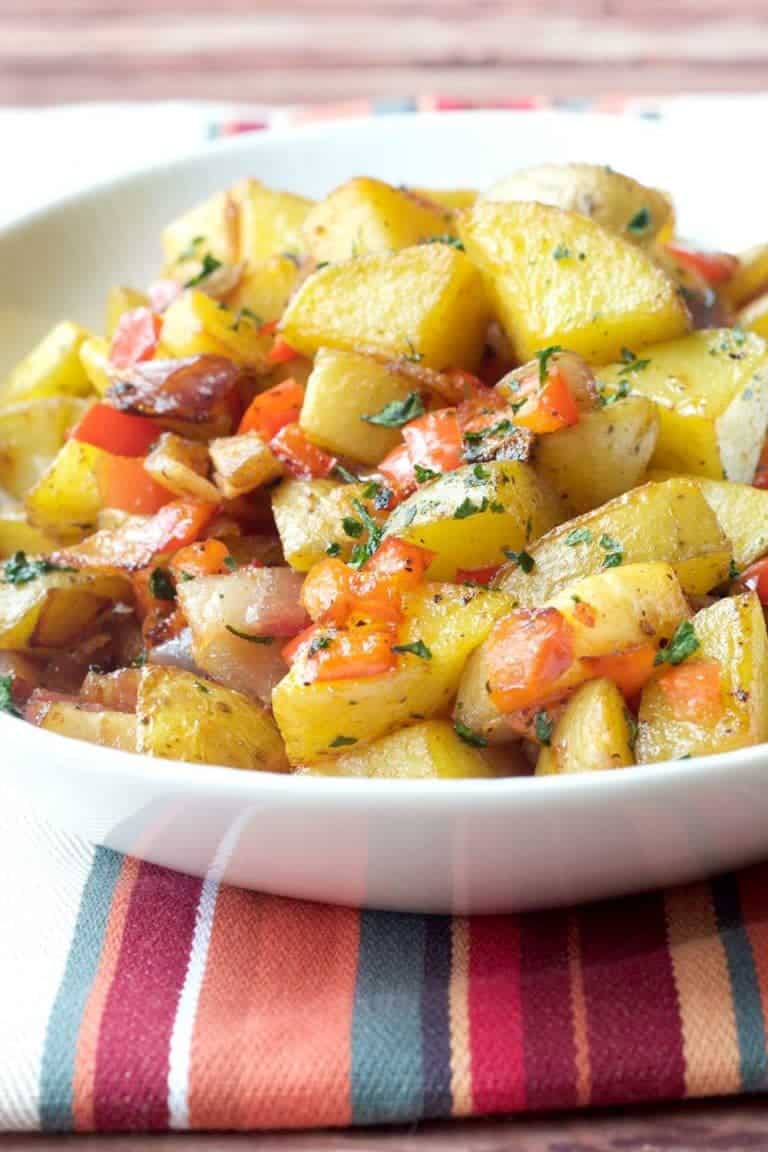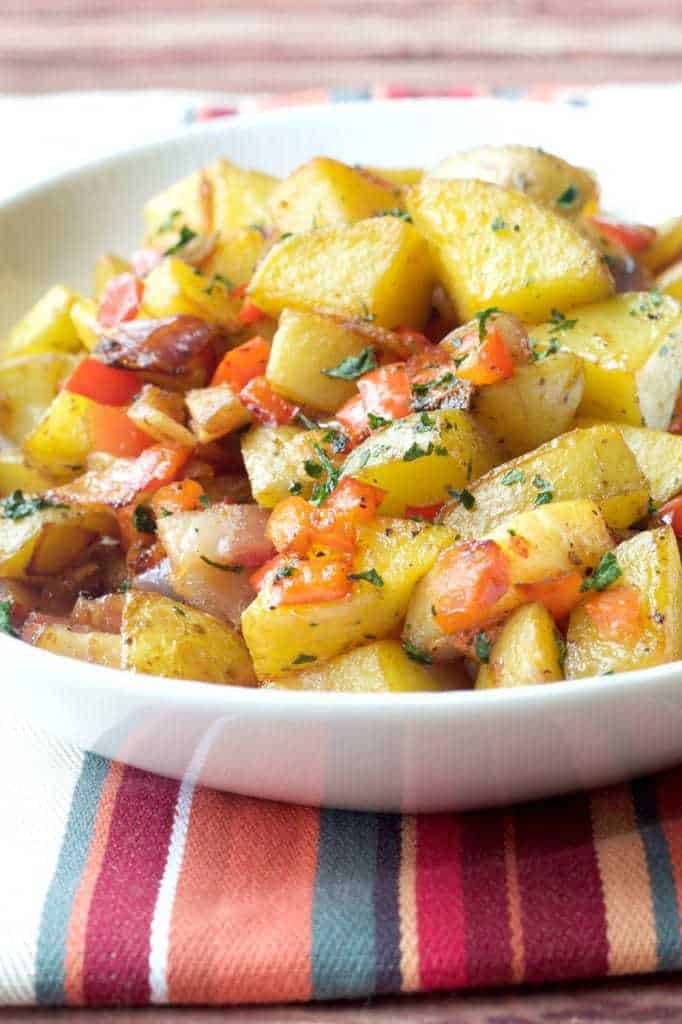 That path often included venturing to a restaurant or twelve to figure out just how things were meant to be put together, from exquisite duck confit to rustic roasted potatoes.
Roasted potatoes to some are just a cast-off side dish, something they put together because they needed to round out the plate. But when cooked with the intention of love, they are transformed into bites that melt under the slightest nibble.
My favorite potatoes are served as a breakfast hash at a local restaurant in Austin. The chef owns multiple restaurants in the city, and at every place the food is crafted and served with clear intention.
Though some patrons might just be looking for a meatball sub on Friday night or a bowl of warm soup during lunch, each of those dishes is brought forth with care.
You can tell by how each garnish is placed just so, by the perfectly hand-formed dumplings, and by the way the wait staff enthusiastically recommends a dish they love themselves. This is true, good food, served without pretense.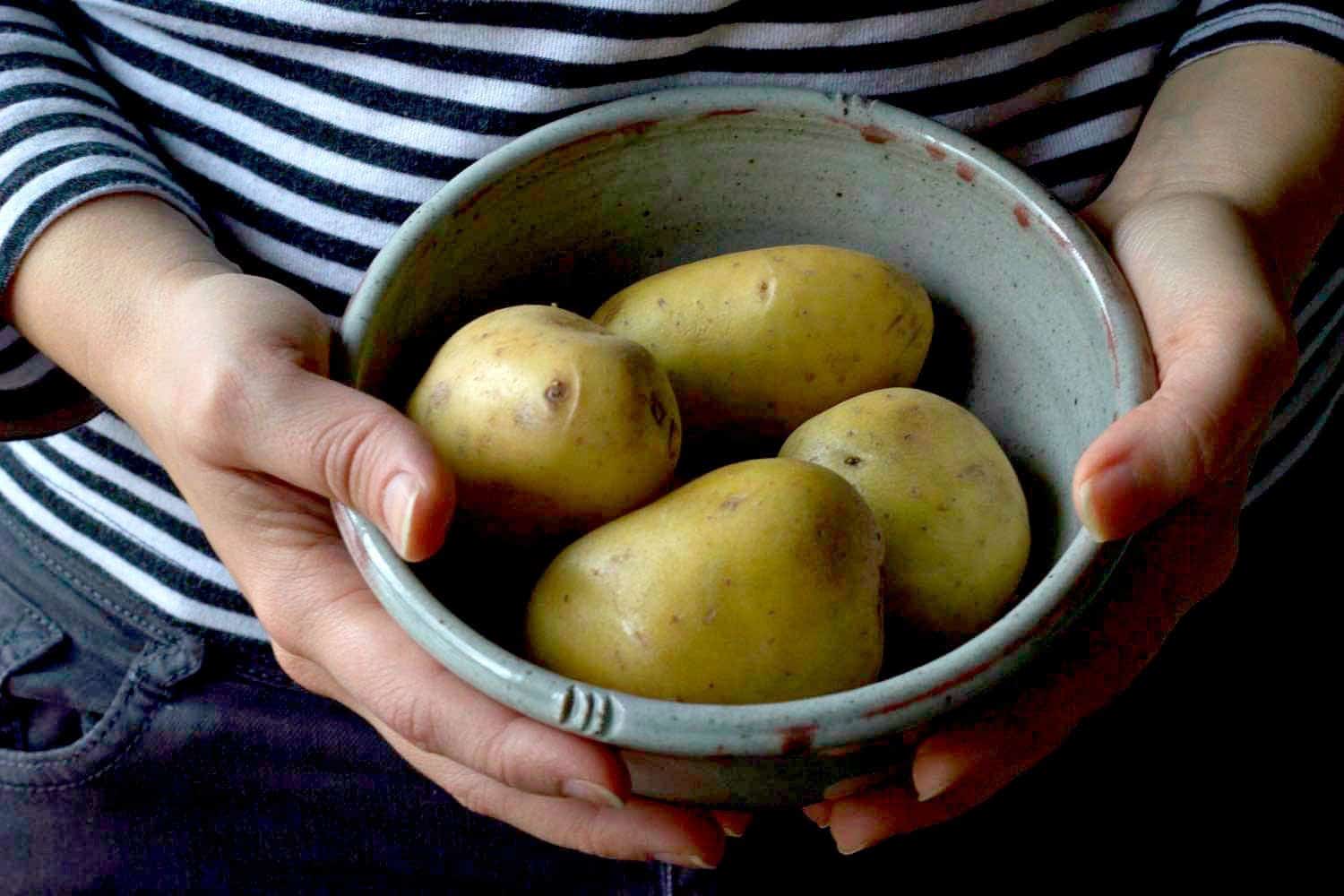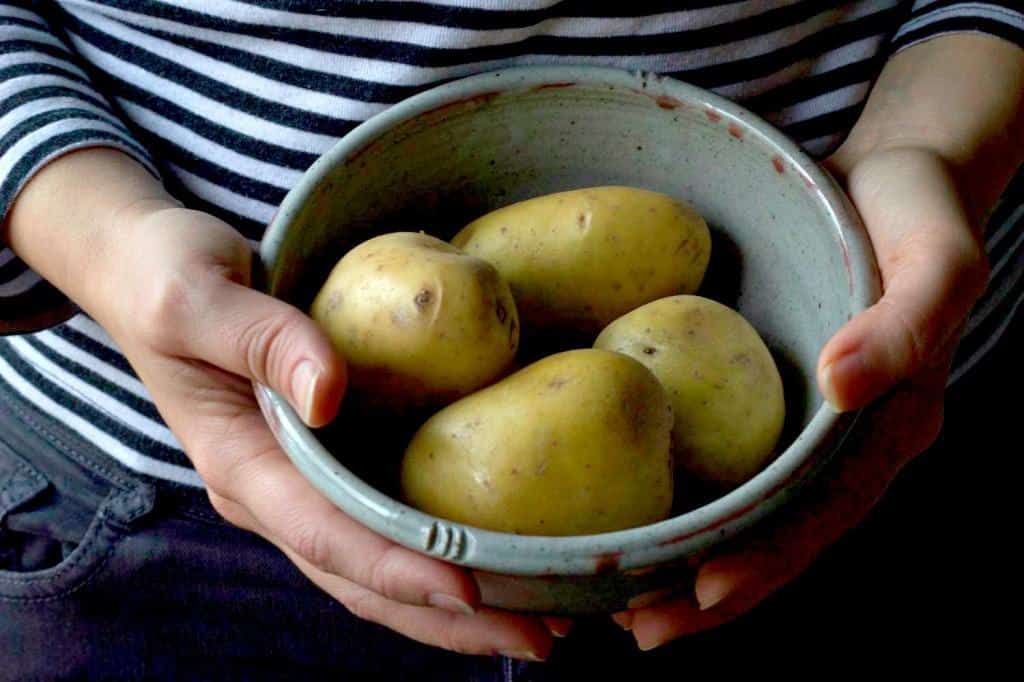 That's how I have come to look at my own cooking, and realize that each ingredient and dish has a purpose beyond its surface.
Touches like that are what makes chefs and artisans so special to my heart and creative mind. I absolutely love learning more about the story behind food, from craft coffee to DIY hot sauce. We can all use a little more caffeine and spice in our lives, right?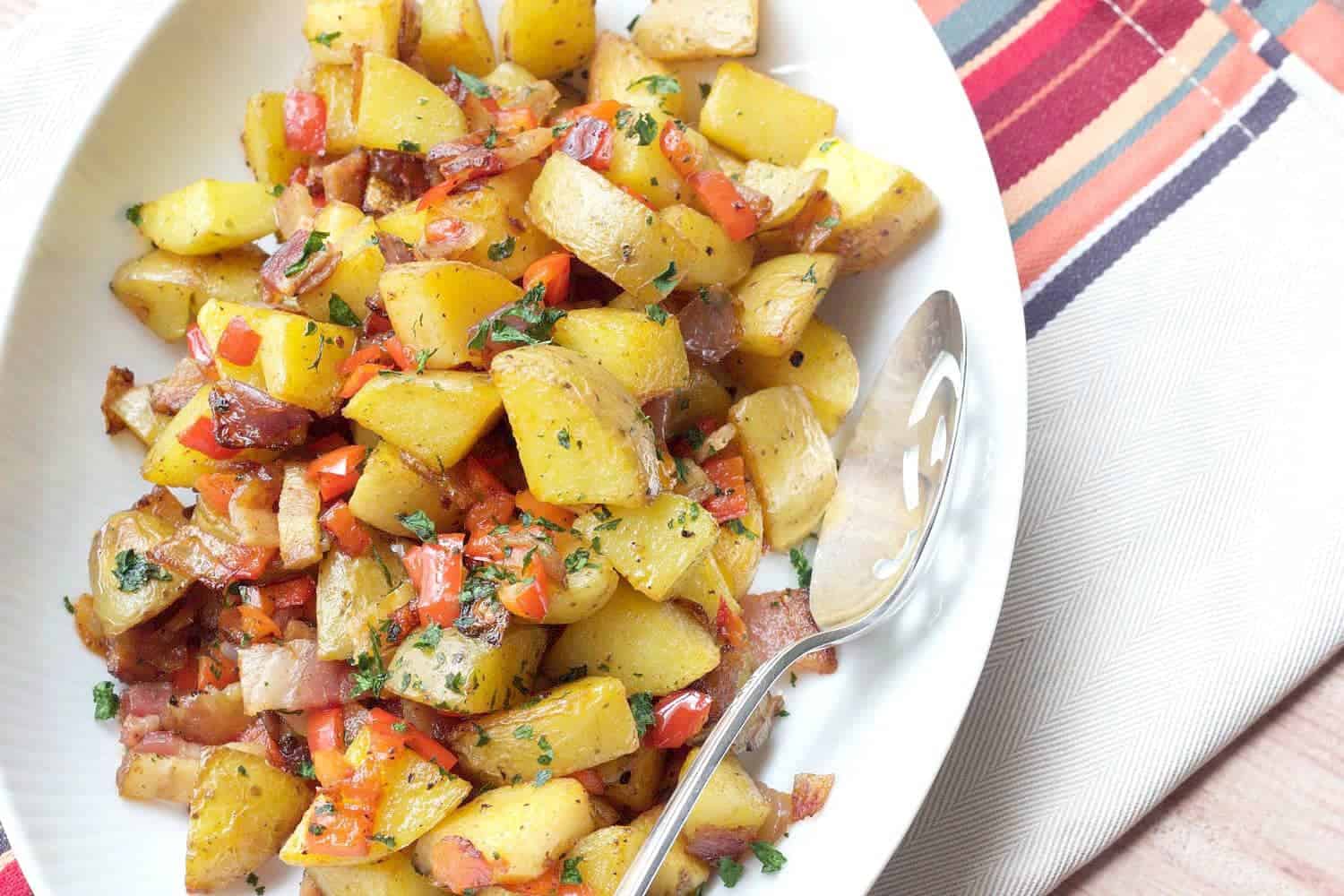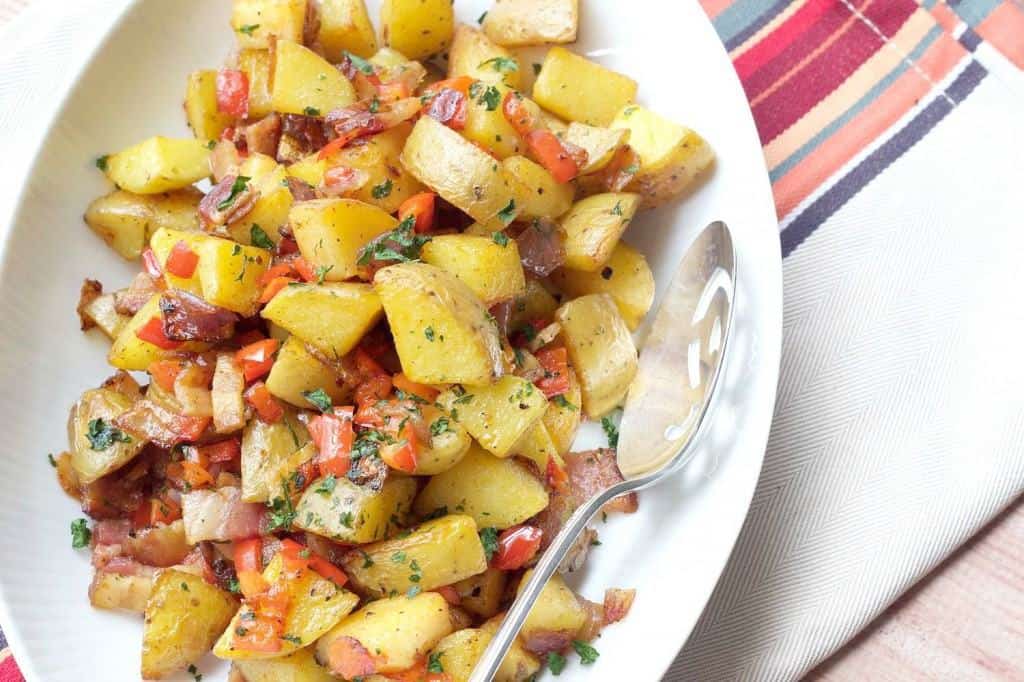 This recipe for roasted breakfast potatoes is my version of the restaurant dish I love so much. When you have a waiter groan with happiness every time they set a plate down, you need to figure out how to recreate that magic at home, don't you think?
For my version, yellow potatoes are parboiled and then tossed in bacon fat with onions and peppers, sprinkled with seasoning, and roasted to perfection in the oven. The dish begs to be eaten straight from the pan, but hold off if you can and share as a brunch side or top with fried eggs for a breakfast for two.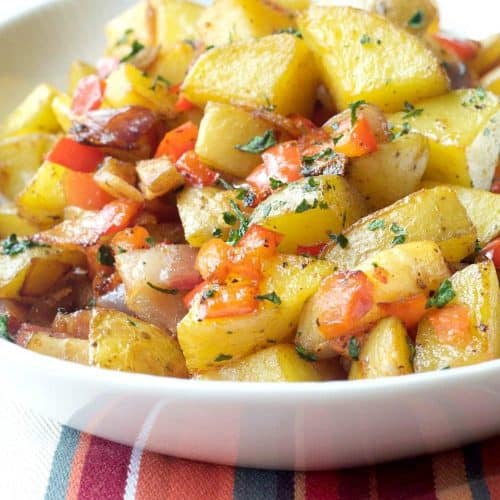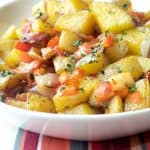 Roasted Breakfast Potatoes
Roasted breakfast potatoes are a brunch staple. Top with an egg and you're set!
Print
Pin
Save
Saved!
Ingredients
1

pound

Yukon Gold potatoes

1/4

teaspoon

baking soda

2

slices

thick-cut bacon

1/2

cup

red onion

,

diced

1/2

cup

bell peppers

,

diced

1

teaspoon

fine sea salt

1/2

teaspoon

black pepper

1/4

teaspoon

smoked paprika

1/4

teaspoon

garlic powder

2

tablespoons

fresh parsley

,

chopped
Instructions
Preheat oven to 400°F. Set a pot of water to boil.

Cut potatoes into 1-inch cubes. When water is boiling, add potatoes and baking soda and boil for 5 minutes. Drain potatoes.

In a large skillet, cook bacon over medium heat until crispy. Remove skillet from stove and place bacon on paper towels to drain.

Toss potatoes, onion, and pepper in the rendered bacon fat. Sprinkle with salt, pepper, paprika, and garlic powder and stir to coat.

Spread potatoes on a rimmed baking sheet and bake for 30 minutes, stirring halfway through.

At 30 minutes, stir in bacon, then cook another five minutes.

Remove from oven, season to taste, and serve.
Nutrition
Calories:
152
kcal
Carbohydrates:
29
g
Protein:
5
g
Fat:
2
g
Saturated Fat:
1
g
Cholesterol:
6
mg
Sodium:
718
mg
Fiber:
3
g
Sugar:
3
g