This post contains affiliate links. As an Amazon Associate, I earn from qualifying purchases.
Pickled jalapeños are a must-have for spice lovers! They're easy to make and perfect for tacos, nachos, or anywhere you want a bit of heat.
One thing that is a constant in my fridge is a jar of pickled jalapeños.
Just like pickled onions, we use them on everything, from topping chili to dicing for scrambled eggs.
Pickling tones down the spice of jalapeños and gives them a tangy kick, so they're great for adding just enough heat.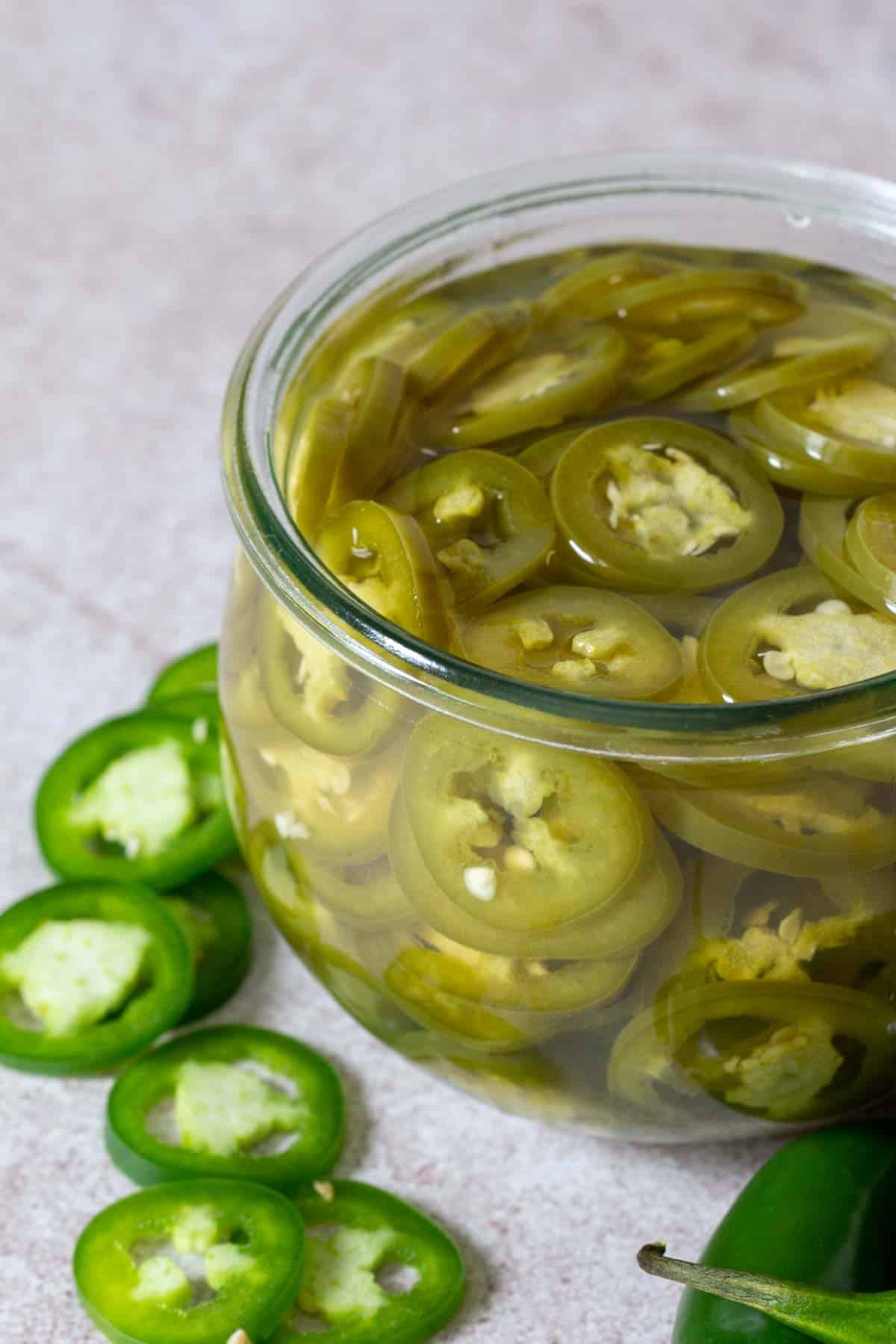 We used to buy pickled jalapenos at the grocery store, but they are so incredibly easy that now I just make batches to always have on hand.
Even if you're new to pickling or canning, you'll find that this easy homemade pickled jalapeños recipe is a snap!
Ingredients
To make pickled jalapeños, you'll need to have some jars on hand for storage. I prefer to use pint jars, but you can use one quart jar or multiple half-pint jars, if you prefer.
You'll also need water. Tap water will work perfectly fine for this recipe.
Jalapeños
This recipe is for 1 pound of jalapeños. Because jalapeño peppers can vary a lot in size, it's important to go by weight for purchasing the peppers.
This recipe makes 2 pint jars; if you want to make only 1 jar, you'll need about ½ pound of jalapeños.
Make sure you purchase only fresh jalapeños to pickle. Look for skins that are shiny with no wrinkles or soft spots.
You might notice some peppers with lines on the skin. This is fine, and it often means they are spicier!
The heat level of jalapeños can vary, but if you want to keep your pickle less spicy, remove the seeds as you slice the peppers. I sometimes remove the seeds on half the jalapeños and keep them on the other half.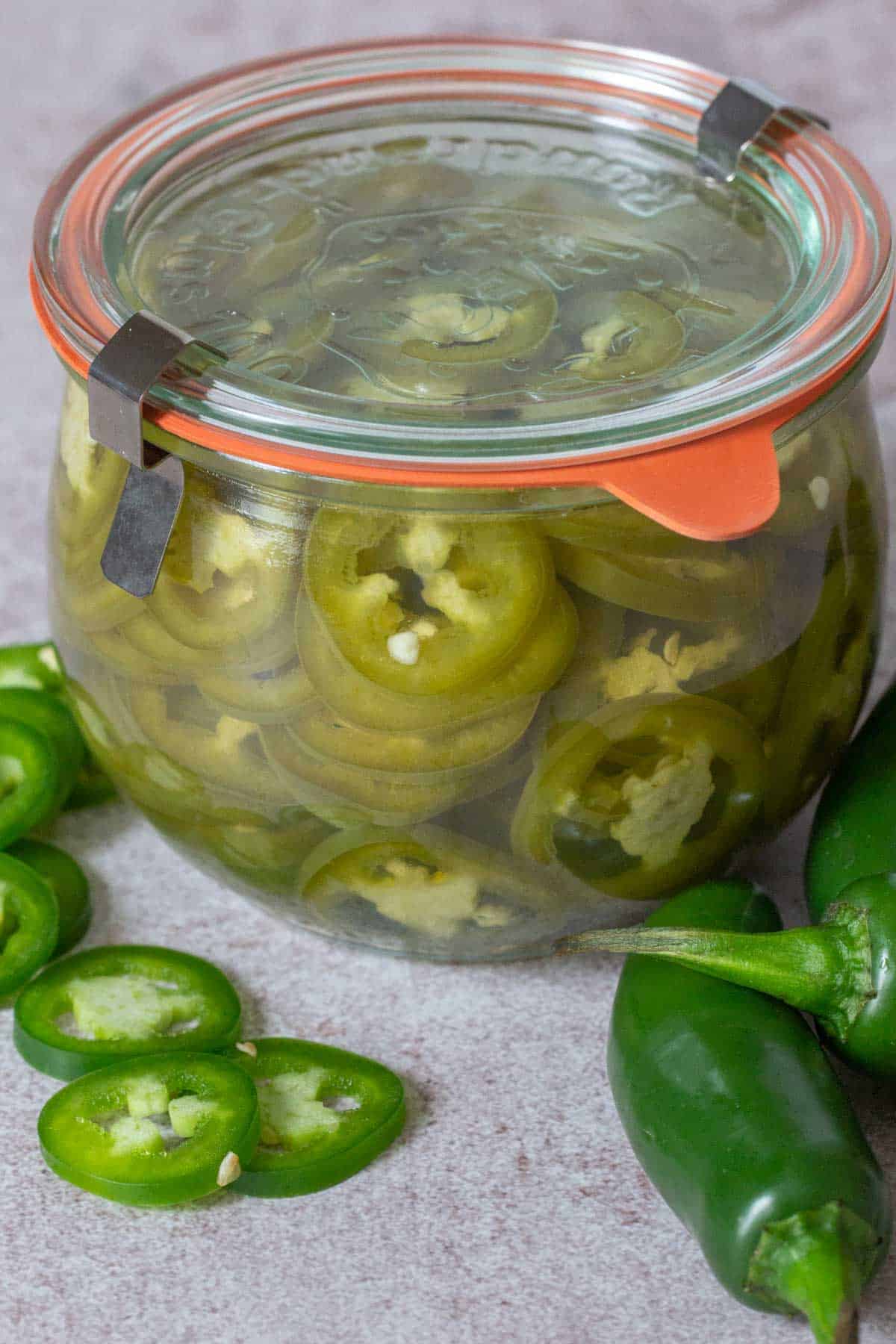 Vinegar
This recipe uses distilled white vinegar. You can use other vinegars if you want to add more flavor to your brine, but make sure they have at least 5% acidity.
Other vinegar options to try include cider vinegar, rice vinegar, and white wine vinegar. All of them will give a little different flavor to your pickle.
Pickling salt
Pickling salt is a fine salt that dissolves easily, making it perfect for using in brines.
It's easily found in many grocery stores, but it does come in a large box. If you don't have pickling salt, you can swap in fine sea salt or fine kosher salt.
How to pickle jalapeños
Grab 2 clean, sterilized pint jars. You can also use any other container with an airtight lid, such as a deli container or Pyrex bowl.
Slice your jalapeños into rings. (Use plastic gloves to prevent the oils from getting on your fingers!) If you like, remove seeds. Fill the jars with the sliced jalapeños, packing them tightly.
In a small saucepan, combine the vinegar, water, and salt. Bring to a boil, stirring to dissolve the salt.
Place a funnel in the jar and pour the hot brine over the jalapenos, leaving about ½ inch at the top of the jar. Repeat with the other jar.
Use a chopstick or wooden dowel to gently press around the sides of the jar, releasing any air bubbles. Add in more jalapeño slices if they fit, making sure they are submerged.
You might have some jalapeños left over depending on how much can actually fit in your jars, but that's ok! Store them in the fridge to use for another recipe.
Place the lids on your jars and let cool to room temperature, then store in the refrigerator.
Quick pickled jalapeños will last in the fridge for at least 3 months.
Can I store pickled jalapeños in the pantry?
While this recipe can be stored in the refrigerator, if you want to have pickled jalapeños stashed in your pantry, you can also process the jars in a water bath canner.
When canning jalapeños like these, I like to double or even triple the recipe so that we have a good amount stored.
It's important to remember that if you do increase the yield, you need to keep the vinegar-water ratio the same.
In order for vegetables to be safely pickled, they need to have at least 50% vinegar content in the brine. Recipes that have a lower amount of vinegar must be stored in the refrigerator.
To can them, prepare a water bath canner by filling it with water, covering, and setting to boil.
While it's getting to a boil, go ahead and slice the jalapeños and stuff the jars. Make sure your jars are sterilized first!
Once the water is boiling, keep it at a boil while you make the brine. You want the contents to be warm when you add them to the water bath, so don't make the brine before getting the canner ready.
Fill the jars with the hot brine and place on the single-use lids and rings. Using a jar lifter, carefully lower the jars into the water bath and place the lid back on the canner.
Once the water comes back to a boil, set a timer for 10 minutes (15 minutes if using quart jars).
When the time is up, turn off the heat and let sit a few minutes, then carefully lift out of the water and place on a towel-lined countertop. Let sit undisturbed for 24 hours, then label and transfer to the pantry.
Any jars that do not seal should be stored in the refrigerator. You'll know if they're sealed by hearing the lid pop as it cools. You can also press on the center gently; if it doesn't give it is sealed.
Unopened canned jars will last for about 18 months when stored in a cool, dry place.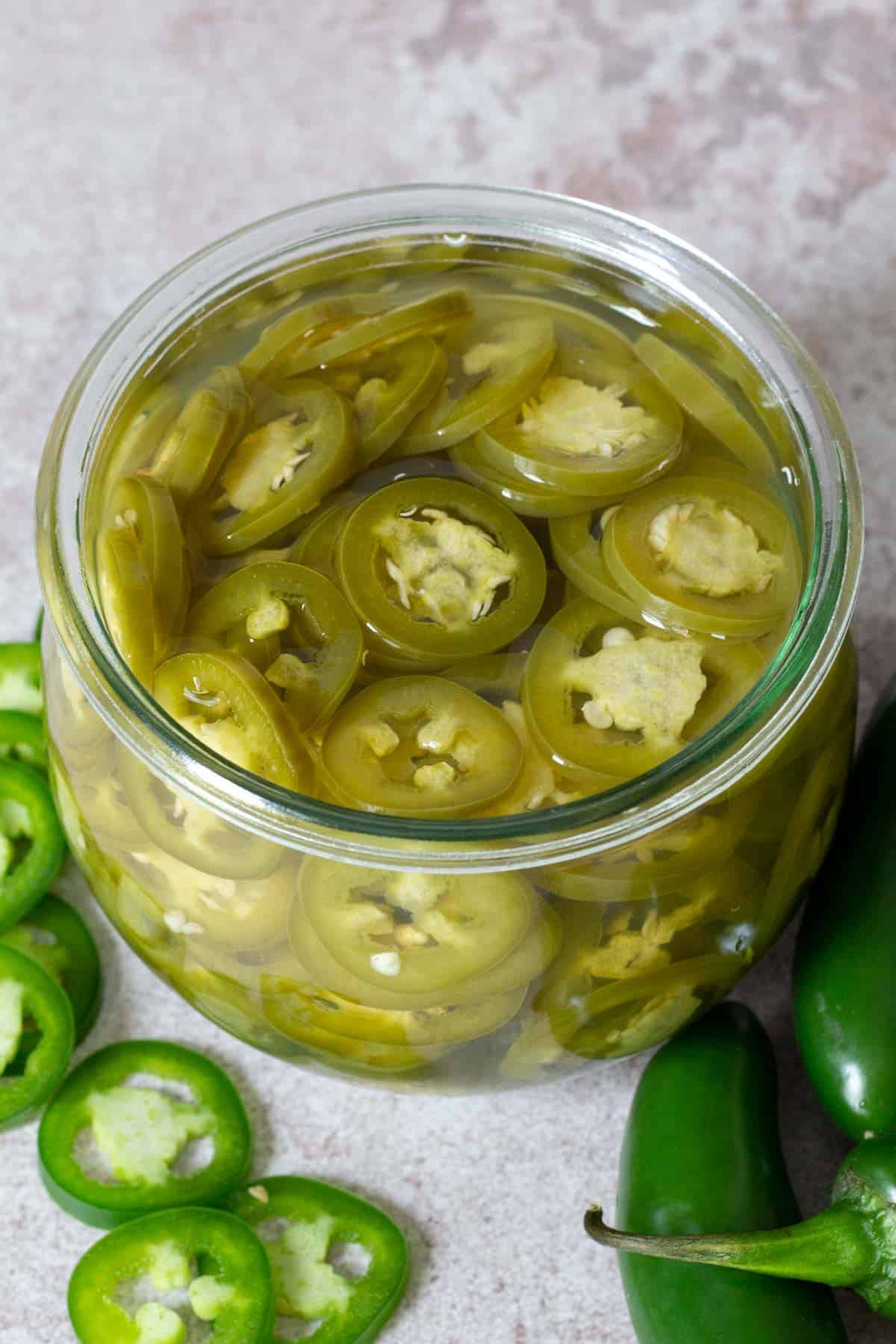 How to serve pickled jalapeños
Once you have a jar of pickled jalapeños in the fridge, you'll want to use them for everything. Here's a few of my favorite ways to enjoy them:
Really, the possibilities are endless. Use homemade pickled jalapeños anywhere you want a spicy, tangy kick!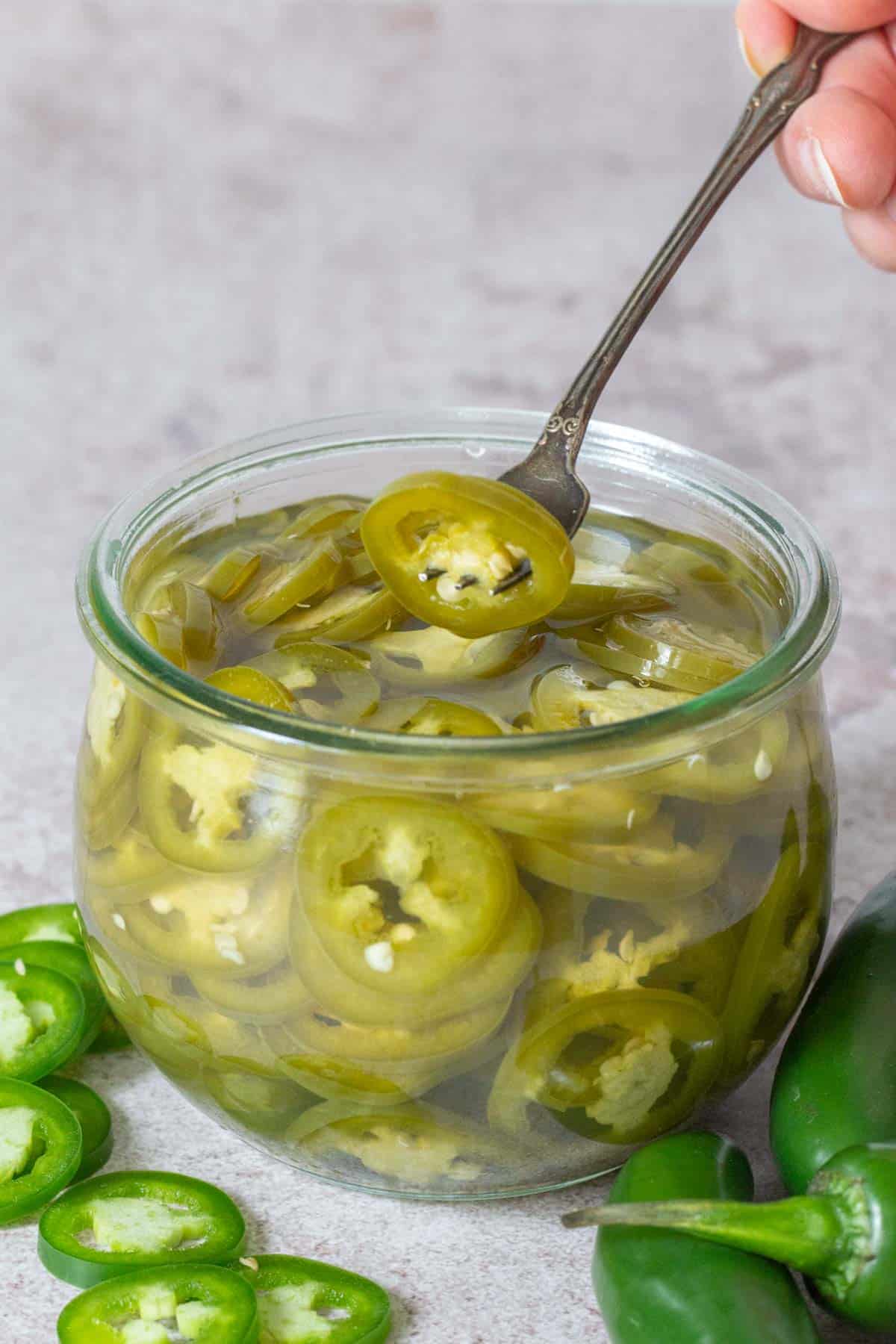 Other easy pickle recipes
Try these pickles as well!
Love this recipe? Please leave a 5-star review below! It means so much when you enjoy my recipes, so let me know how it goes and leave a comment if you have any questions.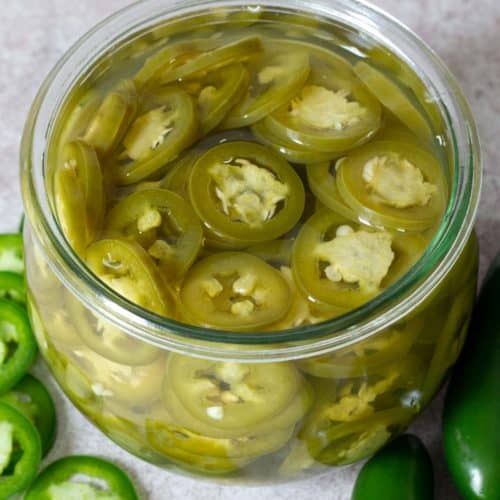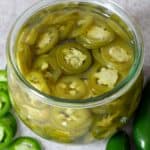 Pickled Jalapeños
Pickled jalapeños are a must-have for spice lovers! They're easy to make and perfect for tacos, nachos, or anywhere you want a bit of heat.
Print
Pin
Save
Saved!
Ingredients
1

pound

jalapeños

2

cups

water

2

cups

cider vinegar

2

tablespoons

pickling salt

,

or fine sea salt
Instructions
Slice jalapeños into rounds and pack into mason jars or a heat-safe bowl. Make the slices as thin or as thick as you like; removing seeds is optional.

In a small saucepan, combine water, vinegar, and pickling salt. Bring to a boil, stirring to dissolve salt.

Remove from heat and pour over jalapeños, leaving 1/4-inch headspace at the top.

Cover and let cool to room temperature, then store in the refrigerator. Let sit in the refrigerator at least 24 hours before enjoying.
Notes
Pickled jalapeños will last 3-6 months in the refrigerator.
Nutrition
Calories:
23
kcal
Carbohydrates:
3
g
Protein:
1
g
Fat:
1
g
Saturated Fat:
1
g
Sodium:
1401
mg
Potassium:
148
mg
Fiber:
1
g
Sugar:
2
g
Iron:
1
mg
Nutrition information is provided as a courtesy and is an estimate based on online calculators. Any nutritional information found on Stetted should be used as a general guideline only.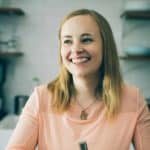 About Megan
I focus on fresh ingredients and easy methods, with spins that keep meals interesting. Dinnertime shouldn't be stressful or complicated, and I'm here to help you enjoy the time spent in the kitchen. Read more…