Take the opportunity to step away from the oven this summer and make these simple chicken tacos for dinner.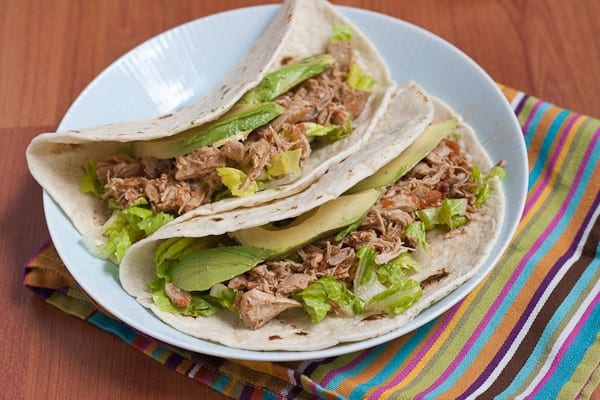 Working from home means that a few days after getting home from the hospital, you start to feel itchy to cook and maybe a little guilty for not working. We had only been home for about three days when I insisted on getting back into the kitchen, chopping herbs and grating cheese for some quick bread.
Even though they tell you to "take it easy" and "relax" for the first weeks after giving birth, somehow the act of running that knife through chives was more relaxing than sitting on the sofa and zoning out to television could ever be. Once that bread was out of the oven, I was off and running, and ready to make dinner again.
Of course, it's not exactly easy to get dinner ready with a newborn, not to mention the kindergartener who still needs attention as well. Thank goodness for one of our most-used tools in the kitchen: the slow cooker.
Many people associate slow cookers with the colder seasons. It makes sense – who doesn't like to come home to a warm, filling meal when the weather outside is frightful?
Take back your slow cooker for summer! Not only will you save yourself from turning on the oven, but you'll free yourself for longer days in the garden, time at the pool, or just relaxing with a good book in the sunshine. And if you don't have a slow cooker, why not? Trust me, you should get one. They're inexpensive and insanely useful.
These chicken tacos quickly became one of our favorite family meals. The recipe makes enough to have leftovers for lunch  – something I always try to do when cooking these days.
Bonus: You can save the leftover liquid and small bits of chicken to make chicken tortilla soup. Just add broth, adjust the spices to taste, and top with diced avocado and tortilla strips.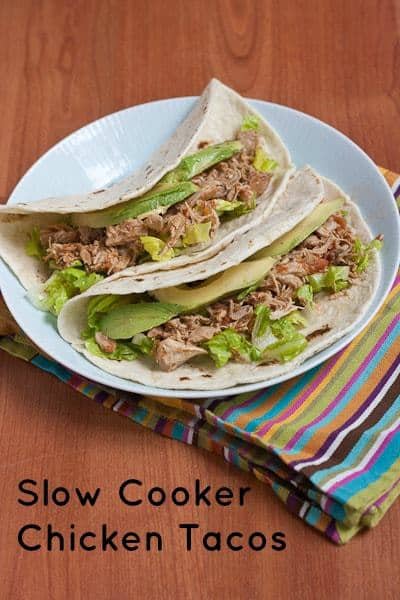 Slow Cooker Chicken Tacos
Prep Time: 5 minutes
Cook Time: 8 hours
Total Time: 8 hours 5 minutes
Servings: 8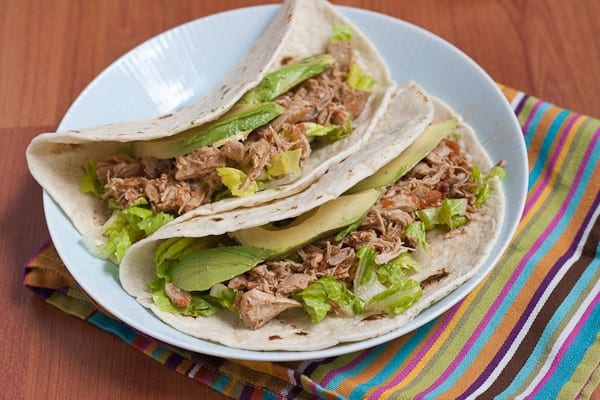 Ingredients
8 chicken thighs , skins removed
2 cups diced tomatoes
2-4 diced jalapeños
1/2 cup diced onion
1 tablespoon cumin
1 teaspoon smoked paprika
1 tablespoon Mexican oregano
1 teaspoon chili powder
2 teaspoons salt
Tortillas
Salsa , cheese, lettuce, avocado, etc., as desired
Instructions
Put all the ingredients in a slow cooker and cook on low for 8 hours. Toward the end of cooking, use a fork to shred chicken thighs, remove bones. Serve with all the standard taco accoutrements.
More slow cooker recipes you might like:
Crock Pot Buffalo Chicken Meatball Subs – Healthy Delicious
Slow Cooked Ham in Cider Gravy – Savvy Eats
Slow Cooker Apple Butter Pulled Pork – Back to Her Roots
Slow Cooker Curried Chicken – Stetted
Slow Cooker Peas and Smoked Sausage – Stetted
For more poultry inspiration, check out my Chicken board on Pinterest!
Follow Megan Myers | Stetted's board Chicken on Pinterest.