Creamy strawberry poppy seed dressing is a sweet, tangy way to top your salads during berry season.
This spring we've yet to make it out to the local strawberry farm, but that doesn't mean we aren't eating tons of berries. We're eating as many as we can handle, and right now, we can handle a lot.
Most of the time the fruit doesn't even have a chance of making it into a recipe like chocolate covered strawberry cupcakes or strawberry doughnuts. Wash, stem, eat, repeat.
Not a bad way to spend some time with your kids, eating strawberries.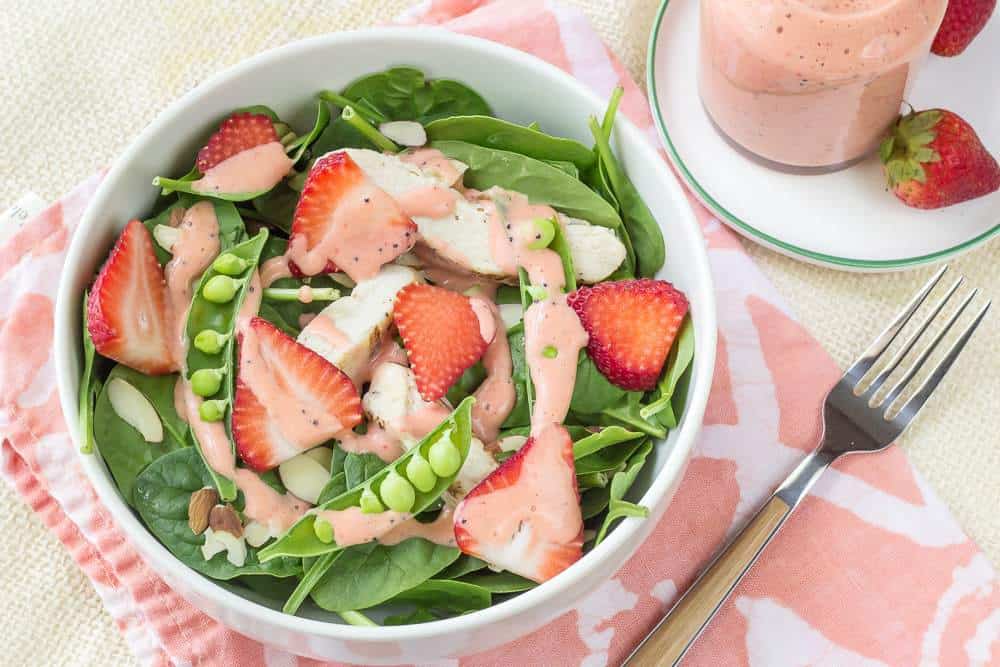 Strawberry season does come earlier here than in other parts of the country, which is both good and bad. When they show up here, it makes me think back to all those years up north, when right about now we would be wondering if we could actually put away our winter coats.
No winter coats in sight here, thankfully. (Really, I can do without any more birthdays with snow.)
Instead we've been putting in lots of sunlit hours in the yard, trimming trees, pulling weeds, and prepping the garden for sale time. Do you think we'd get quicker buyers if I promised them some homemade meals? Or at least a bottle of this strawberry poppy seed dressing?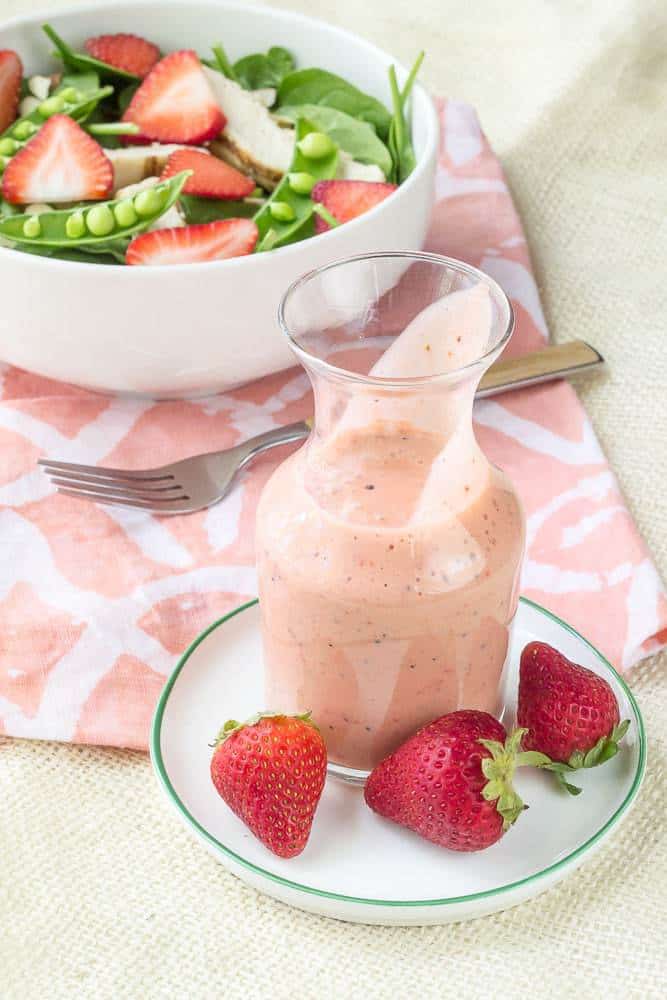 creamy strawberry poppy seed dressing
Salads are pretty much all I eat for lunch right now. It's hard not to, when we are always getting beautiful lettuces and crisp pea pods in our CSA delivery.
While a lot of the time I make the same salad over and over out of ease, the dressing itself changes a bit depending on one or two salad ingredients. And when strawberries are involved, I gotta switch from my usual soy-ginger dressing to something fruity.
This strawberry poppy seed dressing is fairly similar to my blueberry vinaigrette, but has the lovely sweetness of strawberries. Poppy seeds add just enough nuttiness without turning the dressing into a gritty mess.
This strawberry poppy seed dressing also has a lovely creamy texture without a drop of dairy in it. The blended strawberries combine with the emulsion of the oil and vinegar with the honey and mustard for that magic.
Science is really something, isn't it?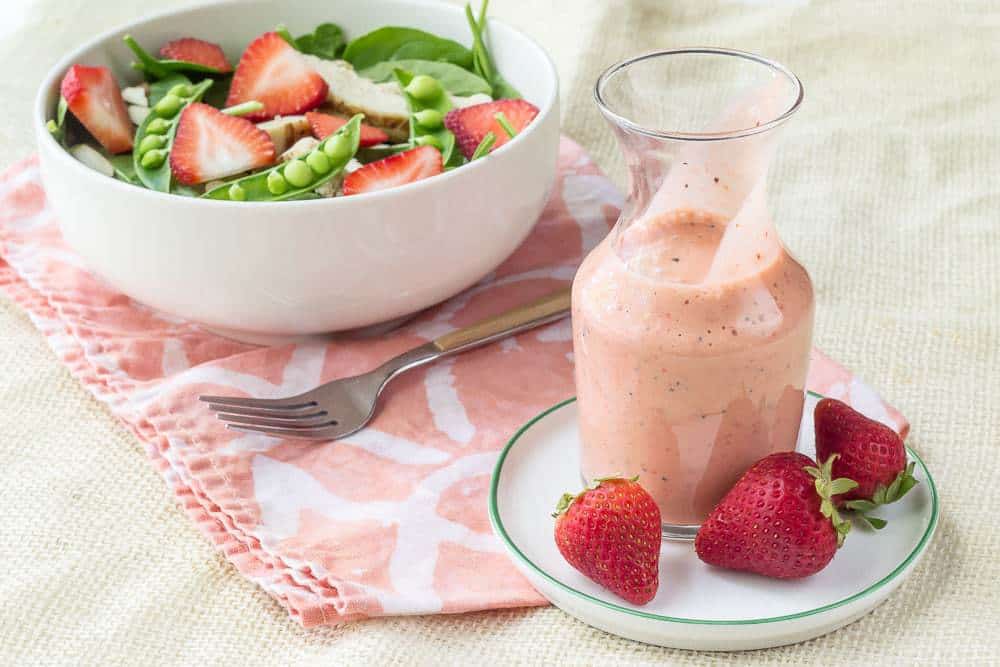 how to make poppy seed dressing
If you have an immersion blender, this recipe will be a cinch to make, but you can also use a blender.
Simply add all of the ingredients to your blender or blender cup and blend away until smooth. It's that simple.
Store strawberry poppy seed dressing leftovers in the refrigerator, and if it separates, give it a quick shake before pouring onto your salad.
You can serve strawberry poppy seed dressing over any salad you like. I happen to think it is particularly delicious over a spinach salad with fresh snap peas, almonds, chicken and — you guessed it — more strawberries.
After all, we have to take full advantage of freshly picked strawberries while they are around.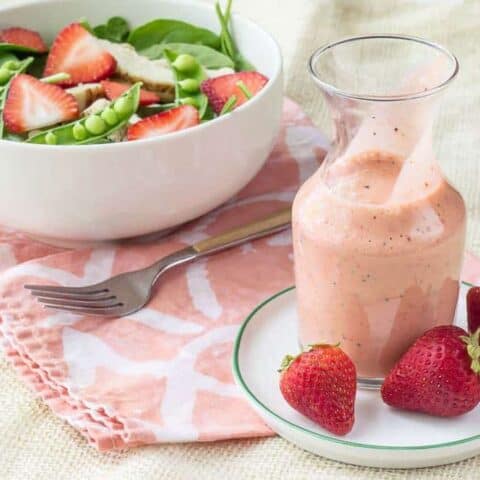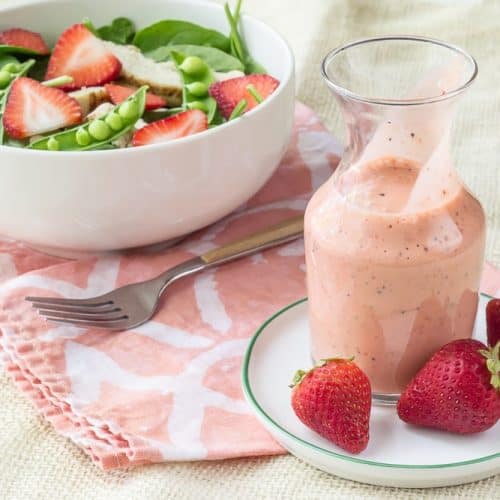 Strawberry Poppy Seed Dressing
Yield: Makes about 1 cup
Prep Time: 5 minutes
Total Time: 5 minutes
Creamy strawberry poppy seed dressing is a sweet, tangy way to top your salads during berry season.
Ingredients
4 ounces hulled and halved strawberries
1/2 cup olive oil
1/4 cup red wine vinegar
2 tablespoons honey
1/2 teaspoon stoneground mustard
1/2 teaspoon salt
1/2 to 1 teaspoon poppy seeds
Instructions
Put all ingredients in a blender or blender cup. Blend until completely smooth. Serve over salad, chicken, or pork.
Recommended Products
As an Amazon Associate and member of other affiliate programs, I earn from qualifying purchases.
Nutrition Information:
Yield: 8
Serving Size: 2 tablespoons
Amount Per Serving:
Calories: 142
Saturated Fat: 1g
Sodium: 150mg
Carbohydrates: 5g
Sugar: 5g