Fruity, tangy salad dressing made with blueberries will make your summer salads sing.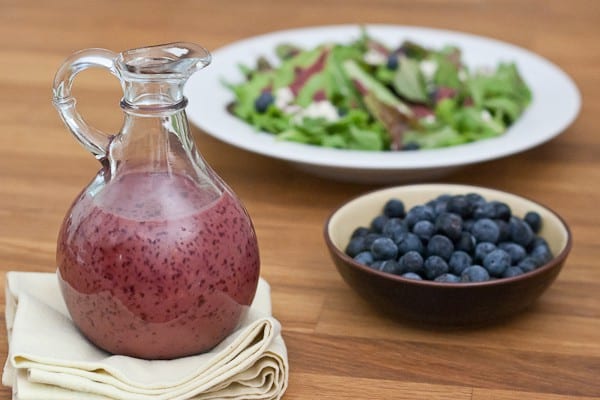 A couple years ago I attended the big BlogHer conference in San Diego. It was an overwhelming experience: 3,000 women in one place, many of whom were truly excited to don fast-food bags as headwear, is not my scene. There were only a couple panels I enjoyed (most didn't live up to the program description), one of which being a panel about real food and making it more accessible to more people.
That night as a couple friends and I sat around a table at one of the nightly parties, another woman came up to us and started saying how she thought that panel was weird because, "they said we should make our own salad dressing! Ain't nobody got time for that!" OK, that was a paraphrase, but my friends and I looked at each other and the message was hit home: We were not among our people.
Homemade salad dressing is ridiculously easy. For most recipes all you need is a jar and the ability to shake it. The more-complicated recipes might require a blender. You've got a blender, right? I'm pretty sure the green smoothie craze has landed a blender in every household that wasn't previously using one for margaritas.
This recipe calls for blueberries, but you could easily swap in any fruit, or a mix of fruit, to change up the dressing. Fruit-based dressings are excellent over salads and also work as a sauce for grilled pork or chicken. My favorite way to use it is in a salad featuring goat cheese and cubes of salami.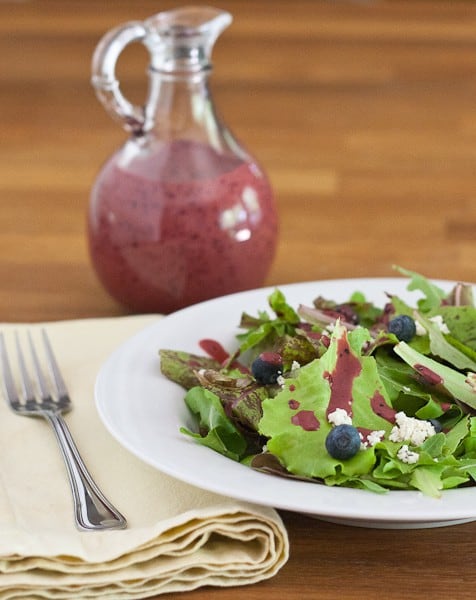 You can use a different kind of vinegar if balsamic isn't your thing. Try it with apple cider vinegar or champagne vinegar!
Blueberry Vinaigrette
Prep Time: 5 minutes
Total Time: 5 minutes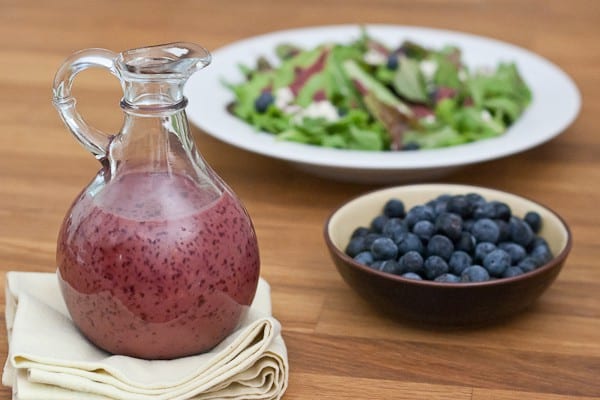 Ingredients
1/2 cup grapeseed oil
1/4 cup balsamic vinegar
Juice of 1 lemon
1 cup fresh blueberries
2 tablespoons honey
1/2 teaspoon salt
1/4 teaspoon fresh cracked pepper
Instructions
Add all ingredients to a blender and purée until smooth. Taste and adjust salt and pepper as needed.

Serve immediately, or store in the fridge for up to a week, making sure to give it a shake to redistribute ingredients.
More condiment recipes you might like:
Apple Cinnamon Syrup – Stetted
Carrot Top Pesto – Stetted
Homemade Sriracha – The Marvelous Misadventures of a Foodie
Lemon Poppyseed Salad Dressing – Creme de la Crumb
Thai Peanut Dipping Sauce – The Lemon Bowl
For more fruity inspiration, check out my Blueberries board on Pinterest!
Follow Megan Myers | Stetted's board Blueberries on Pinterest.