Blueberry white chocolate cookies are completely unexpected, yet totally delicious! If you love blueberries in other baked goods, you'll love this summery cookie. Try making them with dried or frozen blueberries when fresh blueberries are out of season.
Somehow I had amassed a variety of chocolate chips in my pantry. Semi-sweet, milk chocolate, baking melts, white chocolate, chocolate-covered sunflower seeds… not to mention cappuccino chips and jammy bits.
I don't make cookies often, so I was puzzled how this collection came about.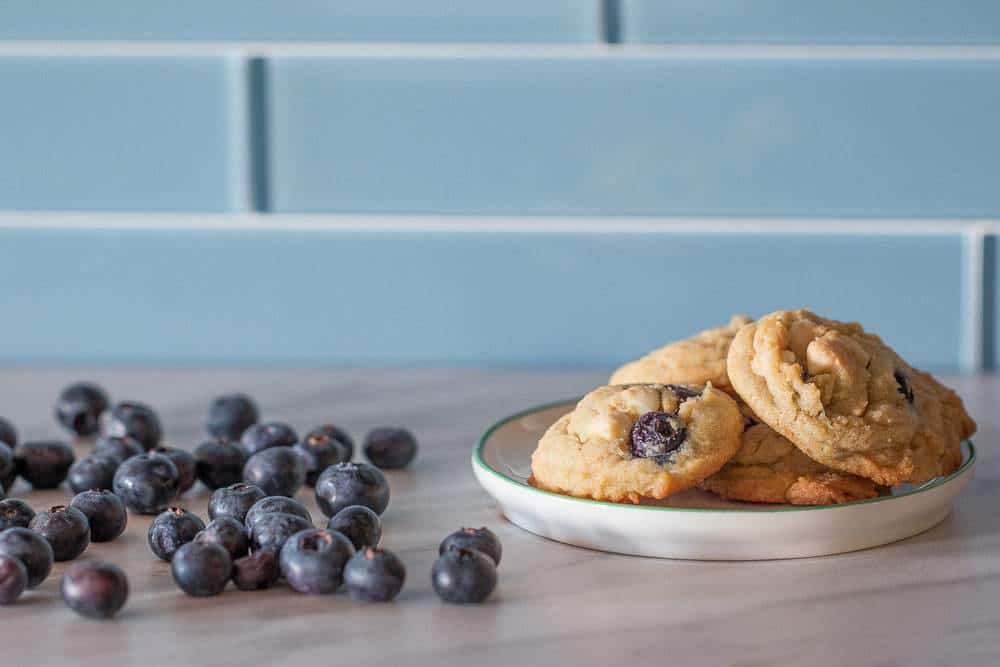 I have notebooks all over the house with scrawled recipe ideas, notes that popped into my mind during work, meetings, watching TV. Rarely do these recipes actually get made, and the notes point a finger at my tendency to hoard ingredients.
When you're like me and get excited about ingredients, you tend to go overboard.
blueberry white chocolate cookies
I'm kind of a selfish person. So naturally when I became determined to make cookies last week, postpartum energy levels be damned, I wanted to re-create a blueberry white chocolate cookie from one of our local grocery stores – never mind that my older son has decided blueberries are an evil fruit.
All the more for the adults, right? Blueberries and white chocolate are just such a perfect pair.
It turns out that there is a blueberry white chocolate cookie from the Momofuku Milk Bar in New York City, though I didn't know it at the time I first made these cookies.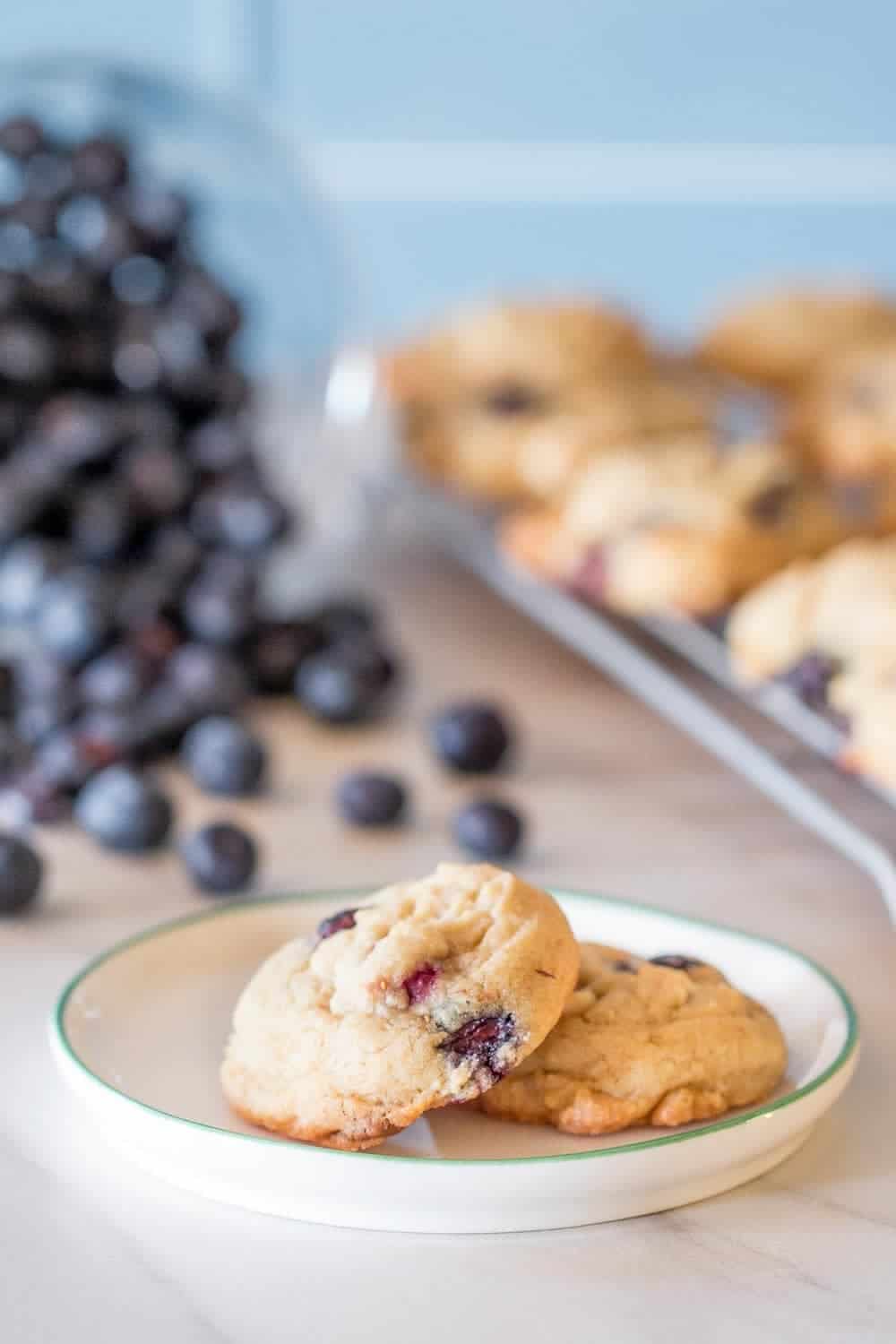 When I visited there, I had to get one of theirs, and it turns out I like mine better! Call me crazy, I guess.
I like Blueberry White Chocolate Cookies so much that I copied the flavor profile again when I made this luscious blueberry white chocolate tart. If you're looking for something a bit more impressive, make it!
blueberry cookies
Even though blueberries are more often thought of for breakfast recipes (such as Blueberry Streusel Muffins or Blueberry Cream Cheese Danishes), it turns out that blueberry cookies are just as delightful.
When mixing blueberries into cookie dough, such as the dough for Blueberry White Chocolate Cookies, do it gently so the berries don't bleed too much through the dough — unless that's what you're going for.
One reader tip for using fresh blueberries in cookies is to freeze the berries overnight – she says that this short freeze will firm the berries up just enough to make them easier to mix in without losing the fresh blueberry flavor.
Smaller, wild Maine blueberries are excellent for these cookies as they provide small bursts of fruit throughout.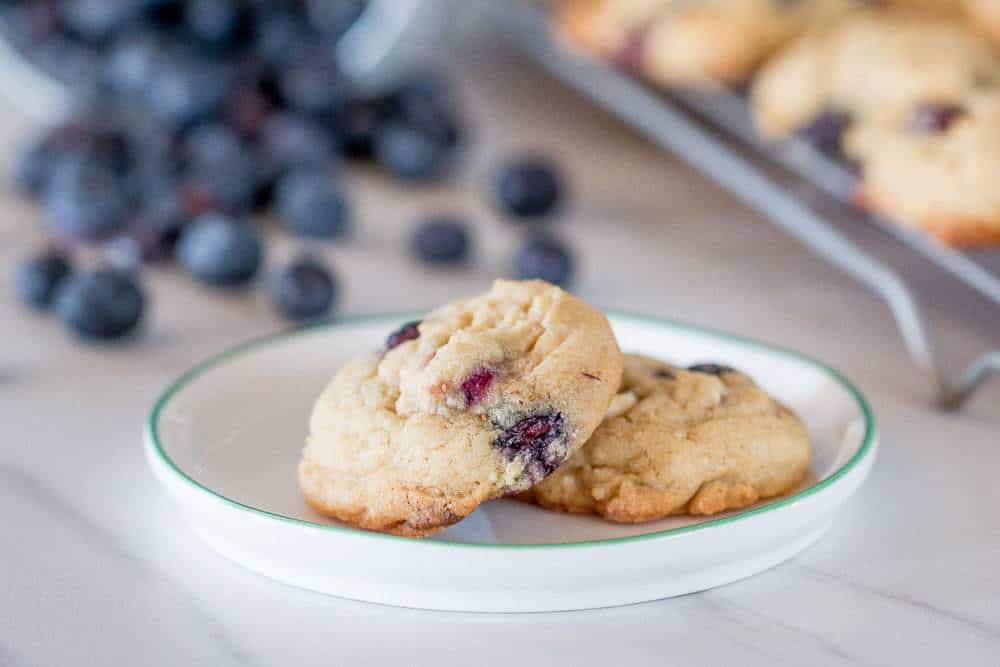 Make sure you taste the blueberries before using them in the cookies.
While summer is peak berry time, bad crops can often make their way to the grocery store. The white chocolate and cookie dough can cover up some of the bad taste; save yourself the trouble and start out with good fruit.
Good ingredients really do make all the difference!
Several readers have also tried making Blueberry White Chocolate Cookies with dried or frozen blueberries when fresh blueberries are out of season and had great success. You have no excuse to not make them!
Blueberry White Chocolate Cookies
Prep Time: 15 minutes
Cook Time: 12 minutes
Total Time: 27 minutes
Course: Dessert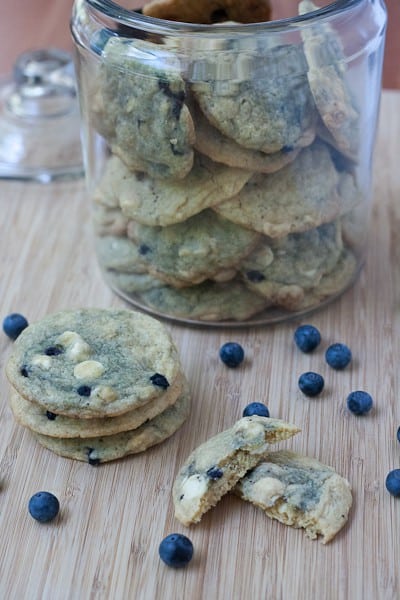 Ingredients
1 cup unsalted butter , softened
1 cup granulated sugar
3/4 cup brown sugar
2 eggs
2 teaspoons pure vanilla extract
2 cups all-purpose flour
1 cup whole wheat pastry flour
1/2 teaspoon baking soda
1 teaspoon salt
2 cups white chocolate chips
1 1/2 cups blueberries , washed and patted dry
Instructions
Preheat oven to 350°F and line baking sheets with parchment paper.

Cream together butter and sugars until light and fluffy. Mix in eggs and vanilla. In a separate bowl, sift together flours, baking soda, and salt. Stir into wet ingredients.

Stir chocolate chips into dough, then add blueberries, taking care not to mash the berries much.

Scoop dough onto baking sheets. Bake for about 12 minutes, until browned on edges.