Honey oatmeal bread is a yummy toasting bread for morning meals or late-night carb cravings.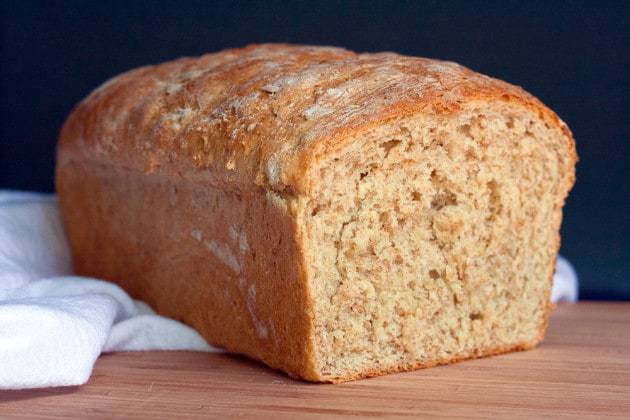 When I was a kid, I didn't often have cereal for breakfast, instead preferring a warm slice of bread day in and day out. I had toast so much that I once dreamed about giant toast people chasing me — a dream that only served my desire to eat even more of it.
Yeah, I was pretty strange as a child.
Bread remains one of my favorite things to eat, and is now a favorite of my kids as well (what can I say, we like carbs) so it's a good thing I can turn out a loaf or two during the week. While I like to experiment with different recipes, I love having a few that are the "Stetted Standard" — recipes I turn to again and again.
This honey oatmeal bread recipe took a few tries to get right. I wanted something that was full of whole grains, but still tender. The honey was just sort of a bonus ingredient, as I add it to most of my yeast breads, but it is in higher amounts here and provides just enough sweetness to bring out the flavor of the oats and wheat.
When you bake bread, you need to listen to the dough more than the recipe. Your kitchen's temperature, its humidity level, and the moisture content of your flour are all factors that contribute to the final product. I've been recommending King Arthur Flour's products for years because while it is higher priced, they are the most consistent I've used for baking. Now, you don't need to rush out and buy a bag just for this recipe, but it's another thing to factor in when baking bread. All of this is to say, don't get too frustrated about your dough, and add the flour in small increments so you know when to stop.
I love this bread smothered in strawberry vanilla jam, but it's so good plain, too!
For this recipe, I recommend:


Other bread recipes you might like:
Apple Cinnamon Swirl Bread – Stetted
Bacon and Cheese Focaccia Bread – My Baking Addiction
Swedish Limpa – Stetted
Apple Cider Wheat Bread – The Austin Gastronomist
Garlic and Herb Swirl Bread – Stephie Cooks
For more tasty inspiration, check out my Breads board on Pinterest!