This post contains affiliate links. As an Amazon Associate, I earn from qualifying purchases.
Limpa, a flavorful Swedish bread, is wonderful for open-face sandwiches or morning toast. Aromatic seeds, rye flour, and orange juice give it a distinctive flavor.
The longstanding joke in my family is that my grandfather was always two. As kids we could never get a straight answer out of him regarding his age, and that tradition continued when his great-grandkids were born.
Limpa is another tradition he kept up, baking it into small loaves that sliced into perfect snack-size bites.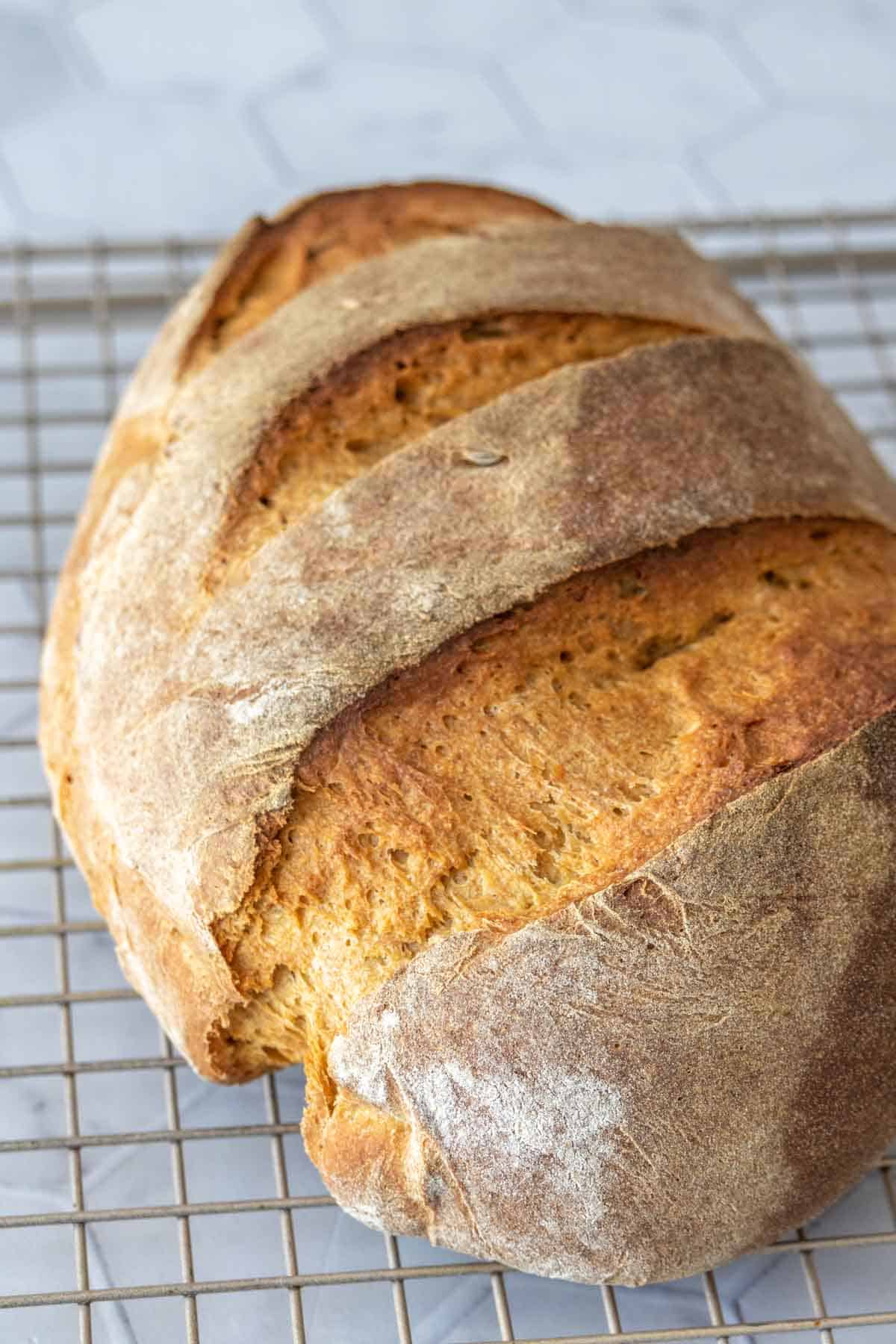 Flavored with fennel, caraway, molasses, and orange, it's a step above your regular white bread.
He never shared with me his personal recipe, but I always feel like I am channeling him when I make this limpa bread.
If you've tried my honey oatmeal bread or French bread and are looking for a great sandwich bread that is full of flavor, add this limpa to your to-do list!
Ingredients for limpa bread
To give the bread its unique flavor, you'll need a few special ingredients in addition to the bread basics.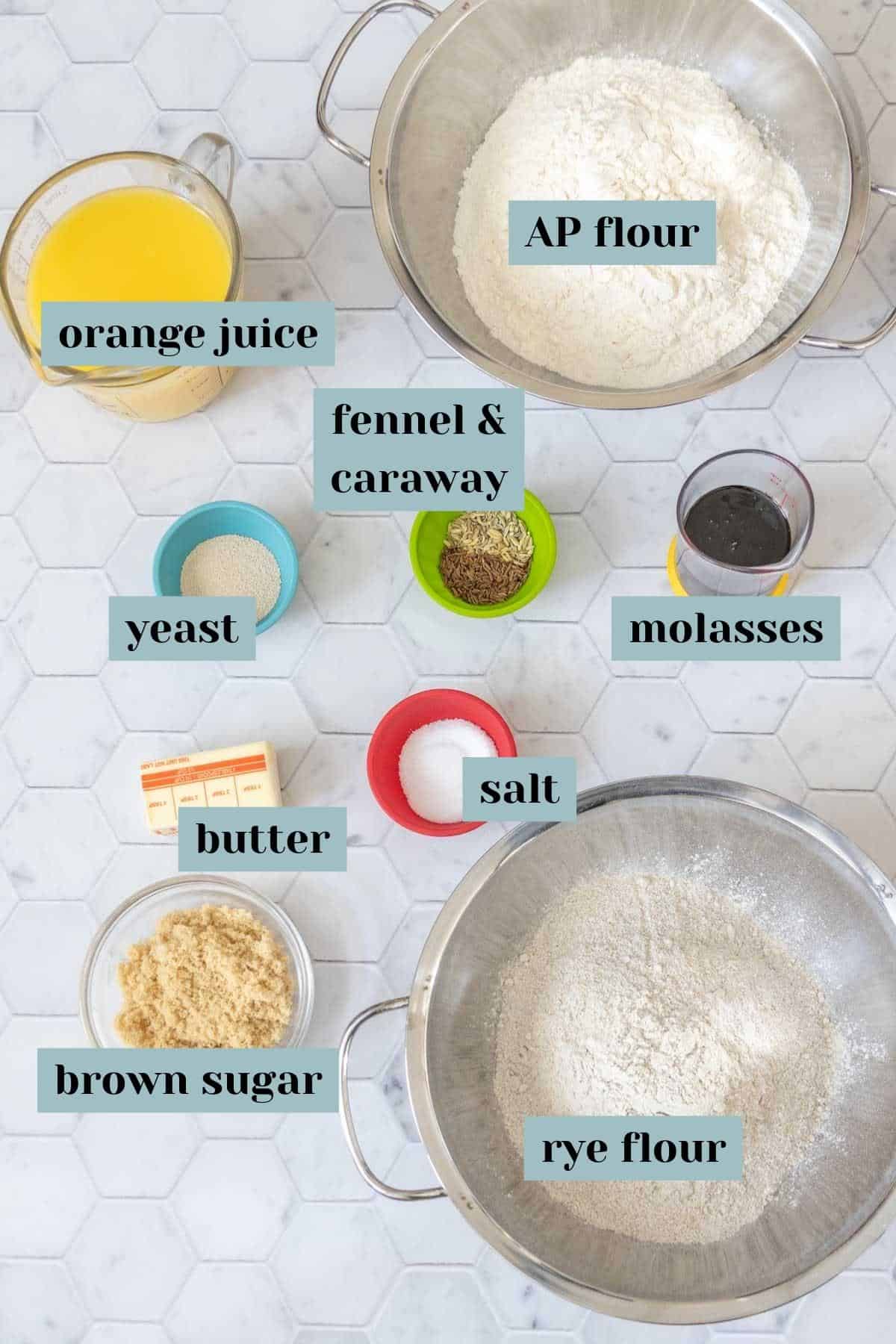 Rye flour – Rye flour is made from rye kernels (berries) instead of wheat. It has a nutty flavor and is perfect for when you want to add more dimension to baked goods.
There are four main kinds of rye flour: white, medium, dark, and pumpernickel.
For this recipe, I use Bob's Red Mill Dark Rye Flour. Medium rye also works well.
All-purpose flour – To prevent the loaves from being too dense and heavy, I use all-purpose flour as well, in approximately equal proportion to the rye.
Yeast – I use instant yeast in this recipe.
If you use active dry yeast, you will want to let it rest with the warmed ingredients to activate before mixing in any flour. Make sure the liquid is not too hot or it will over-activate the yeast.
Orange juice – Instead of water, this uses orange juice as the liquid to give the bread a lovely citrus flavor. I recommend a no-pulp version here.
Molasses and brown sugar – I use two kinds of sweetener for a deeper flavor. The molasses also gives it a nice color and works well with the orange juice and seeds.
Butter – Added fat helps create a soft and tender texture inside with a crisp crust. Salt is also added to the bread, so use unsalted butter.
Fennel and caraway seeds – Anise and similar flavors are very popular in Swedish baking. Fennel and caraway are both similar to anise, but impart slightly different flavors.
If you only have one or the other, you can simply 2 teaspoons instead of 1.
However, if you only have aniseed, reduce the total seed amount to 1 teaspoon, as the flavor is stronger.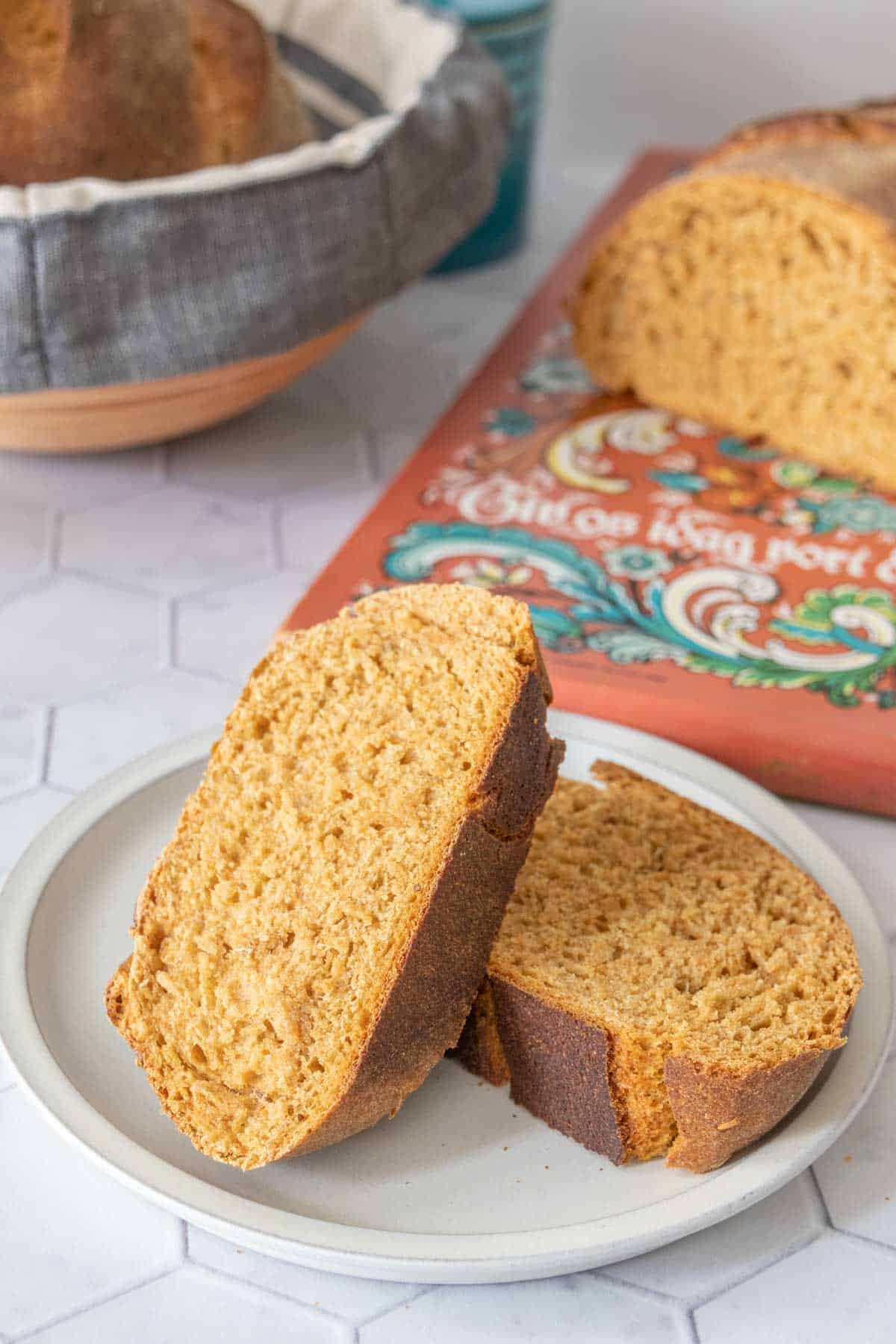 How to make Swedish rye bread
In a small saucepan, combine the orange juice, butter, molasses, brown sugar, fennel seeds, and caraway seeds.
Set over medium-low heat and warm gently, just until the butter is melted and sugar is dissolved. Remove from heat.
remember!
Do not let the liquid get too hot, or it will kill off the yeast. If needed, let it cool before adding the yeast until it feels about the same temperature as your inner wrist, approximately 100°F.
Pour the liquid mixture into a large mixing bowl and whisk in yeast and salt.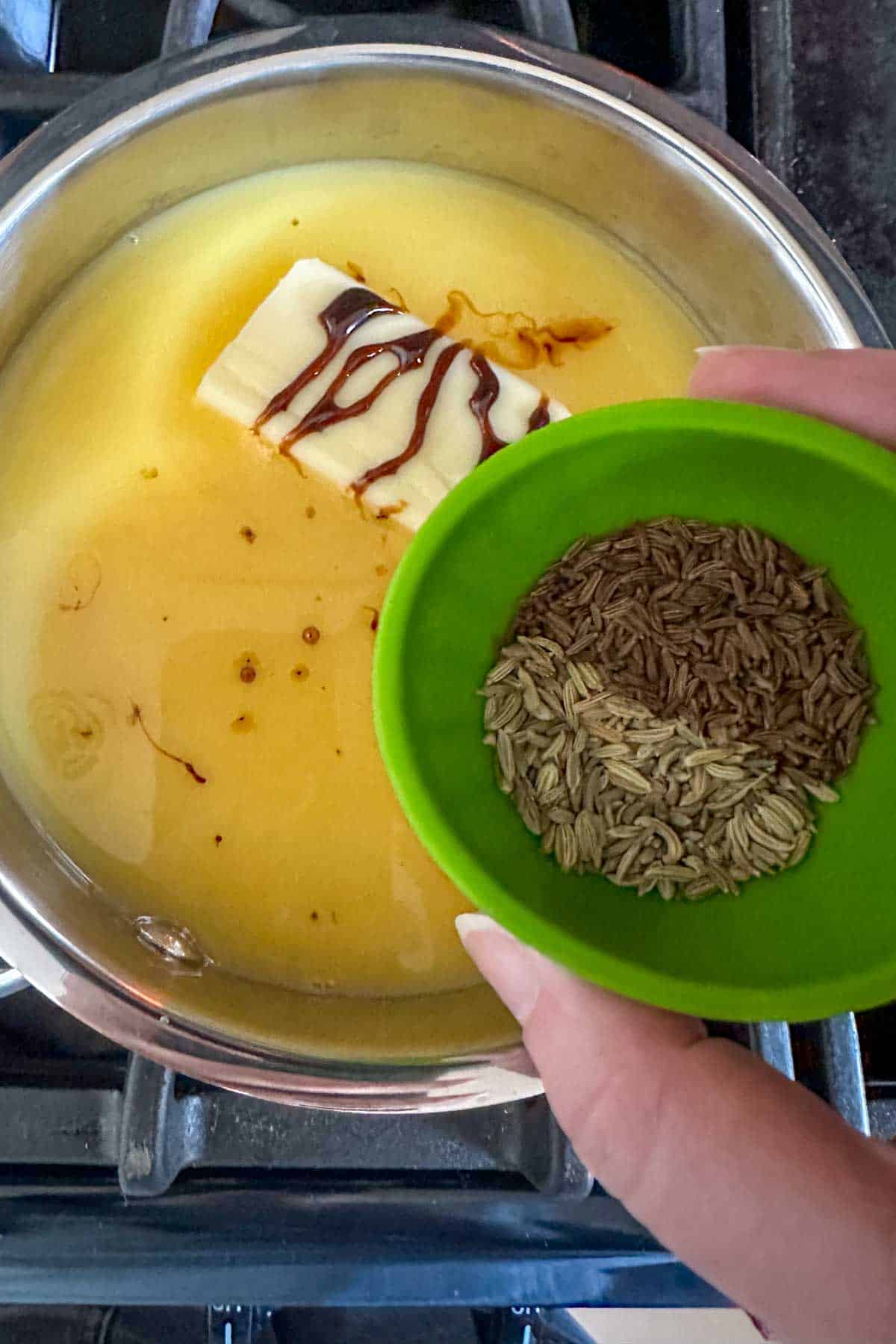 Stir in all of the rye flour with a wooden spoon or dough whisk. You can also mix the dough in a stand mixer fitted with the dough hook if you prefer.
Add 1 cup of all-purpose flour, mixing in fully before adding more. You only want to add enough flour to make the dough come together, but still be a little sticky.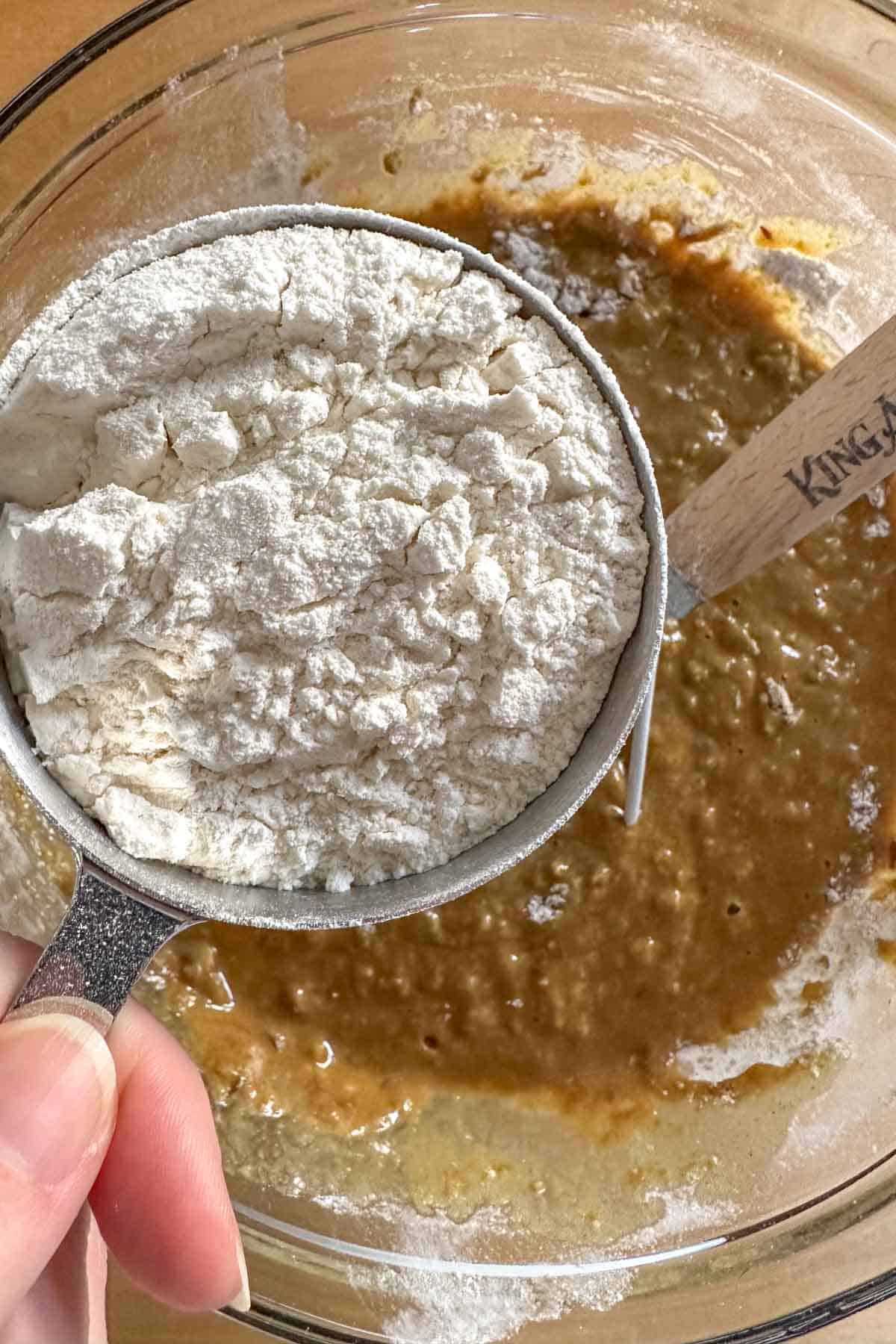 Let the dough rest for 20 minutes.
Dust a work surface with flour and turn out dough from the bowl. Dust your hands and the top of the bread with more flour and knead gently for about 5 minutes.
Add flour as you knead to prevent sticking. The dough should feel soft and stretchy. Shape into a smooth ball.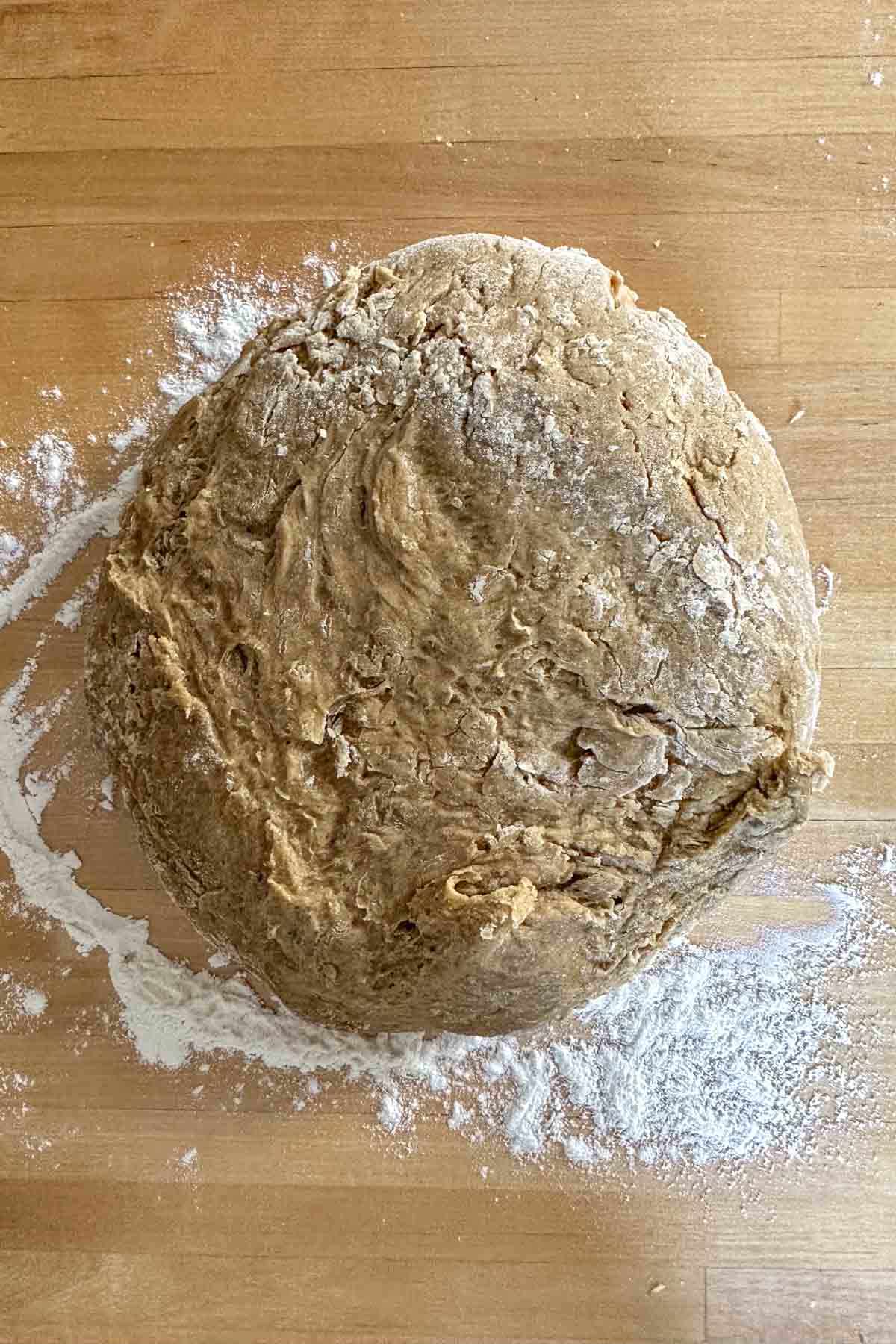 Keep in mind that bread is dependent on your environment and ingredients, so you may need more or less flour to achieve the desired texture.
Lightly coat a large bowl with nonstick spray or oil. Place the bread in the bowl and cover with a kitchen towel, plastic wrap, or thin plastic shower cap.
Set in a warm place and let rise until doubled, about 1 hour.
In the winter I like to put mine into the microwave, or you can use an oven that has been warmed and turned off.
Once risen, deflate dough. Divide into 2 pieces and either shape into freeform loaves and place onto a rimmed baking sheet, or place into greased loaf pans.
Cover and let rise again for 1 hour.
While the bread is rising, preheat the oven to 375°F.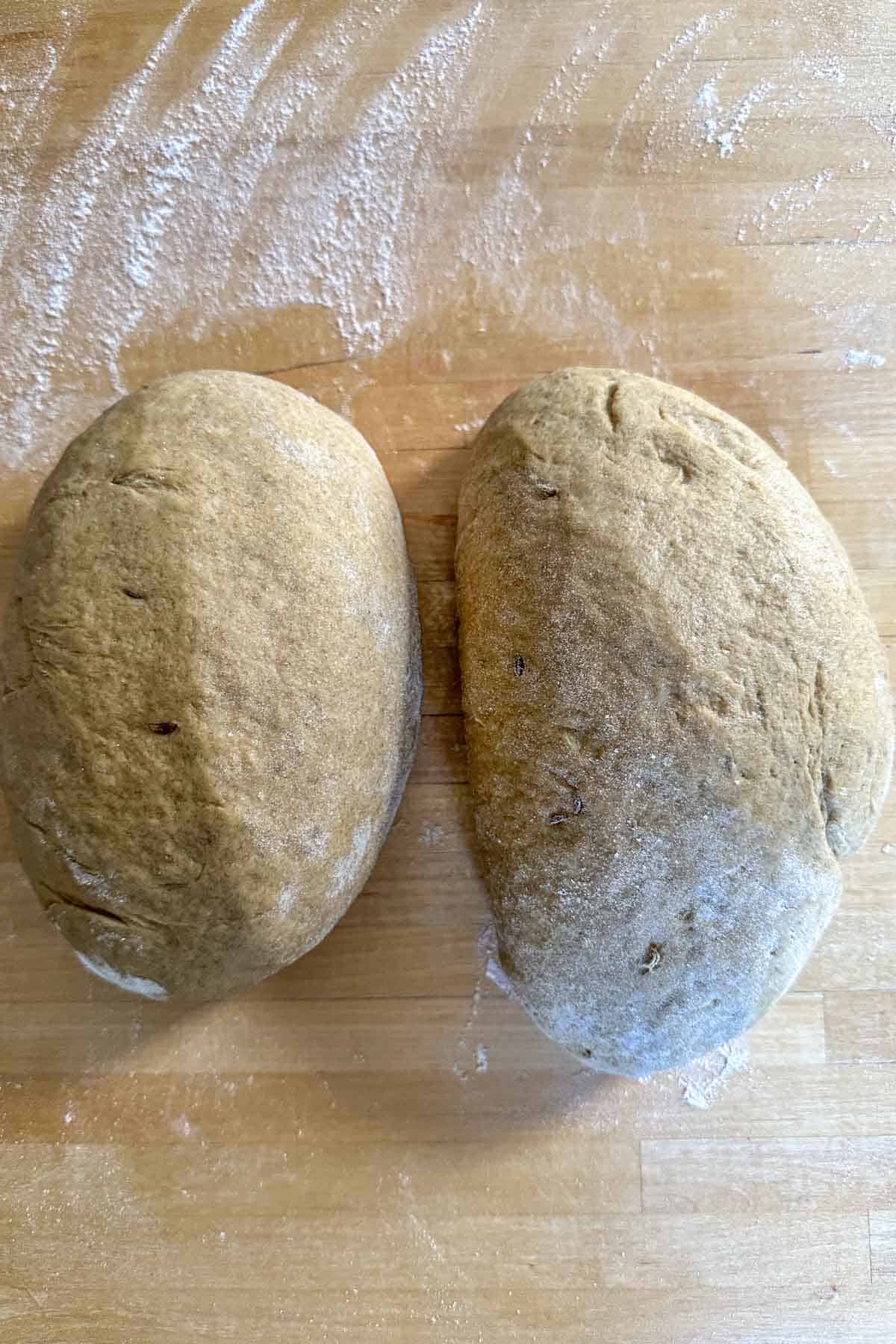 Once the bread has risen, use a serrated knife to slash the tops (or leave smooth).
Place the bread in the oven and bake for 40-50 minutes, until the loaves are dark and an instant-read thermometer inserted into the bread center registers between 190°F and 210°F.
Let cool on a wire rack before slicing.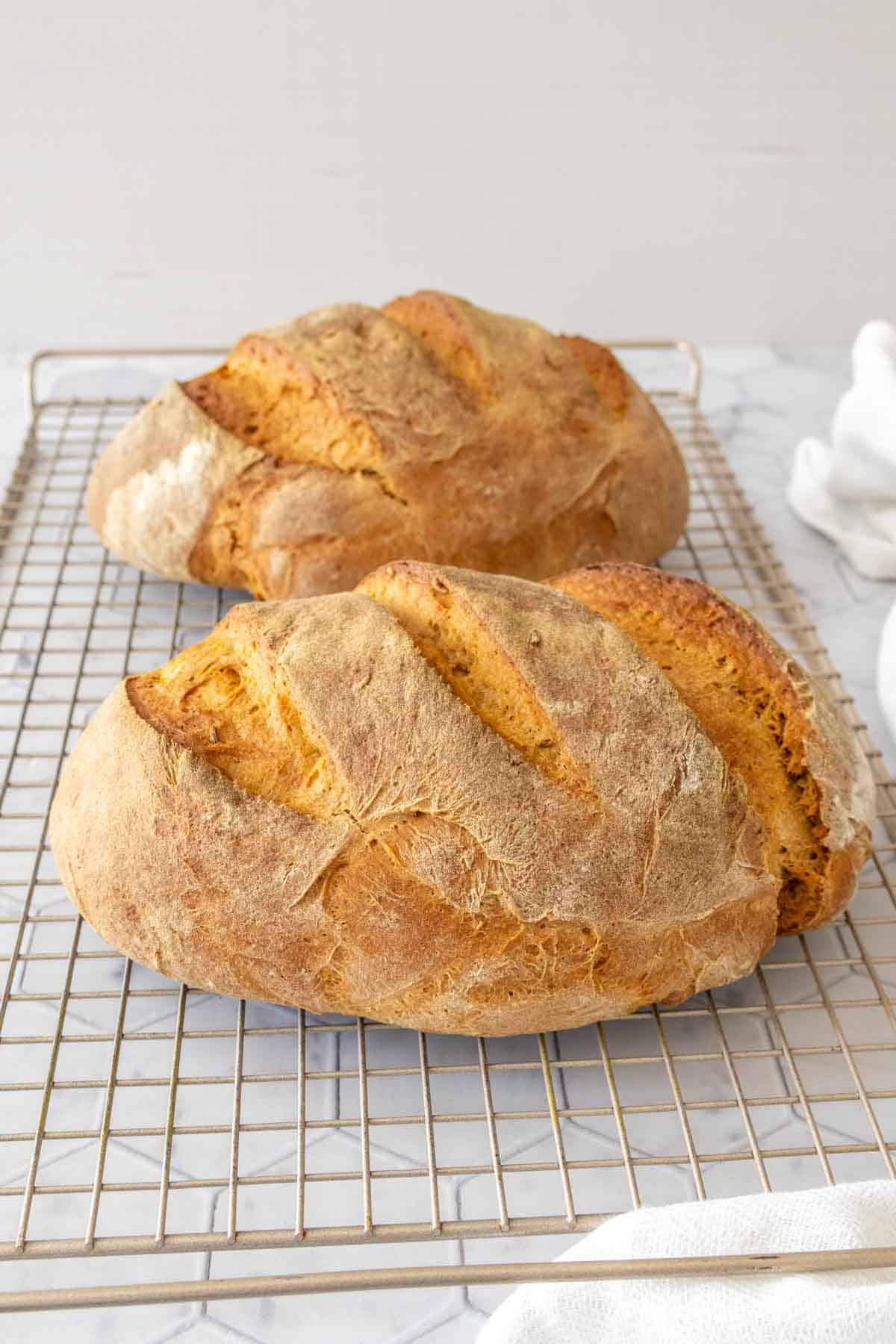 Serving suggestions
Honestly, I like to eat this simply toasted with salted butter on top, but you can enjoy it in lots of other ways!
Serve with gravlax (cured salmon) and dill on top for an open-face sandwich.
Shape into four smaller loaves and cut thinly for crostini to serve with egg salad or your favorite dips like beer cheese dip.
Serve alongside a dinner of Swedish meatballs and dill potatoes.
Use for a Reuben sandwich or an amazing grilled cheese.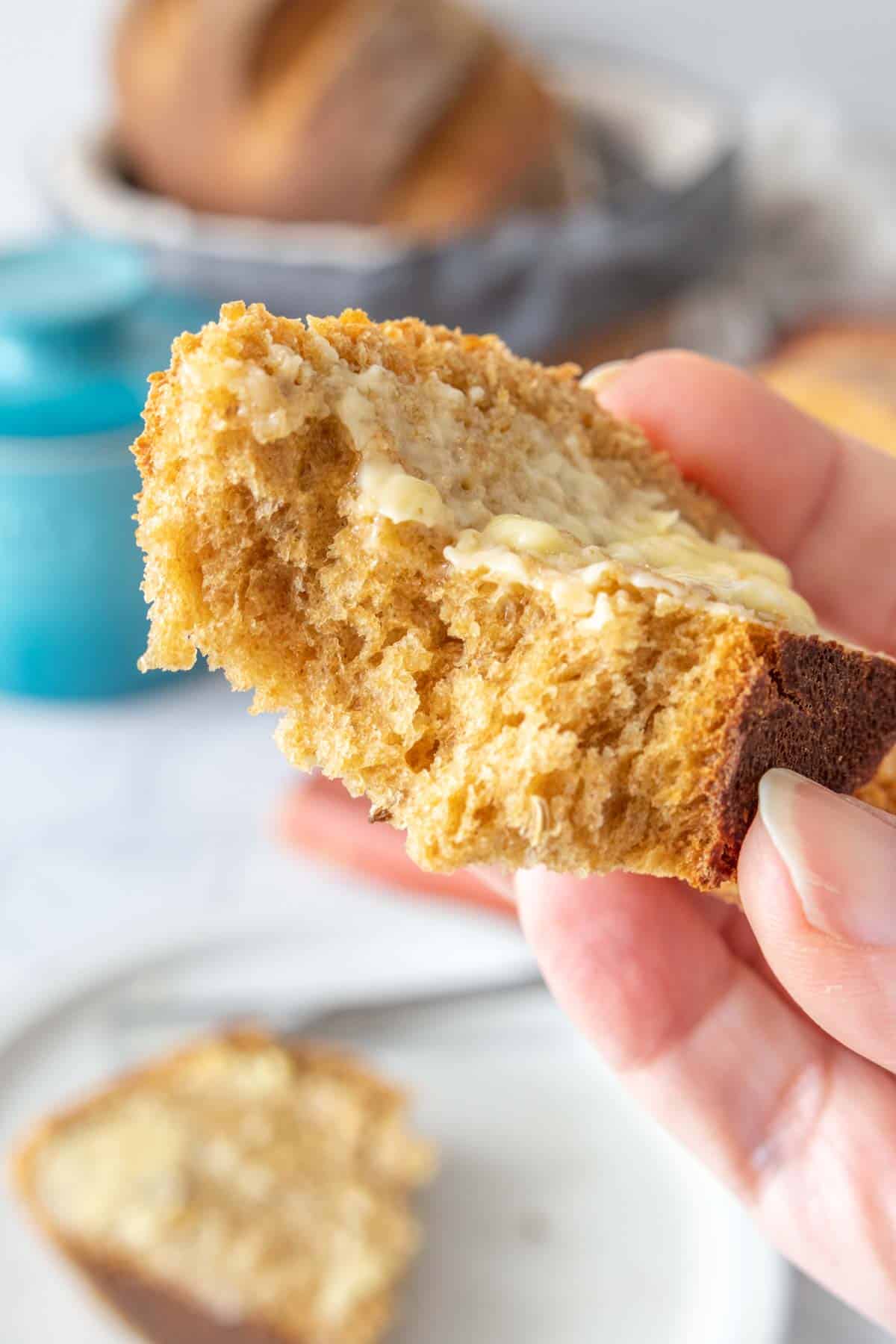 This flavorful limpa bread is such a treat. Give it a try!
Love this recipe? Please leave a 5-star review below! It means so much when you enjoy my recipes, so let me know how it goes and leave a comment if you have any questions.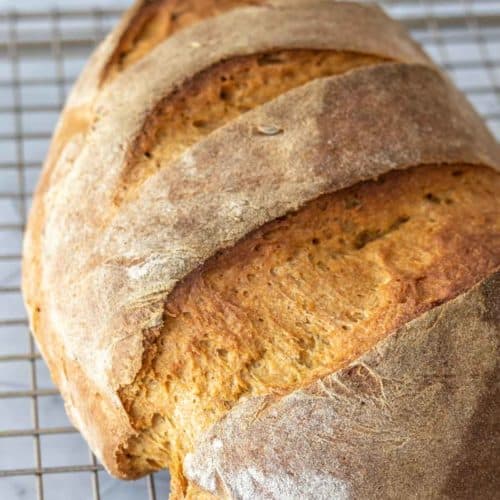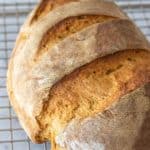 Limpa Bread
This rye bread is filled with flavor thanks to the addition of orange juice, seeds, and molasses. It's ideal for open-face sandwiches.
Print
Pin
Save
Saved!
Ingredients
1 3/4

cups

orange juice

1/4

cup

unsalted butter

1/3

cup

molasses

1/4

cup

brown sugar

1

teaspoon

fennel seeds

1

teaspoon

caraway seeds

1

tablespoon

instant yeast

1

tablespoon

fine sea salt

2 1/2

cups

rye flour

2 to 3

cups

all-purpose flour
Instructions
In a small saucepan, combine orange juice, butter, molasses, brown sugar, fennel seeds, and caraway seeds. Heat just until butter is melted, sugar is dissolved, and liquid feels about the same temperature as your inner wrist. If needed, let cool to reduce temperature.

Pour into a large mixing bowl and whisk in yeast and salt. Stir in rye flour, then add all-purpose flour gradually until dough is soft and pliable. It should still be somewhat sticky. Let rest for 20 minutes.

Turn dough out onto a lightly floured surface and knead gently for approximately 5 minutes, adding more flour to prevent sticking as needed. Shape into a smooth ball. Set in a large greased bowl and cover with a towel or plastic wrap. Let rise in a warm place until doubled, approximately 1 hour.

Deflate dough dough, divide in half, and shape into loaves. Place loaves on lightly floured baking pan or in greased bread pans. Cover and let rise 1 hour.

While dough is rising, preheat oven to 375°F. Once ready to bake, slash tops with a floured serrated knife and place bread in oven.

Bake for 40 minutes, or until loaves are dark and crusty. An instant-read thermometer inserted into the center of a loaf should read between 190°F and 210°F.
Notes
Makes 2 loaves.
If using bread pans, adjust baking time as needed to fully bake.
You can shape into 4 smaller loaves or even individual rolls. Reduce baking time as needed; rolls should take about 25 minutes.
Nutrition
Serving:
1
slice
Calories:
148
kcal
Carbohydrates:
28
g
Protein:
3
g
Fat:
3
g
Saturated Fat:
2
g
Cholesterol:
6
mg
Sodium:
353
mg
Potassium:
196
mg
Fiber:
2
g
Sugar:
9
g
Iron:
1
mg
Nutrition information is provided as a courtesy and is an estimate based on online calculators. Any nutritional information found on Stetted should be used as a general guideline only.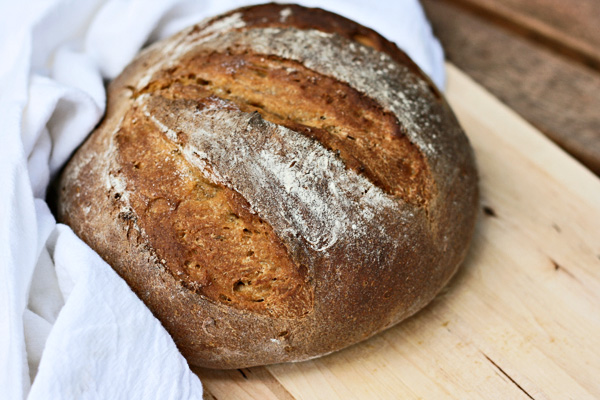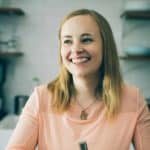 About Megan
I focus on fresh ingredients and easy methods, with spins that keep meals interesting. Dinnertime shouldn't be stressful or complicated, and I'm here to help you enjoy the time spent in the kitchen. Read more…