This post contains affiliate links. As an Amazon Associate, I earn from qualifying purchases.
Dill Potatoes – new potatoes in dill cream sauce – are a simple side dish for your holiday buffet table.
Growing up in the Midwest, potatoes were something we ate often. To me they epitomize the comforting food you crave when anything goes wrong.
Perhaps this is because they so ultimately remind me of family, of the times before my brother and I reached high school and we still had dinners around the table.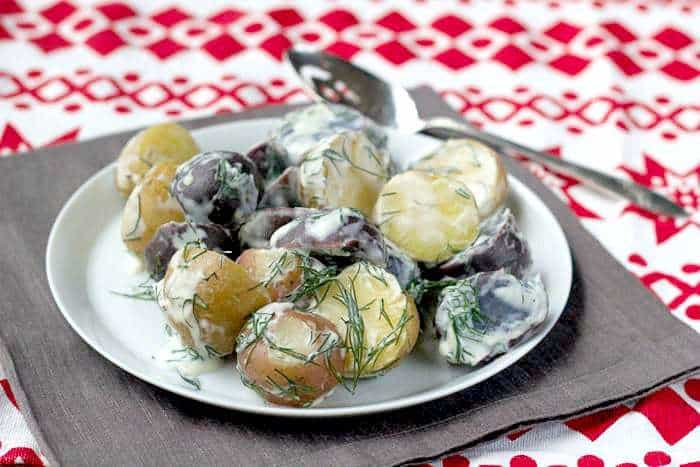 I also have a memory of falling asleep in a chair before dinner, and answering questions about potatoes while I slept. How many other foods can you dream-request?
While we almost exclusively had mashed potatoes when I was a child, sometimes we branched out into other kinds, and tiny new potatoes have been my favorite for years.
New potatoes cook quickly and are always so creamy and mild, they stand up to a variety of preparations.

swedish potatoes
These Dill Potatoes are a Scandinavian standard on the table. Replete with dill and bathed in a simple sauce, they're wonderful for most any dinner, pairing well with fish, chicken, and steak alike.
While some people might get worried about the creation of a roux, it's nothing to sweat over. As long as you have a good whisking hand, this recipe is ready in minutes.
I used a mix of new potatoes for this recipe. I love getting the different-color potatoes for a varied palette on the table.
what to do with dill
While dill might not be everyone's go-to herb, it's supreme on the Swedish table. The light anise flavor of dill makes it an ideal partner for the seafood-heavy cuisine, so it's only natural that those feathery fronds make their way into other dishes as well.
Dill is also a perfect herb to add to homemade ranch dressing and of course pairs well with pickles. Try stirring it into yogurt with some lemon juice for a dipping sauce for any vegetable fritter, such as Carrot Fritters.
You can even use it in cocktails! Follow the Swedish theme and use it to make your own Aquavit.
You could swap the dill for parsley in this Dill Potato recipe if you prefer, but of course the flavor will be quite different and much milder.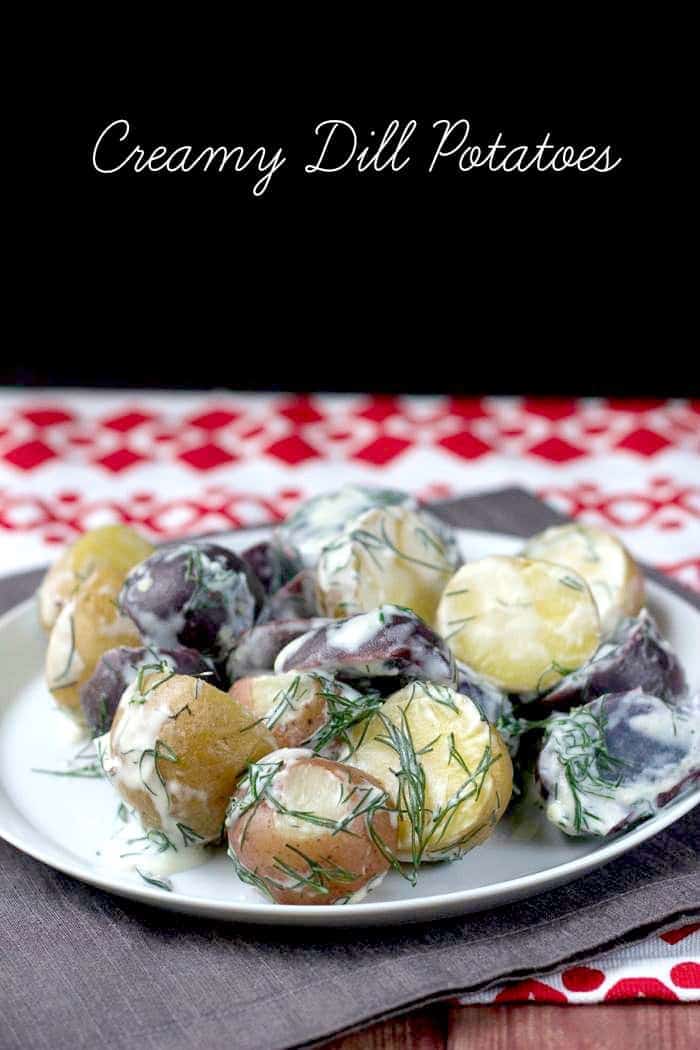 swedish food recipes
If you haven't noticed, I have a love for Swedish food and Dill Potatoes are only the tip of the iceberg.
Like many who grew up in the Midwest, I have a strong Swedish heritage, although admittedly I did not try my hand at making Swedish food until I was an adult.
I've made up for lost time, and in addition to Dill Potatoes, some of my favorite Scandinavian recipes include Homemade Gravlax, Pannkakor (Swedish pancakes), Saffron Buns, and Swedish Chocolate Cake.
And yes — even Swedish Meatballs.
When you're making dishes to celebrate a long, cold winter, as many Swedish food recipes do, having dishes that don't just reflect the snowy plains help make the meal more welcoming.
Serve these Dill Potatoes with a large roast, broiled salmon, or as part of your buffet table.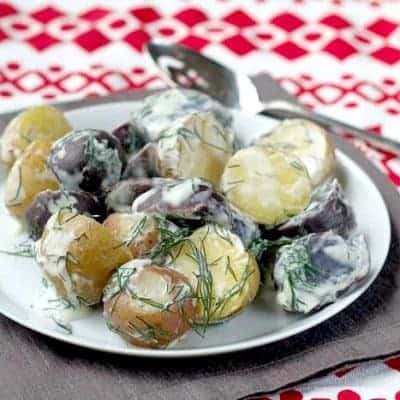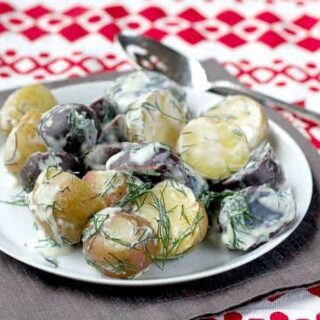 Creamy Dill Potatoes
Dill Potatoes — new potatoes in dill cream sauce — are a simple side dish for your holiday buffet table.
Ingredients
1 1/2 pounds new potatoes
1 tablespoon butter
1 tablespoon flour
1 cup half & half or whole milk
Salt and pepper to taste
1 bunch dill, chopped and large stems removed
Instructions
Wash and halve potatoes and boil them in water for 10-15 minutes, until easily pierced with a fork but not falling apart.
Drain potatoes and let them rest in the colander while you make the sauce.
Using the same pot, melt butter over low heat. Whisk in the flour to form a roux (it will look like paste) and then slowly pour in the half & half, whisking all the while.
Bring the heat up to medium-high and continue to whisk, cooking the sauce until it has thickened and coats the back of a spoon. Add salt and pepper to taste.
Pour potatoes back into the pot, add dill, and mix well. Serve hot.
Recommended Products
As an Amazon Associate and member of other affiliate programs, I earn from qualifying purchases.
Nutrition Information:
Yield:

6
Serving Size:

1 serving
Amount Per Serving:
Calories:

202
Total Fat:

8g
Saturated Fat:

5g
Trans Fat:

0g
Unsaturated Fat:

3g
Cholesterol:

23mg
Sodium:

118mg
Carbohydrates:

29g
Fiber:

3g
Sugar:

5g
Protein:

6g