Homemade aquavit is a classic Scandinavian spirit for the holidays.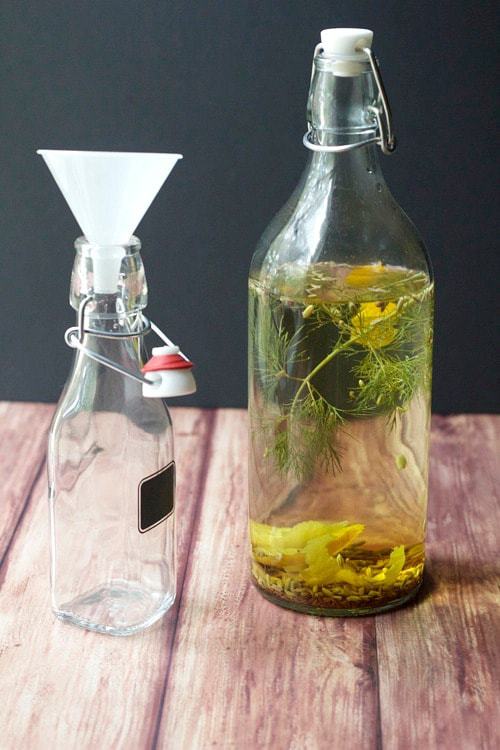 I'm excited to share today's post with you, not only because it's infused alcohol (hello!) but because this aquavit kicks off a special series I'm doing leading up to Christmas – dishes fit for the Swedish julbord!
The julbord is the special smorgasbord enjoyed at Christmastime. While my julbord can't compare in scale with the traditional feasts the name is known for, I'm sharing a few dishes each week that can help you create your very own holiday spread.

I chose aquavit as the first recipe because it plays an important part in Scandinavian culture, having been in production since at least the 1500s. For those who choose to home-infuse their aquavit, December 1 is the traditional starting point, ensuring that the flavors have reached their peak by the time the julbord is hosted.
Aquavit is created by infusing vodka with herbs and other flavors. Each recipe is a little bit different to reflect the tastes of the family, but because dill and caraway are important ingredients in all of Swedish cuisine, they are the main components in most aquavit recipes.
Making aquavit is quite easy. Simply measure your infusing ingredients into bottles, then pour in vodka and seal the bottles. Let them steep away from light for at least 3 days, or as many as three weeks, tasting along the way to check on strength. When it's ready, simply strain the liquid into another bottle (or smaller bottles for gift-giving). The color will be pale yellow to light brown, depending on the ingredients you choose and the length of your steep.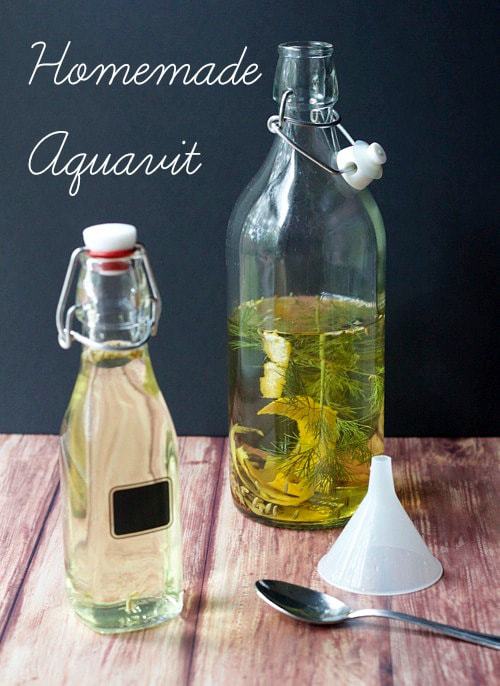 Serve aquavit ice-cold in small shots, or use it in place of vodka for a distinctly herbal cocktail. You can also use it in recipes for mustard, cured salmon, or even to create a boozy, savory fruit jam.
Skål!
Aquavit
Prep Time: 5 minutes
Total Time: 5 minutes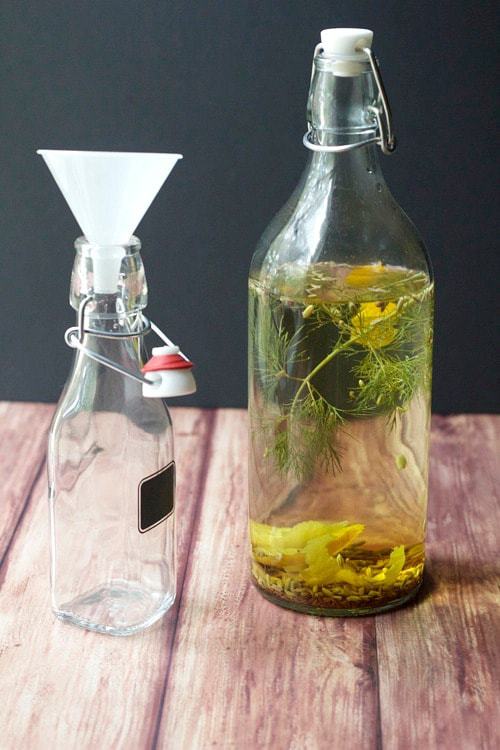 Ingredients
2 teaspoons fennel seeds
2 teaspoons caraway seeds
1 sprig fresh dill
1 3- inch lemon peel , with as much white pith removed as possible
1 3- inch orange or clementine peel , with as much white pith removed as possible
1 liter vodka
Instructions
Add all ingredients to a large jug or divide among smaller containers. Seal jug.

Place in a cool, dark place for at least three days, then strain into a clean container. (You can use the original vodka bottle if you like.)
More Swedish recipes you might like:
Homemade Gravlax – Stetted
Saffron Buns – Stetted
Smoked Salmon Smorrebrod – Bon Appetit
Sourdough Swedish Cinnamon and Cardamom Buns – Milk and Honey
Swedish Butter Cookies – Food & Wine
For more sippable inspiration, check out my DIY Gifts board on Pinterest!
Follow Megan Myers | Stetted's board DIY Gifts on Pinterest.