This was part of my Strawberry Extravaganza I did for the Foodbuzz 24, 24, 24.
My friends and I, we're a little obsessed with sparkling water. We like all things bubbly, actually (Hi, Prosecco!) but sparkling water has become the go-to at work, after the morning coffee and tea. Seems logical, then, that we would tap into the spring bounty and create a tasty drink based on what has become to be known as Sparkles.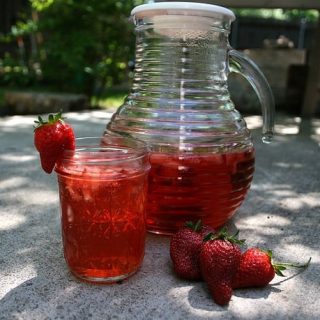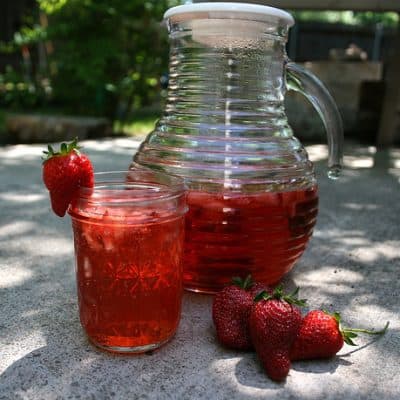 Strawberry Mint Sparkler
Yield: About 2 quarts
Prep Time: 10 minutes
Cook Time: 5 minutes
Total Time: 15 minutes
Ingredients
1 cup sugar
3 cups of water
1 cup of loosely packed fresh mint leaves
4 tbsp lemon juice
1 cup chopped strawberries
Lemon sparkling water, about 4 cans
Instructions
Combine sugar and water in a saucepan and bring to a boil. Simmer for about five minutes, until sugar is fully dissolved, then add the mint, lemon juice, and berries. Remove from heat and let cool. Pour into a carafe and refrigerate until chilled.
When ready to serve, pour in the sparkling water. Pour over ice into glasses garnished with additional berries.
You can strain out the mint and berries before adding the sparkling water, but I like to leave them in - the flavor only intensifies!
Nutrition Information:
Yield: 8
Amount Per Serving:
Calories: 109
Total Fat: 0g
Saturated Fat: 0g
Trans Fat: 0g
Unsaturated Fat: 0g
Cholesterol: 0mg
Sodium: 7mg
Carbohydrates: 28g
Fiber: 1g
Sugar: 26g
Protein: 0g