By the time I get off work and head over to the park and ride to pick up my husband, I am dragging. There's something about sitting in the car that reminds me of all the work I did that day and I'm suddenly exhausted. The urge to pop over to Starbucks is overwhelming, but I can't really justify the constant expense, not to mention the liquid calories.
It wasn't until Amanda gifted me with some Cool Beans that I remembered, duh, I can make iced coffee at home! Because the ice cubes are made of coffee, your drink won't get diluted, unlike iced drinks from some coffee places!
While this does take a tiny bit of preparation, you can easily do the "hard" work in the blink of an eye. Just make some extra coffee in the morning (who really needs all 12 cups?) and you'll be set.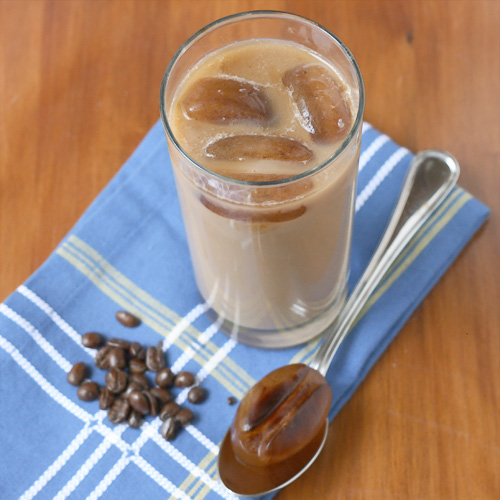 60-Second Iced Coffee
Supplies
Ice cube tray
Pitcher or jug
Bottle or jar with lid at least 12 ounces (I use a small Simply Lemonade bottle; it's the perfect size)
Prepared coffee, cooled
Fill ice cube tray with coffee. Pour 1 cup into the small bottle, and remaining coffee into large pitcher. Put ice cube tray in the freezer and bottle and pitcher into the fridge until ready to use.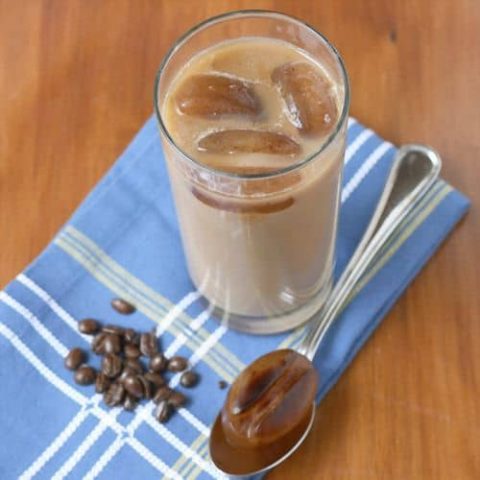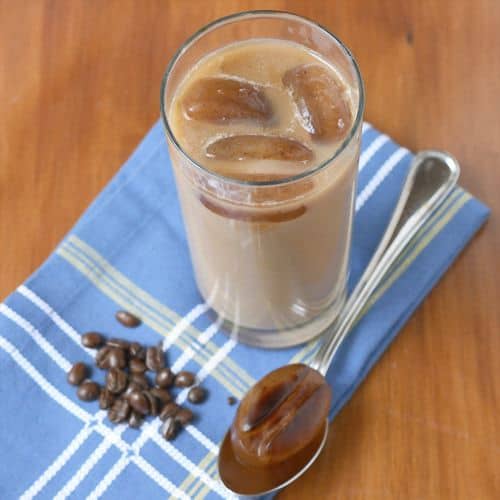 60-Second Iced Coffee
Ingredients
1 cup chilled coffee
1/2 cup milk of your choice
Coffee ice cubes
Instructions
You should already have your 1 cup of coffee in the small bottle. Just pour in the milk and add a few drops of vanilla. Screw the lid on tightly and shake it up!
Put ice cubes in a tall glass and pour coffee over the top. Enjoy!
Nutrition Information:
Yield: 1
Amount Per Serving:
Calories: 79
Total Fat: 2g
Saturated Fat: 1g
Trans Fat: 0g
Unsaturated Fat: 1g
Cholesterol: 10mg
Sodium: 74mg
Carbohydrates: 7g
Fiber: 0g
Sugar: 1g
Protein: 5g