As is probably obvious by now, I heart my farmer's markets. Aside from spices, I know I could eat only foods I found there. This recipe for mac and cheese is simple but uses so many fresh ingredients from the market that it really stands out from the standard boxed fare. Plus it's not so weird that my kid won't eat it. With the summer produce really hitting the stands now, you can stuff this pasta full of veggies but still be able to indulge in cheesy goodness.
Farmer's Market Mac & Cheese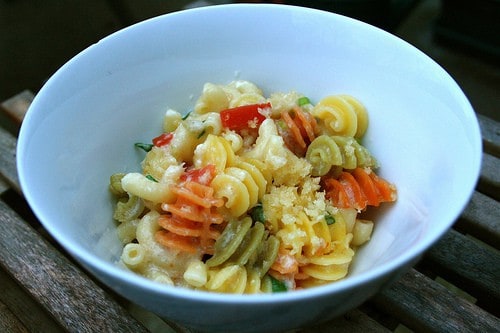 Ingredients
4 tbsp butter
2 tbsp flour
Salt and pepper
1 1/2 cups milk
2 cups shredded raw milk cheddar
4 green onions , chopped
1 to mato , chopped
12 oz cooked pasta
1/4 cup panko breadcrumbs
Instructions
Preheat oven to 350. Get the pasta cooking, and start the sauce. Melt 2 tbsp butter, then whisk in flour and heat through. Whisk in the milk and let it heat to a simmer, whisking until it thickens. Add all but 1/4 cup of the cheese and whisk until completely melted.

Melt the remaining butter in a small bowl and stir in the panko.

Add the tomatoes, scallions, and salt and pepper to taste to the cheese sauce. Mix in the pasta, then dump into an 8x8 baking dish. Top with remaining cheese, then sprinkle on panko.

Bake for 30 minutes or until bubbly.
For more pasta inspiration, check out my Pasta board on Pinterest!