As a novice mushroom eater, I'm always looking for interesting ways to work mushrooms into my meals. Although I've managed to work my way up to eating whole mushrooms instead of picking out every tiny bit of 'shroom from condensed soup, I don't often get a craving for them. Of course, when many of your groceries are selected for you by the team at Greenling, you have to change your mind about what you want to eat, and make it what you want to eat.
I don't remember how I thought of this combination of mushroom pesto and grilled cheese, but I know I love regular pesto with cheese and bread, so I couldn't go much wrong.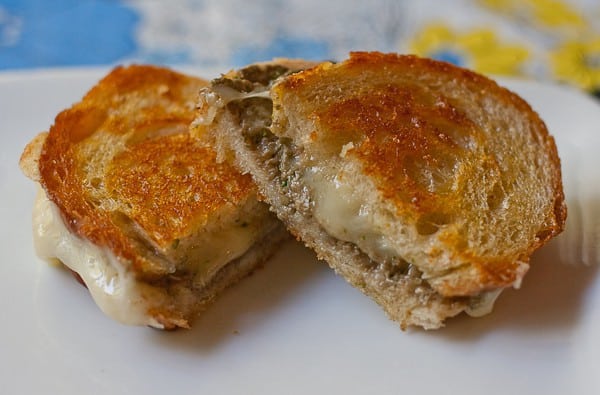 Mushroom Pesto Grilled Cheese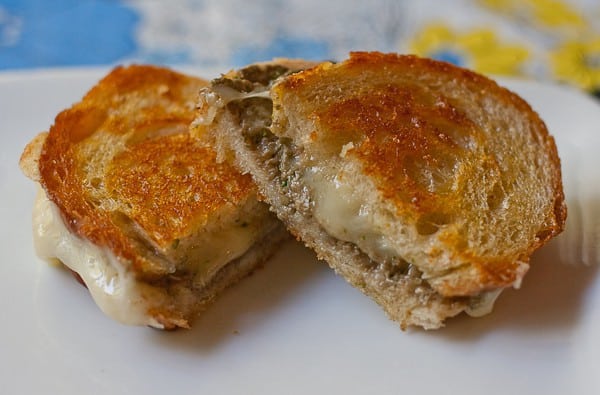 Ingredients
For the pesto:
6 ounces button mushrooms
1/4 cup walnuts
1/2 cup fresh parsley
1/4 cup olive oil
1 large garlic clove
1/4 cup shredded parmesan cheese
1/4 teaspoon salt
For the grilled cheese:
Butter
Sourdough bread
Slices provolone cheese
Mushroom pesto
Instructions
For the pesto:
Blitz everything in a blender or food processor until smooth.
For each sandwich:
Butter two slices of bread on one side. Spread the pesto on the opposite side of one slice bread, add 1-2 slices of cheese, then top with the other slice of bread. Fry on the stove over medium heat for about 3 minutes a side, or until golden brown.

Leftover pesto can be used as a dip for veggies, a pasta sauce, or mixed into scrambled eggs. When storing in the fridge, add a thin layer of olive oil to the top to help prevent an unattractive browning of the pesto. If you forget, you can just scrape the darker portions off.
For more tasty inspiration, check out my Burgers and Sandwiches board on Pinterest!
Follow Megan Myers | Stetted's board Burgers and Sandwiches on Pinterest.