This lemon blueberry granola will remind you of your favorite breakfast muffin.
I'm very picky about granola. Chunks too big? Out. Whole almonds? Nope. Extra sweet? Heck no — this is a breakfast food, remember?
But it's very hard not to succumb to that tempting aisle of products, especially when every other week there's a new granola on the shelves. And as I reach for it, I think, This time. This will be my perfect granola.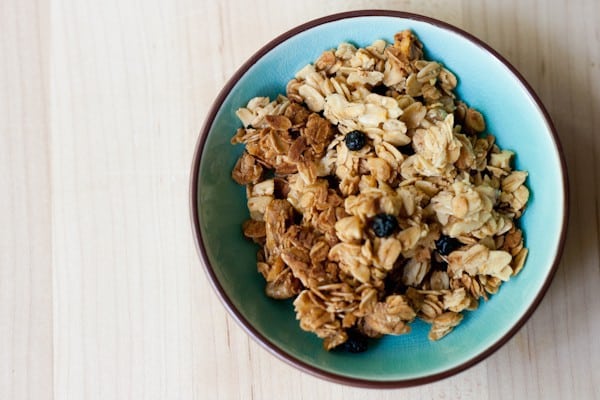 It never is, of course, and I'm left with a half-eaten bag and a full case of regret.
When I remember, I make my own. Given my busy schedule, this is easier said than done. It's not that granola takes a long time — an hour tops, most of it hands-off — it's that I just seem to completely forget about it until breakfast the next morning.
My favorite versions right now include flavored honeys and a touch of dried fruit. Too much dried fruit makes it too sweet and sticky for me, but I like the burst of sweetness small fruits like blueberries, currants, and chopped apricots bring to the oats. This flavor, using Lemon Honey Creme, dried blueberries, and lemon zest, reminds me of my favorite blueberry lime muffins.
I add the blueberries after the granola has cooked, and you'll probably want to do this as well. While cooking the blueberries with the oats helps spread out their flavor, it also can turn them into overly dry bits that taste like the scorched bits under a stove burner. So you probably want to avoid that.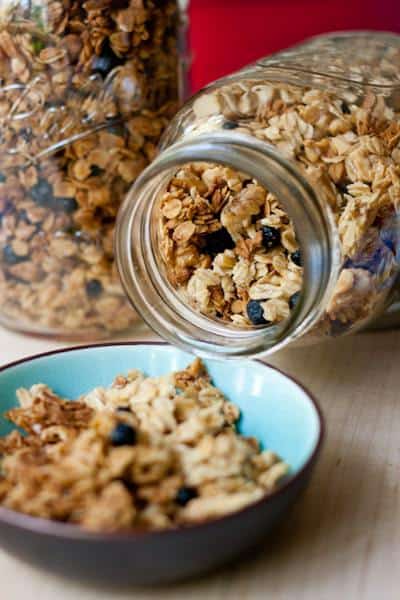 If you like this granola, you should also try my apricot granola, full of chai spices.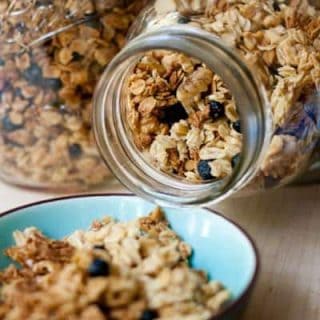 Lemon Blueberry Granola
Yield: 2 quarts
Prep Time: 15 minutes
Cook Time: 35 minutes
Total Time: 50 minutes
This lemon blueberry granola will remind you of your favorite breakfast muffin.
Ingredients
1/2 cup unsalted butter
1/2 cup Lemon Honey Creme
4 cups rolled oats
1 cup chopped walnuts
1/4 teaspoon salt
1/2 cup dried blueberries
2 teaspoons lemon zest, optional
Instructions
Preheat oven to 300°F and line two baking sheets with parchment paper.
In a small sauce pan, melt together butter and honey creme.
Mix together oats, walnuts, and salt in a large bowl. Drizzle butter mixture on and stir well to coat.
Spread onto baking sheets and bake for about 30 minutes, rotating baking sheets halfway through.
Remove from oven and immediately scatter blueberries and lemon zest, if using, over the top of the granola. Stir quickly and then press granola down, to help form large chunks.
Let cool completely, and store in airtight containers, preferably glass.
Recommended Products
As an Amazon Associate and member of other affiliate programs, I earn from qualifying purchases.
Nutrition Information:
Yield: 20
Serving Size: 1/4 cup
Amount Per Serving:
Calories: 148
Total Fat: 10g
Saturated Fat: 3g
Trans Fat: 0g
Unsaturated Fat: 6g
Cholesterol: 12mg
Sodium: 28mg
Carbohydrates: 14g
Fiber: 2g
Sugar: 2g
Protein: 3g
This post is part of my continuing relationship with Honey Ridge Farms and their Spread the Love campaign.