Apricot granola is flavored with chai spices for a crunchy, fragrant breakfast. This post is brought to you by Silpat on behalf of Food Fanatic.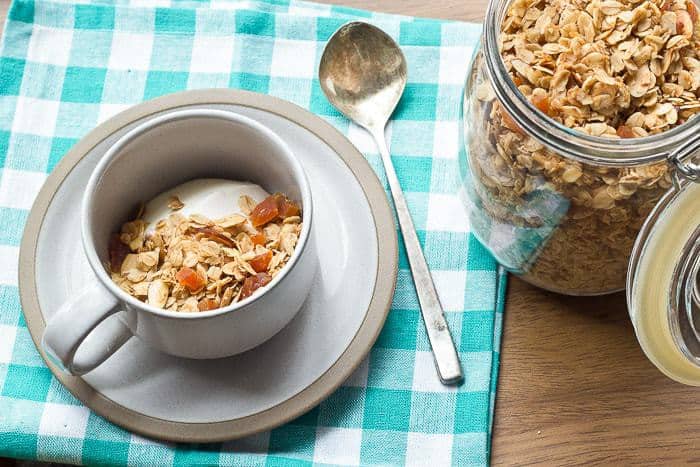 The other day I was running around the house, taking care of the laundry, the dishes, corralling the toys, and everything else that happens when you have two kids, and I realized it was almost lunchtime. And yet, I had completely forgotten about eating breakfast.
Since my children are incapable of going more than 10 minutes without eating, this sort of thing never happens on the weekend. During the week forgetting to eat happens far more often than I would like, probably because it often seems silly to make a meal for just myself.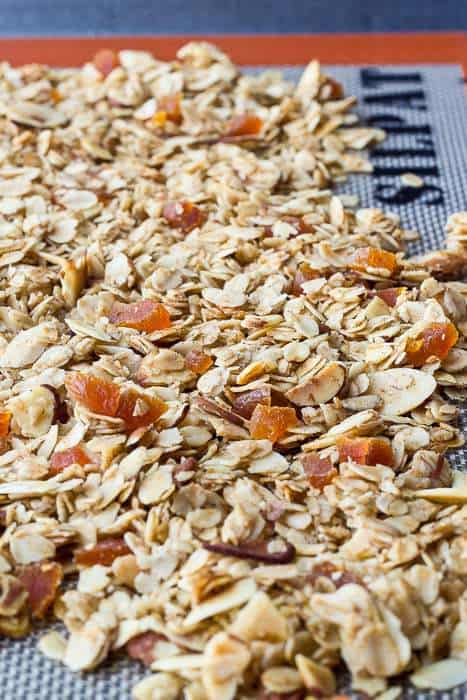 I'm healing this notion by preparing ready-to-eat breakfast foods like this apricot granola. Granola is one of the easiest things you can make at home, and it's so much better than the store-bought stuff that is often full of extra fat and sugar.
I like to keep my granola simple, and rely on natural flavors and spices rather than refined sugars. Coconut oil and honey add depth of flavor without overpowering the other ingredients, and dried apricots give it that fruity burst most of us have come to expect with granolas.
You can always switch up the ingredients when you make granola at home, using other fruits or spices to make it your own signature recipe. One of my favorite combos is lemon blueberry granola using flavored honey. You can even skip the fruit and go all-out with Nutella almond granola!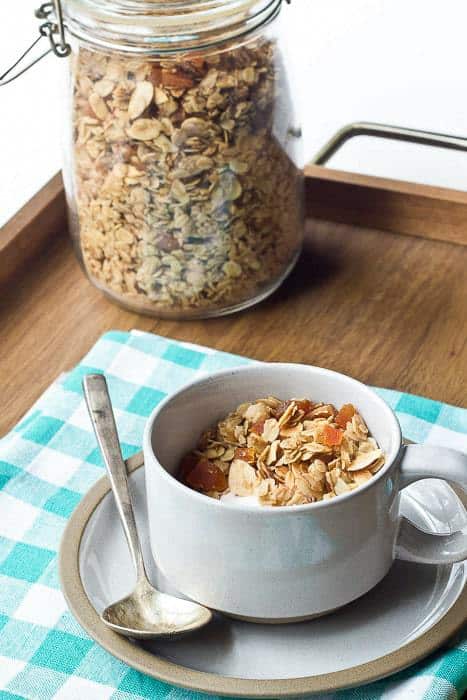 No matter what variety of granola you make, your best tool is a Silpat pan liner. I love them because they are reusable, which means I don't have to waste countless sheets of parchment paper each month. Anything I bake on them comes right off, and with granola I can just pick up the whole Silpat and pour my granola right into its jar. Easy peasy!
Armed with a batch of this spicy homemade apricot granola recipe, I no longer have any excuses to skip breakfast. Get rid of your excuses too and bake up some today!
Want to make it even easier? Win your own Silpat Perfect Mat Collection!
For more morning inspiration, check out my Breakfast board on Pinterest!
Follow Megan Myers | Stetted's board Breakfast on Pinterest.