Granola french toast makes breakfast even more amazing. This post is on behalf of Van's Foods for Food Fanatic.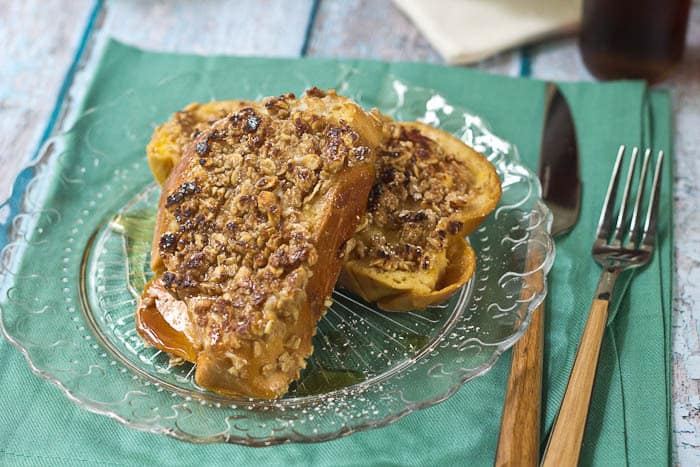 You guys know I'm serious about breakfast around here, right?
It's actually kind of funny, considering how I ate buttered toast for breakfast nearly every day for approximately 12 years. But we all move on, thankfully, from those childhood tastes. (Though I still love buttered toast; I just have expanded my morning horizons.)
Around here we have lots of pancakes, dozens of muffins, savory biscuits, and more. One thing we don't have a lot of is French toast.
This is sad news for my husband, for whom French toast is a favorite dish. When I want French toast, I want it to be good French toast, which can't often happen if all you have on hand is the thin sandwich bread my kids like.
However, the other day I received some Van's Foods granola for recipe testing, and I hit upon the idea of making sweet and crunchy granola French toast. You see, my husband and I met when we lived in Minneapolis, and one of the local breakfast joints used to serve up deliciously crispy-coated French toast. I'd order it every time and considered it the pinnacle of my French toast experiences.
While their version didn't use granola, one bite of this granola French toast is enough to transport me back to those days before we had children, when we went to the movies every weekend, and were up at 2 A.M. because we wanted to be. Now, I'm not saying this granola French toast recipe will give you the same experience, but wouldn't it be nice?
Chasing the dream, man.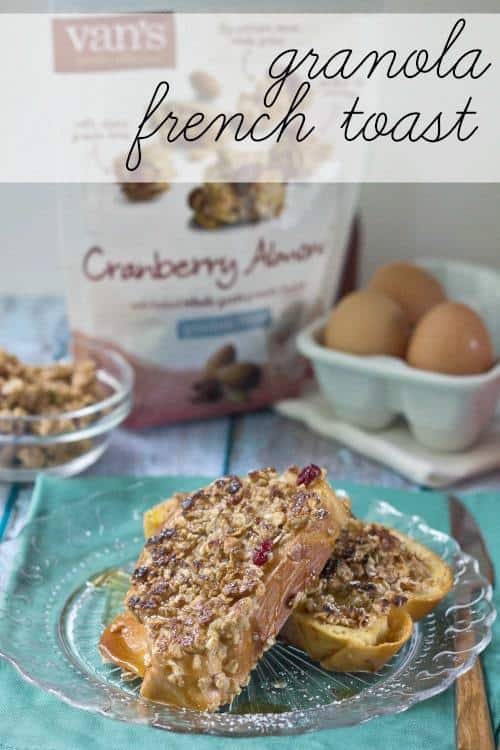 Don't be afraid to get your hands dirty while making this recipe (but be sure to wash your hands in the process, because of the raw eggs), as you will need to press the granola onto the bread for it to adhere. Be careful transferring from bowl to pan, and be ready to replace any granola that might fall off. I used Van's Cranberry Almond granola, but this would also be fantastic with their Blueberry Walnut flavor.
For more morning inspiration, check out my Breakfast board on Pinterest!
Follow Megan Myers | Stetted's board Breakfast on Pinterest.