Make breakfast ahead of time with this overnight apple cinnamon french toast. Prep it the night before so all you need to do in the morning is pop it into the oven!
French toast is my husband's favorite breakfast, but we don't make it that often.
Even though we now have a large flat-top grill, french toast just always feels like so much more work than, say, pumpkin pancakes.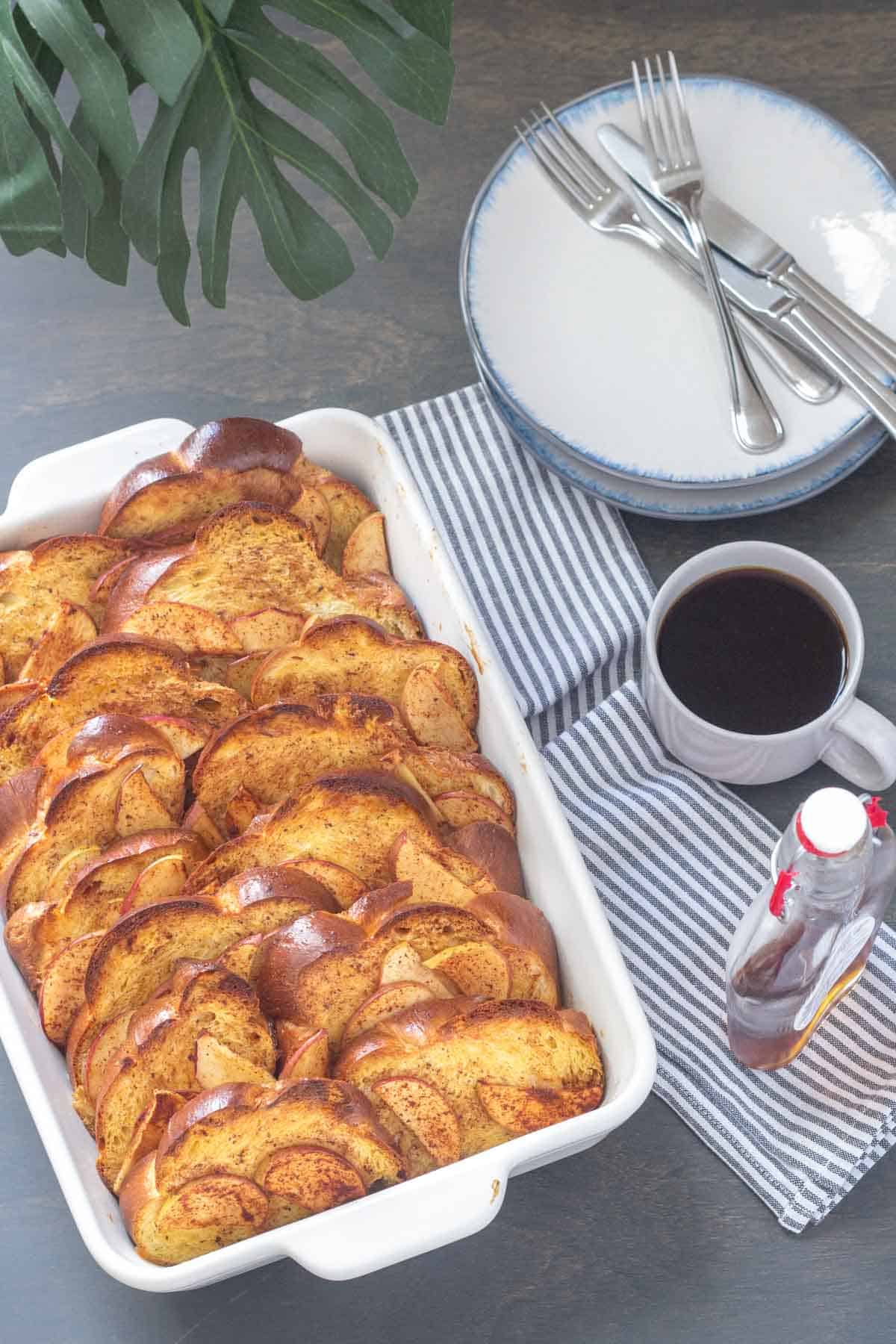 Fortunately this overnight apple cinnamon french toast solves that problem.
Everything gets prepped the night before, so in the morning you just need to pop it into the preheated oven, and you'll have a warm, cozy breakfast ready.
While you could just make a plain overnight french toast, why not make it fall-ready with the addition of apples, cinnamon, and other favorite autumnal spices?
Best bread for overnight french toast
While you can use any bread for french toast, there are certain varieties that will turn out better, especially for an overnight casserole.
My favorite bread to use is challah. This is a rich, eggy dough that goes perfectly with the custard of french toast. It's also beautiful when sliced thanks to the signature braid.
Brioche is another good rich dough option, but if you can't find either, I recommend an Italian loaf. You want an even, tight crumb that will soak up the custard.
Many of the breads you'll find at your grocery bakery are ideal for french toast, and the bakers will be happy to help you choose a great one.
Be sure to slice your bread thickly, about ½- to ¾-inch thick. Thin slices, such as in standard packaged breads, don't hold up well for french toast.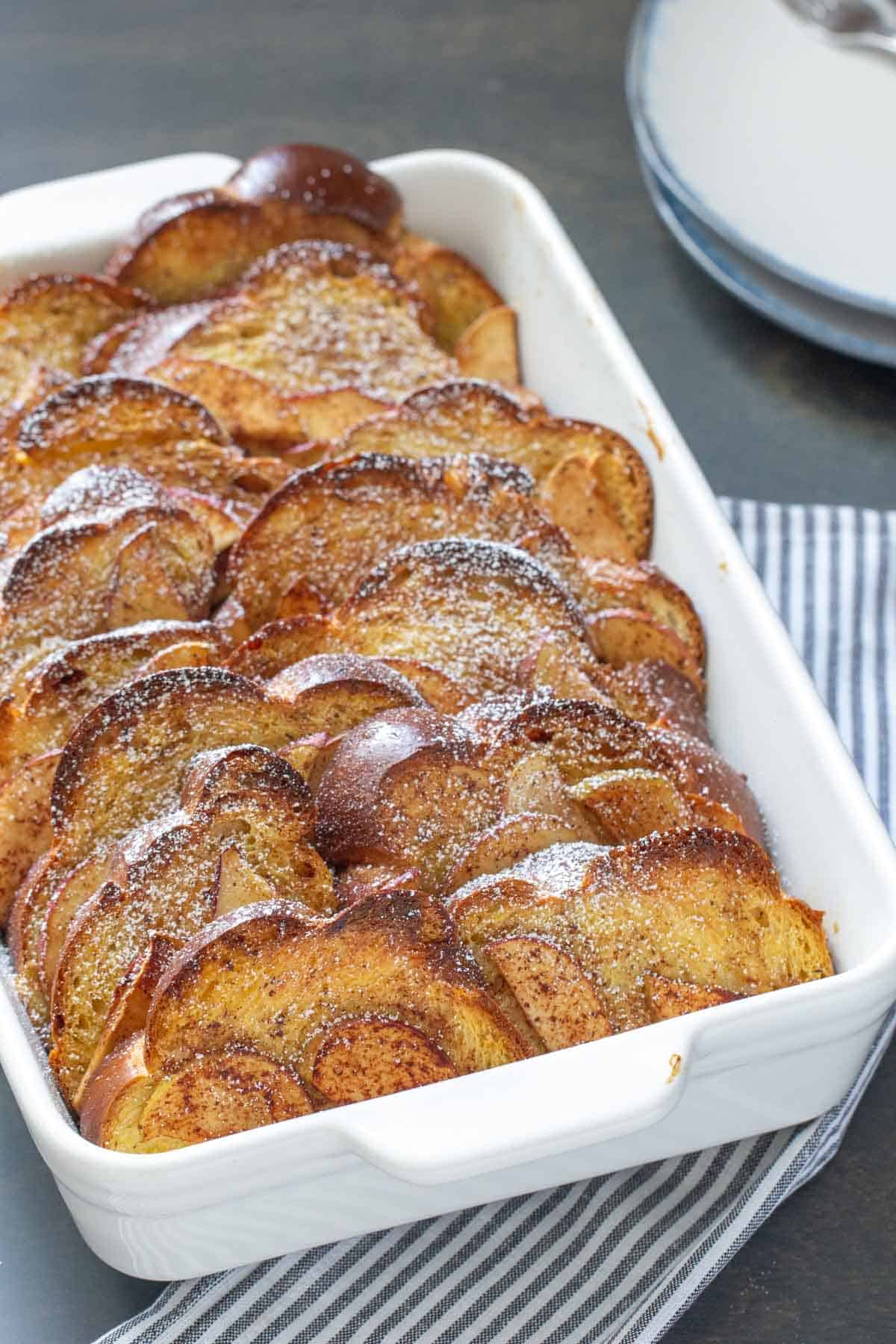 Prepping overnight french toast
An important aspect of french toast is making sure the bread is soaked enough, which is why I love overnight french toast!
You'll want to make sure to butter the pan well before adding the bread.
The custard comes together very quickly. I whisk until frothy, which helps to dissipate the spices throughout the liquid.
Cinnamon tends to clump when adding to liquids, so consider whisking it into a little milk to form a runny paste before adding it into the custard.
Dip each slice of bread into the custard, making sure it gets coated on all sides, then arrange in the baking pan.
I lay mine in like shingles, slightly overlapping. You can also lay them flat, or cut the bread into 1-inch chunks rather than slices.
Tuck the apples between the slices, then pour any accumulated juices over the top.
If you like, before adding the apples to the french toast, you can saute them with the sugar, cinnamon, and lemon juice in 2 tablespoons butter until just softened.
Or, you can leave the apples uncooked until the whole pan goes into the oven.
Cover the pan tightly with plastic wrap, then let rest in the refrigerator overnight, until you're ready to bake.
The next morning, remove it from the refrigerator and let it rest while you preheat the oven. Don't forget to remove the plastic wrap before baking!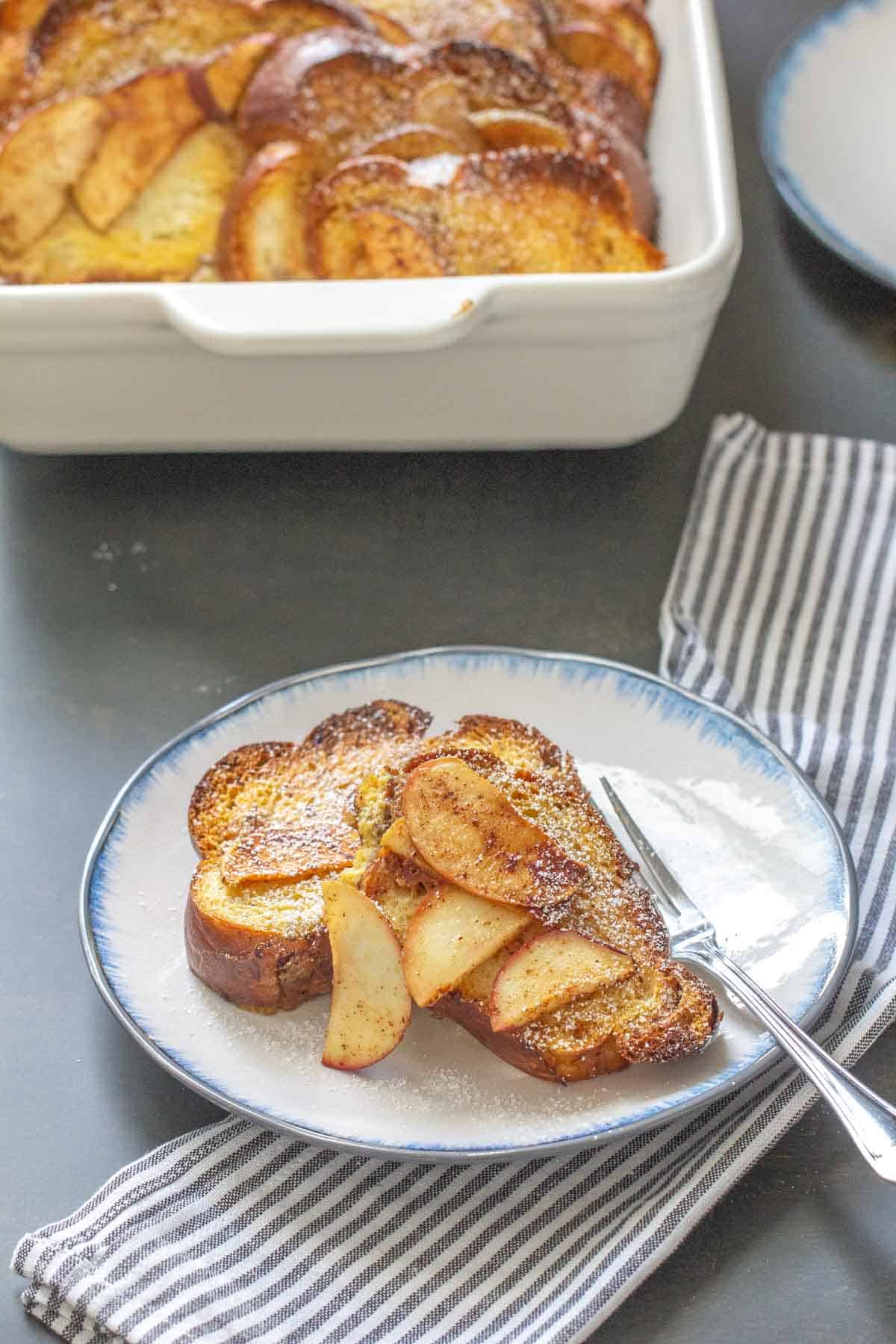 Storage tips
Overnight french toast will last, covered, in the refrigerator for about 3 days.
It's best the day of, as the dish will have the absolute best texture warm from the oven. However, if you need to reheat, portion into individual servings and warm in the microwave.
I recommend placing a paper towel over the top when reheating in the microwave, as it helps retain some of the moisture of the casserole.
You can also reheat it in a 350°F oven until warm in the center, about 10-15 minutes. Make sure to remove the pan from the oven while the oven preheats.
You can freeze overnight french toast casserole as well! Make sure it is cooled and well wrapped before freezing.
Thaw it overnight in the refrigerator and bake at 350°F until warm in the center, about 20 minutes.
Overnight apple cinnamon french toast will last for about 2 months in the freezer.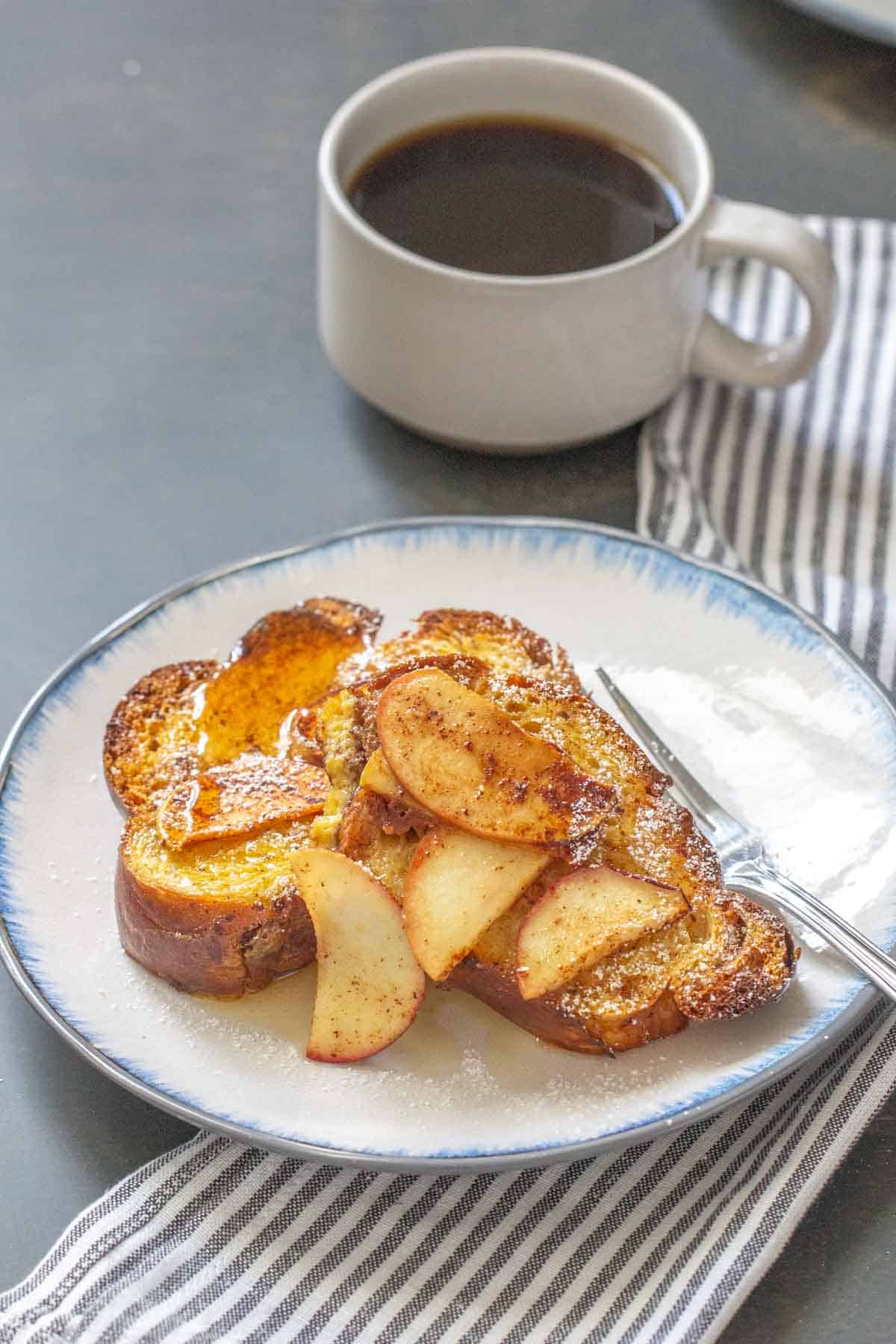 I always have pure maple syrup on hand to serve with overnight apple cinnamon french toast. You can also serve this with whipped cream, butter, or additional fruit.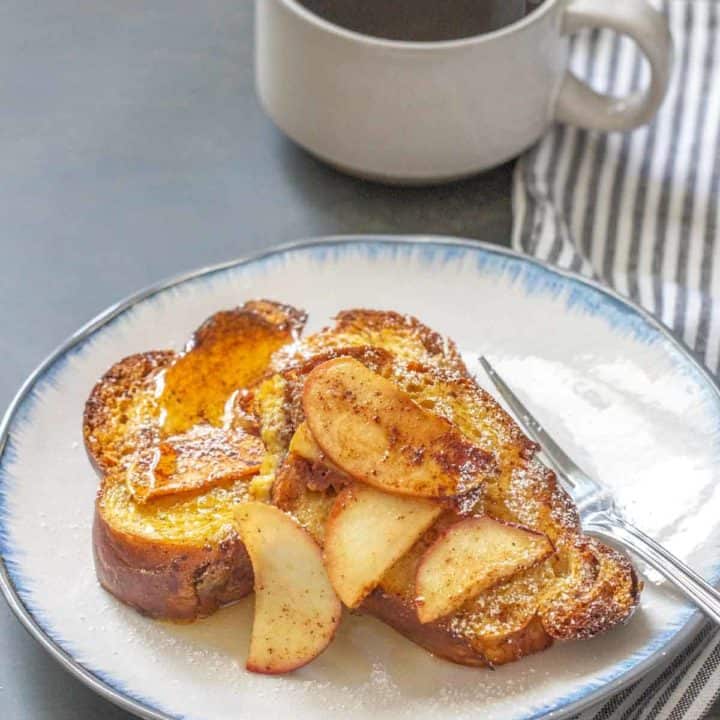 Overnight Apple Cinnamon French Toast
Yield: 8 servings
Prep Time: 10 minutes
Cook Time: 40 minutes
Total Time: 50 minutes
Make breakfast ahead of time with this overnight apple cinnamon french toast. Prep it the night before so all you need to do in the morning is pop it into the oven!
Ingredients
1 (1-pound) loaf challah or brioche, sliced
8 eggs
1 cup milk
4 tablespoons butter, melted and cooled
¼ cup brown sugar
1 teaspoon cinnamon
1 teaspoon vanilla
¼ teaspoon salt
For the apples
2-3 tart apples, sliced
1 tablespoon lemon juice
¼ cup packed brown sugar
1 teaspoon ground cinnamon
¼ teaspoon ground nutmeg
Instructions
Lightly coat a 9x13-inch baking dish with butter or nonstick spray and set aside.
In a large bowl, whisk together eggs, milk, butter, brown sugar, cinnamon, vanilla, and salt until frothy. Dip each slice of bread into the liquid to coat completely, then arrange bread in the prepared pan, overlapping slices. You may need to cut a few slices to fit and fill in any gaps. Pour any remaining custard liquid over the top.
In another bowl, combine apples, lemon juice, brown sugar, cinnamon, and nutmeg. Stir well to dissolve sugar. Tuck apple slices in between bread, then pour any accumulated juices over the top.
Cover tightly with plastic wrap and place in the refrigerator overnight.
When ready to bake, remove from refrigerator and preheat oven to 350°F. Remove plastic wrap and bake for 40 minutes. Serve with powdered sugar and maple syrup.
Notes
Make sure to remove pan from the refrigerator before turning on the oven to help it warm up before baking.
You can sauté the apples with 2 tablespoons butter and the rest of its ingredients until just softened before adding to the casserole dish, if you like.
Recommended Products
As an Amazon Associate and member of other affiliate programs, I earn from qualifying purchases.
Nutrition Information:
Yield: 8
Serving Size: 1
Amount Per Serving:
Calories: 256
Total Fat: 13g
Saturated Fat: 7g
Trans Fat: 0g
Unsaturated Fat: 5g
Cholesterol: 219mg
Sodium: 256mg
Carbohydrates: 26g
Fiber: 2g
Sugar: 18g
Protein: 9g