Caprese Chicken Flatbread
This post contains affiliate links. As an Amazon Associate, I earn from qualifying purchases.
Caprese chicken flatbread turns a favorite summertime salad into a entree meal.
A couple of weeks ago I went to a tomato-themed dinner at one of our urban farms, Springdale Farm. I love it when I get to attend dinners at farms; not only is the setting beautiful but you also get to have a peek at exactly where the food you're about to eat is coming from.
Springdale is churning out plenty of pretty tomatoes each week, and I'm doing what anyone else in that situation would: eating them on everything.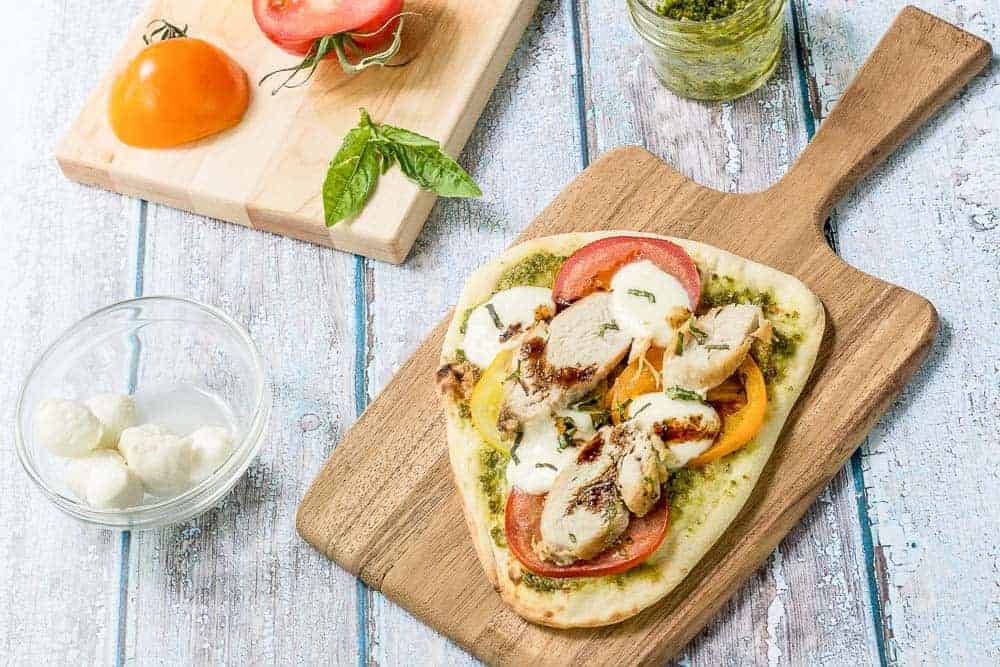 Now, a traditional caprese salad is a constant dish in my house during tomato season, as one of my favorite lunchtime or dinner accompaniments. I also like to change it up a little, adding avocado or bacon for more creaminess or a burst of salt and fat. Cooked leftover chicken is perfect to add in as well, and in this caprese chicken flatbread you've got a very satisfying meal.
Remember my carrot top pesto from last week? It makes for the ideal sauce on this flatbread, adding so much earthy, garlicky flavor to the sweet tomatoes and creamy cheese.
You can use whatever variety of pesto you like, but take advantage of summer to get a batch of homemade in the fridge before the sun escapes us.
It keeps for about a week in the fridge, but you can freeze it as well. Use ice cube trays so you can easily pop out a square to add to your eggs, pasta, or whatever else you like.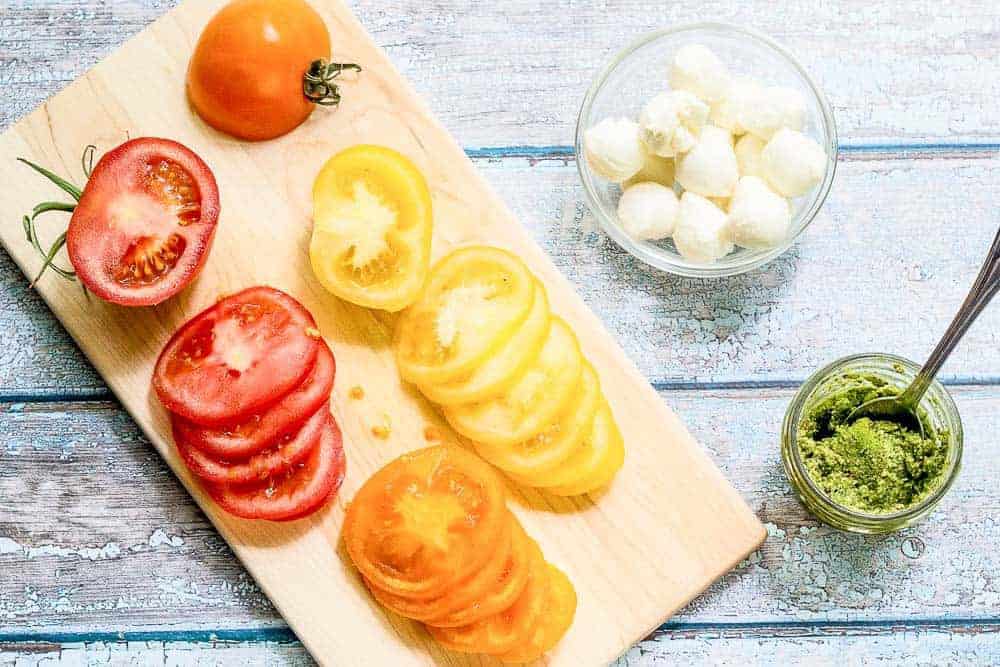 The caprese chicken flatbread is finished off with a drizzle of balsamic vinegar. I tend to add balsamic to every tomato dish because the acidity creates great balance in the dish. If you don't like balsamic, try a squeeze of lemon juice instead!
One of the best things about this recipe? It's ready in just a few minutes. Use chicken leftover from another meal or batch-cook some ahead of time for lunch and dinner recipes like this one. Batch cooking is one of the best ways to make weeknight meals more bearable, and you'll be thanking yourself for your efforts all week long.
We always have naan on hand, especially in the summer, because it's great for making quick pizzas for my kids. (We also love it for curry, of course!) The mini naans are perfect for making single servings or snack-size flatbreads.
Need a way to start out a summer cookout? Make a few of these caprese chicken flatbreads to stave off the hungry crowd while the rest of the food is cooking.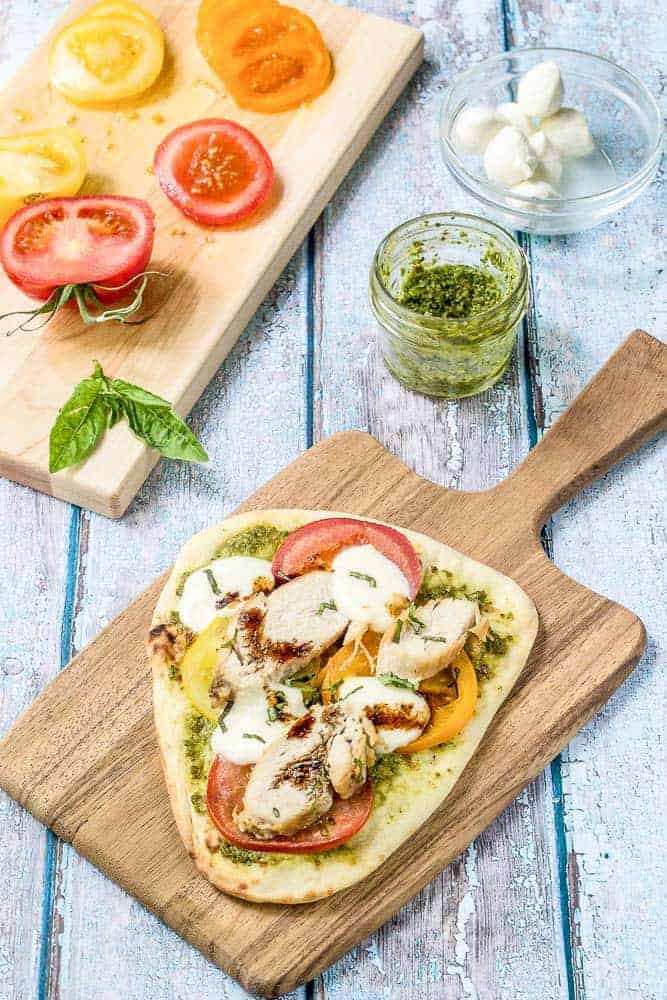 Be sure to use smaller, but firm ripe tomatoes that will hold their shape after a stint in the oven. I like to use a variety for color, but you can use whatever you prefer or is available. Try green tomatoes for a bit of a different taste that will be less sweet.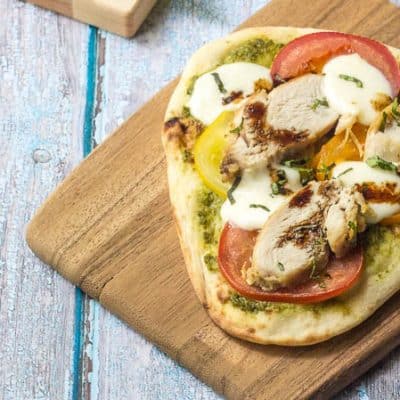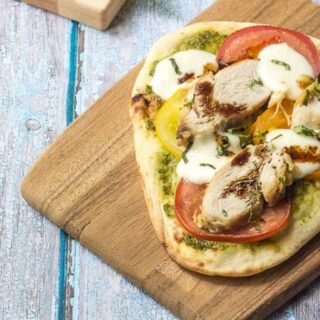 Caprese Chicken Flatbread
Caprese chicken flatbread turns a favorite summertime salad into a entree meal.
Ingredients
2 pieces flatbread or naan
1 tomato, sliced
3 ounces ounce cooked boneless skinless chicken breast
1/2 ounce chopped fresh mozzarella cheese or tiny fresh mozzarella cheese balls
Fresh basil leaves, torn
2 teaspoons balsamic vinegar, optional
Instructions
Preheat oven to 400° F. Place flatbread on a baking sheet.
Spread 1 tablespoon pesto on each flatbread. Place tomato slices on top.
Slice chicken and arrange on top of tomato. Add mozzarella in between chicken pieces.
Bake for about 10 minutes, until cheese has melted. Scatter basil leaves on top, and drizzle on balsamic vinegar, if desired.
Notes
Nutrition facts are an estimate.
Recommended Products
As an Amazon Associate and member of other affiliate programs, I earn from qualifying purchases.
Nutrition Information:
Yield:

2
Serving Size:

1 pizza
Amount Per Serving:
Calories:

194
Saturated Fat:

1g
Cholesterol:

6mg
Sodium:

194mg
Carbohydrates:

5g
Sugar:

2g
Protein:

5g