This post contains affiliate links. As an Amazon Associate, I earn from qualifying purchases.
Why are you not making your own pizzas yet?
It's not like I'm the first person to talk about all the benefits of making pizza at home, but another voice doesn't hurt.
It does take a little bit of prep time, but you can easily make batches of dough and have it on hand in the freezer. I've never tried freezing an entire pizza, but I bet that would work too!
Having Pizza Friday is a great way to end the week. Not only do you not really need to think about what to make, but you can top the pizza with whatever you have on hand — no need to go to the grocery store for specific toppings!
This week I used some gouda that had been languishing in the cheese drawer, yellow onion that I caramelized, and some wonderful venison sausage I had purchased at the HOPE market from Dai Due. Yum!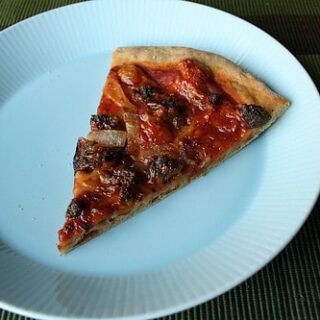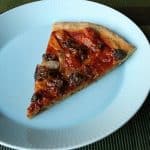 Ingredients
3/4

cup

all-purpose flour

3/4

cup

whole wheat flour

1/2

teaspoon

instant yeast

1

teaspoon

kosher salt

1/4

teaspoon

oregano

1/2 to 3/4

cups

water

1

tablespoon

olive oil

1/2

teaspoon

minced garlic
Instructions
Mix together dry ingredients in a large bowl. Slowly stir in half the water, the olive oil, and the garlic. Add water a little bit at a time until you can work the dough together into one ball.

Toss it onto a flour-covered counter and knead for about 10 minutes, until dough is smooth, but not sticky. If it gets sticky just add a little bit of flour.

Clean and dry bowl, then grease with a small amount of olive oil. Put dough in bowl and cover with plastic wrap. Let rise for about 2 hours. Unroll and top with your favorite ingredients, then bake at 450 for about 15 minutes. Enjoy!
Nutrition
Do you have a pizza night? What are your favorite toppings?