This post contains affiliate links. As an Amazon Associate, I earn from qualifying purchases.
Homemade pizza dough is easy to make for family pizza night! With just a few ingredients, even beginning cooks can whip up this dough.
Are you making pizza at home yet?
We love having pizza every week, usually on Fridays. It's a great way to end the week — not only do you not really need to think about what to make, but you can top the pizza with whatever you have on hand.
Plus, pizza is a family-friendly meal everyone can get involved with making.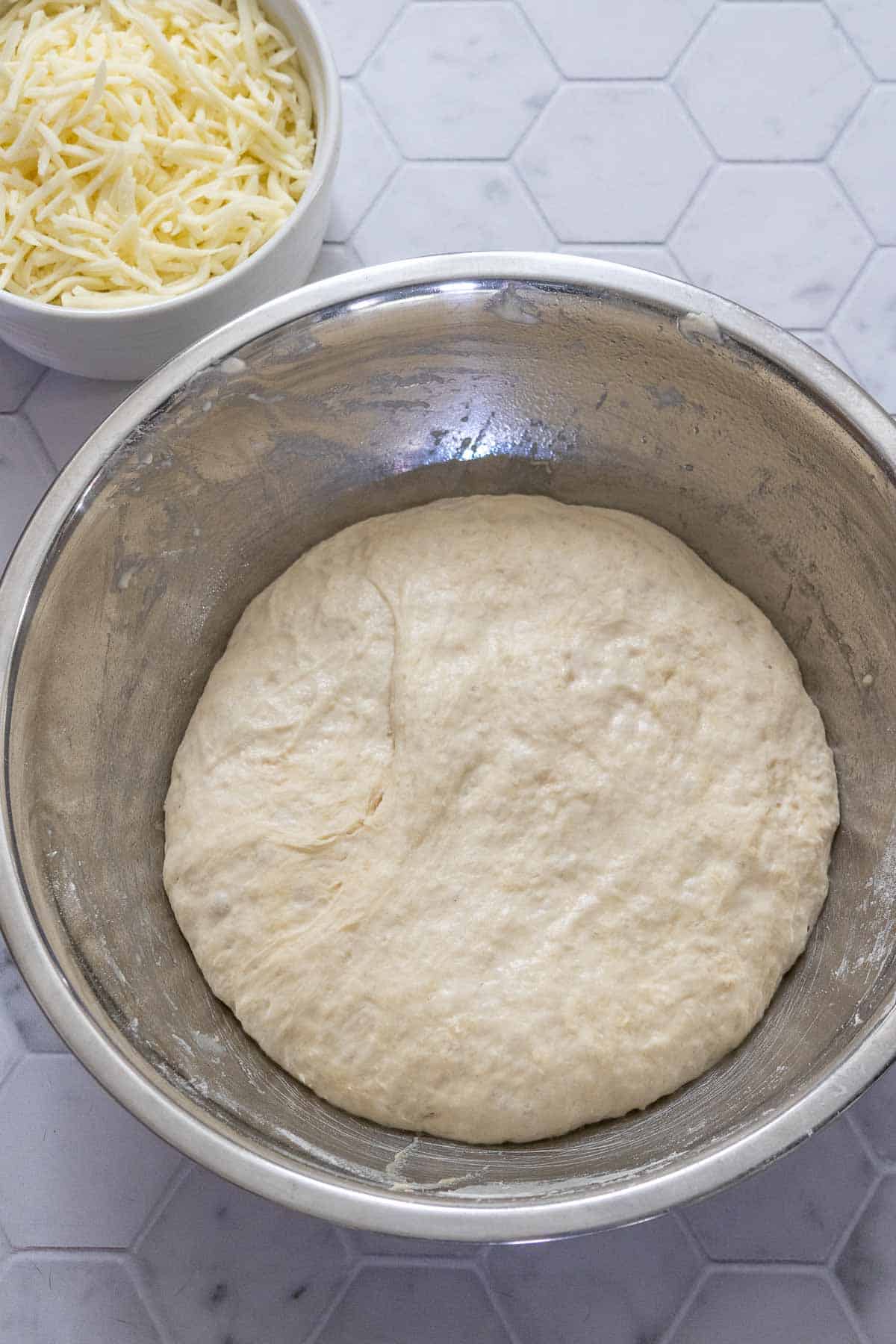 My kids love to put their own toppings on for a personalized pizza, and they've started to help with the dough too.
Pizza dough is easy to make. It only requires a few ingredients, a little bit of mixing, and some rising time. You can even make it in advance to cut down on day-of prep time.
This dough is great for any American-style pizza you love!
Ingredients for homemade pizza dough
Pizza dough requires basic ingredients you likely already have at home.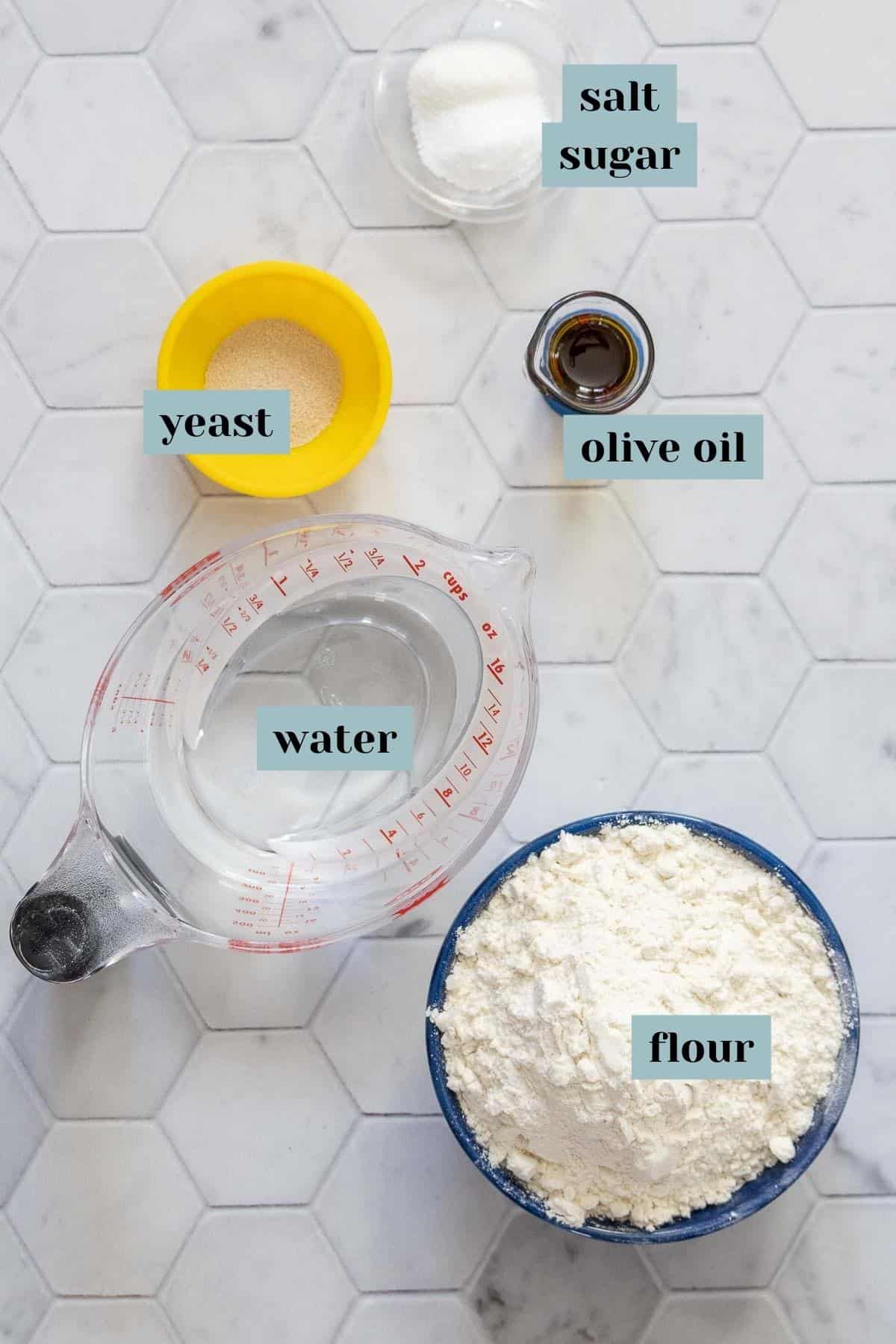 Flour – All-purpose flour works great, but you can also use bread flour or 00 flour. Keep in mind that the type of flour you use will require different amounts of water.
Sugar – Not all pizza dough recipes require sugar. In this recipe, it helps create a finer crumb and brown the pizza crust.
Salt – For flavor
Yeast – I use instant yeast, which doesn't require proofing before being added to the dough. "Rapid rise" is one kind of instant yeast.
If you use active dry yeast, it will need to be mixed with warm water and set aside until foamy before adding to the dough.
Olive oil – A little olive oil is added for flavor. It also helps give a crispier crust and can make the crust stand up better to moisture from toppings.
Water – Water is required to mix the dough. Like all doughs, you'll need to adjust more based on the dough texture rather than a specific quantity, due to variances in flour.
How to make easy pizza dough
In a large bowl, combine flour, sugar, salt, and yeast.
Combine the water and olive oil, preferably in a liquid measuring cup.
Pour the water into the flour mixture and mix well until the dough comes together.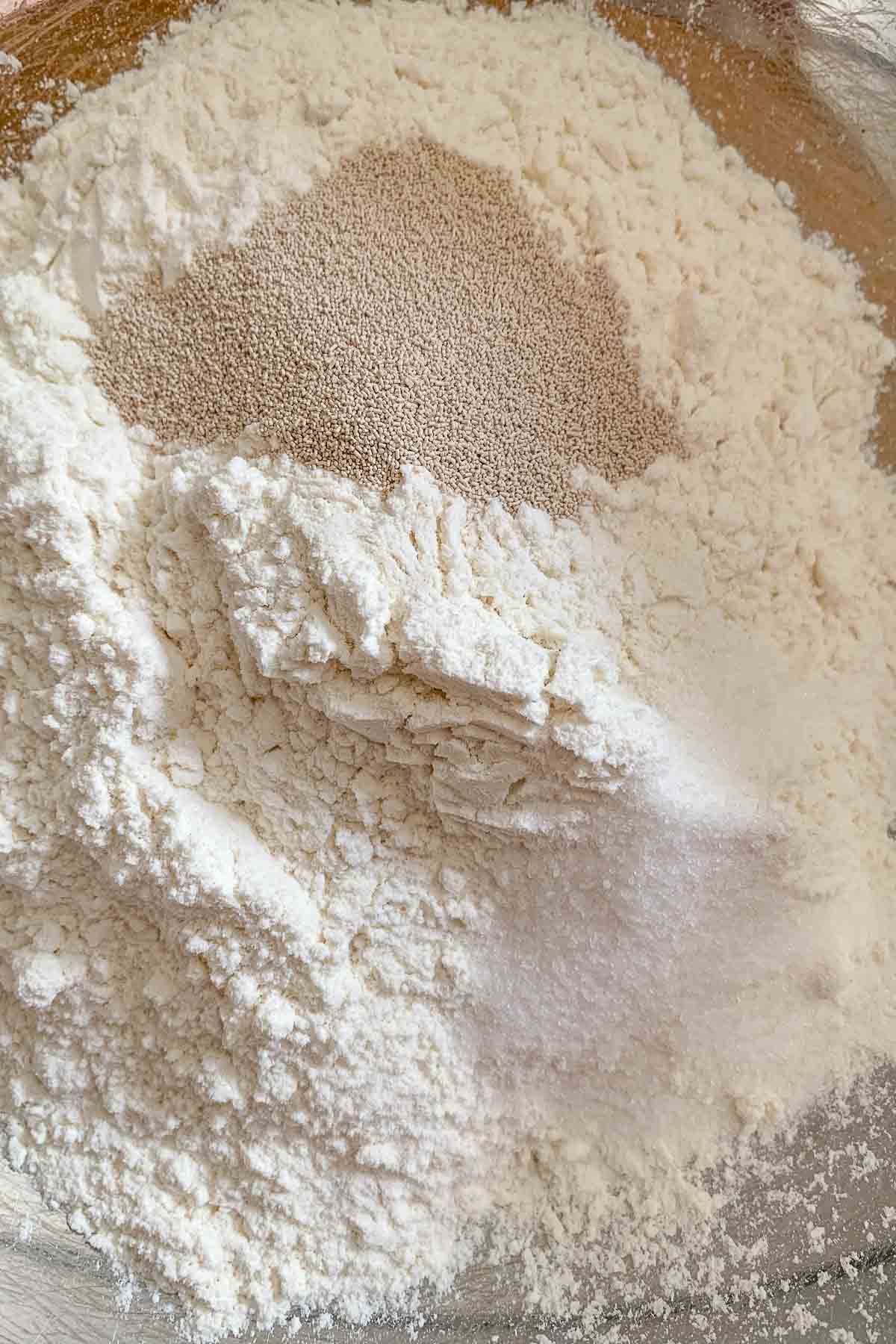 You can mix using a wooden spoon, a dough whisk, or your hands. I prefer to use my hands so I get a feel for the dough's texture.
Add the salt and mix the dough again, kneading a bit so it is less shaggy.
Place the dough on a lightly floured surface. Flour the top and your hands, and knead a few times until the dough can be shaped into a smooth ball.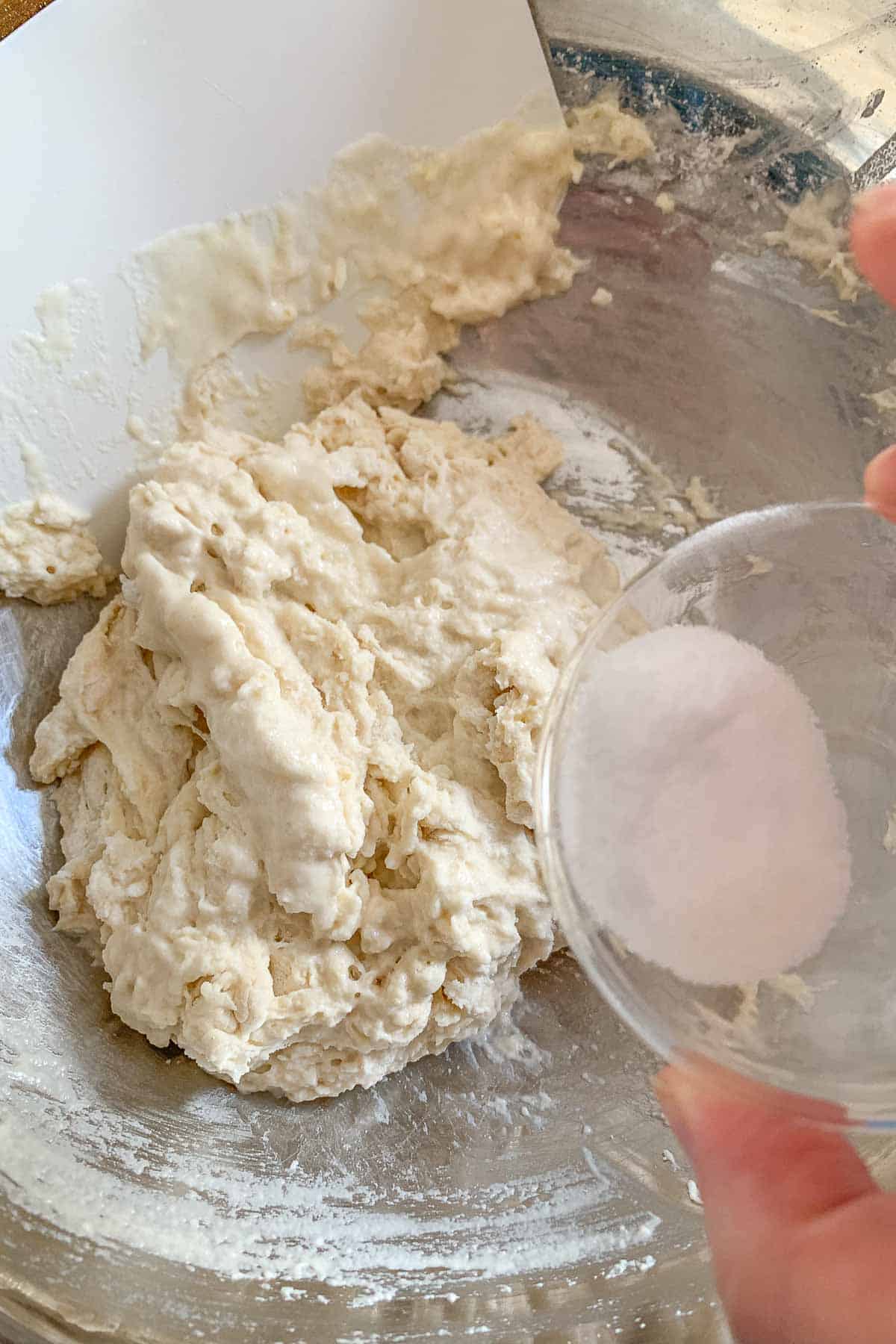 Be sure to only add enough flour to prevent sticking. If you add too much flour the crust can turn out tough.
Place the dough ball into a greased bowl and cover with plastic wrap or a kitchen towel. Set the bowl in a warm place to rise until doubled in size.
tip
I like to use shower caps to cover my dough. The elastic edges fit perfectly around the bowl to hold in warmth and moisture. They can be washed and reused multiple times.
Once the dough has risen, it's ready to use.
To use the dough for a standard pizza pan, I first lightly coat the pan with olive oil to prevent sticking.
Then, place the dough ball in the center of the pan. Gently press out the dough from the center so that it stretches to meet the edges, working in a circular motion to shape the dough evenly.
When you get to the edges of the pan, use your knuckles to press the dough into a defined edge.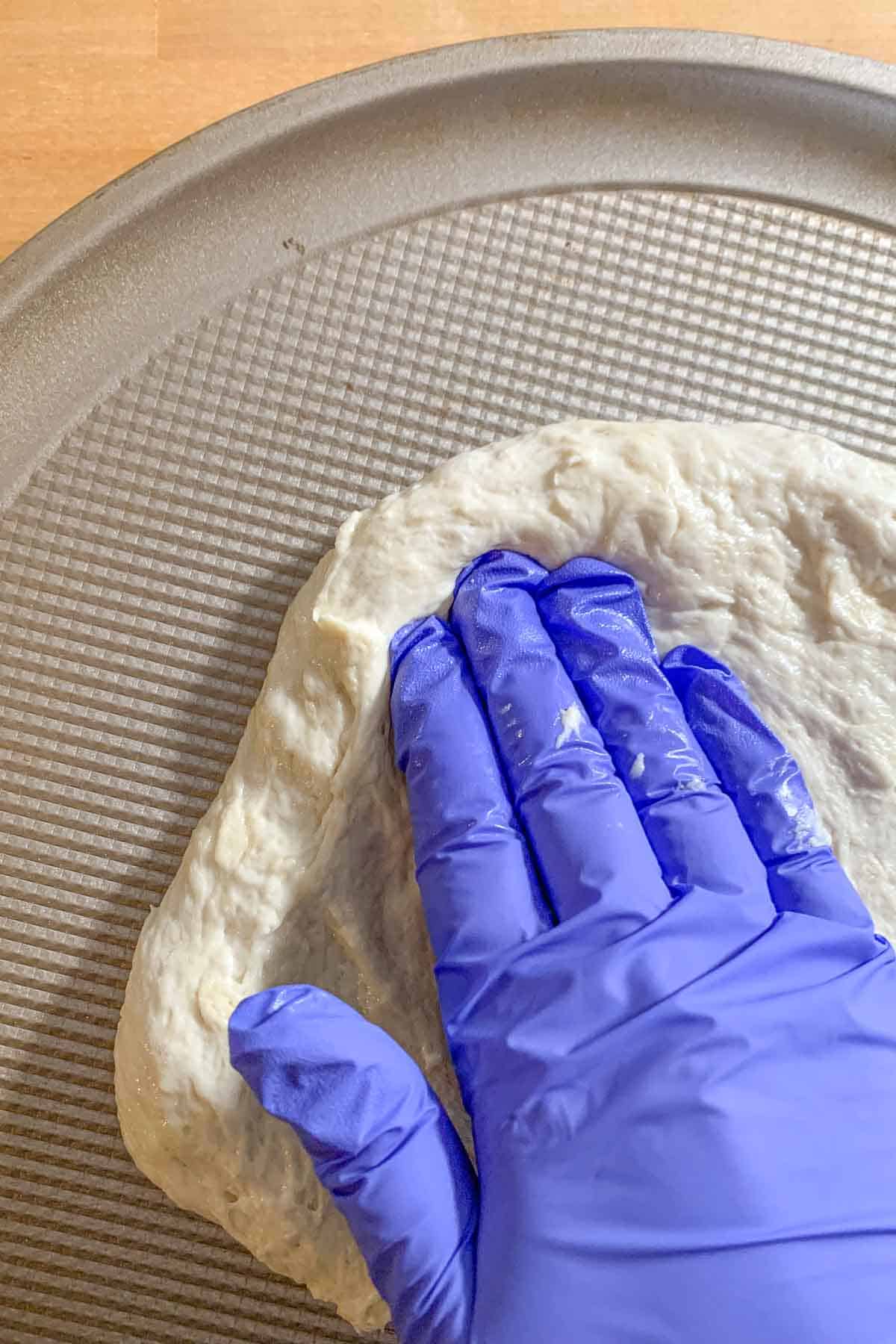 You can also make the dough the day before using. Let rest, covered, in the refrigerator overnight.
Remove the dough from the refrigerator 1-2 hours before you want to use it so that it comes to room temperature, then use as needed.
How to bake homemade pizza dough
There are so many ways you can bake pizza dough at home, and I change up what I use depending on how I feel that day!
A standard pizza pan works great. Look for pans that are nonstick and are large enough to hold the pizza you want to make. Most come in 12- or 14-inch sizes.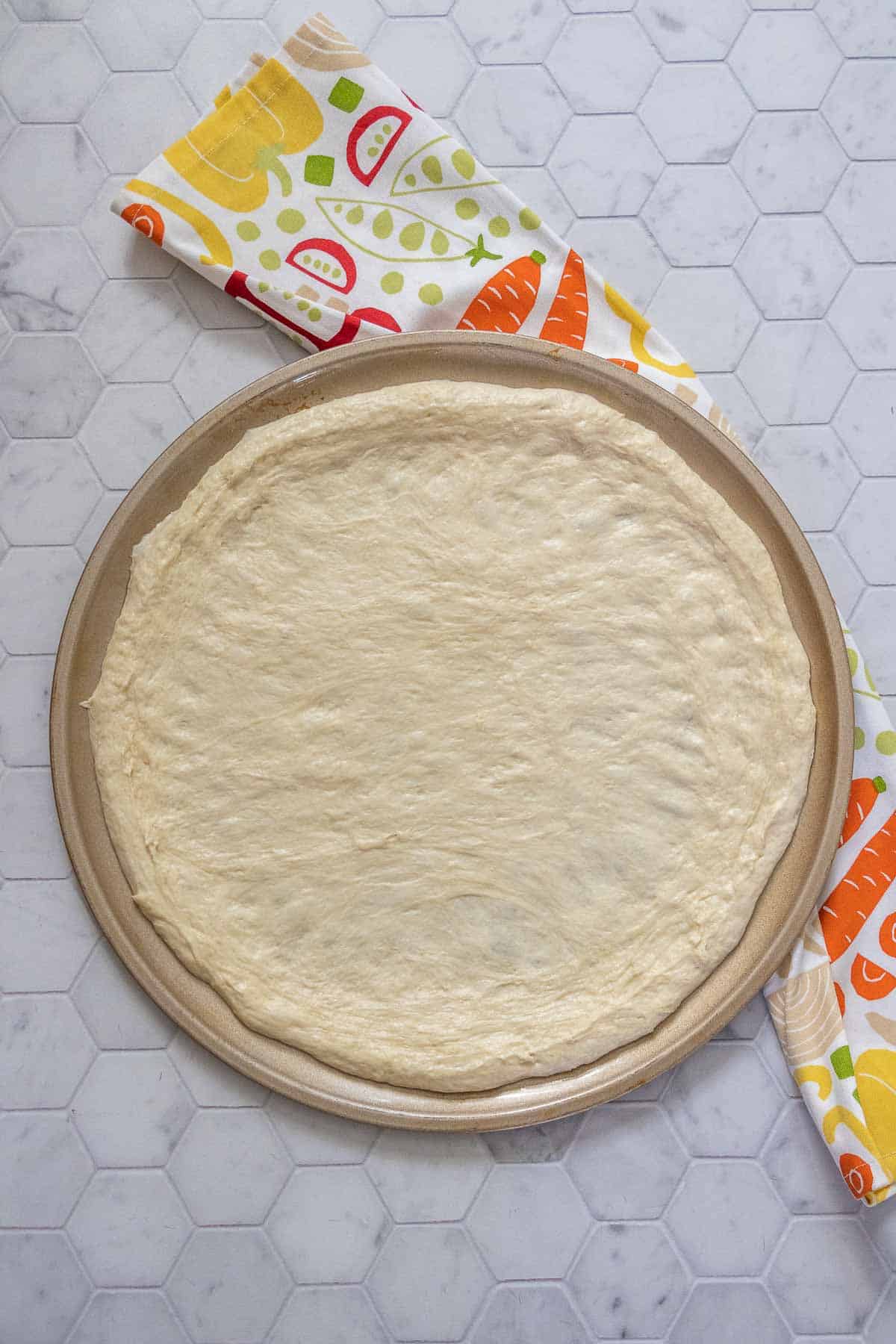 If you don't have a pizza pan, a baking sheet will also work. If you want round pizzas, I recommend using two baking sheets. Otherwise, you can make one larger rectangular pizza.
Pizza stones help make a wonderfully crisp crust. Keep in mind that pizza stones need to preheat in the oven, and you'll need to use a pizza peel to slide the unbaked pizza onto it. It's best for those who are more experienced in making pizzas.
I also like to make pizza in a cast-iron skillet. This is especially great for when you want to get crispy, cheese-covered edges.
Pizza dough bakes best at a high temperature. I set my oven to 450°F to ensure the dough gets cooked while not burning any toppings.
If you cook yours at a higher temperature, make sure you have your ventilation fan on. Also, before turning on the oven, check to make sure the bottom of the oven is clean, to prevent it from burning or smoking during cooking.
Cook the pizza dough for 15-20 minutes at 450°F.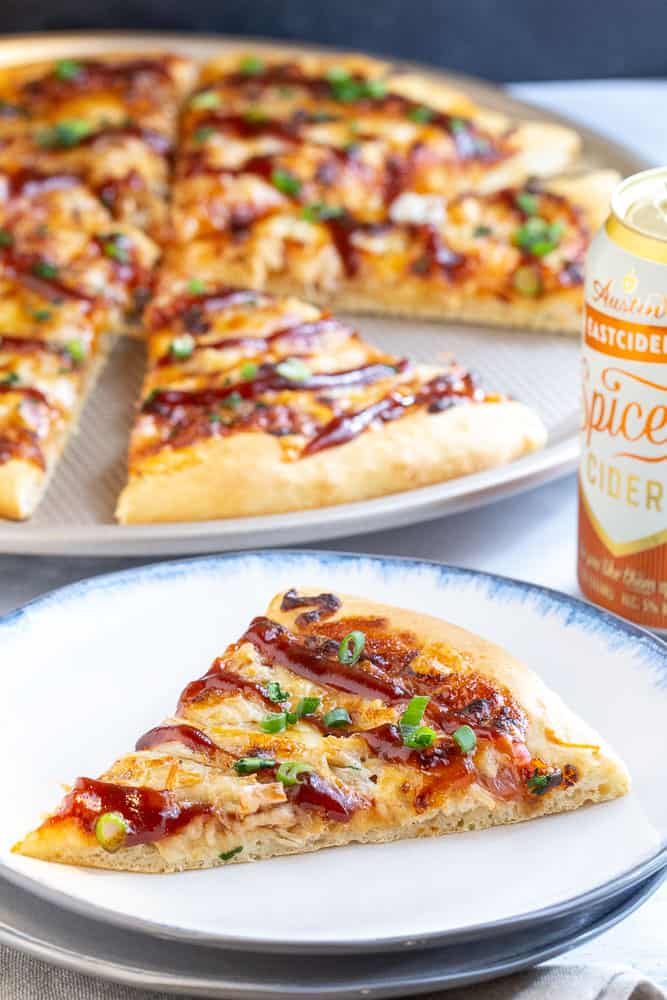 How to use homemade pizza dough
Now that you've got your dough, try these recipes for using it!
You can also make a high protein cottage cheese pizza crust when you're looking for a low carb option.
Make this homemade pizza dough recipe the next pizza night!
Love this recipe? Please leave a 5-star review below! It means so much when you enjoy my recipes, so let me know how it goes and leave a comment if you have any questions.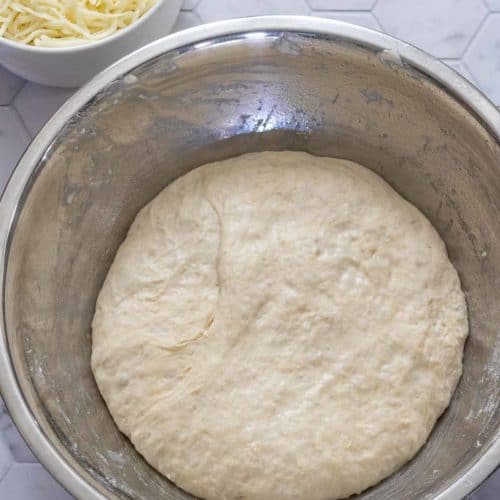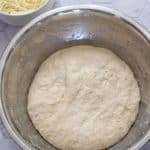 Homemade Pizza Dough
Homemade pizza dough is easy to make for family pizza night! With just a few ingredients, even beginner cooks can whip up this dough.
Print
Pin
Save
Saved!
Ingredients
1 2/3

cups

all-purpose flour

1

teaspoon

granulated sugar

1

teaspoon

instant yeast

1/2 to 3/4

cup

water

1

tablespoon

olive oil

1

teaspoon

fine sea salt
Instructions
Mix together flour, sugar, and yeast in a large bowl. Combine water and olive oil, then stir into dry ingredients. Mix together to create a shaggy dough, then mix in the salt.

Place onto a flour-covered counter and knead to form a round ball, adding just enough flour to prevent sticking.

Place dough ball into a greased bowl and cover with plastic wrap or a clean kitchen towel. Let rise until doubled, about 1 hour.

Shape dough into pan of choice, top with your favorite ingredients, then bake at 450°F for 15-20 minutes.
Nutrition
Serving:
1
g
Calories:
117
kcal
Carbohydrates:
21
g
Protein:
3
g
Fat:
2
g
Saturated Fat:
0.3
g
Sodium:
293
mg
Potassium:
42
mg
Fiber:
1
g
Sugar:
1
g
Iron:
1
mg
Nutrition information is provided as a courtesy and is an estimate based on online calculators. Any nutritional information found on Stetted should be used as a general guideline only.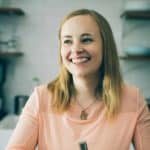 About Megan
I focus on fresh ingredients and easy methods, with spins that keep meals interesting. Dinnertime shouldn't be stressful or complicated, and I'm here to help you enjoy the time spent in the kitchen. Read more…