Homemade herb pizza dough adds tons of flavor to your pizza night! You'll love this easy-to-make dough. This post is brought to you by OXO.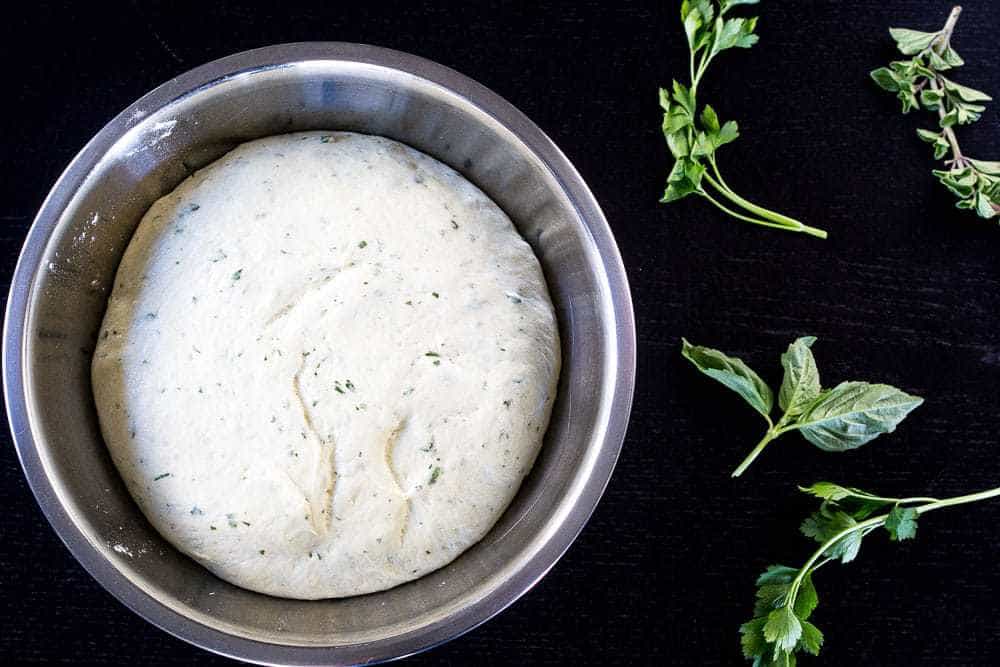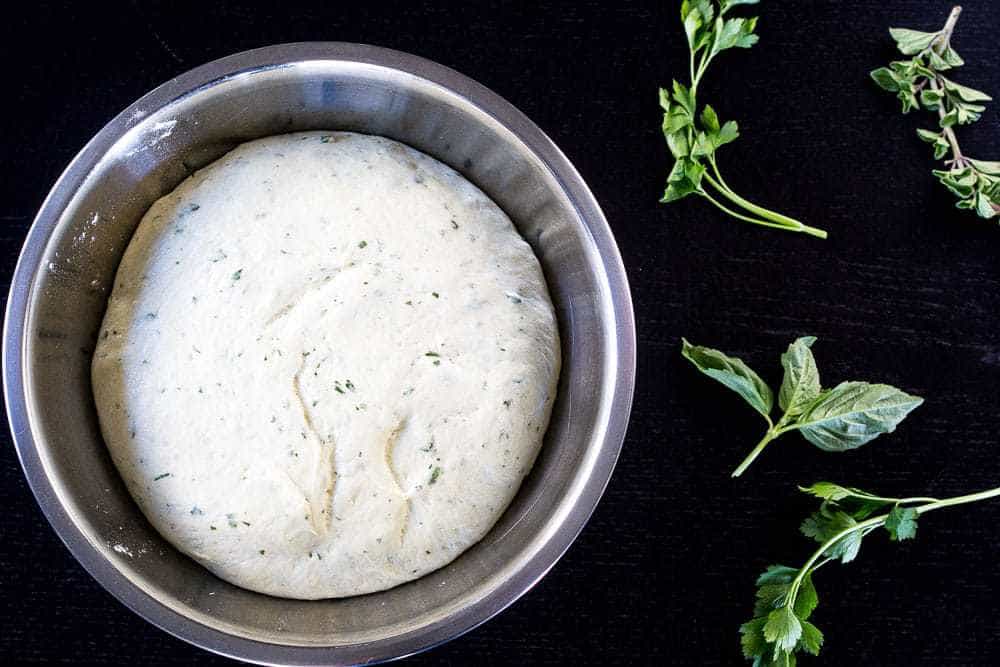 We've gotten a bit out of the practice of making pizza every week. I don't really know why, but somewhere along the way I lost the joy of it. Who knew you could lose the joy of pizza, especially when you can make things like maple walnut chicken sausage pizza or zucchini crust pizza?
Maybe it's because my kids aren't very interested in helping out in the kitchen these days. In fact, they're not very interested in anything that doesn't involve Minecraft or TV. This isn't one of those "I'll never be one of those parents" statements, because goodness knows my brain isn't well-equipped for the sort of Mommy & Me activities my kids deserve, but at the same time, when did they become so unwilling to play with the thousands of dollars of LEGO they have in their playroom?
At least we still have dinner together, even if they won't make it with me.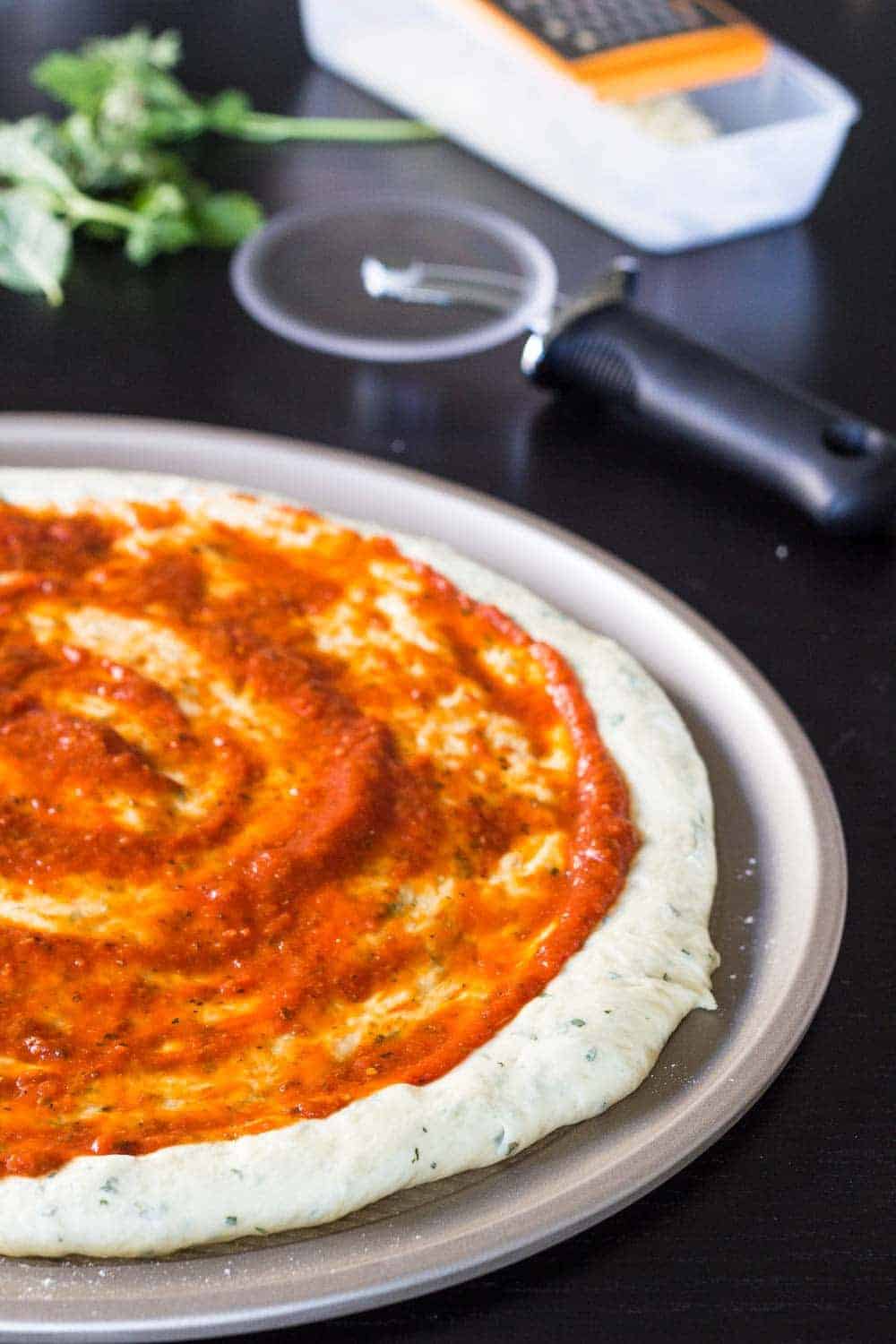 OXO recently asked if I wanted to try their new pizza tools and since I've had this herb pizza dough sitting as a draft for two years, it was the perfect opportunity. They sent over their Non-Stick Pro Pizza Pan, Complete Grate & Slice Set, and 4″ Pizza Wheel.
We usually make our pizza on a well-seasoned pizza stone, but lately I've been getting tired of the long preheat time, and haven't been getting the baking results I want. Still, I was skeptical about the pizza pan until we sat down to eat, and the pizza slid off the pan easily, the dough baked evenly. It's definitely better quality than the pizza pans we've had in the past — the crosshatch pattern helps make it extra strong.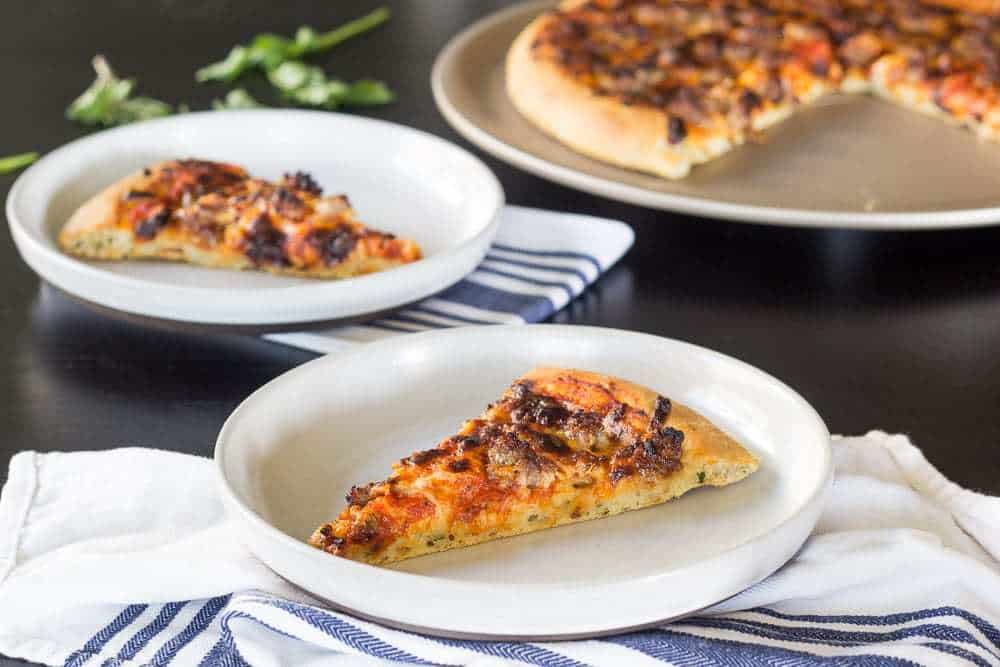 My kids aren't into lots of toppings on pizza (yet), so I used the grate for mozzarella, and I loved how simple it was to pop the blade in and grate right into the container. We don't exactly measure toppings around here, but I know it will come in handy.
The pizza cutter easily cut through my pizza, not leaving cheese trails hanging along the edge and making slices ragged. For some reason I always have trouble cutting pizzas, but this nonstick cutter made it a quick job, and didn't even leave any marks on the pan. Actually, the hardest part was keeping the pizza from scooting off the pan as I cut!
All in all, the new OXO tools are a great addition to my kitchen, and I might have to retire my old "fancy" pizza cutter!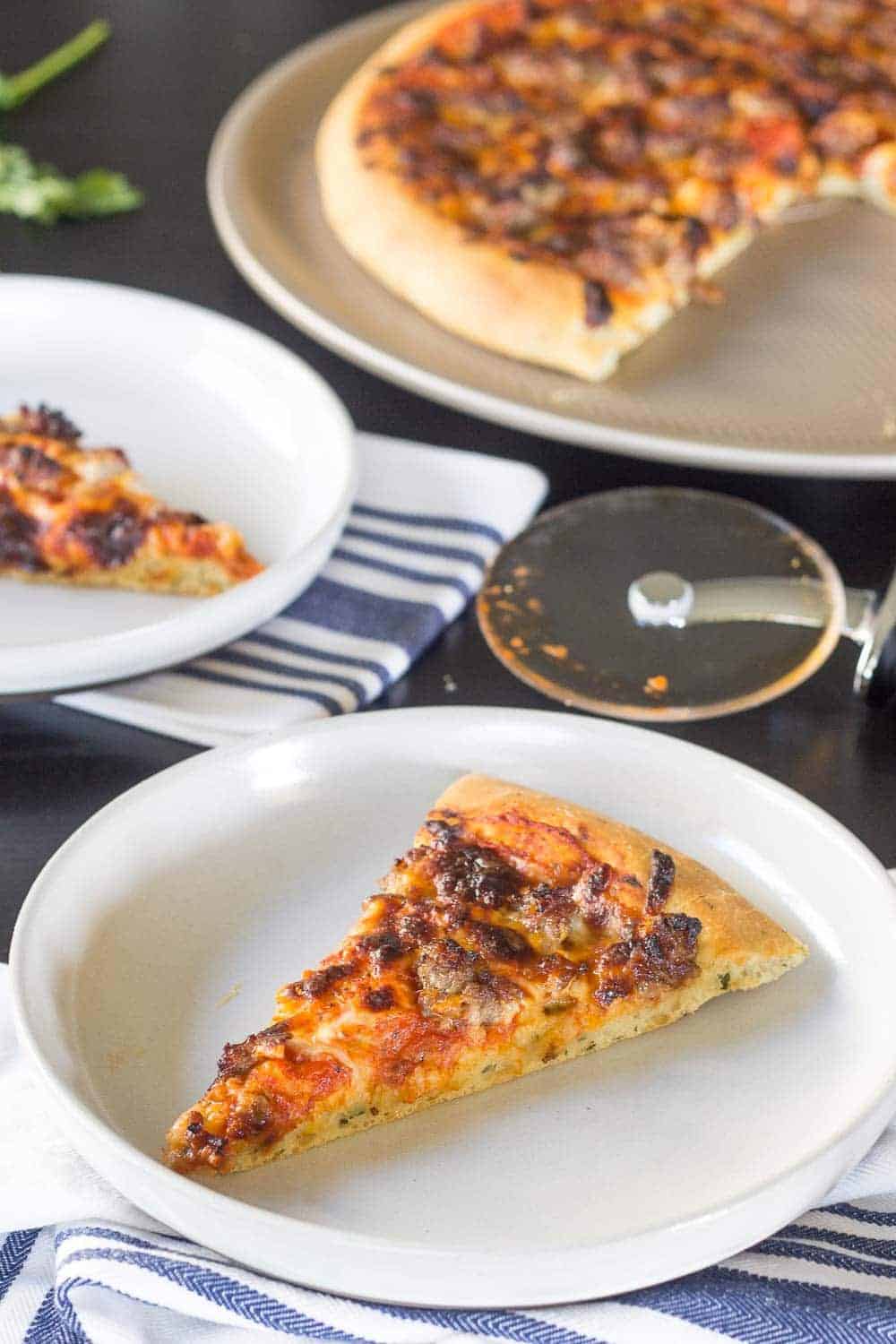 Now, for this dough… Have you seen the herb pizza dough at Trader Joe's? I always want to buy it, but it's never a day we're making pizza, and things tend to get lost in my fridge. But the idea was still so tempting that I've been having this recipe on my mind for years.
Fresh herbs are one of the joys of cooking, so I love implementing them in this simple dough. You can use oregano, basil, and parsley like I did, or try your own favorite combination of herbs. Rosemary is particularly good, and I think sage would work as well. Be sure to match your toppings to your herbs, of course.
When you're mixing the dough, take care to not add too much flour, though it can be tempting. We have a tendency to not want dough to be sticky at all because EW HANDS but if you add too much flour, the dough will be tough and not rise.
You can make this herb pizza dough in advance and freeze it after rising, if you like. Let it thaw overnight and then bring to room temperature before stretching out and making the pizza.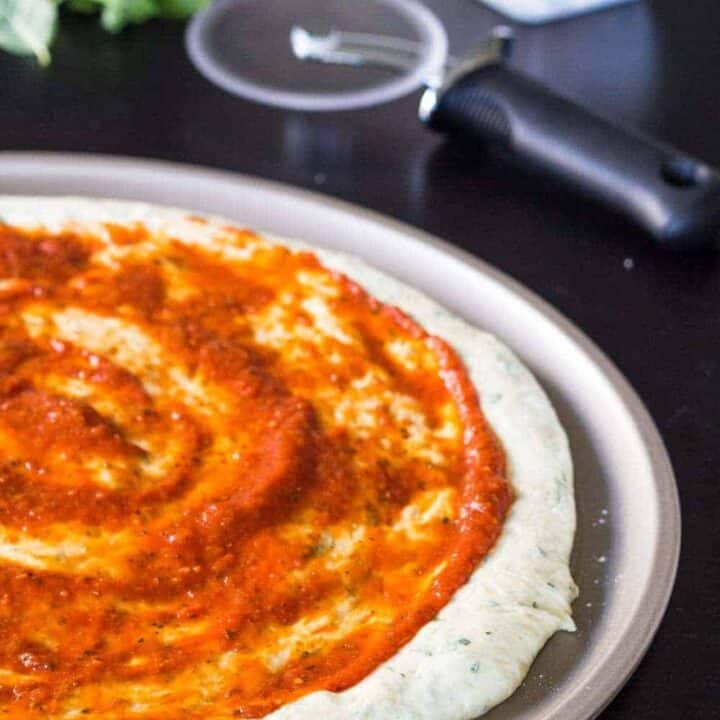 Herb Pizza Dough
Yield: 4
Prep Time: 10 minutes
Cook Time: 15 minutes
Total Time: 25 minutes
Homemade herb pizza dough adds tons of flavor to your pizza night! You'll love this easy-to-make dough.
Ingredients
1 cup warm water, divided
2 1/4 teaspoons active dry yeast
2 1/2 cups all-purpose flour, divided, plus more as needed
1/4 cup chopped fresh mixed herbs, such as oregano, basil, and parsley
2 tablespoons olive oil
1/2 teaspoon fine sea salt
Instructions
Pour 1/4 cup warm water into a large bowl and sprinkle active yeast over the top. Let sit while it dissolves.
Once dissolved, add 2 cups flour, the herbs, olive oil, salt, and remaining water. Mix together to form a cohesive dough, adding remaining 1/2 cup flour as you go.
Knead dough by hand or with a stand mixer, adding just enough flour to prevent sticking to surface, until dough is smooth. (This should take about 5 minutes by hand.)
Cover and let rise 30-60 minutes, until doubled.
Prepare your toppings while the dough rises. Roll out dough onto pan, top, and bake pizza at 450°F for 15-20 minutes.
Recommended Products
As an Amazon Associate and member of other affiliate programs, I earn from qualifying purchases.
Nutrition Information:
Yield: 4
Amount Per Serving:
Calories: 368
Saturated Fat: 1g
Sodium: 295mg
Carbohydrates: 62g
Fiber: 3g
Protein: 10g