Roasted garlic guacamole is my go-to guacamole recipe! Why wait for Cinco de Mayo?
I honestly can't believe I haven't shared this roasted garlic guacamole recipe with you yet. I've been making it for years, basically ever since I came to Texas and realized that avocados were amazing.
Since then, I've had lots of different kinds of guacamole — just like zucchini bread, meatloaf, and chicken soup, everyone wants to create their own special version. Of course, that means there are a lot of terrible guacs out there, because there is such a thing as too much when it comes to ingredients.
Now, to be honest, I frequently make "cheater" guacamole by simply stirring a spoonful of salsa into mashed avocado. But while that might scratch the itch temporarily, it doesn't quite fulfill my craving. This roasted garlic guacamole does, because who doesn't love the pungent and sweet flavor of roasted garlic?
One reason I'm finally sharing this recipe with you is because I was sent a few items from Casabella to try out, just in time for Cinco de Mayo (or basically any day in a home in Texas). I've used products from Casabella before, as in my deep cleaning post, so I know how nifty they can be.
This time, I was sent their 4 'n 1 Avocado Tool, Guac-Lock with chip tray, and Skillet Slingers. I love how the avocado tool made prepping a cinch. Being able to cut, scoop, and mash all with one tool is really great, and makes it so my kids can easily help with making guacamole without worrying about sharp knives.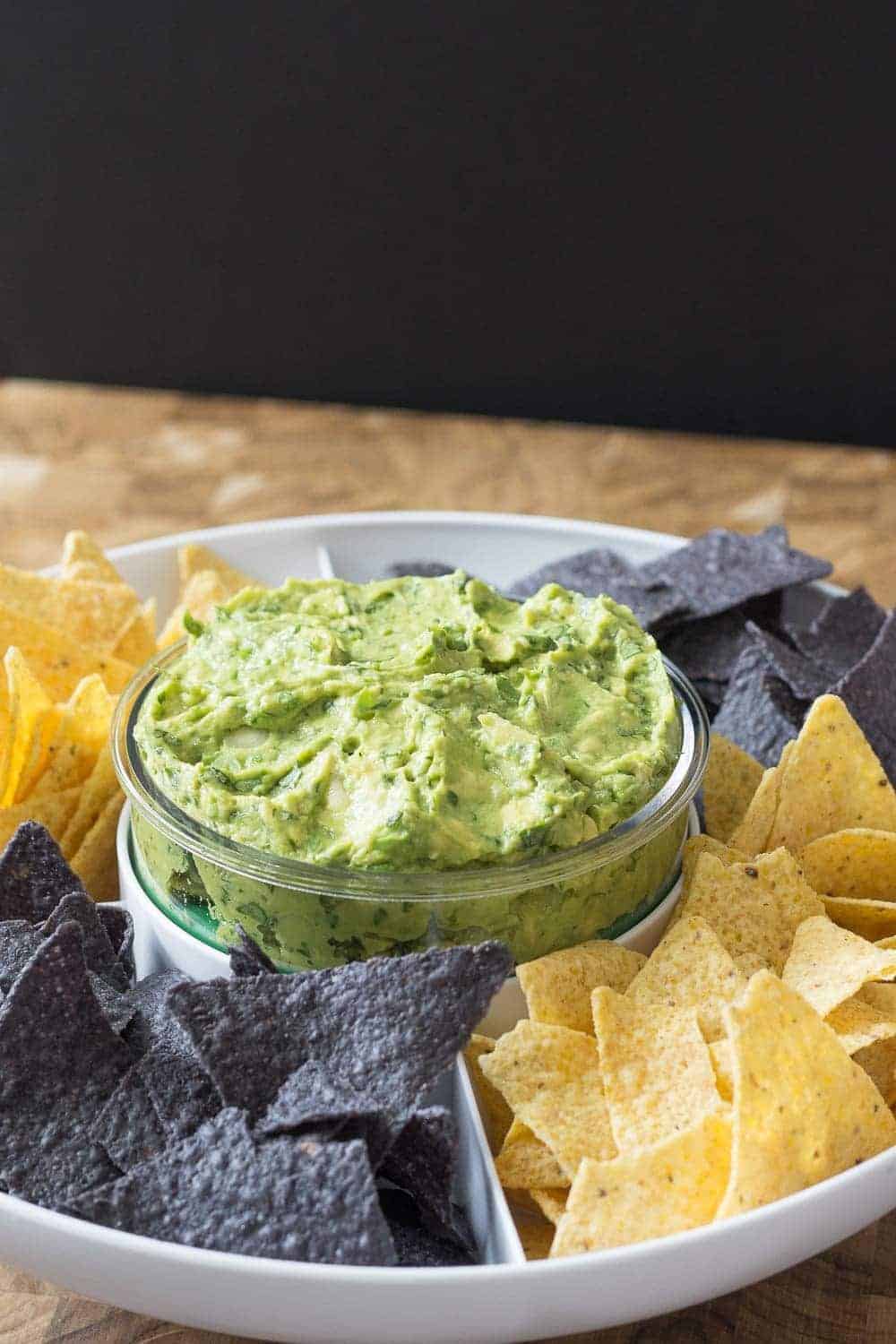 The Guac-Lock is pretty great, too, especially if you like to make a lot of guacamole at a time (guilty!) or have a party coming up. I've seen lots of hacks over the years for keeping the vibrant green of avocados and guacamole after they're exposed to air, yet many of them just don't work. The Guac-Lock creates a seal as you push out the excess air, then store for later. Brilliant!
When I made this roasted garlic guacamole for weekend snacking, the neighborhood kids raved over it. Plus, knowing it will stay fresh until we finish it is a huge bonus. No one likes to waste avocados, after all.
When you roast the garlic, I recommend adding a few more to the roasting pan. So many dishes are good with roasted garlic; you won't regret having it on hand.
Roasted Garlic Guacamole
Roasted garlic guacamole is my go-to guacamole recipe! Why wait for Cinco de Mayo?
Prep Time: 10 minutes
Cook Time: 30 minutes
Total Time: 40 minutes
Course: Appetizer
Servings: 10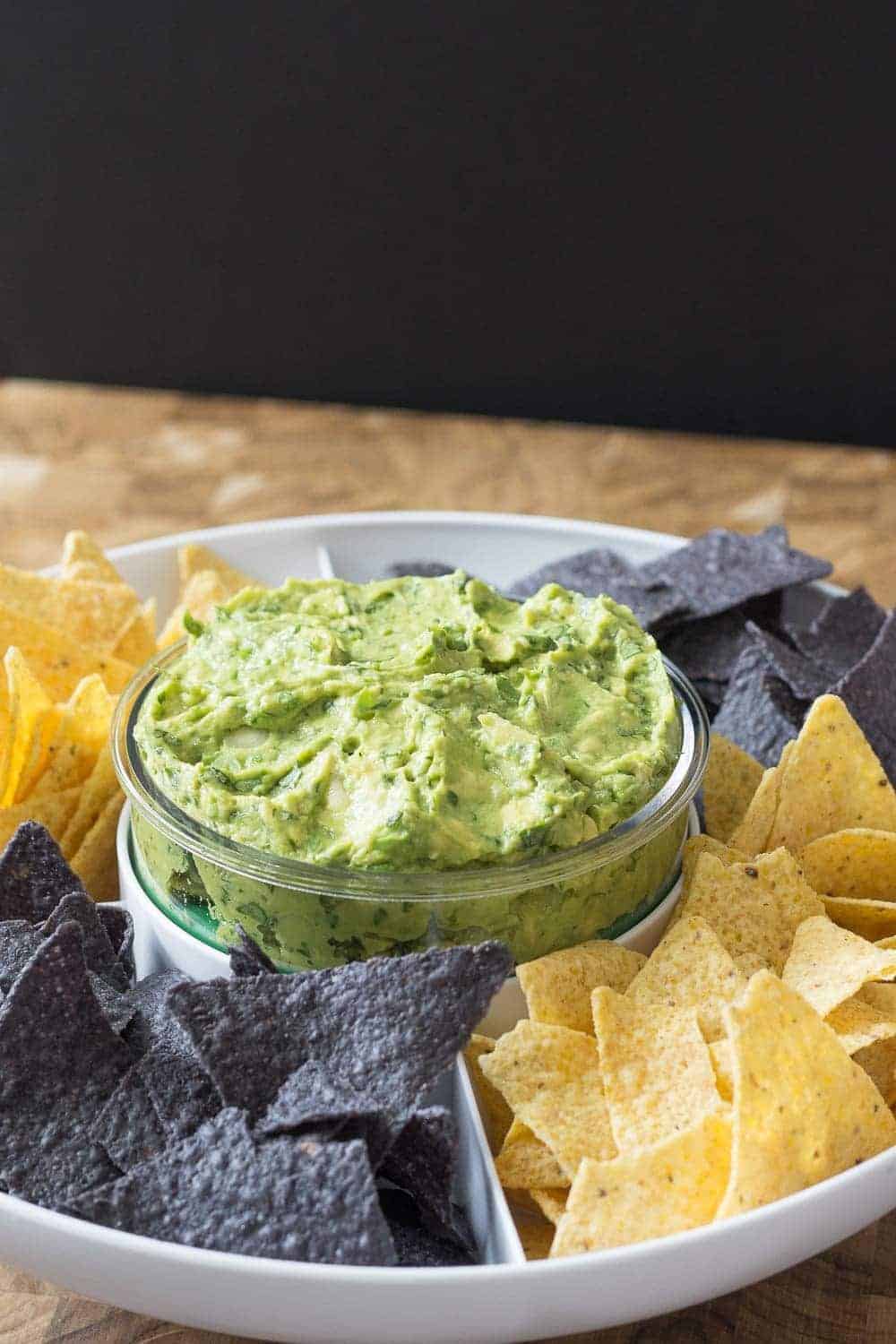 Ingredients
1 head garlic
1 teaspoon olive oil
4 avocados , 2 if using large variety
3 green onions , sliced
1/2 cup cilantro , chopped
1 teaspoon salt
1-2 tablespoons lime juice
Instructions
Preheat the oven to 400°F.

Cut the top off the head of garlic, exposing the cloves. Rub cloves with olive oil. Wrap in a square of foil and roast in the oven for 30 minutes. Let cool, then scoop out roasted cloves and set aside.

Cut avocados in half and scoop flesh into a bowl, discarding pits. Mash slightly. Add roasted cloves, green onions, cilantro, and salt, and mix well, mashing garlic cloves if desired. Stir in lime juice to taste, then serve.
Recipe Notes
Add salt and lime juice to your tastes, keeping in mind if you are serving with salted chips, veggies, or using in another way.
Nutrition facts per serving
Calories: 134kcal
Fat: 12g
Saturated fat: 1g
Sodium: 239mg
Potassium: 404mg
Carbohydrates: 7g
Fiber: 5g
Protein: 1g
Vitamin A: 4.1%
Vitamin C: 11.5%
Calcium: 1.2%
Iron: 2.8%