Get more veggies in your diet with this easy, addictive roasted veggie dip.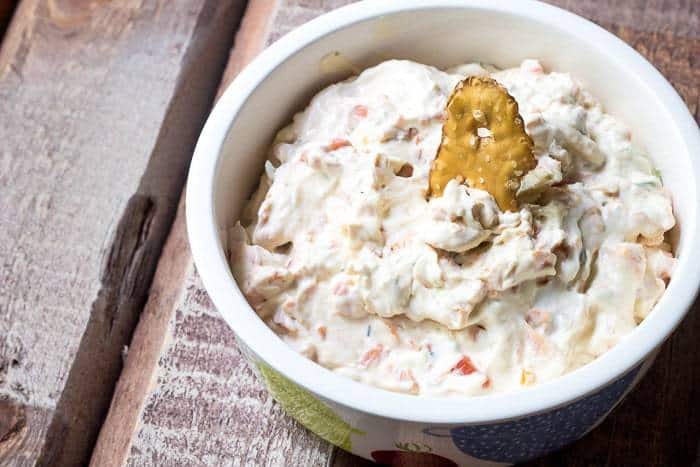 If there's one thing I've learned in nearly eight years of parenting, it's that kids will eat pretty much anything if a dip is involved. I really can't decide if small children or stoned college kids are responsible for the rising trend of ranch dressing with pizza.
The love for dip doesn't quite go away as we get older, though. We just eat it in more sensible ways, like with potato chips or vegetable sticks. We serve it at parties so people have a reason to linger in one spot but still have the option to do a dip drive-by (for those who don't want to admit they will keep coming back). Considering how many dips keep popping up at the grocery store, I'd say the potato chip market is in the clear for a while.
This roasted veggie dip is one of my personal favorites. It's fairly similar to my roasted red pepper dip, but this version also features roasted carrots and green onions, and is a little bit healthier. I love to roast vegetables for everything, as it brings out their natural sweetness. Carrots are especially good roasted, and if you've never tried roasting green onions or perhaps grilling them, you've been missing out. Want to add some heat? Roast a jalapeño with the other vegetables for a big blast.
If you use a food processor this will come together quickly, but it's really not much more time to chop and mix everything by hand. It keeps in the refrigerator for about a week, so you can throw it together ahead of time for a party and then feel super fancy when you pull out your homemade dip and everyone else has prepackaged salsa.
Serve it up with raw veggies like carrot sticks, broccoli, or bell pepper strips, or use my favorite salty snack, pretzel thins.
Easy Roasted Veggie Dip
Prep Time: 10 minutes
Cook Time: 15 minutes
Total Time: 25 minutes
Course: Appetizer
Servings: 16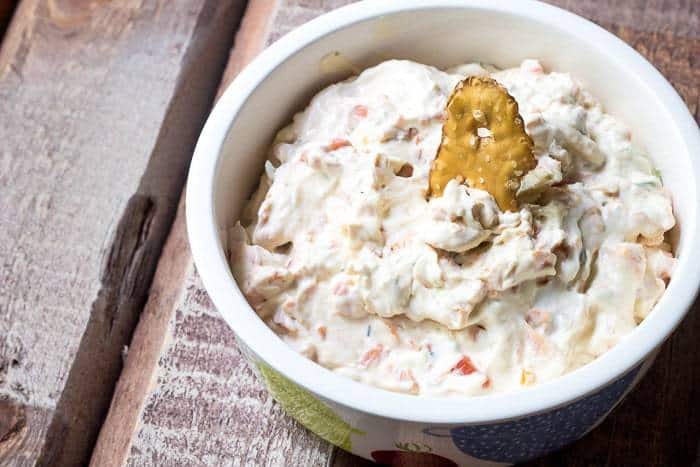 Ingredients
1/2 red or orange bell pepper
1 carrot , halved lengthwise
2 green onions , scallions
8 ounces light sour cream
4 ounces reduced-fat cream cheese , softened
1/4 teaspoon fine sea salt
1/4 teaspoon ground black pepper
Crackers or crudites for dipping
Instructions
Preheat oven to 400°F. Place bell pepper, carrot pieces, and green onions on a rimmed baking sheet. Roast vegetables for 15 minutes, removing the green onions after 10 minutes. Let cool.

Put the vegetables in a food processor, peeling off the pepper skin if you wish. (It will peel off easily once cooled.) Pulse vegetables until they are chopped into small pieces.

Pulse in the sour cream, cream cheese, salt, and pepper until well blended.

Cover and chill for up to 3 days. To serve, stir dip. Serve with vegetables or crackers.
Nutrition facts per serving
Calories: 37kcal
Fat: 2g
Saturated fat: 1g
Cholesterol: 8mg
Sodium: 82mg
Potassium: 71mg
Carbohydrates: 2g
Protein: 1g
Vitamin A: 17.1%
Vitamin C: 6.5%
Calcium: 3.3%
Iron: 0.3%