Creamy caramelized onion dip with roasted red peppers is perfect for any special occasion.
If you've been around food blogging for a while, chances are you have come across the beautiful blog My Kitchen Addiction. From promoting other bloggers in her Friday Favorites series, to helping others learn about cooking basics in the Kitchen Bootcamp, to posting beautifully shot seasonal recipes, Jen's blog is a must.
I first met Jen last year at Big Summer Potluck, and had the chance to connect with her again at this year's BSP. She's just as warm and sweet as she is on her blog, which is why I am so happy to be able to help celebrate the little baby she will soon be bringing into the world.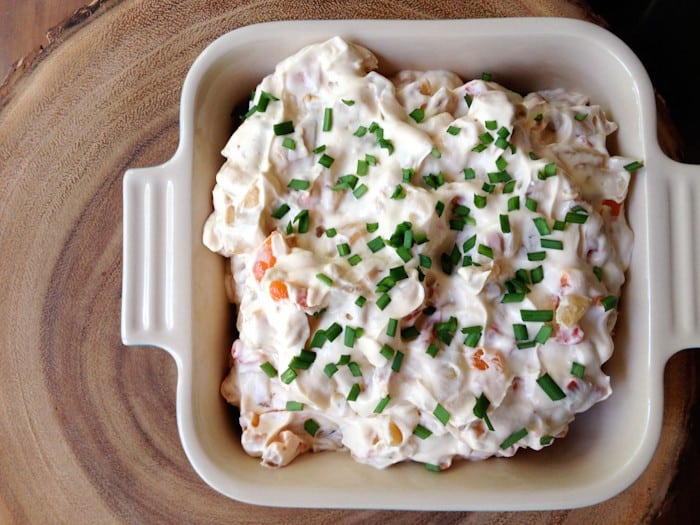 Pregnancy is often hard, especially when it's your first time. There is a lot of uncertainty surrounding you, from your own fears about parenting to how your friends and family now treat you. When you're a new parent, you need extra love and support, and what better way for food bloggers to show that than with a virtual baby shower!
I don't know about other people, but when I'm at parties I gravitate toward dips. So simple, so innocent… so easy to put a whole bunch in my belly without even noticing. I had a dip similar to this one back at our holiday party for the ATX Swappers, and even after all those months I couldn't get it out of my mind. Being a food blogger, though, I couldn't help but tinker with it, resulting in the creamy dip you see below.
When you mix up the dip, it might seem like there are too many vegetables, but trust me on this. You want a sweet bite of pepper and onion in every scoop.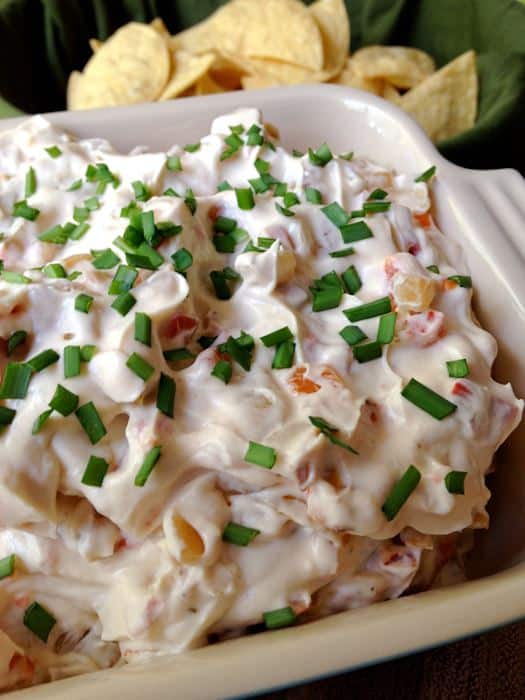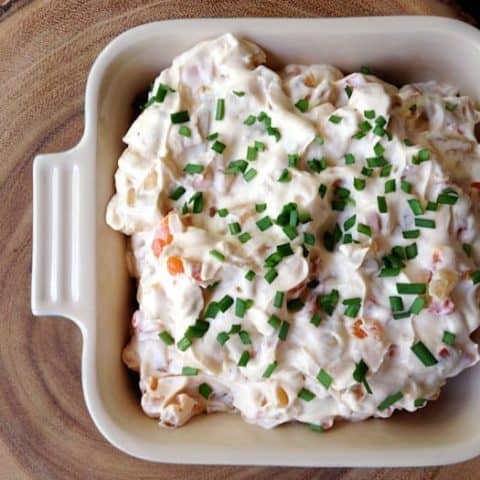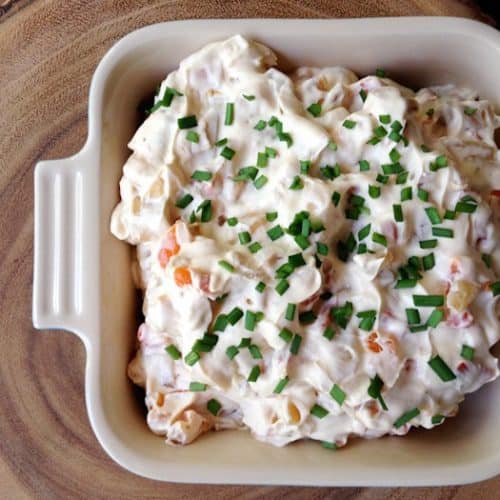 Caramelized Onion Dip with Roasted Red Peppers
Yield: 10 servings
Prep Time: 20 minutes
Cook Time: 40 minutes
Total Time: 1 hour
Caramelized onion dip is perfect for parties.
Ingredients
1/2 pound red bell pepper, about 2 peppers
2 tablespoons butter
2 cups diced onion
8 ounces fresh goat cheese, chevre - not crumbles
4 ounces neufchatel cheese
1 tablespoon freshly snipped chives
Salt and pepper to taste
Instructions
Preheat oven to broil. Halve peppers and remove stem and seeds, then place cut-side down on a foil-lined baking sheet. Broil until skin is blistered and blackened.
Meanwhile, melt butter in a saucepan over medium-low heat. Add the onions and cook, stirring occasionally, until caramelized. This will take 20-30 minutes.
When the peppers are done, remove them from the oven and place in a ziplock bag or a bowl with cover. Let the peppers cool until they are cool enough to handle, then peel off the skins and discard. If you have roasted the peppers long enough, the skin should peel easily. If it doesn't come off, don't worry, just proceed.
Chop the peppers coarsely, and when the onions are nicely browned, add the peppers to the saucepan and mix well. Remove pan from heat. Add the cheeses and stir to melt. (You can return the pan to the heat if the cheese isn't melting, but you don't want it soupy.) Once the cheese is melted, season to taste.
Spoon into a serving dish, scatter the chives on top, and serve warm with thick tortilla chips, crostini, or pita chips. This is equally delicious at room temperature or even cold - just note that when cold, you'll need a knife to spread.
Recommended Products
As an Amazon Associate and member of other affiliate programs, I earn from qualifying purchases.
Nutrition Information:
Yield: 10
Amount Per Serving:
Calories: 149
Total Fat: 10g
Saturated Fat: 7g
Trans Fat: 0g
Unsaturated Fat: 3g
Cholesterol: 26mg
Sodium: 205mg
Carbohydrates: 8g
Fiber: 1g
Sugar: 4g
Protein: 7g
---
Be sure to check out all the other recipes for Jen's shower!
Bluebonnets & Brownies | Raspberry Lemon Fruit Dip
Sugarcrafter | Sweet Potato Cake with Honey Buttercream
My Baking Addiction | Mini Pumpkin Pies
Simple Bites | English Eccles Cakes
Stetted | Roasted Red Pepper and Caramelized Onion Dip
Food for my Family | Homemade Pear Italian Sodas with Cardamom Cream
eat. live. travel. write. | Goat Cheese and Tomato Tartlettes
Gimme Some Oven | Creamy Caramel Apple Dippers
Dessert For Two | Caramel Apple Cookie Cups
Bake at 350 | Soft Sugar Cookies for a Baby Shower
A Thought For Food | Fingerling Potato Salad
TidyMom | Apple Pomegranate Spritzers
i am baker | Advice to a New Mommy
Healthy Green Kitchen | Guacamole with Pistachios
Tracey's Culinary Adventures | Caramelized Onion, Gruyere and Bacon Spread
What Megan's Making | Apple Spice Muffins
Cookin' Canuck | Gorgonzola Cheese Cups with Pear & Hazelnut Salad
Bellalimento | Frozen Berry Shortcake
Shugary Sweets | Caramel Apple Truffles
GoodLife Eats | Coconut Lemon Banana Bread
Happy Virtual Baby Shower, Jen! I can't wait to see your beautiful baby!