Dark chocolate fudge with sea salt is a super-easy treat to make any time.
Sometimes blog posts are brought on by the season, or an inspiring vacation, or someone special. Sometimes you think of things in the bathroom.
…Get your mind out of the gutter.
The other day, I was putting things away in the bathroom, thinking about the long list of blog posts I have in draft form. Not just recipe posts, but posts about recent trips, recent restaurant meals, and more, including a weekend in Houston that landed a friend and I in some very delicious places. At one of those places I came away with some local sea salt – sourced from Galveston, to be exact, so I suppose it's Gulf salt, but that doesn't quite sound as nice. I hadn't yet cracked open the jar of salt yet, and in approximately five seconds I decided I needed to make fudge immediately.
I hadn't made fudge in about 20 years. For Christmas a few years in a row, with a couple additional forays thrown in among them for good measure, I'd make a batch of fudge to give to my aunt (foodie gifts already cemented in my brain, apparently). The recipe was that standard version with marshmallows – you probably know the one – and for some reason was rather finicky. Sometimes it would be perfect, sometimes it would be grainy, and sometimes it wouldn't even set. At the time I didn't know about humidity variations, stovetop differences, or that learning to cook and bake with margarine would really screw me up in later years. All I knew was that when you're 13, you don't want to spend a bunch of money buying ingredients for a recipe that doesn't work.
That still holds true today, which might be why I try to stick with few ingredients when it comes to the things I make. (Which, sadly, means I don't make King Ranch Casserole nearly as often as I'd like, but probably just about as often as my waistline allows for.)
Enter this fudge. It's two ingredients. OK, three once you count the salt. Four if you want to go crazy and add the almond extract.
Now, I admit that when you mix this up, it might look kind of weird. Gloppy even. It will seem like it isn't going to work. But go with it. Even if you don't get fudge, you'll have a big 'ole pan of chocolate, and that's not something to complain about.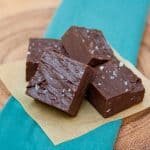 Dark Chocolate Fudge with Sea Salt
Ingredients
15

ounces

dark chocolate

chopped

1/2

teaspoon

almond extract

optional

Flaky sea salt
Instructions
Prepare an 8 x 8-inch square pan by laying two sheets of parchment paper across it (forming a plus sign). This will make it easy to remove and cut the fudge later.

Melt the chocolate and milk together in a saucepan over low heat. Stir in almond extract, if using.

Spread into pan, using a spatula to even it out. Sprinkle on sea salt. Chill in refrigerator for at least two hours, until set.

Once set, remove from pan and cut into pieces. Stores well in a sealed container in the fridge, with waxed paper between layers.

More candy recipes you might like: Blackberry Bonbons – Dessert for Two Dumbledore's Secret Stash – Stetted Homemade Mallo Cups – How Sweet It Is Strawberry Chocolate Fudge – Savvy Eats White Chocolate & Peanut Butter Avalanche Truffles – Love & Olive Oil
For more sweet inspiration, check out my Chocolate Desserts board on Pinterest! Follow Megan Myers | Stetted's board Chocolate Desserts on Pinterest.