Chocolate hazelnut cookies are elevated with a sprinkling of flavorful espresso salt. This post is brought to you by SaltWorks®.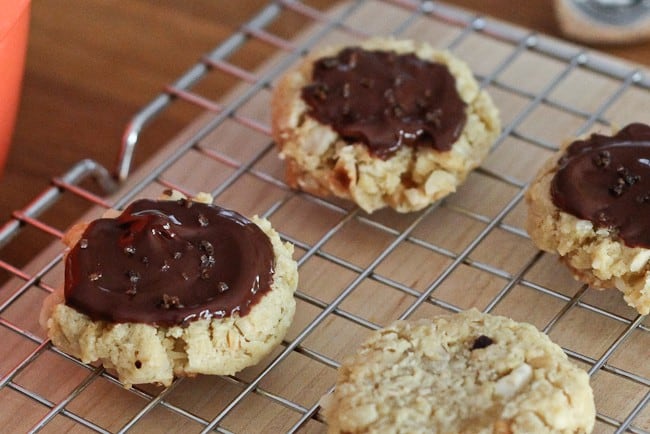 The holidays are steeped in tradition, from whether we put tiny villages on our fireplace mantles to the recipes we serve at family gatherings. I always look forward to the buckeye candies my friend makes, and my family has taken to driving around to look at the city holiday lights just like I did growing up.
Because we live so far away from the rest of our family, I keep an eye open for new traditions we can incorporate into our holiday. For me, that includes baking a new cookie each year.
While I love the standard spritz cookies and cheerful gingerbread men, I'm always looking out for something that will make a cookie "my" cookie, the cookie that will stay with me for the rest of my baking days.
I might have found it with this year's cookie, y'all.
If you're a Nutella fan these cookies might seem like a no-brainer to you. Hazelnuts? Check. Chocolate? Check. But is that enough to elevate a cookie and make it a mainstay of the season?
Enter the salt.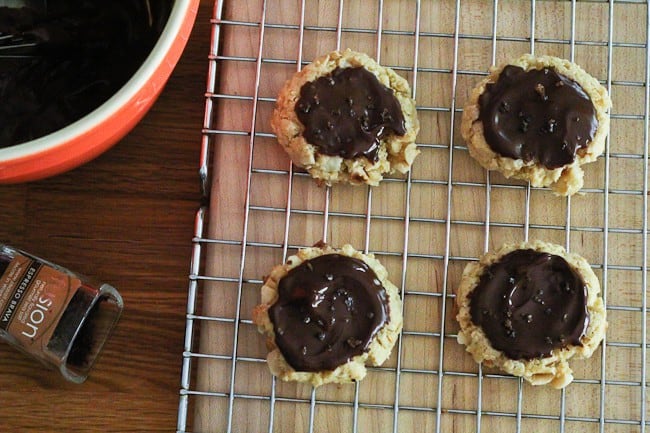 Not just any salt – these cookies are sprinkled with Fusion® Espresso Brava Sea Salt, giving you just the tiniest hit of coffee flavor that rounds out these cookies in a way you didn't know was needed.
I have to admit, I didn't know much about all the different varieties of salt. Sure, I've used Himalayan pink salt, chunky salt harvested from Galveston Bay, and the mainstay kosher salt. But I didn't really realize how much of a difference salts can make, especially flavored ones.
SaltWorks sent me a box of their high-quality salts to try, and I couldn't believe how just a small amount of the salt made every recipe I tried it in better. I'm hooked on their salts now, and I keep trying to plan my meals with the flavors in mind.
Because the products from SaltWorks are unprocessed and all-natural, you only need a little bit to make a big difference in your recipes. I love that the flavored salts are naturally infused, making for a pure product that is full of flavor, not additives.
The Espresso Brava salt on top of these cookies gives a salty-sweet hit of satisfaction. If you're powering through the holidays like I am, you'll need something special to get you through each day. Why not have it be these cookies?
Reminiscent of pecan sandies, these hazelnut-studded cookies are topped with chocolate ganache before being finished with espresso salt. If you can't get your hands on espresso salt, try it with large-flake sea salt.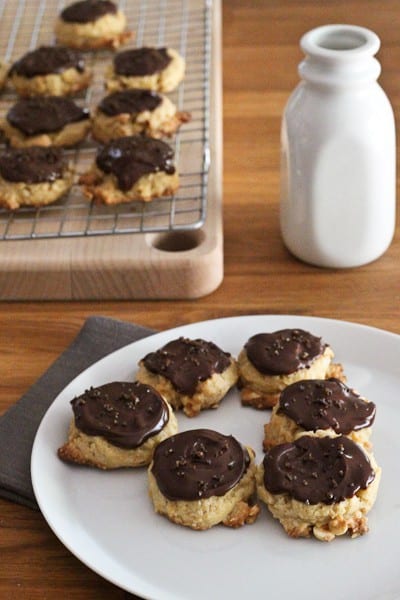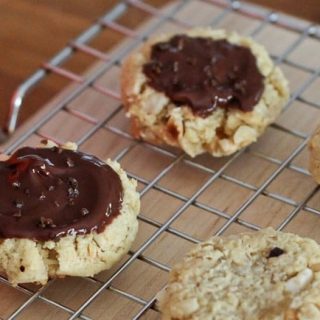 Chocolate Hazelnut Cookies with Espresso Salt
Yield: 24
Prep Time: 20 minutes
Cook Time: 15 minutes
Total Time: 35 minutes
Chocolate hazelnut cookies are elevated with a sprinkling of espresso salt.
Ingredients
1 cup whole hazelnuts
½ cup salted butter, softened
½ cup light brown sugar
1 cup all-purpose flour
1 large egg
4 ounces chopped chocolate
2 tablespoons butter
Espresso Brava Sea Salt
Instructions
Preheat oven to 350°F.
If your hazelnuts have skins, toast them in a skillet over medium heat, shaking gently. The skins will slip off. Let cool before processing.
Pulse nuts in a food processor until nuts are about pea-sized.
Cream together butter and sugar until fluffy, then mix in vanilla and egg. Stir in flour and hazelnuts.
Scoop dough out by the tablespoon onto parchment-lined baking sheets. Gently press down slightly on each cookie. Bake for 12-15 minutes.
Melt chocolate and butter together in a small saucepan or in a microwave, whisking to thoroughly combine.
Top each cookie with a spoonful of chocolate. Sprinkle with a pinch of Espresso Brava Sea Salt.
Let cookies cool, and if desired, put in the refrigerator to firm up chocolate. Store in a covered container.
Nutrition Information:
Yield: 24
Serving Size: 1 cookie
Amount Per Serving:
Calories: 138
Total Fat: 10g
Saturated Fat: 4g
Trans Fat: 0g
Unsaturated Fat: 5g
Cholesterol: 22mg
Sodium: 70mg
Carbohydrates: 11g
Fiber: 1g
Sugar: 6g
Protein: 2g
More cookie recipes you might like:
Disclaimer: I received a sample of products from SaltWorks for the purpose of review, and was compensated for this post. As always, all opinions are my own.