Raspberry fudge pudding cake is the decadence you need this Valentine's Day.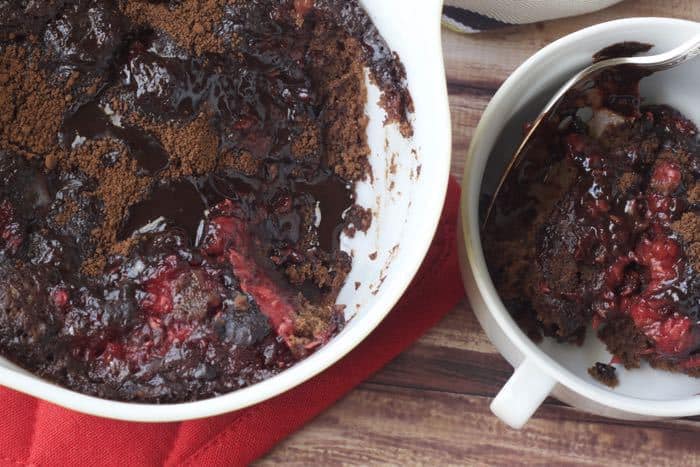 The older I get, the more Valentine's Day becomes less important. Don't get me wrong; I am not against the holiday. Declaring your love for someone is a wonderful thing, enrobed in flowers and silly cards or not. It's just that not unlike my birthday, the day has become less important to me as my children grow up and experience these things for themselves.
I prefer to not go out to dinner on Valentine's Day and instead enjoy something cozy at home, avoiding the crowds, prix-fixe dinners, and babysitting fees. Trying to find parking downtown is not my idea of a romantic evening.
These cozy meals at home can be anything, of course, but usually I try to make something special to mark the occasion. This raspberry fudge pudding cake is the ideal size for sharing with the family (or just your sweetie if you like. I'm cool with being greedy about dessert.). It comes together incredibly quickly and can cool while you're enjoying the first course, allowing for dessert to be perfectly warm and gooey without burning your tongue.
If you've never had pudding cake you're in for a treat — with only a little bit of flour, the dessert has tunnels of rich chocolate sauce tunneling through the cake. Making it even more decadent is the addition of tart raspberries, which are wonderful up against the chocolate. You can balance it all with the addition of a scoop of vanilla ice cream or simple whipped cream, but I prefer to dive right in and just serve the pudding cake with a cup of coffee.
Frozen raspberries can easily be used instead of fresh, or you can try strawberries, blackberries, or even blueberries! All of them are wonderful with chocolate and are a nice way to make this pudding cake your own.
Get the recipe for Raspberry Fudge Pudding Cake over on Recipe.com!


For more sweet inspiration, check out my Cake and Pie board on Pinterest!
Follow Megan Myers | Stetted's board Cake and Pie on Pinterest.