As if I wasn't doing enough, I have this whole Daring Bakers' thing to keep doing…
The April 2010 Daring Bakers' challenge was hosted by Esther of The Lilac Kitchen. She challenged everyone to make a traditional British pudding using, if possible, a very traditional British ingredient: suet.
I was a bit concerned about this challenge as it called for suet – the stuff most people think of as what you put out for the wild birds. But then, thankfully, we were allowed to use butter. And I promptly forgot about the challenge for most of the month, until exactly two days before we needed to have it done.
Thankfully, English pudding (at least the sweet sponge variety) is incredibly easy to make, although with the steaming it does take a bit of planning.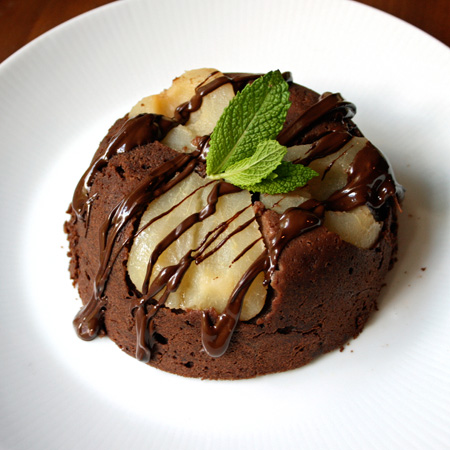 Pear Chocolate English Pudding
Adapted from The Pudding Club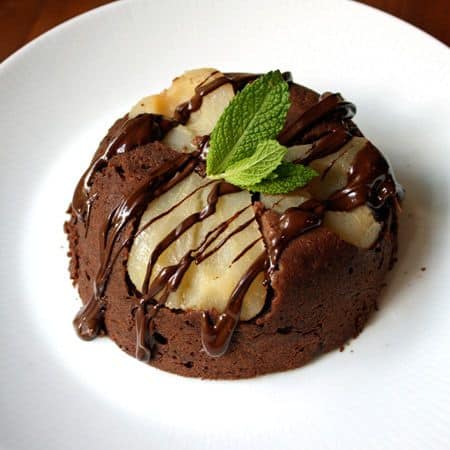 Ingredients
1/2 cup unsalted butter
1/2 cup sugar
1/2 cup flour
1/4 cup cocoa powder
2 eggs , beaten
3 or 4 pear halves
1/4 cup chocolate chips , melted
Instructions
Cream the butter and sugar together until light and fluffy. In a separate bowl, mix the flour and cocoa together. Alternate adding the flour mixture and egg into the sugar, beating well to fully incorporate after each addition. Grease a 1 liter bowl (I used a small Pyrex), and place the pears, flat side down, in the bottom of the bowl. Pour the batter in on top and smooth. Cover the bowl with waxed paper, then aluminum foil. Steam in a large stockpot for approximately 90 minutes. The top of the pudding should look like a firm cake. Let cool slightly in bowl to ensure a set, then turn out onto a plate. Spoon on chocolate sauce, and serve.
I will definitely keep this recipe on hand. It looks fancy, but came together so quickly. And who doesn't love that?
P.S. Don't forget to check out my April Foodbuzz 24, 24, 24 and enter to win a jar of strawberry vanilla jam!
For more sweet inspiration, check out my Chocolate Desserts board on Pinterest!
Follow Megan Myers | Stetted's board Chocolate Desserts on Pinterest.