French Fridays with Dorie: Double Chocolate Mousse Cake
This post contains affiliate links. As an Amazon Associate, I earn from qualifying purchases.
Chocolate mousse is one of the dishes that immediately comes to mind when contemplating French cuisine. There's just something about that edible velvet that makes us long for smooching on the banks of the Seine.
That's why it was no surprise to see Michel Rostang's Double Chocolate Mousse Cake be chosen for FFWD. Luscious desserts are always popular on food blogs, even if we have no plans to make them. We just like to look, much like our reaction to the cute guy at the coffee shop.
My favorite part of Dorie Greenspan's recipe for this tart is that she includes so many variations for serving. She includes instructions for serving warm, serving baked and chilled, or serving baked, chilled, and re-baked. It was surprisingly hard to decide which method to use, but because I knew I would be sharing the results at work where there isn't an oven, I went with the baked and chilled method.
With just chocolate, eggs, sugar, and butter, the mousse comes together so easily. It turns out that the difficulty came in baking it. I'm not sure if it was because I had to use a 9-inch pan rather than the 8-inch pan called for or if I had beaten my egg whites not quite right, but the cake didn't get the puff that was described in the book. It remained rather flat, and after the second bake ended up less than an inch high.
No matter, really, because the cake is absolutely divine. I had a slice just out of the oven and the warm, creamy dessert enveloped me as only chocolate can.
Now my only issue is getting it off the pan without breaking, but don't worry. I'm not above scraping the remnants from the pan with my fingers.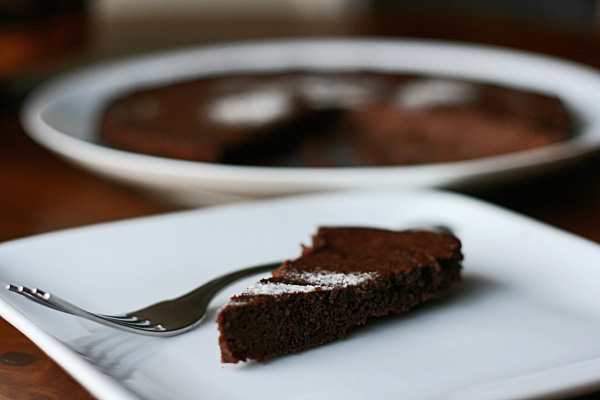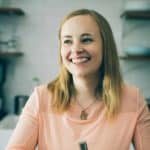 About Megan
I focus on fresh ingredients and easy methods, with spins that keep meals interesting. Dinnertime shouldn't be stressful or complicated, and I'm here to help you enjoy the time spent in the kitchen. Read more…