Beet and Goat Cheese Risotto
This post contains affiliate links. As an Amazon Associate, I earn from qualifying purchases.
In my three years as a parent (four, if you count from the start of the pregnancy), I've tried to soak up as much information and real world experience as possible when it comes to the issue of food. Food and kids is tricky. We all know that as a nation our children are not getting the adequate nutrition and exercise they need to grow up strong and healthy, and our obesity rates are growing at an alarming pace. We know that school lunches, where many children get the bulk of their calories, if not all, are heavy on starch and low on fresh produce. We know that kids' menus at restaurants often consist only of macaroni and cheese, cheeseburgers, and chicken nuggets.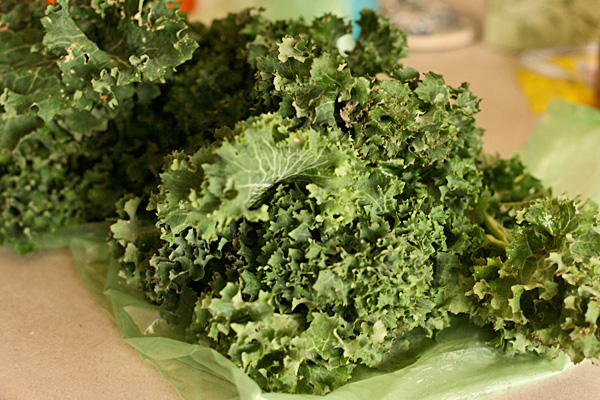 We don't have to resort to this. Some balk at the idea of cooking healthy food for their children, but consider this – in other areas, don't you do everything you can to protect your child? Giving them the right attitude about food from the start will protect them from a multitude of problems as they grow up.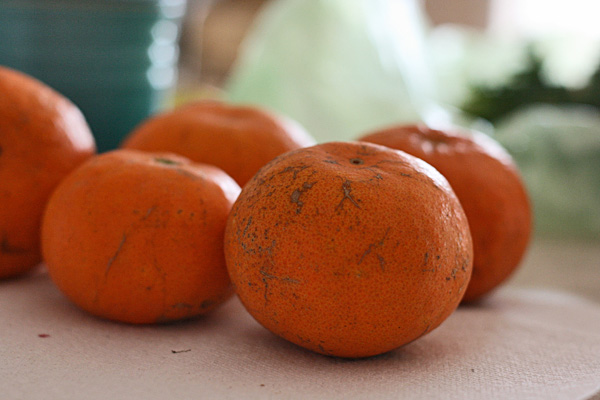 Even though my son is only 3, I've already seen the benefits of teaching him about cooking, food, and where food comes from. As a baby he had pureed vegetables we prepared ourselves, and as he has grown we have attempted to expand his palate as much as possible. Risotto is one of his favorite dishes, and he asks for broccoli. Of course, he still loves chicken nuggets.
This year I decided to start a new blog series with my son, and I'm so pleased that Foodbuzz decided to choose the inaugural post as part of the January 24×24 event.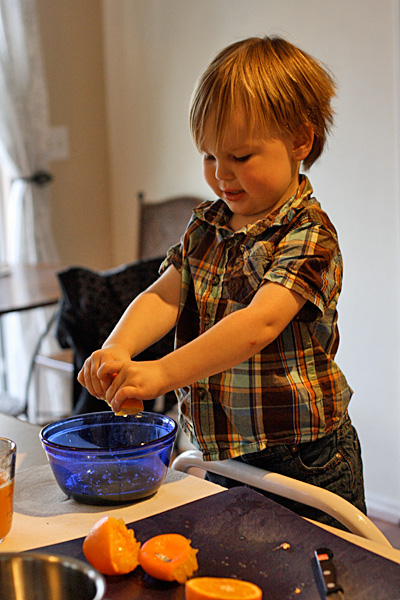 One of my son's favorite things to do is go to the farmers' markets with me. I thought it would be fun to create a meal based on what he chose at the market, sort of Iron Chef style. I did a similar meal for Project Food Blog challenge 3, where I went to the farmers' market in Madison, Wisconsin, and created a meal based on what they had. Funnily enough, I could have re-created that meal in Texas this weekend, even though the original meal was done in October. For me, this is a striking example of the seasonality of food and Texas' strong growing season.
The main problem with trying to get your child to dictate the market shopping is their lack of focus. And, um, apparently mine, because I had trouble with my video camera. Still, my son's discussions are priceless.
Our market is replete with choices for protein, from Gulf shrimp to guinea hens to bison. My son is enamored with the San Miguel Seafood booth (probably because they have huge, whole fish they let little kids touch) and immediately decided the protein for the night would be red snapper. Wandering over to the Johnson's Backyard Garden stand, he chose carrots, broccoli, and beautiful green and purple cauliflower. Of course, when it came to cooking, he didn't want to use the carrots or broccoli – two of his favorite vegetables, he probably wanted to save for himself. Brussels sprouts rounded out the vegetables.
We picked up fresh chevre from Swede Farm, fig-walnut conserve from the award-winning Confituras, and a baguette from Texas French Bread. Paired with kale that we would turn into chips, we had our appetizers!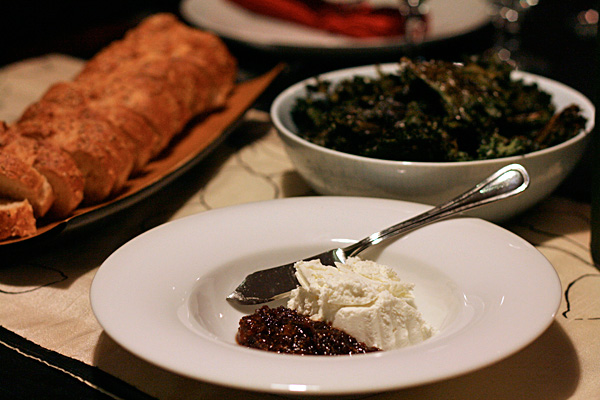 With our market finds, we headed home to create a delicious meal to be enjoyed by us and a few discerning friends. Our fridge still had some local produce from before the market trip, and the fennel was put to work for the large snapper fillet. There were also beets that just couldn't go to waste. And, of course, there were the local tangerines, so juicy and the perfect way to brighten the end of the meal.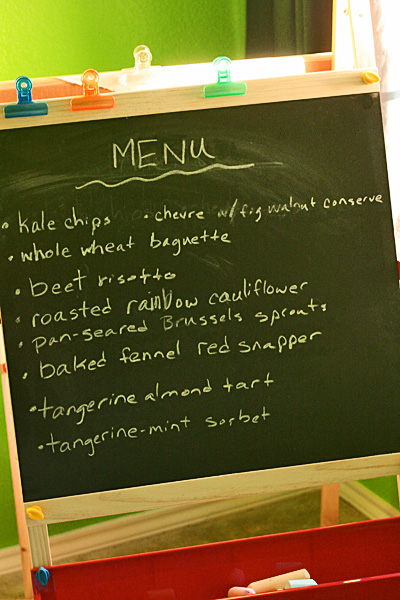 Remember how I said my son loves risotto? I couldn't pass that opportunity up and made beet and goat cheese risotto – creamy, sweet with a bit of tang, and very, very pink.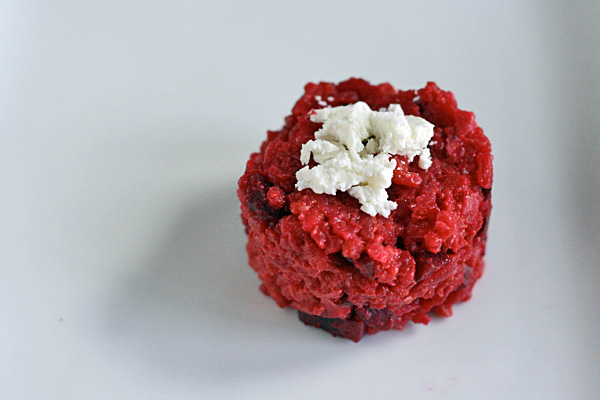 Simple preparations of vegetables are the way to go, in my mind. The Brussels sprouts were pan seared, while the gorgeous cauliflower was roasted in the oven with olive oil and a little seasoning to keep the color. Mashing them would have been insane.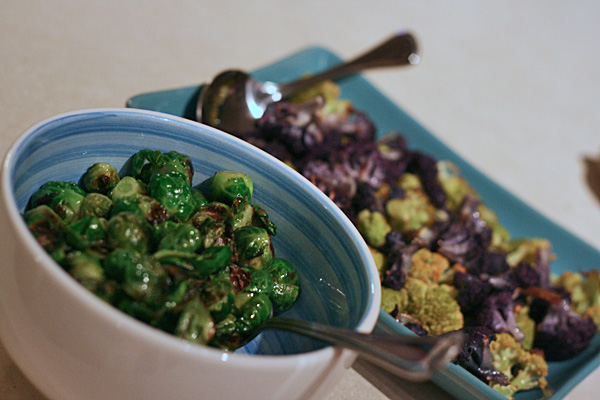 The fish was simple as well, using the entire fennel. It rested on a bed of fronds, then was scattered with slices of the bulb. The result was a tender fish not overpowered by the fennel, good enough for even the vegan (she's moving toward conscious flexatarian) to have seconds.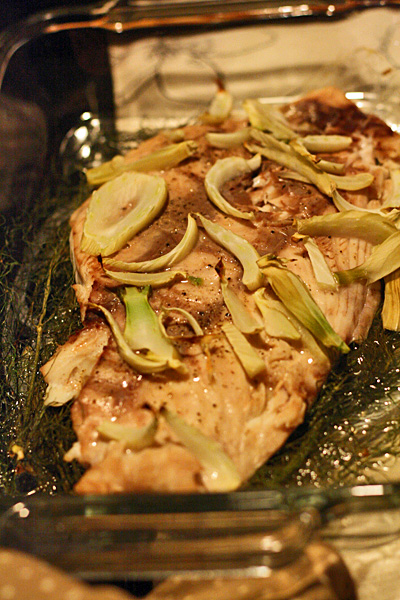 For me the dessert was perfect. We used those tangerines in an almond tart (recipe from Around My French Table by Dorie Greenspan) and we juiced a dozen others in order to make a refreshing sorbet.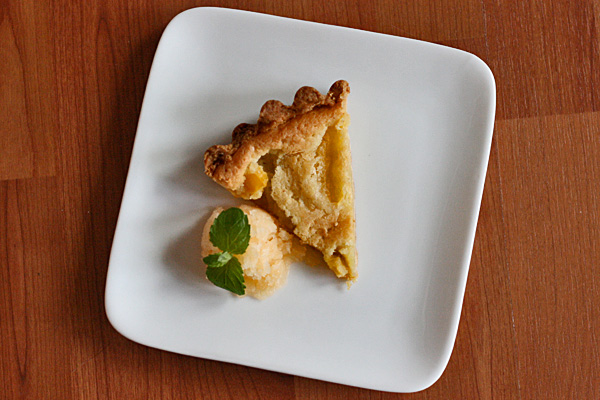 What did my son think of the food he helped create? True to 3-year-old form, all he ate was bread, a bite of fish, and of course, the dessert.
He spent the rest of the time flirting with my friends.
Love this recipe? Please leave a 5-star review below! It means so much when you enjoy my recipes, so let me know how it goes and leave a comment if you have any questions.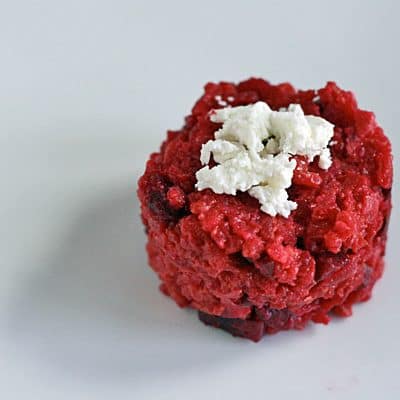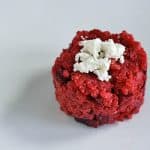 Beet & Goat Cheese Risotto
Beets and goat cheese are wonderful additions for goat cheese.
Print
Pin
Save
Saved!
Ingredients
3

cups

stock of choice

,

I used venison

2

tbsp

butter

1

cup

arborio rice

1/4

cup

chopped onion

1/4

cup

white wine

1

cup

chopped roasted beets

3

tablespoons

fresh goat cheese

,

plus more to serve

Salt and freshly ground pepper
Instructions
Bring stock to a low simmer.

Melt butter in a heavy pan over low heat.

Add rice and onion and stir constantly for 1 minute. Add wine, cooking till absorbed. Add stock, 1/2 cup at a time, stirring constantly; allow rice to absorb each 1/2 cup before adding more. Just before adding the last of the stock, stir in the beets. Rice should cook in about 25 minutes. Remove from heat.

Stir in goat cheese. Season with salt and pepper.
Nutrition
Calories:
173
kcal
Carbohydrates:
15
g
Protein:
10
g
Fat:
7
g
Saturated Fat:
4
g
Cholesterol:
28
mg
Sodium:
299
mg
Sugar:
3
g
Nutrition information is provided as a courtesy and is an estimate based on online calculators. Any nutritional information found on Stetted should be used as a general guideline only.
---
Tangerine-Mint Sorbet
adapted from Simply Recipes
3 cups tangerine juice
3/4 cup sugar
2 tablespoons fresh mint leaves
3 tablespoons lemon juice
Bring the tangerine juice and sugar just to a boil and remove from heat. Crush the mint leaves between your fingers to release some of the oil, and add to juice. Cover and let steep at least five minutes, depending on how strong you want the mint flavor.
Remove mint and chill juice 30 minutes.
Stir in lemon juice. Pour into ice cream maker and freeze according to manufacturer instructions.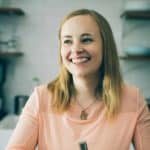 About Megan
I focus on fresh ingredients and easy methods, with spins that keep meals interesting. Dinnertime shouldn't be stressful or complicated, and I'm here to help you enjoy the time spent in the kitchen. Read more…