Roasted Beet Salad with Orange Vinaigrette
This post contains affiliate links. As an Amazon Associate, I earn from qualifying purchases.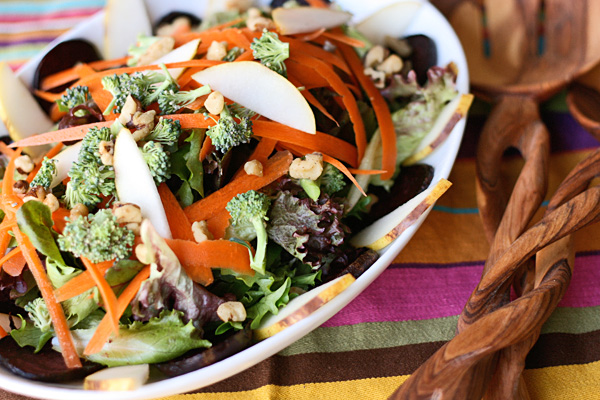 History and calendar-making aside, January 1 is sort of an arbitrary reset day. Why don't we choose to change ourselves on February 1, or June 15? Something about turning over that last calendar page prompts goal-making. And when we fail, we don't look to the next day and decide to try again – we figure it's too late and wait until the next new year. Humans are weird.
However, this weirdness doesn't seem to stop us from continuing to make resolutions. We all know the most popular one, to lose weight, of which I'm a repeat offender as well.
We probably wouldn't have to worry about that issue so much if our lead-up to the New Year wasn't rife with oozing desserts. Again, guilty as charged. I'm not sure there is a food blogger out there who isn't culpable in this, but I suppose it isn't our fault that certain amalgamations of ingredients transform into food we all salivate for.
Maybe this is why I'm talking about beets today.
Wait! Come back. It will be OK, I promise.
I'm not a fan of beets. My memories of them are settled inside a dark tin can, where jiggling lumps of flesh would come tumbling out whenever my dad decided we should have beets with dinner.
More accurately, he should have beets with dinner. I'm fairly certain that after the requisite taste beets never passed through my lips again until 2009. That was when I had beets again, at the first Foodbuzz festival. I ate the beet and blue cheese salad gamely because I knew I was being watched, surrounded as I was by more than 100 other food bloggers.
I discarded them as soon as I could, and then didn't touch beets again until Foodbuzz festival 2010. I think they're trying to tell me something. Either that, or food bloggers are the only ones who are willing to eat things such as beets when the rest of the world is finally discovering pork belly and how delectable liverwurst can really be. (Really.) The beet tart we had in 2010 was much more my style, but I wasn't planning on seeking out beets to try my hand at making it.
The beets found me.
I had been thinking about getting a box from Greenling Organic Delivery for a while, but couldn't get my act together to get it done until this past week. And of course, wouldn't you know it, among all the other lovely things, beets were lurking. Time to take the plunge. It's 2011, I need to be an adult and eat my beets.
Here's to all of you making resolutions for 2011, whatever they may be.
January might be the best month to eat salad because everything you need is in season. Every kind of green, root vegetables, broccoli, brussels sprouts, citrus – practically anything you could hope to put on a salad is available locally right now.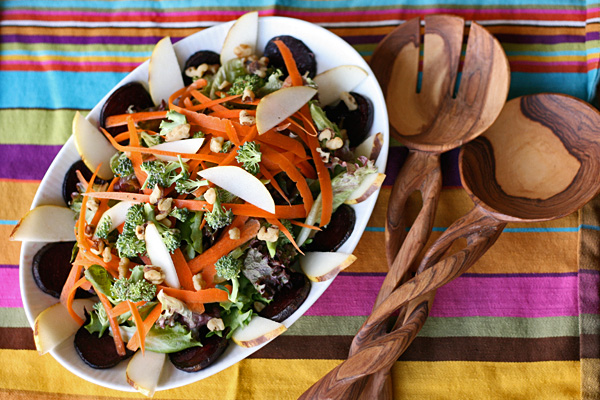 I used a light citrus dressing on this because it doesn't weigh down the vegetables and adds another level of brightness to it. Feel free to swap it out for your favorite dressing.
Love this recipe? Please leave a 5-star review below! It means so much when you enjoy my recipes, so let me know how it goes and leave a comment if you have any questions.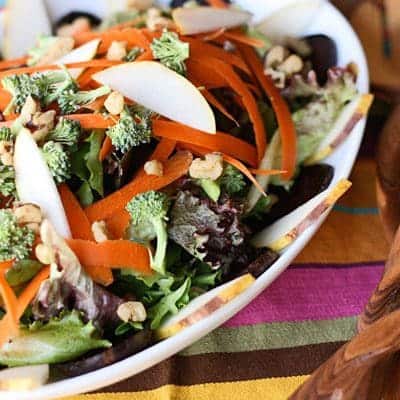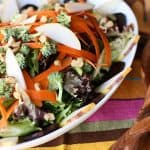 Ingredients
1

medium beet

Olive oil

Salt and pepper

Mixed salad greens

1

carrot

,

cut into slivers

1/2

cup

chopped broccoli

Handful chopped walnuts

1/2

sliced pear
Vinaigrette
1/2

cup

orange juice

2

tablespoons

apple cider vinegar

1/4

cup

sunflower oil

1/2

teaspoon

salt

Dash pepper
Instructions
Preheat oven to 400°F.

Wash the beet with a vegetable brush, gently wiping off the outer skin. Cut off the ends and then slice thinly, about 1/4 inch. Drizzle with olive oil and sprinkle with salt and pepper, and roast them for about 15 minutes.

Arrange cooked beets on the bottom of a serving platter or dinner plate. Pile on the greens, carrots, broccoli, walnuts, and pear.

Whisk together vinaigrette ingredients and pour over salad.
Nutrition
Calories:
586
kcal
Carbohydrates:
27
g
Protein:
7
g
Fat:
53
g
Saturated Fat:
5
g
Sodium:
743
mg
Fiber:
7
g
Sugar:
15
g
Nutrition information is provided as a courtesy and is an estimate based on online calculators. Any nutritional information found on Stetted should be used as a general guideline only.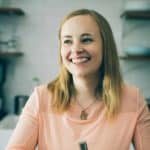 About Megan
I focus on fresh ingredients and easy methods, with spins that keep meals interesting. Dinnertime shouldn't be stressful or complicated, and I'm here to help you enjoy the time spent in the kitchen. Read more…