Blue- and Blackberry Salad with Pickled Onions
This post contains affiliate links. As an Amazon Associate, I earn from qualifying purchases.
Blue- and Blackberry Salad with pickled onions, cotija cheese, and jalapeños kick up the summer fruit salad selection.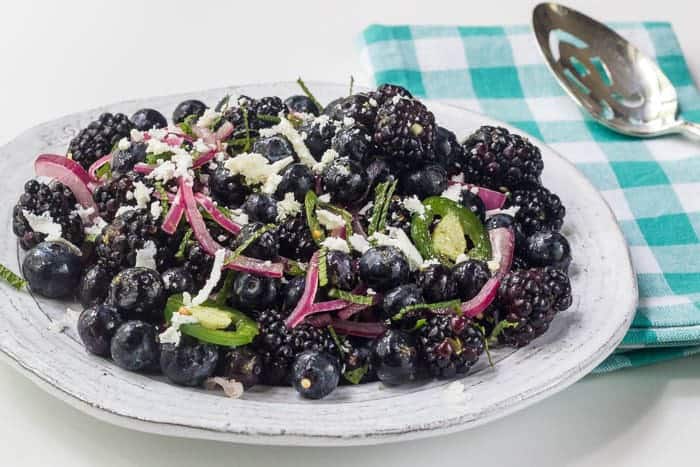 Fruit salad is one of those go-to dishes everyone jumps on when it's time to decide what to bring to this week's cookout. Possibly because it's something you can fake pretty easily — if you don't have the right kinds of fruit at home, just run to the store, buy some pre-cut items, and pour into a bowl. Bang, you've got a salad.
It's fine if you want to roll that way, but I want to encourage you do take a few more steps and build a salad that is interesting and full of contrasting flavors. It's only a little bit more work, and trust me when I say that pickled onions will be your go-to meal addition if you aren't already spooning them onto everything.
Slicing the red onion is the most difficult part of this recipe, unless you count the waiting time for the onions to pickle. Once the pickles are ready it takes only a few minutes to put together, and you can even do it ahead of time if you like, to let the flavors meld a bit. As long as you choose plump, fresh berries that aren't overly ripe, you won't need to worry about the berries turning to mush as the salad rests, like other fruit salads can fall victim to.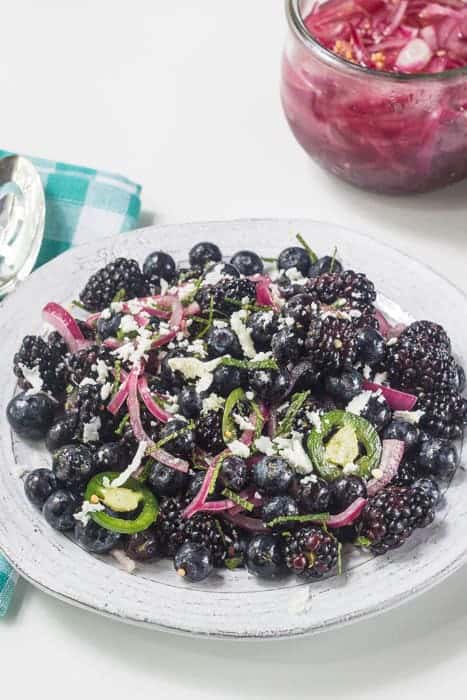 I love this riff on a blackberry salad because it has sweet, tart, tangy, and spicy all in one bite. Remove the seeds on the jalapeño if you prefer less spice, but I don't recommend removing them completely — they really make the dish!
If you can't find cotija or queso fresco in your area, you can swap in feta for similar results. You could even use goat cheese crumbles, but if doing so, save the cheese for adding just before serving.
Head over to my post on Recipe.com for the recipe!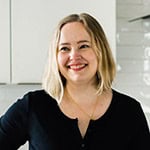 About Megan
I focus on fresh ingredients and easy methods, with spins that keep meals interesting. Dinnertime shouldn't be stressful or complicated, and I'm here to help you enjoy the time spent in the kitchen. Read more…