Savor the fresh flavors of summer with this simple roasted corn salad.
Among certain groups of friends or relatives, the question "How's the blog going?" always comes up. It's a bit of a strange question, but also not.
After all, when your blog is basically a job, people tend to be curious about it. At the same time there's not too many people who are actually interested in whether something is getting traction on Pinterest or if a photo was accepted to FoodGawker.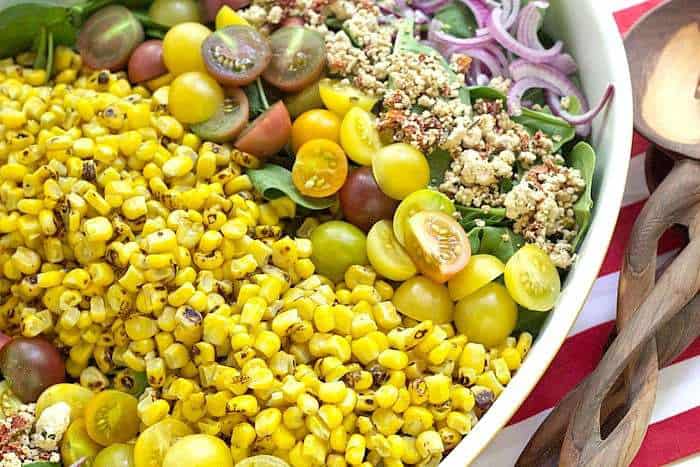 With the former group, I just answer by way of making them good food. If I'm lucky, there's no fuss, and we all tuck into our dishes with plenty of compliments shared among the crowd's offerings. Just because I happen to write about and photograph my food doesn't make my experience with edibles any better than theirs, and chances are they're also turning out fantastic stuff in their kitchens.
This roasted corn salad is a dish I recently brought to a friend's gathering, and we all liked it so much that I made it three days later for dinner. The sweetness of the corn and my homegrown tomatoes offset the bite of the arugula and red onion, and creamy goat cheese crumbles and mild vinaigrette pulled the whole thing together. On the drive home from the party I woefully stared at my empty dish, wishing I had eaten more. Oh, America.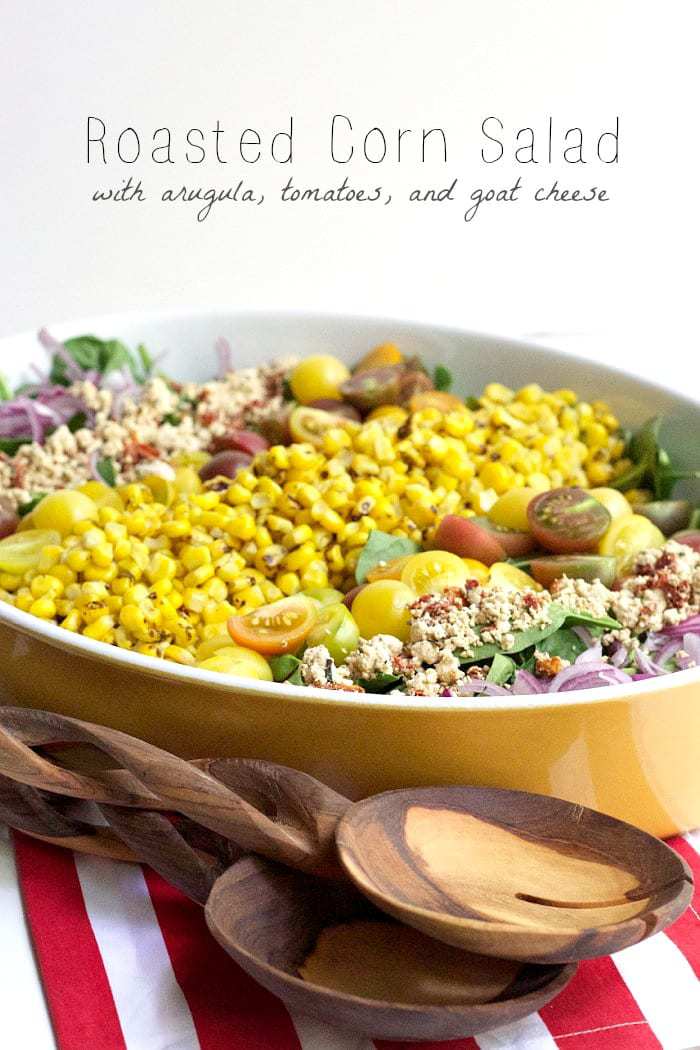 Luckily the salad is a snap to put together. (psst… you can use a bag of Trader Joe's roasted corn to save time. Just sayin'.) All you need to do is heat the corn, slice some tomatoes and onion, and shake up an easy-peasy basic vinaigrette.
I used sun-dried tomato goat cheese crumbles because that's what I had on hand, but plain goat cheese will work perfectly fine too. You could also use avocado chunks in place of the goat cheese to make this vegan. Or with the goat cheese if you're not vegan. I'm not one to judge.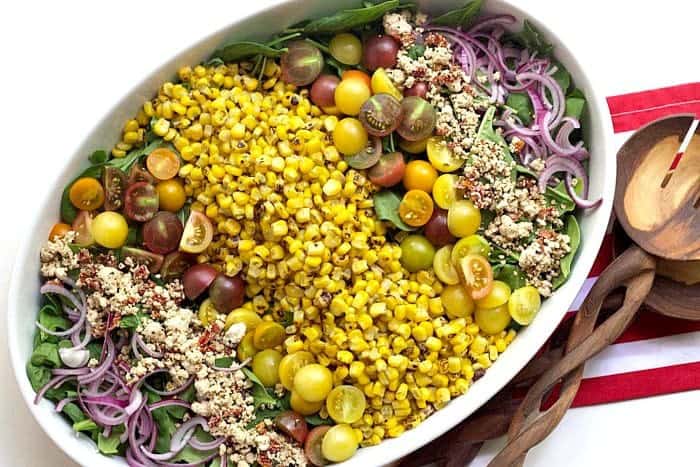 Make this roasted corn salad for the next potluck you attend. I promise, people won't look at you funny for bringing a salad. And if they do? Well, that's their loss, and more of this for you to eat. But after all, what are we cooking for, if not to share it?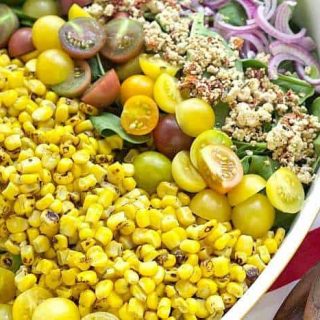 Roasted Corn Salad
Yield: 8 servings
Prep Time: 15 minutes
Cook Time: 5 minutes
Total Time: 20 minutes
A cinch to pull together, this roasted corn salad is a summertime staple.
Ingredients
2 teaspoons neutral oil
3.5 cups roasted corn
6 cups arugula or arugula-spinach mix
1 pint cherry tomatoes, halved
1/2 cup thinly sliced red onion
4 ounces goat cheese crumbles
1/4 cup olive oil
2 tablespoons red wine vinegar
2 teaspoons dijon mustard
Salt and pepper to taste
Instructions
Heat oil in a skillet set over medium. Add corn and cook about 5 minutes, until warmed and toasted.
In a large dish, arrange arugula. Pour cooked corn over the top, then add tomatoes, red onion, and goat cheese. Layer it pretty if you like.
Whisk together olive oil, red wine vinegar, dijon mustard, and salt and pepper until fully blended. Drizzle over salad just before serving and toss salad with tongs to mix.
Recommended Products
As an Amazon Associate and member of other affiliate programs, I earn from qualifying purchases.
Nutrition Information:
Yield: 8
Amount Per Serving:
Calories: 208
Total Fat: 15g
Saturated Fat: 5g
Trans Fat: 0g
Unsaturated Fat: 9g
Cholesterol: 13mg
Sodium: 188mg
Carbohydrates: 16g
Fiber: 3g
Sugar: 6g
Protein: 6g
More corn recipes you might like:
Glazed Corn Kabobs – Stetted
Grilled Poblano and Corn Frittata – Edible Perspective
Mexican Street Corn Salad – Love and Lemons
Sweet Corn Gazpacho – Spoon Fork Bacon
Zucchini and Corn Panini with Pepper Jack Cheese – Oh My Veggies