French carrot salad is ready in less than 10 minutes and makes for a wonderful side dish to any meal.
I tend to eat a lot of salads, mostly because they are made very quickly and I can eat while still working. The thing is, I was getting really tired of lettuce-based salads recently.
One day as I was eating, I remarked over Skype to my friend that I was eating a salad but I was angry about it. At that point I knew I had to change up my game.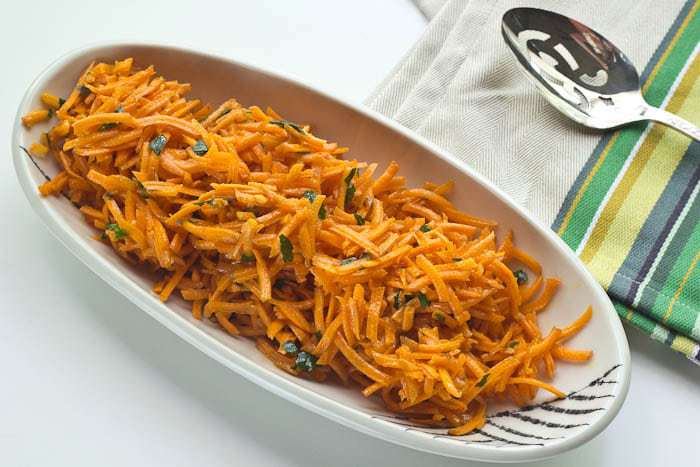 Fortunately, I remembered the lovely carrot salad that always seemed to be available when we visited Paris. That was eight years ago now, but because it was the last vacation my husband and I took before kids, I remember it well and often.
We always have carrots on hand for snacking and my parsley plant is out of control, so it didn't take much to put this salad together. Using my food processor, it was ready before the grill had heated up for our main course.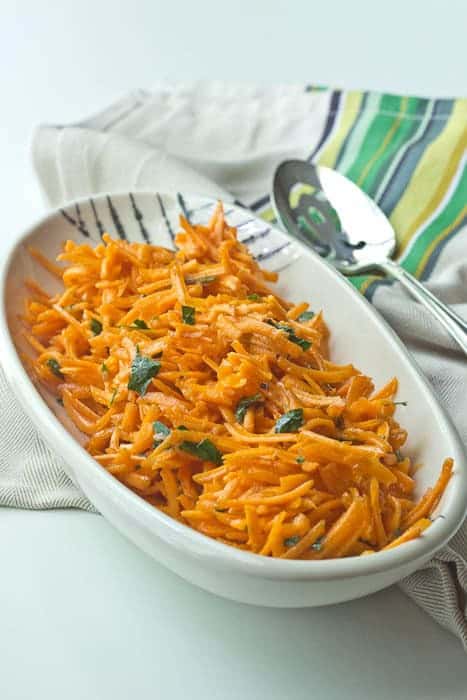 You can enjoy this salad at room temperature right after making it, or add the dressing and let it chill out in the fridge for a while. With the warm cookout and potluck season ahead of us, this is a great easy option to keep in your back pocket (and economical, too!).
This recipe is part of another installment of Progressive Eats, our virtual version of a progressive dinner party.
This month's theme is the Flavors of France and is hosted by Jane Bonacci who blogs at The Heritage Cook. Join us and make something unique and delicious!
If you're unfamiliar with the concept, a progressive dinner involves going from house to house, enjoying a different course at each location. With Progressive Eats, a theme is chosen each month, members share recipes suitable for a delicious meal or party, and you can hop from blog to blog to check them out.
We have a core group of 12 bloggers, but we will always need substitutes and if there is enough interest would consider additional groups. To see our upcoming themes and how you can participate, please check out the schedule at Creative Culinary or contact Barb for more information.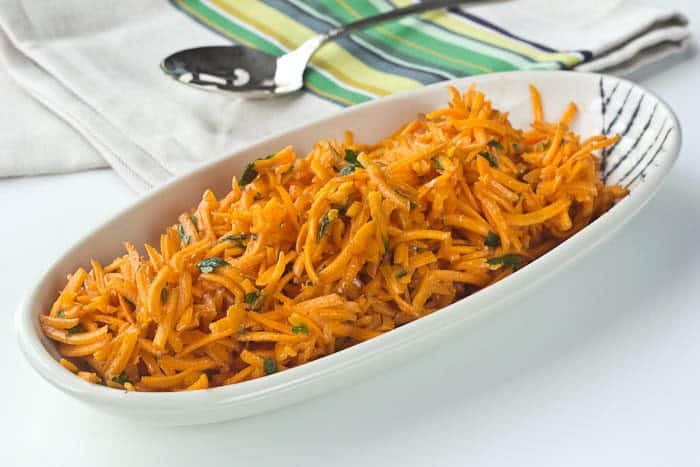 Join us for the Flavors of France!
Appetizers
Salad
Soups
Main Course
Bread
Veggies/Sides
Drinks
Desserts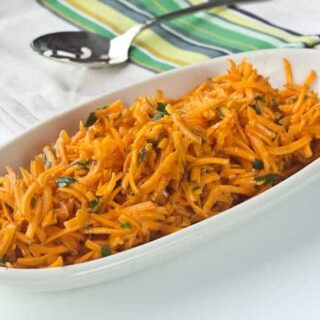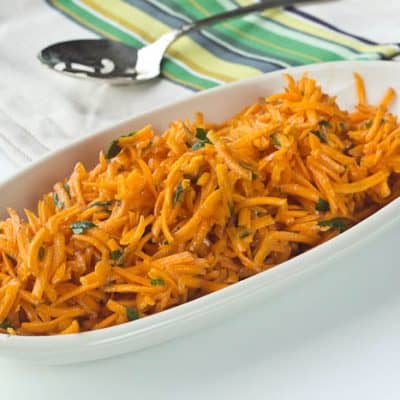 French Carrot Salad
Yield: 8 servings
Prep Time: 10 minutes
Total Time: 10 minutes
French carrot salad is ready in less than 10 minutes and makes for a wonderful side dish to any meal.
Ingredients
1 pound carrots
1/2 cup olive or walnut oil
1/4 cup champagne vinegar
1 tablespoon Dijon mustard
1 tablespoon honey
1/4 cup packed parsley
Salt and pepper to taste
Instructions
Shred carrots using the shredding disk on a food processor (or a box grater). Pour carrots into a large bowl, and swap the shredding disk for the standard processor blade.
Add oil, vinegar, mustard, honey, and parsley to the processor and pulse until parsley is chopped and mixture is blended. Add salt and pepper to taste.
Pour dressing over carrots (you might not need all of it) and toss to coat. Serve immediately or cover and chill until ready to serve.
Recommended Products
As an Amazon Associate and member of other affiliate programs, I earn from qualifying purchases.
Nutrition Information:
Yield: 8
Serving Size: 1 Servings
Amount Per Serving:
Calories: 56
Total Fat: 3g
Saturated Fat: 0g
Trans Fat: 0g
Unsaturated Fat: 2g
Cholesterol: 0mg
Sodium: 184mg
Carbohydrates: 8g
Fiber: 2g
Sugar: 4g
Protein: 1g