20+ Recipes for How to Cook Carrots
This post contains affiliate links. As an Amazon Associate, I earn from qualifying purchases.
Looking for new ways for how to cook carrots? These recipes will help you make use of your favorite vegetable, from sweet to savory!
Carrots have long been one of my favorite vegetable. I know I'm not alone, considering statistics say we in the United States each eat more than 8 pounds of carrots every year!
While raw carrots are great for snacking, there are so many other ways to enjoy them. Whether you love sweet baked goods or savory soups, carrots can have a role in all of them.
Choosing Carrots for Cooking
We're all used to seeing rows and rows of packaged carrots at the supermarket, but did you know there are multiple varieties of carrots?
Multicolor carrots are perfect for using in recipes where the carrot is intact, like pickled carrots, carrot fries, or roasted carrots.
When the carrot is shredded, blended, or mashed, I prefer to use regular orange carrots.
Make sure your carrots are firm and crisp for most recipes. You can roast or mash carrots that are slightly past their prime, or use for soup.
Baby carrots can also be swapped in for many recipes. These carrots are just trimmed down from larger ones, and are optimally sweet.
Keep in mind that the cooking time for baby carrots may be less, depending on the dish.
For recipes requiring grated carrots, I recommend using a food processor to make quick work of the job. Packaged shredded carrots can work in a pinch, but make sure they are fresh!
Ready to get cooking with carrots? Check out all my favorite recipes for how to cook carrots below.
Carrot Appetizers
Carrot Soups
Carrot Side Dishes
Carrot Cakes & More
What's your favorite method for how to cook carrots?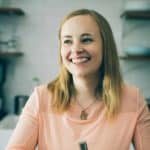 About Megan
I focus on fresh ingredients and easy methods, with spins that keep meals interesting. Dinnertime shouldn't be stressful or complicated, and I'm here to help you enjoy the time spent in the kitchen. Read more…